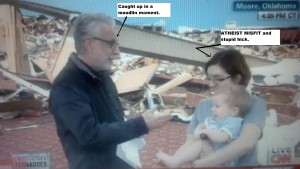 "I think that the woman in question (Rebecca Moore) showed a kind of infantile or childlike lack of social skills and we shouldn't look any deeper into it."  [Millicent Carlisle, PhD.]
A few years ago TheDamienZone.com did a story about avowed atheism and how it often ties in with mental illness.
http://thedamienzone.com/2012/08/17/atheism-as-a-mental-disorder-or-illness-new-studies-say-yes/
In that story we quoted a few of the research scientists involved in the study.  Many research physicians are calliing this a "Misfit Syndrome" and it describes the personality strangeness wherein many of the character flaws inherent to the average person who encourage and embrace atheism seem to be mutually shared.
Usually when a scientific study is the source of a news item on this blog, the story eventually gets shuffled to the bottom of the deck, but this time it's different.  The American face of the atheist who suffers from a Misfit Syndrome was thrust into the faces of the American public when CNN mainstay Wolf Blitzer had the great fortune to accidentally discover one of these misfits in the middle of Red State USA and the rubble of a great twister.
While digging through the rubble of the deadly Oklahoma tornado in search of a story, Blizer stumbled upon a woman named Rebecca Moore who was carrying her infant son.
Rebecca, the epitome of what the scientists describes in their study about the face of atheism, refuted Blitzer's questions where he implied that she must be thanking god for her good fortune to have survived with her baby, but Rebecca, acting very much the part of the misfit, said, "actually I am an atheist" and left Blitzer a bit dumbfounded.
"Blitzer probably didn't realize that out there in the world of trailer parks and guns and monster truck shows, there are still people who have the Misfit Syndrome.  Perhaps he was condescending to assume that all people in rural Oklahoma were god fearing Christians,  or perhaps he, as a Jewish man of faith, was awed by the devastation and was genuinely touched in his soul to see the young mother and her baby standing before him –  safe and sound amidst the rubble of death and destruction.  Whichever the case, the woman was a misfit of the highest order, and to proudly state that she was an atheist in a situation like the one in which she was found, is all the evidence one needs to understand that what that old study tried to prove — The avowed atheist is often a misguided and godless misfit."  [Millicent Carlisle PhD]
Was Rebecca Moore right to say what she said?  She carries the genetic characteristics of someone burdened with the Misfit Syndrome but did she have a right to say what she said, or are there times when something so controversial be kept to one's self?
We asked Social Scientist and author of the book, "How to Keep Your Tact and Manners in a Godless Society"  Dr. Millicent Carlisle, her opinion on this issue.
"I think that the woman in question showed a kind of infantile or childlike lack of social skills and we shouldn't look any deeper into it," said Carlisle.
"Obviously this is a situation where you have variables in the equation here that are gone with the wind, so to speak.  I don't know what she should have said to Blitzer but had she had the time to prepare, or had she read my book, she would have known to say, "Let's just say that I am thankful."  If she put a smile and an emphasis on the word 'thankful' she may have gotten out her message and still not said something that seems to have caused an uproar of sorts.  The same applied to Wolf Blitzer who should have not assumed this woman was a believer of any stripe.  Naturally a lot of reporters tend to become maudlin in a situation like this, but he was caught off guard.  He was in the moment as they say, and he offered his maudlin sentiment to someone who would not or could not buy it. 
"I think the old advice that many of us have heard from ages is always true.  It is indeed always best not to speak about politic or religion in certain situations.  You can add the devastation of the tornado as one of those places.  On the whole, however, I would say that Ms. Moore was more socially inept than she was militant but you find that a lot with liberals and especially liberal atheists.  Imagine how much that woman must hate her life living in a hick town like that and having to live with people who believe in god and guns?   Whatever the case, she should have not admitted to her atheism — it was poor manners on her part but it was also poor judgment by Blitzer, but it shows that he still has a heart no matter how urbane he might think he is after all these years as the face of CNN. "
Damien LeGallienne reporting for TheDamienZone.com.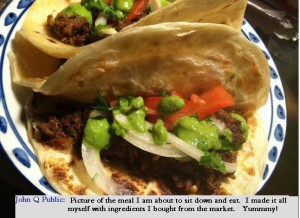 Do you take photographs of your evening meal?   Do you prepare a nice dinner and then post photographs of that meal on social media websites –primarily  Facebook?
Do you do the same thing with food put before you in restaurants?  A lot of people do this regularly, and according to researchers in Denmark, there seems to be a connection between the incidence of serious mental illness and the mental health of the average person who posts pictures of their food on Facebook.
Psychiatric Fellowship Research  Denmark, a group of seventy-three doctors of psychiatry in residence at hospitals throughout Denmark and Luxembourg,  has published the results of a 3-year study into social media and the meaning behind various photographs submitted to Facebook by its millions of members.
It might seem totally normal to be proud of the cake you baked or the delicious platter of pasta and meatballs that you've put before you at the dining table, but the sad truth is that people who frequently put pictures of their food on Facebook are either very lonely or unable to interact socially with mentally stable people.
Most people who post photos of food might find this hard to believe.  They might think they're just great cooks, but according to Dr. Helen LaVista MD PhD, the chief Resident in the psychiatric fellowship, ordinary folks who posts photos of Food on Facebook are more apt to be suffering from serious subconscious issues and their overall mental health might be in jeopardy.  In fact, many of these people might already have serious issues about which they are unaware.
Here's what Dr. Helen LaVista had to say about the study which will be released publicly after the results are tabulated and confirmed one last time in late July 2013 by an independent auditor in Switzerland.
"We studied nearly 7,000 Facebook accounts over a 36-month period, and then we followed up with a carefull prepared questionnaire that was sent to all of those who participated in the study.  The results were shocking.
"Not only did the participants in our study score below average on standardized IQ tests,  nearly 88% showed an inclination to having or having had certain psychological issues — chief among them being a form of narcissistic delusional paranoia.   After more in depth research, we found that 76% of that subgroup were or were once under psychiatric care for mental illness.  One can conduct psychological studies for a lifetime and not see one study where the results are as conclusive as the results we have compiled.
"Sadly, when the results of this study are released, the headlines in the Western World will scream that 'People Who Put Pictures of Food on Facebook are Mentally Sick' and while that headline will be essentially true, that is not what we would like to see.  There are a small percentage of people posting photos of food who are not mentally sick.  The exceptions to the rule are people who are intellectuall ill-equipped to process any kind of complicated social interraction.  There is an even smaller percent who post pictures of food because food crafting is their profession, and in those cases, the analysis is moot."
Dr. Helen LaVista, her son Anthony LaVista MD PhD, and their team throughout Europe have analyzed and re-analyzed every ounce of data they have accumulated and despite various attempts to retool the tests or analyze the data from a different viewpoint, the results were the same.
"We sent messages to people on Facebook throughout Europe, Australia, North America and Japan, and we asked for their participation.  This gave us access to their Facebook accounts in that our group befriended them on Facebook disguised as a casual friend.  All people involved in the test had no idea that this had anything to do with photos of food, but from a group of nearly 10,000 participants, we culled 6,885 who had at least once posted photos of their food.  This was a very painstaking process but in seven months we had our core base of people to study.
"We sent each of these participants an online questionnaire that was rewarded with a gift card to the store or charity of their choice," said Dr. Anthony LaVista.
"Of the 6,885, we had a complete response rate of 6,120.  In other words, a lot of people followed through.   All of those who responded completed a standard IQ test and a personality screening test.  The results of those tests brought us to a sub-group of 547 people who shared four of five common links with the entire group;  low intellectual capacity, a history of depression, anxiety, previous treatment for mental illness and academic underachievement.
"We used a tried and true testing model and the final results tells us that nearly 90% of people who post pictures of food on Facebook, are suffering from some form of mental illness.  The worst afflicted are the Narcissistic Delusional Paranoids who take picture of food as a way to draw attention to themselves by using a primitive instinct to display food. which may have been useful for primitive homosapiens.
"In wild animals this is ordinary behavior for primates, wolves and felines, but as you travel downwards in the animal kingdom, the less intelligent animals prefer to hide their food.  Again, the lower, almost primitive intellect of those tested, is testament as to why this rare condition was found to be prevalent among people who post photos of their food on Facebook.
"These individuals have a high incidence of being unable to establish any meaningful relationships or friendships because they live in a delusional state of superiority.  They have alpha personalities but are intellectually limited.  The nature of their illness was made even more noticeable to the untrained eye by the fact that many of those afflicted dined alone.  In other words, their photos were photos of a single plate with no signs of other people in the photo.  In other words, these people take these photos alone.  No psychiatrist will go so far as to say that a lone photo of a dinner plate filled with food is ample proof of a delusional state, but the results of the test are indisputable at this point.  The closest variant of animal behavior to which we can compare this would be found among wolves and wild dogs.
"Many of the others who fell into some kind of sub group had a history of treatment for various psychiatric illnesses.  One of the participants stated that he was, 'just lonely.' but a closer look showed us that the loneliness was rooted in social withdrawal both by the person in question and by the people around him.  In other words, the loneliness is not a symptom of the mental illness, it is the result of the ripple effect this personality disorder has on the human environment of the individual."
So, this might sound rude and mean and unscientific, but TheDamienZone likes to point out the obvious and in this case, the obvious is the fact that people who take photos of food and put those photos on Facebook are not only intellectually impaired , they have a pretty good chance of being mentally sick too.
This comes as no shock to restaurateurs in New York, Chicago, London, and Los Angeles where chefs are forbidding patrons from taking photographs of their food because many of these photo-snapping patrons, according to Dr. Helen LaVista,  are often disruptive and troublesome.  Currently, the City Council if New York is trying to put this "no Food Photos" edict into law.
"These HATE WORDS are meaningless and in no way are they a real indicator of hate.  This hatred map thing is so stupid that it boggles the mind.  It's so stupid that it has become the dreaded Facebook "share" and there is nothing more incredibly stupid than a Facebook share.  Once you become a Facebook share it means you've lost all credibility and the only way you can get any attention outside the world of Academics is to try to get "likes" on Facebook.  That's pretty sad." [Damien LeGallienne, editor of TheDamienZone.com].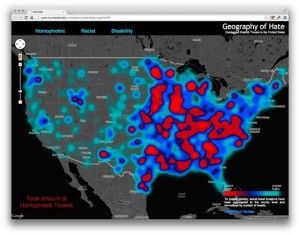 There's this thing floating around the moronic pages of Facebook.  It's a specialized map of the USA that allegedly shows the amount of hate speech that generates from different areas of the USA via Twitter.  The trouble is that this is a huge crock of dog end, and since it's a stupid and meaningless and silly and self-serving bowl of stupidity, every idiot on the planet is "sharing" it on Facebook. It's what I like to call a "virtual hoax" because it's not a hoax per se, but in reality it's the worst kind of hoax.  Let me explain.
Supposedly,  this "map of American hatred" was part of a larger (and probably just as stupid) project by somebody named Dr. Monica Stephens of Humboldt State University — a kind of hippy dippy school way up there at the top of California where the "very average" students are all in tune with nature and filled with the wisdom of the owl and the mighty wolf.  Do you get the picture?
According to RateMyProfessors.com, where a rating of 1 is terrible and a rating of 5 is great,  The average professor at Humboldt has a rating of 3.9.  Dr. Monica Stephens' rating, however, is ZERO point ZERO.  She doesn't even have a vote — in other words, students don't care about her, or like her, or even hate her enough to cast a vote.  Of course, as soon as this article is released the students will climb down out of the redwood trees and stop counting owl eggs long enough to give her a perfect score.
So anyway, the unloved and currently unrated Dr. Monica Stephens is doing this GEOGRAPHY OF HATE map thing as part of her class on Advanced Cartography.  In other words, if you know how to read between the county lines, Dr. Stephens wants to make maps that will prove that middle Americans and Christians are evil, racist and homophobic, and she's dragged in three hapless foot soldiers to do her dirty work.  I won't give out the names of the undergrads she is trying to indoctrinate into this policy of inventing hatred because they're just kids and maybe one day they'll go to a real school and get the heck out of that campground that masquerades as a University,
Okay, why did I just call it "invented hatred" and what's the deal with that?
The Facebook "share" that is going around (the Hate Map of the USA) claims that the students — the aforementioned foot soldiers who are unwittingly taking Dr. Stepehens' course in HOW TO BECOME A MISFIT —  sampled (they say) 150,000 tweets from various Twitter accounts.  How they came upon these tweets is kind of shady but that's another story, but sharing in the blame for all of this dumbness is the University of Kentucky and its DOLLY project — whatever that means.
From these tweets, the Future Misfits Club of Humboldt University — I mean the students of Dr. Stephens — went through a bunch of words that they call "hate words" and these hate words were measured by their frequency of usage in tweets across America.   It doesn't make sense — and let me tell you why.
These are the hate words they used – The N word in its real form and various forms, bitch, fag ( and all variants) homo ( all variants) queer, dyke, darky, gook, gringo, honky, injun or Indian, monkey, towel head, wigger, wetback, cripple, cracker, honkey, fairy, fudge packer, tranny.
Okay so there's the list of words they looked for and they say they counted how many times these words were used in a derogatory way.   Okay, so already this is unscientific and stupid and subjective and dumb.  This map of hate is a hoax but the trouble is that it doesn't know it's a hoax.  It seems to be based in real science — but it's not, you stupid monkey.  Ooops, I just used hate speech.  Perhaps if I were a wise old Indian (more hate speech) I would have known better than to believe this dumb map.  But you understand because, "you my n***a" right, bi*ch?  <— Are you catching on to what I'm getting at yet?
Here is the thing.  Young people of all races and religions use the hate words all the time on Twitter.  They call each other the N-word and all the other words on the list and they mean NOTHING.  Dr. Stephens might know how to teach Stupidity 101 really well, but she herself should take a few courses in the evolution of language or language usage.  What is being translated as hate speech in this sickening study is really just modern day teen speak and the lexicon of Twitter and texting.  It has nothing to do with the opinions of any vox populi — it's an illusion of hatred.  Do you understand that?  It is an ILLUSION.
These HATE WORDS are meaningless and in no way are a real indicator of hate.  This hatred map thing is so stupid that it boggles the mind.  It's so stupid that it has become a Facebook share, and there is nothing more incredibly stupid than a Facebook share.  Once you become a Facebook "share" it means you've lost all credibility and the only way you can get any attention outside the world of Academics is to try to get "likes" on Facebook.  That's pretty sad.
So anyway, they looked at where these words originated with more frequency on Twitter and they created this map — and it makes no sense.  It's not real — it means NOTHING.
NOTE TO DR. MONICA STEPHENS –  Kindly note that drawing maps of invented concepts and making a map of American hatred is mentally sick and unhealthy and just plain stupid.  Also, incidents where celebrities and left wingers and right wingers in the past have wished AIDS on people and or DEATH on each other via Twitter are not included in your map because the area in and around Los Angeles is a cheerful and happy sky blue. 
Naturally it's impossible to see the right wing hatred on your map because the map is carefully invented to make it look like all Red State people (the misconception of Republicanism) are hate speakers.  Pretty craft, eh? 
Yeah, so ALL Conservatives lurk in that red haze of hate you've invented, but Hollywood and left coast liberals are looking up a at clear blue sky.  But—uh—they use hate speech all day long, but it's the hate speech of grown up idiots — not the casual texting language of dopey teenagers.   How stupid can you be?  You are really dumb –  seriously.
Hate speech is when someone says, they want to kill or injure or exterminate someone because of their color or religion or ethnicity or sexual orientation.  It is not the lexicon of a clueless twittering teen population.  This map might work as a map of the emergence of a new kind of electronic language usage, but it says nothing about hatred.  YOU CAN'T MEASURE HATRED!  CATCH ON?
If you have the title of "Doctor" in front of your name, shouldn't you be aware of the flaws in this silly project?   Don't you have a duty to teach your students the difference between cartography and propaganda and your own personal frustrations and hatreds?  If I were President of Humboldt, I would  fire you so fast that you'd have to dig up your map that shows people the places where colleges are more tolerant of stupid professors.  Maybe they'll hire you — or perhaps you are right where you belong.  I'm sorry for your students if that's the case.
From the desk of Damien LeGallienne.
COMMENT ALL YOU WANT.  CALL ME NAMES OR HATE ON ME.  I MAKE IT REALLY EASY.  I DON'T EVEN CROSS CHECK EMAIL ADDRESSES.
Prince Harry is winding up his visit to the USA, and he's taking with him some fond memories of time well spent with New Jersey's large Governor Chris Christie.
CLICK TO READ CAPTIONS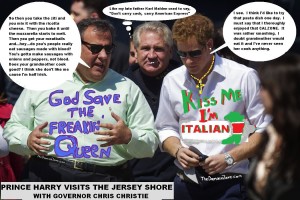 His Higness spent a day in Seaside Heights and the areas in and around where the most damage was done by Hurricane Sandy in October 2012.
Harry stood on an island of dredged sand and said sadly, "This used to be a house?"
Naturally there were some left wing misfits who made stupid comments like, "Yeah, he was shocked that a house could have stood on less than 10 acres."  But that's what stupid people like to say simply because they do not appreciate the fact that Harry's presence on the storm-tossed beaches of New Jersey will draw more attention to the tragedy.
Misfits aside, While screaming young local girls and gay men who car-pooled in from Ocean Grove snapped photos and giggled, Harry played a ring-toss game on the Seaside Boardwalk where he won a stuffed animal for an admiring little girl named Amber-Autumn Carrigliolola.   The child's mother was mesmerized.
"It was like a dream. My daughter was so happy to see Prince Harry and when he gave her that stuffed doll, my father — her grandfather — nearly shit his pants because he is a big fan of the Royal Family.   To be honest, my father almost shits his pants every day, but this was an especially close call."  [Maryann Carrigliolola, Point Pleasant, New Jersey, USA]
Later, Harry sat at a pizzeria with Governor Chris Christie where the wto enjoyed a sumptuous lunch while sitting by the sea.  Harry ate a pepperoni calzone and Governor Christie adjusted his stomach machine to accomodate two slices of pizza and an order of mussels marinara.
"The governor threw up a little bit of his mussels because his stomach can't hold as much food as it used to since he had the sugery, but a lot of customers throw up my mussels marinara.  I don't think Prince Harry even noticed.  I think it's my sauce that makes people puke.  I used to make the tomato sauce at Don's 21 in Newark and we made a huge vat of sauce on Monday and we kept using it for weeks and weeks." [Luca Gargiocavallo, Owner/Chef at Luca's Casa Italiano Nook.]
Prince Harry really like his calzone and he quickly texted his grandmother who had a calzone cooker shipped to her home in Scotland.  Prince Harry plans to pack on a few pounds and is even thinking about investing in a string of calzone themed restaurants throughout the UK.
EDITORS DESK:  Damien Le Gallienne 13, May 2013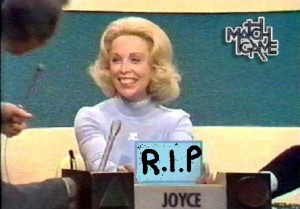 She was thought to be the most famous psychologist in the USA, and now Dr. Joyce Brothers has died in New York City at the age of 85.
Dr. Brothers was good at what she did — and she did it with dignity and grace and professionalism and class.  She knew her stuff and even when she was put up against cranks like Howard Stern, she never dropped her professional demeanor.   She was always a good sport and she never wavered or sold out.  Even late in life, when her career had achieved a campish or almost cult status, she was too well-respected to be seen as a joke in spite of the fact that she often allowed herself to be the butt of jokes on sitcoms or talk shows.
She was a trained psychologist first and a celebrity second.  Dr. Joyce Brothers will never be replaced.  It's not possible.
Before any of us who grew up in the 80s with the crackpots who wandered into our lives on crap talk shows like Oprah and dick head ""Dr. Phil" and that sex-happy midget Dr. Ruth, there was Dr. Joyce Brothers — and guess what?   SHE WAS A REAL DOCTOR!  –
People in the 50s and 60s and 70s and 80s and even up until a few months agowe got used to seeing Dr. Joyce Brothers making her cameo appearances on shows like Frasier and Friends and so many game shows and talk shows, it's impossible top count.  She had a radio show and a newspaper column.  She did it all long before all the impostors came along and she did it the right way because she was REAL.
Dr. Brothers was always "keeping it real" before anyone had even heard of that expression.   She wasn't using sexually suggestive words to get people to listen to her answers about serious questions on social and psychological issues.  She was a true professional — nothing like the bird-brains we're stuck with today.  Dr. Phil isn't even a doctor of anything.  He just calls himself "doctor" — he's a real dirt bag and if he has the nerve to even mention Joyce Brothers on his stupid stupid stupid show, I am going to rip him a new a-hole.
So, back in the 1950s, Joyce Brothers was a young psychologist who was trying to make a career for herself in New York City, but along the way — trying to make a few bucks – she tried out for a game show called "The $64,000 Question" and she kicked ass.
The subject she chose for her questioning was professional boxing!!!!
Nobody in their right mind would think that this little blond and pretty lady psychologist could ever know a thing about boxing right?  Well — they were wrong.  She knew a lot about boxing, and for weeks and weeks as she climbed her way to the $64,000 question, the producers tried to get rid of her by making her questions so outrageously difficult — but she got 'em all and she won.
Remember when parrot-faced Ken Jennings kept winning on JEOPARDY?  Remember how he thought he was going to be a star?  He was wrong, and do you know why?  Because he was NOT INTERESTING.  He had nothing to offer America.
Dr. Joyce Brothers, however, was an instant hit with the people of the USA and from the day she answered that $64,000 question up until today when she passed away, she was an iconic figure who never faded out of the public conciousness.  Some people got it and some people don't.
People today — the people who are in charge of bringing is professional people — are too stupid to even bring us another Dr. Joyce Brothers.  TV producers only want fake losers who drag out people from trailer parks and tattoo parlors and crackhouses.   Dr. Joyce Brothers was the REAL THING and these idiots who make TV and radio shows today are morons who don't understand or recognize QUALITY.
Dr. Joyce Brothers did not invent herself as a celebrity like the other ersatz psychologists to whom she is being compared. She was made into a celebrity because the country liked and trusted her.
Comparing Dr. Brothers to impostors like "Doctor" Phil and others is not only inaccurate , it's factually incorrect. She was a real psychologist, and she knew her stuff.
She appeared on Game Shows and Talk Shows because the public loved her. She never said or did anything to betray her profession or to turn a buck, and she never tried to lure in viewers or listeners with salacious or lurid stories. Her opinions about modern psychology and social issues were always spot on. Dr. Joyce Brothers was a sincere and dignified professional who also happened to be a celebrity — we'll never see that again.
She was the epitome of a psychologist. She introduced a nation to the field and told people that it was alright to ask for help. We will miss you Dr. Joyce Brothers.
Damien Le Gallienne EDITOR.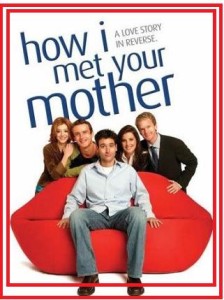 How I Met Your Mother is headed for the end of the season, and a lot of viewers are really upset, but lighten up because next season will be great.  But will there be a next season?  Some people are worried that the show is being cancelled.
According to one Hollywood insider, the show will not be cancelled.  As a matter of fact,  How I Met Your Mother is getting amped up a few notches and there will be a few surprises in store for everyone next season.  This cray cray writer of an even more cray cray show on BlipTv, How I Met Your Mother will have a super season in the fall with a lot of big time celebrity guests showing up in a few very special episodes.  See here —–> http://www.imdb.com/name/nm3834680/?ref_=sr_1
"That show's going nowhere but up.  They've got some great writers on there and if I wasn't tied down to my current show, I'd try to get on that bus big time."
The Damien Zone agrees, and we like that writer cause his middle name is Damien so it's like family.  So you folks out there in TV land don't have to worry because How I Met Your Mother is not getting cancelled.  It's getting bigger and better !!!
Americans Love Prince Harry, but not all of them.  Why the far left American misfits hate Harry.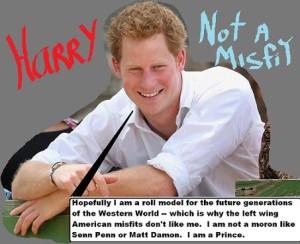 By: Damien Le Gallienne.
Prince Harry's visit to the USA has been a very successful one thus far, and the Yanks seem to be quite smitten with the handsome and dashing young prince. Perhaps the visit to the USA is indeed a way to revamp Harry's bad boy reputation in the USA and back home in Britain.   The Las Vegas thing had tongues wagging, but Harry has proven — and quite sincerely — that he is a true gentleman and all the folks in the USA really like him — or do they?
Sadly, Prince Harry has a few enemies — the American far left wingers.  They hate him and everything he stands for.  Why?  I know why, and even though it would take me a week to tell you why, I have assembled eight rather meandering conceptualizations that I think sum up at least part of why Harry is hated by the left.
Here are the top 8 reasons why the far left Americans ( misfits)  hate Prince Harry.
1) He is very handsome.  There is nothing that annoys the American left more than a handsome prince.  The face of the far left in the USA is an ugly face — a self-loathing face that is often pulled and lifted and frozen by Botox.  They've even had their own kids lifted and lipo-sucked and tucked . Naturally these are the Hollywood types (America's ersatz royalty) and it irks the shit out of them that some people are actually handsome and elegant without even trying.   As far as left wing women go, they're usually lesbians or asexual and damaged anyway so of course they're going to shun or mock Harry.  Basically, they're just so messed up that every relationship they've ever had with a man has failed  because of that old self-loathing stuff.  Of course these old hags are going to hate a handsome prince.  They've never had one of their own — and they never will.  The left wing homosexuals hate Prince Harry (sort of) because they have to do everything in their power to quell their lust and giggly giddiness.  Instead they have to howl about how Harry is just another example of the oppressive and wealthy white European American male elite.  They have to pretend that they don't want to ravage Prince Harry with unthinkable acts — and do you know how hard that is for a left wing gay American?  It's like telling them not to hook up on Grindr for a week. 
2) Harry is not a MISFIT.  He is the total opposite of a misfit.  He is a normal person who has been born into a world of wealth and fame — and he's very attractive and "normal."  The far left American is usually a misfit — homely, unhappy, dirty, hypnotized by trends and hipster stupidity like the "occupy" thing.  Harry doesn't fit into any of that.  He doesn't get involved in anything stupid or questionable, and even though he is rich and famous, he isn't all messed up and creepy.  He's a soldier and a budding statesman.  He represents all that is good in the world.  The left fears Harry because he might be the face of the future of the world — and that would kill them.
3) He is actually a soldier who worked hard to get his credentials as a pilot and he loves his country and his military comrades.  Far left Americans don't work hard at anything unless it's something weird or dopey — and they hate their country.  They hate the USA and they hate themselves enough to embrace people like Fidel Castro and  Hugo Chavez and whatever other crackpot they pretend to love simply because misfits love other misfits.  Harry doesn't do stupid shit like that because he doesn't hate himself.  He has a solid self-image.  You don't have to be a rich kid to be a solid citizen.  Laziness is the rule for the American left.   Laziness and lack of accountability are the golden rules of the far left.  They are misfits — you really don't have to did any deeper than that.   The word is MISFIT — it's the best word ever invented.
4) The American left hates any sign of European male presence in anything unless that male in question is a communist or some kind of social misfit.   Harry is not a communits and he is the antithesis of a social misfit.  To an American far left winger — and you don't have to go too far left — Prince Harry represents the white man's oppression of the poor and sick throughout the world.  The trouble here is that Harry uses his position to help those people.  The weirdoes in the USA lend a helping hand to Haitians and other third world people, but they bore quickly when the cameras stop clicking.  Harry has to to this for the rest of his life — and he seems to really want to do it.  The American left doesn't seem to want to do anything, and when they find something they want to do, they quickly get bored because it's no longer a hip cause or whatever.
5) Harry is elite.  There's nothing the left hates more than the elite in spite of the fact they spend half their lives trying to be elite.  Usually they get tired of trying and they eventually end up as old and dirty-ish and weird and fake and useless semi-hippies.  Harry can't help that he's elite.  He was born into it.  A lot of people in the American left are born into fabulous wealth but they have no class or dignity and for that reason they shun Prince Harry.  They're losers in every way.  Look at the dimwits that these Hollywood fuktards churn out.   Here's the thing,   A lot of the extreme left loves money and fame, but they hate the fact that they don't have the mindset and carriage to go along with that money and fame.  They always screw it up with stupid and sickening causes or campaigns.  They don't know how to "work" and how to be sincere.  It's not bred into them.  Hey, 90% of them are actors who live in a dream world where aborted babies are used as hood ornaments on a Rolls Royce that runs on restaurant grease — but only the very best restaurants.
6)  Harry actually wants to help wounded veterans.  He doesn't just talk about it and make it a pet cause so he can get fans to like his Twitter page.  Yeah, I know that a lot of Hollywood people help the wounded warriors, but there is an undercurrent of disdain for the soldier that many of them can't shed.  They like to say that they support soldiers and the military — but they don't.  "I support the troops" is a euphemism for "I actually hate soldiers."  Take a look at people like Jane Fonda.  She is a thoroughly useless and disgusting person in every way a human being can be worthless and disgusting.   She doesn't give a shit about anybody but herself.   thankfully she is old and finished.  Harry, on the other hand, is the opposite of people like Jane Fonda or Sean Penn or Matt Damon — or even that old queen George Clooney.  He doesn't walk around Monte Carlo thinking he is somebody — Monte carlo walks around him. 
7) The left wing media can't get Prince Harry to say anything to help them with their insincere and childish left wing causes.  Recently,  bald-headed and sickening Matt Lauer pretty much stacked the deck in an interview with Elton John.  He tried as hard as he could to get Sir Elton to mock George W. Bush but he couldn't do it.  It was obvious that Elton John liked George W. Bush and he even said that he "had a soft spot in his heart for him."  This must have made Matt Lauer want to curl up and die, so he somehow got Elton John to say that he was "glad that he was no longer in power."  That made Matt Lauer — a failed hair transplant New York chump — very happy, — but Matt's too stupid to realize that Sir Elton one-upped him and actually meant that he was happy for George W. Bush that he is no longer in power.  Matt Lauer hates George W. Bush because Matt Lauer only reads questions that are written for him by people with an agenda and he has never had an original thought or opinion in his life. He has no mind of his own.  He is a zombie.  Couple this all with the fact that Elton John and Prince Harry are pals, and you've got yourself a recipe for hatred of Harry.
8)  Prince Harry proves the fact that the average American middle of the road or conservative person is the real strength of the USA, and that the left wing misfits in the USA are the shining examples of what can go wrong with a culture.  Harry would have done well in the 1940s but the average American left wing misfit would not have done very well.  They wouldn't have survived because fighting the enemy is something they can't and will not do.  They'd rather watch crooked-mouthed Rachel Maddow recite her insane diatribes and make snide comments because they think they're not only too hip for the room — they're too hip for the world.  Like I said — MISFITS.
So Prince Harry is having a great tour of the USA and he isn't paying any attention to Hollywood and its extreme stupidity.   This is not an accident.  His itinerary was planned to be what it is, and as much as the left hates Harry, they would still want to have him on the Daily Show or something — but he is not buying their shtick — he has too much class.  They wouldn't talk to Harry about his noble duty and his noble causes anyway.  They'd ask him crude and low-rent questions about his romp in Las Vegas.  You know the type.  I don't have to spell it out.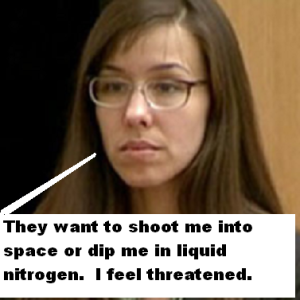 According to experts, convicted killer Jodi Arias will get the death penalty because the jury not only thought she was evil and guilty — they thought she was annoying.
"The jury thinks that Jodi Arias must be executed as soon as possible," said world reknowned prosecutor, Raymond Tote-Tundy PhD, a professor of criminal prosecution at the University of Nebraska School of Law and Agriculture.
"The talk is that the jury was so annoyed by Jodi Arias behavior and her false lapses of memory that they had her hanged even before they went into seclusion.  The reason the decision took long to come back was becayse the jury feared that if they hurried back with a verdict,  grounds would develop where an appeal could be sought for the conviction.  Almost all of the jury member at one time or another expressed open content for the woman who couldn't think of any more ways to kill her lover."
It was obvious to the judge in the trial tht Arias was toast but the jury had a smart foreman who knew that it was best to pretend that they were considering the evidence.  The truth, however, is that the jury reached a conclusion in minutes and spent the rest of the time just talking about casual subjects.
The word now is that the jury has already oredered the death penalty for Jodi Arias, and the joke around the jury room is how she should be killed.  In spite of the fact that state law requires lethal injection be the means by which a prisoner is put to death, many of the jury members are talking about silly things like:  Tying her to a rocket and shooting her into the farthest reaches of the atmosphere and returning her without a parachute.  Other ideas were to dip her in liquid nitrogen and then smash her like a crystal vase so that she shatters into a mllion pieces.  Another idea was to put her in downtown Tehran wearing a sign that denounces Islam and Allah.
"No matter what they decide to be the means by which Jodi Arias is killed," said Tote-Tundy, "The plan is to hide a few hidden cameras on her just so they can see how much misery they can force upon Jodi Arias.  She made them sick to their stomachs for 4 months and they really want to f**k her up real bad."
Do you know Michael Musto?  Perhaps you've seen his creepy fat-yet-sunken face on TV or anywhere else where ladies talk about fashion? Maybe you've read his uninteresting column in the Village Voice — it's right next to the all-male chat line phone numbers advertisements.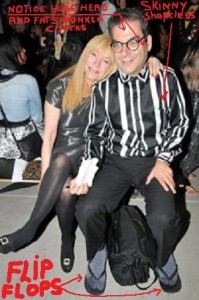 Perhaps you follow him on Twitter because you need to mindlessly pass the time reading the opinions of this looks-fat-but-is-really-shriveled fuktard who will only wear Snooki flip flops on his feet because there is either something wrong with them or he is insane.
Even in the dead of winter — rain – snow – sleet or hail — Michael Musto will only wear rubber flip flops, but when the weather is yukky he covers the flip flops with plastic bags that are secured around his ankles with electrical tape. That's normal, right? I mean, if you're going to be so creepy to look at, why not at least put on a pair of nice shoes? Maybe it will draw attention away from your HUGE-but-shrunken-HEAD!  Yes, Michael Musto, you need to make fun of Chris Christie.
Hey, Michael Musto, you used to be a fat tub of lard but you dieted yourself into nothingness.  In spite of all your dieting and gym classes you still look fat.  Your head and your face are  perpetually fat.  It's hopeless.  You didn't lose weight and get better looking.  You lost weight and got sickly and weird looking.  You have one of those lumpy bodies that will not muscle up no matter how hard you work out.  Your waistline is jelly, and its girth is either 28 or 46 depending on how much your tighten your belt because you're just squeezing your own mushy and shapeless self.
Okay, so you folks either know or don't know Michael Musto. Even if you know him, kindly note that he will not make eye-contact with you when you speak to him. He continually stares at the ground like a little weirdo, yet he somehow manages to look directly into the camera when he's on the air for some girly thing.
Anyway, Musto's latest column is one where he mocks New Jersey Governor Chris Christie for having a form of gastric (lap-band) bypass operation to help him lose weight.
Why does Michael Musto poke fun at the Governor's weight problem? Isn't that mean? Isn't that intolerant? No it's not because Chris Christie is not gay. He is not a minority. He is not a bullied teen. He is not a Democrat, and he is not a shrunken-faced gossip columnist.  It's okay to make fun of him.
Anyway, Michael Musto is an asshole and he would never have written this stupid piece if Chris Christie were a Democrat or a gay man.
Go buy some shoes, you brillo-headed, shrunken fat faced moron Michael Musto. You shoeless fuktard! Maybe if you were good looking when you were young, you wouldn't be so bitter. You're a horror show now — imagine what you must have looked like when you were twenty-one — and your feet — YOUR FEET! UGH!
Dan Savage — who is Dan Savage?  Well, if I wanted to sound like Dan Savage, I would say that Dan Savage is a bitter and cringe-worthy queen who is married to an unfortunate guy named Terry.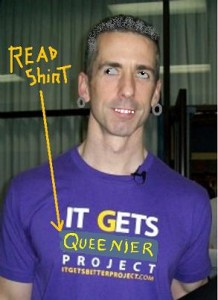 If I wanted to sound even more like Dan Savage, I would say that Dan Savage is a nasty bitchy queen who has made a career with his anti-bullying messages for teens and other bullied people.  He's a nasty little Nancy who has become — and probably always was — one of the people he proclaims to hate — BULLIES!
Recently Dan Savage went over the cliff of Bitchy-Queen Land by sorta kinda wishing oral cancer on Sarah Palin.
Before I get into that, let me tell you the psychology behind all of this Dan Savage bullshit.  Dan Savage is a raging anti-bullying creature who hates bullies because he was probably bullied a lot when he was a kid. Okay, that's totally understandable, but where Dan Savage goes wrong is patently clear to anyone with a brain.
You see, Dan Savage was not bullied in school because he was gay.  Oh no no no no!  He was bullied because he is a f***ing jerk-off and a whining, nasty, bitchy, and annoying little a-hole.
He's got it all wrong — and he's devoted so much of his life and time to this.  What a waste.  Yes, it's true, Dan Savage has dedicated a lot of self-serving time to "protecting" gay kids from bullies, when in fact he should have been protecting whining, nasty, bitchy, and annoying little a-hole jerk offs from bullies.  How did anybody miss that?  Geez!
So anyway, Dan Savage, being the bitter queen who has become what he hates — and that's what eventually happens to all people like Dan — is now reasoning that tabacco-chewing Sarah Palin is an upside to the threat of oral cancer.  In other words, he wished camcer on Sarah Palin. That's really charming.
He wrote in his blog queeny blog – "Woke up to Sarah Palin's voice. She's taken up chewing tobacco now cuz LIBRULS or Bloomberg or something. Now seeing upside of oral cancers….So, yeah, I "bullied" Sarah Palin. Yup. That's what I did." 
Is this guy a major C WORD or what?  I thought Ron Reagan ( the ugly kid, not the President) was a whining little queeny bitch, but this Dan Savage — wow — he takes the prize.
Dan has bullied students for whom he was called upon to lecture about bullying.  But, being the bitchy queen that I assume he is, Dan Savage told the gay students "to ignore the bullshit in the bible about gay people" and then when some students walked out of the lecture, he called their protest a "pansy-assed move."  Wow, he just keeps getting more and more charming, eh?
In an interview with Bill Maher, Dan Savage said, "I wish all Republicans were fucking dead."  He later tried to take that back with some dopey story about his own father being a Republican, but it was too late.  His inner bitchy and queenie-queen-queen had already bared her claws.
If you want to dip deeper into this, maybe Dan Savage hates his father.  Maybe  that's why he has grown up to be a one-note samba beyotch.   Who knows?  Maybe all of his anger is aimed at his father.  Poor father.  He must want to jump off a bridge.  Yeah, even straight old people jump off of bridges, Dan.
The funny thing about bullies is that some people bring out the bully in other people.  For no apparent reason Dan Savage has implied that cancer is a good thing as far as Sarah Palin goes, but by doing that he has created more bullies against himself.  Why would he do this?  The answer is obvious.
Dan Savage is mentally sick in my opinion and I also believe that he enjoys being bullied and he fantasizes about the bullies in his past.  He can't rid himself of the memory of the hot muscle jocks who bullied him because he was a bitchy, whining, annoying jerk-off– and he liked it.  Is that a crazy opinion for me to have? I asked an expert.
"No it is not a crazy opinion.  He could be a masochist who vents that aspect of his personality by intentionally bothering people or stirring up unpopular comments or commentary so as to attract negative attention to himself.  You can say that he is looking to be bullied and that he perhaps enjoys being bullied.  With that said, I do not think your opinion of Dan Savage's mental situation to be meritless" [Raj Patel MD, Mumbai Institute for Psychiatric Study] 
So, did I do a good job of sounding like Dan Savage or was I not queenie enough?