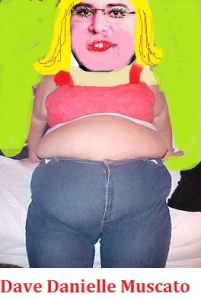 Dave Muscato — the publicity director for an organization that has invented itself as "American Athiests "– is getting a sex change.
Yes, the atheist prick will soon be the atheist cunt.  How hard was that to predict?
It's okay to puke.  That's what Jesus would do.
Yes, on top of all the other sickening things about this atrocious lump of un-fuckability,  the self-loathing monster –heretofore known as Danielle Mucato — is now venturing even deeper into his misbegotten life and scraping the bottom of the barrel  in a vain attempt to find what's missing.  He's outta luck because what is missing is something that doesn't exist.  There is no THERE there.
The atheist thing wasn't cutting it for him.    He wasn't getting the attention he craved.  He wasn't ENOUGH of a misfit.  He was too close to normal for comfort.  It wasn't enough to be a fucking annoying douche bag who bashed on Christ and Christians and Christmas — he needed more.  And now, MORE means — chopping off his dick.
ATTENTION:  Dave (Danielle) Muscato, is tearing down that bitch of a tiny dick and putting a vagina where a vagina OUGHT TO BE!  
Naturally my very own brand of malicious and very un-Christian fun starts just by imagining what unimaginable horrors can be wrought from a plain, old hypodermic needle and a  bottle of estrogen.
I mean, these are household items for a lot of people, but can you imagine their use in the case of Dave (Danielle) Muscato?
It promises to be the best Wes Craven movie ever made, and Wes Craven doesn't even have to be there.   It's going to make the Christine Jorgenson story look like an evening with Pat Boone and a medically dilating dildo.
Since I am a not a devout and loving Christian, I wish Dave(Danielle) Muscato, the best of luck with its penis removal and subsequent pussy installation.  I am sure everything will go smoothly because how hard can this kind of surgery be?  How hard can it be to remove a pesky little prick from someone who is already a huge cunt?
NOTE:    Do some of you not see the mission of this blog?  Please stop making my job so easy.