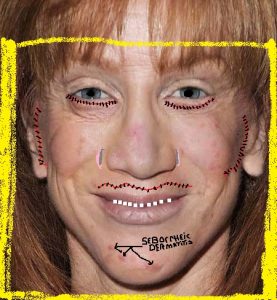 Kathy Griffin Does Not Understand What Holding Up A Severed Head Represents.
"KATHY HAD TO TO DO THIS.  SHE HAD TO DO SOMETHING REALLY EDGY OR DANGEROUS BECAUSE HER CAREER HAS DONE A HUGE NOSEDIVE OVER THE PAST FEW YEARS AND SHE LOOKS FUCKING AWFUL.  LET'S JUST BE HONEST ABOUT IT.  SHE LOOKS REALLY OLD…LIKE A CORPSE.  IT'S PATHETIC.  SHE IS A VERY UNHAPPY PERSON."  [Marvin Greenberg –  Hollywood Insider]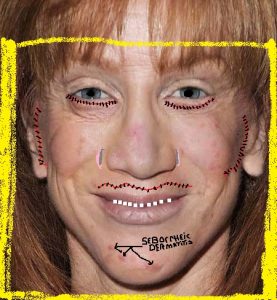 The recent photo of Kathy Griffin symbolically holding up the severed head of Donald Trump has caused an uproar, and for the first time  a "triggered" walking, blubbering, Hollywood disease, might get her luggage handed to her at the exit gate for stepping over a horrifying boundary.
"Maybe this is why she has now started to use makeup products designed for use in the mortuary business.  No joke.  A lot of celebs use corpse makeup, and a lot of it is dangerous, but Kathy has been using it pretty heavily.  I know this sounds like a joke, but it's not.   It's pitiful…pitiful.   She looks awful and she is behaving terribly.  A lot of her recent bad behavior has not made it to the tabloids because she is no longer relevant, but she has gone off the deep end for sure." [Annie Bordowitz, Colombia Pictures South America –  CEO]
Joy Behar is next on the Get The Fuck Outta Town Train, but her oft-triggered uterus is long past discharging anything but mites and rodent particles.  That's not to say that Kathy Griffin is over-flowing with juices, but when a body is rotting from the inside out, it usually finds an orifice….guess which one it found in Kathy's case.   It also doesn't help that Kathy's face is covered in a skin disease called Seborrheic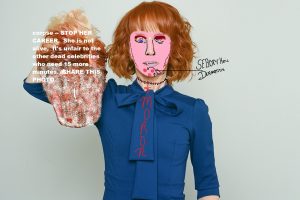 Dermatitis which is a kind of skin mite and fungus combo that usually effects babies and older people with weak immune systems.   She looks awful — maybe something is WRONG with her.
Watching the fall of Kathy Griffin won't be as much fun as it should be given the fact that she went out of fashion in 2008.   Her only real gig — doing the New Year's Eve thing in Times Square alongside the walking, anal discharge, and world famous dick-triggered heiress, Anderson Cooper — has been CANCELLED by CNN.
Yes, believe it or not CNN, the world's greatest purveyor of Fake Russia News, was quick to ditch Kathy.  My best guess is that they were going to ditch her anyway, and this recent rub-out was a serendipitous thing.   I mean, if they didn't get rid of her soon, she'd become a piece of furniture like that old woman named Jane Pickens who did the cerebral Palsy telethon with Dennis James until she was intubated and on a feeding tube on live TV back in 1981.
 ? ? ? ?  "Look at us we're walking. Look at us we're talking.  Imagine walking to the candy store…etc"  ? ? ? ?
Psychologically speaking,  Kathy doesn't realize why she crossed the boundary because she is simple-minded, and she lives in Hollywood — the giant, ultra-contaminated Plum Island where contaminated creatures not only run free, they get to influence the minds of millions of people with their movies and television.   Hollywood is a very bad place.  Two hundred years from now, Social Scientists will look back on this thing we call Hollywood – Yes, Meryl Streep, it exists — and they will stand bewildered.  It will all seem unreal or invented — or its existence will be denied.
"Dear Kathy:  Severed heads, and the bloody manner in which they are severed, are the artwork of terrorism.  That's their BRAND.  It's their Coca-Cola sign.  Holding up a severed head is the ultimate propaganda tool, and BEHEADING PEOPLE, has been used for eons to subjugate and terrorize people.  Don't you understand that?   In any other time, if you did this, you would be executed or jailed for life, but you use the comedy reserve parachute to wiggle your way out of this and all is well, but don't be too sure.  I suspect that your career is over.  In my country you would be stoned to death."  [Muhammed El Kareen Bahaj] 
What brain cell would not have stepped up inside your surgically scarred and stretched head and not whispered to another brain cell, "Hey, uh, this is not really a good idea?"   What were you thinking?  I can answer that easily.  You were not thinking — at least not in the usual way.  You were HOLLYWOOD thinking.  Maybe you thought you could get a job on SNL where you get to play the executioner alongside hateful Alec Baldwin and painfully unfunny, Melissa McCarthy.  Sadly, Alec Baldwin could be a classically funny guy, but he's ruined it with his Trump hatred.  I guess you wanted to jump on that pathetic gravy train too, Kathy — but it's too late.  You're done.
Please share this story in your social media and encourage your friends to avoid and boycott all things Kathy Griffin.  Of course you will still have your Left wing gay friends who sorta-kinda still like her, but they're going out of style too,  so how much harm can they really do anyway?   I think….and I heard this from someone…that there are still gay men in parts of the USA who frost their tips.  I think those are the last of the Kathy Griffin gays.