THE TOP FIVE SECRETS MACAULAY CULKIN DOESN'T TALK ABOUT.
by: Damien  <— click on my name — READ ABOUT ME — I need the exposure .  
It's that time of year again, folks.  The Christmas Holiday is upon us, and every maudlin sap on earth is getting ready to hunker down in front of their TV to watch MIRACLE ON 34TH STREET – which I cannot watch since Natalie Wood got drownded. (I know the word is drowned, but I think "got drownded" sounds better and more horrifying.)
Other fat and sloppy simpletons will watch IT'S A WONDERFUL LIFE – which I cannot watch because I think Frank Capra movies are fake-feel-good and simplistic.  It's true, dammit!  If that film came out today, 50 million Facebook idiots would be having a GoFundMe for Jimmy Stewart.  Yes, Virginia, people are THAT stupid.
As for me, I just watched PLANES, TRAINS and AUTOMOBILES with the great John Candy.  I know that's more of a Thanksgiving-ish movie, but the fact that it's being shown now is like a signpost:  Next stop ahead is the iconic HOME ALONE franchise starring the used to-be-reclusive Macaulay Culkin. 
Mack, as he calls himself, no longer a rarity in the public eye, is now out and about at 38-years-old.  He looks the same as he did when he was a kid, and close friends know enough not to touch any of his doorknobs without wearing at least one oven mitt.
I went to see Mack's Pizza Band at a club in NYC a few years ago and I caught him the other night on Jimmy Fallon where he was promoting his new BunnyEars.com website.  I can't fully figure out what the website is about, but I got a death-o-meter t-shirt from the site and I enjoy seeing him again in the public eye.  I like him and his oddly-quirky urbanity.   I think he's far more talented as an adult actor than he does, and he never annoys anyone with his political opinions or all those other incredibly stupid and self-important things that cause many celebrities to lose their allure or mystique.
So, now that Mack is back, what are some things we should know about him?  I mean, it's not all sunshine and flowers in his world.  He has secrets, and it's my job to tell you the TOP 5 Secrets you should know about Macaulay Culkin!!!
1 – Macaulay Culkin was born with two tiny slits on the top of his head that doctors assumed at first were rudimentary gill slits which would gradually fade away.  One specialist advised against any surgical intervention, opting instead to tell the Culkin family that their kid would grow up and make his own decisions about these slits.  "Back then, we didn't do plastic surgery on gilled children," said an angry and bitter Dr. Dean Traherne, the surgeon who was the first to examine the Culkin baby and the first to advise against any corrective surgery.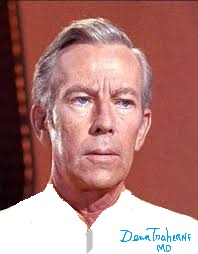 A year before little Culkin became an international sensation, the slits started to grow into tiny rabbit ear buds.  Dr. Traherne continued his rant,
"We didn't have very sophisticated DNA testing back in the early 1980s, but this kid was a frigging chimera or something.  I submitted my opinion to the staff in Pediatrics.  I theorized that the Culkin baby might be a human-rabbit hybrid, but they mocked me and joked behind my back.  I was already sick of people saying, 'What's up, Doc,' but this time it wasn't just small talk.  It was demeaning and cruel.  Soon after, I was shunned by the medical industry and my life was ruined.  Now I work at Trader Joes.  Eventually I was proved to be right, and surgery was performed in Switzerland to remove the developing bunny ears, but the kid has never actually recovered.  But you see, in a demented way, I'm glad that this happened because in the long run, I was right.   Even though his bunny ears were amputated, Macaulay Culkin's true self is coming out again.  He openly chooses to wear fake bunny ears.  It breaks my heart that he was deprived of his real ones.  You shouldn't monkey around with bunny ears.  A kid grows up and makes his or her own decisions about their bunny identity….and don't say that I sound 'hopping mad' because I get that a lot."
2– Mack's parents were advocates of "method" acting.  When Mack was a very small child, barely two, in anticipation of the Home Alone script, they'd often leave him home alone for days and days in their New York apartment where he would be intentionally frightened and terrorized by Method Acting coach Lee Strasberg.  Despite his youth and littleness, baby Mack bested Strasberg at every turn – leaving the old man burned, battered and disfigured.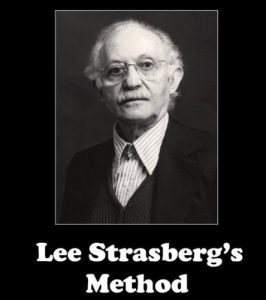 Baby Culkin's ability to survive alone with the most overrated acting coach in history led to the old man's death.  For that reason, Marlon Brando said of Mack, "You don't understand! This little Culkin kid has class!  He's could be a contender!"  Keep in mind that Brando wasn't very fond of Lee Strasberg—something about Strasberg taking false credit for Brando's acting chops – but it was Marlon Brando who got Mack the Home Alone gig.
3 – As a young kid in Hollywood, Mack was bullied by the older Joey Lawrence.  Joey (now 42) was already shaving his chest and pumping iron when he was barely twelve, and he often picked on poor little Mack just because he was small, pale and blond…and he took ballet lessons.   One day, while visiting the set of "Blossom," Joey Lawrence called Mack a pip-squeak.  Little Mack, using his finely tuned ballet skills, kicked the living shit out of Joey, and today, because Mack beat him down, the two are best friends who share a mutual respect.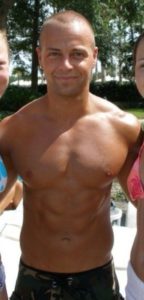 Whenever Joey is in NYC, he visits Mack.  Joey helps Mack with his nail polish and Mack helps Joey shave his head.  "It's like they're the happiest big brother and little brother in the world. In fact, it was little Macaulay who convinced Joey that becoming a Las Vegas Chippendale dancer was not the way to go," said a NYC neighbor who refuses to be identified because she thinks Mack is weird and capable of murder.
4 – As a child, and throughout the filming of HOME ALONE, Macaulay Culkin did not believe in Santa Claus.   In fact, he was so anti-Santa, that the other kids called him Mac-Scroogy Scroolkin.  Mack even went so far as to have an anti-Santa Claus clause written into his contract.  The clause stated that no actor dressed as Santa could appear in a scene with him. To this day, kid actors who do not believe in Santa Claus have this clause against Claus written into their contracts.  In Hollywood legal circles, it's called the Santa Claus clause.
However, when shooting wrapped on HOME ALONE, Mack got a peek at his paycheck and his pay for the sequel whereupon he shrieked, "There is a Santa Claus!  There is a Santa Claus!  Please take out that stupid anti-Santa Claus clause from my contract, Bernie!"  But the damage had already been done.  Now, because of the anti-Santa Claus clause, a lot of little showbiz brats think they're hot shit.
5 – Each Christmas, Macaulay Culkin finds time to dine with Joe Pesci and his family.  It's all very Italian-American.  Lasagna – prosciutto – calamari – linguini – clams – Chianti and meatballs are the usual fare, and the conversation at the table is always about the filming of HOME ALONE.   Gradually, as the dinner draws to a close and everyone is smoking a cigar, Pesci starts to realize that he deeply hates Macaulay Culkin and then tries to strangle him.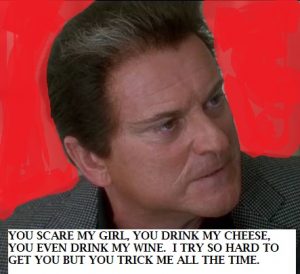 Last year, Pesci, in a rage, grabbed the wide-eyed Culkin and said, "You…ya  pasty-white little prick ya!  Ya stupid punk!  If I was five inches taller, I would murder you!   No!  I won't calm down, ma!!"  Luckily, Culkin's security peeps, led by Joey Lawrence, are always there to break Pesci's knee-caps.  So far, after nearly 30 Christmas dinners, Joe Pesci can barely walk.  Via his publicist, Pesci admits only that he and Culkin have a love-hate relationship.
I guess these things aren't really all that bad.  Show your support for Macaulay Culkin.  When was the last time he got on your nerves?  Never.  Go to http://www.BunnyEars.com and read it –and buy a freaking T shirt or something.