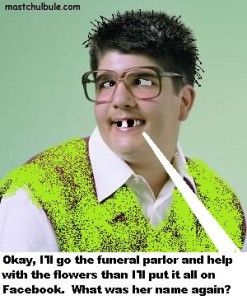 From 1925-2008, there were people who liked to spontaneously drop in for coffee and meaningless conversation. These drop-ins were always the first to arrive and help at funerals and wakes and deathbed visitation because they secretly enjoyed mayhem and sadness, but they could easily masquerade their malevolent intentions as sincere kindness and caring.
They liked silly and simple-minded inspirational stories because they had the mind of a child.  Their knowledge of politics and war and violence and social injustice were severely limited, yet they had strong opinions about these subjects and they shared those opinions openly and vociferously.
They liked community action involving police and firemen, and they had police scanners running 24-hours per day.  They liked childish stories about good triumphing over evil. They were simple people who were tolerated by friends, family and townspeople because it was the humane thing to do. 
These were the acceptable village idiots who somehow came across as good solid citizens — something that their village idiot ancestors of old were unable to do.  Somehow, the village idiot gene had changed.  The profound idiocy evolved into a species of presentable person who could rise to the level of a functional, albeit weird individual, and he could "pass" in semi-polite society.
I speak as though these people  have gone away or they've become extinct, but they haven't at all.  As a matter of fact, the abundance of these mercifully-morphed village idiots is astounding.  
Allow me to explain why I say this and to explain why the simple-minded are held in high esteem by nature simply because smart people need stupid people in order to survive.  It's a concept that has been overlooked by sociologists for centuries, but it exists, and with today's modern technologies, the  prevalence of the stupid over the intelligent is markedly out of proportion.
In the past there was always one village idiot.  Of course there were many others but families hid them in attics or basements or in mental asylums where they belonged.  In the 12th century, and up until the 19th century, it was the lucky village idiot who was allowed to roam free — free of intellect, knowledge, dentistry, personal hygiene or any hint of social dexterity.  In more modern times the situation remained the same — but different. 
In modern times — 1925-2008 — the moron or idiot or imbecile masqueraded as the persons I described in the very first paragraph —  but then Facebook arrived. 
Facebook has forever changed the way we as a society can view or understand or even realize the abundance of morons in our midst.  Facebook unleashed the hidden village idiot gene for all to see.  Centuries ago it was easy to spot the village idiot,  but then it grew harder and harder.  Now, with Facebook, it's almost impossible.  In fact, you might be a village idiot or a Facebook moron but you have no way of knowing because your Facebook friends might me just as moronic.  All of their "likes" and "shares" may have convinced you that you are a highly functional human being with a keen intellect.  But the odds are that you're not.  The odds are that you carry the genes of  the ancient village idiot in your DNA, and social networking has given a voice to that silent spirit within you.
[Damien Le Gallienne for TheDamienZone.  Copyright 2013]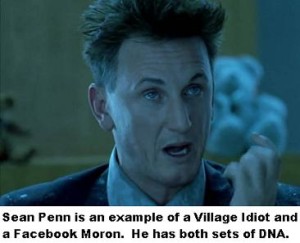 HERE ARE THE TOP TEN SIGNS THAT YOU ARE A FACEBOOK MORON AND THAT YOU PROBABLY CARRY THE VILLAGE IDIOT GENE.
1) You share or post to your page, a photo of a celebrity inscribed with a quotation attributed to the person depicted in the photo without checking to see if the quote was correct.  The quotes  can be inspirational, or politically divisive.  It doesn't matter.  They are almost always wrong.  The person in the photo never uttered the quote.  Imagine a grimy village idiot in 16th century England yelling out biblical passages to shopkeepers.
2) You like a certain type of music so every now and then you post a YouTube link to a song you fancy.  Nobody gives a shit and you look like an moron — because you are.  This is made even worse if you get a few "likes" or comments.  Imagine a filthy village idiot from ages ago singing a silly tune while villagers laugh and throw pennies at him.  Got the picture?  That's you, Facebook moron, that's you!
3) You post an inspirational (fake) story/video about a (fake) person with a (fake) illness or a (fake) tragedy and you add the comment, "If this doesn't make you cry, nothing will."   The thing that should have made you cry is the fact that you simply could not keep this to yourself.  You're like an ancient moron sharing a sad story (which is usually fake anyway) because he doesn't have any stories of his own to tell.
4) You take a studio picture of yourself, your child, your mother and your grandmother with the notation, "Four generations of…."   Indeed it's four generations, but it's four generations of village idiots; three of which are now Facebook morons — unless of course grandma is on Facebook too.  That makes four. If you have five generations, the proof of retardation is greatly enhanced because it shows very young marriages or motherhood.  Not good.  This can also be a sign of white trash, or other strange cultural behavior.
5) You post stories from newspapers and magazine and you post your own commentary about the story.  "This is proof that our country is going down the tubes."  This is made even worse owing to the fact that you used the words "down the tubes" — that is really dumb — seriously.
6) You answer a death announcement with the comment, "God needed another angel" or "Now they're in a better place."  Yes, it's nice to offer condolences, but there is a limit to the amount of angels god needs, and he doesn't need morons to put "vacancy" sign on his kingdom.
7) You do not know the difference between the words "there" – "they're" and "their" and neither do your friends.  Yes, you can sometimes make a mistake, but the average Facebook moron makes this mistake all the time and it's a sure sign of profound stupidity.  In olden days, a village idiot could only say those words.  Nobody knew if he was using the wrong one, and in that case, the village idiot of old had one up on you.
8) You post sad stories about the death of someone you hardly knew.  "Recently my sister's secretary's daughter passed away."  Okay maybe you kinda-sorta knew this person, but what adds to the Facebook moron aspect overall is the unbelievably stupid Facebook friend who comments: "Very sorry for your loss."   Unless it's the death of a personal friend or family member, there is no need for the falsely maudlin story.  If it's a person that you knew and many of your Facebook friends knew, then it's perfectly acceptable.  But posting about your neighbor's niece from Shanghai is just plain dumb.  But it's okay.  You're a Facebook moron and that's okay.
9) You post a sickening photo of a seriously sick infant or person in a hospital with the comment: "One like equals a $1.00 donation.  One comment equals a $5.00 donation."  Since you are a Facbook moron, you have no way of knowing that these donations will never happen, but still you clutter the pages of others who do not want to see photos of babies with tumors and heart transplants.  I know it's hard to understand that, but it's true.
10) You can't STOP posting those Victorian era postcards with the crude remarks.  Things like: "I would gladly help you with your homework honey, but I don't give a rat's ass about you."  Sometimes these postcards are funny and they apply to a recent situation to which some of your friends may be privy, but for the most part they are so 2010 — get over it.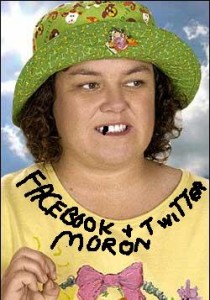 Of course there are a hundred more Facebook habits that prove or suggest that you carry village idiot genes, but ain't nobody got time for dat." <—-if you recently  posted that one, you might not be a village idiot or a Facebook moron, but you're a year behind everyone else so you have to wonder about that.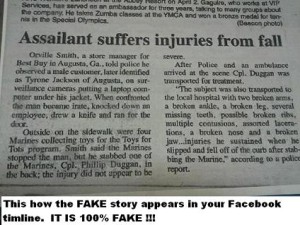 The "story" in this story has probably already been shared on your Facebook timeline.  It's probably being shared over and over again by every dumb and gullible Facebooker you know.  It's a fake and maudlin feel-good story that was invented for the likes of people who cheer wildly in movie theaters when the alien gets blown up or the criminal is killed by the hero.  In other words, it's the kind of story that bird-brained and simpleminded people on your Facebook like to share.
This time the story is about a guy named Tyrone who tries to steal a laptop from a store and is confronted at the exit by the store manager.  Tyrone knocks down the store manager and bolts from the store.  But instead of making a clean getaway, Tyrone runs into a bunch of cracker jack U.S. Marines who just happen to be headed into the store and have witnessed the mix-up with Tyrone and the store manager.
Keep in mind that this is only the beginning of the story but anyone who hasn't already figured out that it's a fake story will never figure out that it's a fake story — but for shits and giggle, here's how the rest of it goes.
The laptop thief is nabbed by the Unites States Marines, but he somehow manages to stab one of the Marines in the back.  The wound is not serious, but when then police arrive to on the scene, the injured Marine is taken to the hospital for precautionary measures and the would be laptop thief has to be taken away to an ICU with countless injuries.  He has ten broken ribs, a fractured jaw, ten missing teeth, two broken arms, and a broken leg and a severe concussion.
Okay ,now here is the fakest part — the part where all the retards stand and cheer and whoop it up like chimps having a fight in the jungle.  The "reporter" asks one of the Marines how the thief got so badly injured, and they reply that he fell off the curb. How stupid is that?  Obviously the story is meant to imply that the Marines beat the crap out of the guy — and he would have deserved if if he had indeed robbed a store, injured the store manager and stabbed a Marine — but it NEVER HAPPENED!
So what is the truth?  The truth is that this is a fake story.  It's as fake as the same story that was spread around years in 1910 in the Australian world of urban Facebook legends and then again in 2011 on Facebook pages in the United Kingdom and Belgium in 2012.
Finally, the story has new legs in 2013.  Supposedly this all happened in Georgia, but it is spreading throughout the United States and fake newspaper clipping photos tell of it happening in at least a dozen US cities.
It appears on your Facebook page as a "share" that somebody else shared with somebody else who then shared it with somebody else until it reached your Facebook.  Each person involved in this network of sharing is a moron or an idiot.  It has already been proven by Finnish psychiatrist Dr. Tootsie Sherwood MD, that people on Facebook who share these kinds of stories have some kind of mental deficit.
"I will again support the results of my research and again.  This case where a few United States Marines cause great bodily harm on a thief who stabs one of their own, is not true, but it's not a hoax per se," said Dr. Tootsie Sherwood. 
"It's a form of simple-minded way that unintelligent people use as a way to create heroes and to enjoy childlike stories where good triumphs over evil.  Many people who use Facebook for stories of inspiration or excitement, and I have stated this before, are almost always in the  66-88 IQ area.  They function well in society on many levels, but they get true enjoyment from stories and tales that your average 6 or 7-year old believes and enjoys.  In the case of the fake laptop thief story that's going around, we are dealing with a kind of army man or G.I. Joe kind of pretend play."
Dr. Tootsie Sherwood has devoted five years of study in this area and we here at TheDamienZone.com have helped to spread the word about Dr. Sherwood who works as a psychiatric research physician at the Saint Raymond Tote-Tundy Institute in Helsinki, Finland.
If you would like to know how this fake story started and how it keeps spreading around, the answer is easy.
The story comes from a scene in the 1970s Charles Bronson movie "DEATH WISH" where a hapless criminal winds up badly mangled when he messes with the wrong man.  In the film, when one character is asked by police how the criminal got so badly mangled, the vigilante of justice replies, "Poor guy.  He must have fell off a curb or something."
So now you know.  The story about the laptop thief and the Marine Corp guys who beat the daylights out of his, is fake.  The names and nationalities have been changed so as to fit the countries through which it is spread.   This month it's the United States.  Kindly note that anyone who SHARES this to your face book is profoundly unintelligent.  Their stupidity will be even more severe if they accompany the share with a comment like, "This dude messed with the wrong people lol."   If you have a Facebook friend who shared this with you, don't be mean or nasty about it.  Be understanding and thoughtful because it's a matter of intellectual incapacity and it's always best to try to cajole people like that.  You can't tell them that they are "stupid" or "retarded" because if they ever faced the truth about themselves, it would deeply hurt them.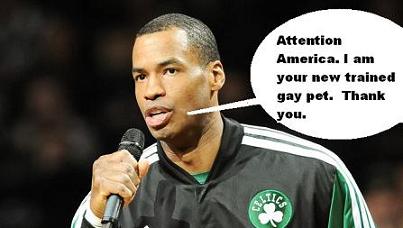 Jason Collins, a third or fourth string NBA basketball player, has come out of the closet –  not because he is simply proud to be gay –  but because he had to do something to boost his vanishing career.
Some really dumb people in the media and in the world of gay politics are heralding this "coming-out-of- the-closet-sports-hero" as the new Jackie Robinson.  The stupidity and self-serving dumbness of these people is pathetic.
Not only does the comparison to baseball great Jackie Robinson make no sense, it implies to the bigoted do-gooders — who seem to have no clue that they are bigoted do-gooders — that gay people are anatomically different as far as athletic ability is concerned, and that some great and awful barrier had to be broken down to allow a gay man to play basketball.   This is not only not true, it's an insult to the kind of injustices to which Jackie Robinson and countless African American black athletes were subjected for ages.
Gay people have been playing basketball and all kinds of major league sports for ages, it's just that nobody knew they were gay.  Jackie Robinson, because of the color of his skin — something he could not hide or ignore — was intentionally kept out of the sport where he excelled.  One can't make even the slightest comparison to the woes of gay athletes.  Of course a major league player of any sport would not be welcomed into or onto a team if he swished his way around the locker room or the playing field and flaunted his gayness.  Even straight guys can't mess around openly with women and think they're major league sports careers won't suffer.  Ask Tiger Woods about that.
While gay groups throughout the world — and straight groups who like to treat gay men like trained chimps and seals — rallied for Jason Collins and his choice to come out as gay, it was pretty obvious to the trained eye that Collins needed to do SOMETHING to keep himself relevant.  Had he not come out as gay and caused all this media blitz, Collins would have faded off into the sunset and earned a living cutting ribbons at new Piggly Wiggly stores.  Let's face it, Jason Collins is no mega star athlete.  This media event isn't like Michael Jordan coming out as gay.  It's just some NBA player who figured out how to market himself as a gay martyr — and it worked.  You have to give him,  or whomever is pulling his strings, credit for that.
Jason Collins had no real career left.  He was a benchwarmer, and please, don't think that his choice to come out was rooted in any kind of altruism or gay pride.  He did it because he needed a job and he thinks that coming out as a gay professional athlete will be his new job.  That's the whole thing.  His career will be his sexuality unless he shows that he is talented in other ways.
For the most part, it's safe to assume that most gay people really don't care that he's gay, and it's the straight people who make themselves feel good by embracing the whole coming out thing.  They will make Jason Collins' gayness a front page news item.  Most gay men don't even watch basketball — come on — be serious here.
Prior to his "I'm gay" announcement a few days ago, Jason Collins was a virtual unknown.  His face was not recognizable enough to make it on a box of store brand popcorn let alone the Breakfast of Champions.
Hey, you can't bash the guy for making it for 12 years in the NBA.  Pretty much NOBODY can accomplish that, but you have to see things for what they really are, and in this case the truth is that Jason Collins is being recreated as a gay brand — but there's a catch to all of this marketing and branding.
GAY DOESN'T SELL !  It doesn't.  Not even to other gays.  Marketers know that so don't think you're going to see Jason Collins doing car commercials or Nike commercials — no way.  Is it so hard to understand that it's not the NBA that's bigoted or opposed to homosexuality, it's that the marketing folks who market their wares via professional sports, know that GAY is not a really powerful brand.
Hey, if "gay" sold cars or sneakers or fast food, the gay players would come out of the woodwork like lemmings.  No — sorry — gay does not sell products and even the gayest marketing executive is not going to hand out his Buick contract to an openly gay athlete.  It will never happen.  If you watch the Logo channel you will note that most of the ads aimed at a gay male audience are usually phone sex lines or condoms.
Jason Collins will now become an object of fringe marketing.  He will be beholden to the whims of kooky straight people who take on kooky causes.  These psychos usually cause more damage than anything else, but they completely miss the fact that they're stupid and phony and disingenuous and smarmy and maudlin and plain old annoying.
Of course no team will ever have the nerve to cut Jason Collins now that he is openly gay.  If they did, the wrath of the do-gooders will fall down on them like a tower of bricks and mortar.  Because of this fake niceness and totally bogus NBA bromance with homosexuality, an NBA team is stuck with a sub par player whose most recent talent is not basketball, but the fact that he likes other dudes and not chicks.  That's pretty lame..
So what marketing niche will Jason Collins be able to fill with his newly revealed gayness?  We here at TheDamienZone.com have a few ideas of where this is all going.
After the talk-show circus an dthe obligatory pilgrimage to Oprah, Jason Collins will become the new face (even though nobody knows what he looks like) of various anti-bullying campaigns and assorted gay pride stuff.  Then, after the newness of all that wears down, he'll probably get taken on as a gay trained pet seal by a sports network or talk show.  Kindly note that no major network sports network with any major audience will touch him.  He'll be relegated to crap networks like Logo or chick-flick entertainment channels that do red carpet events and fashion stories.
Jason Collins will be the "masculine gay guy" and he'll make a good living off of thet shtick for a few years.  Then he'll drop a notch and attach his name –which would have otherwise been forgotten — to local gay gyms and night spots.  Young gay people will be invited out to the newest club to "meet Jason Collins" and then he'll probably start taking his shirt off or flexing his muscles until he finally starts with his own brand of Jason Collins condoms.  If he's really lucky he'll get his own brand of Vodka or Tequila – which will include heavy handed warnings from Jason himself about he importance of safe sex and responsible drinking.
So gay people throughout the USA can thank Jason Collins' for unwittingly perpetuating the sickening stereotype that gay people are different from other people as far as athletic ability goes.  Jason Collins has opened the door for all the loving and caring heterosexuals who think it's cool to have gay friends and to be "gay adjacent" — but when it comes to mainstream marketing and major network air time — all interests would be better served if openly gay athletes would kindly use the rear entrance.
"Look, he's only got a few years to live before he gets bald and hairy like all those weird people from wherever it is he's from. When he's 25 he'll look like he's 40 so who cares if he gets a lethal injection then?  I mean, it takes a long time to put someone to death — might as well make him useful."  [Unidentified Spokesman for O.Q.U.A.T]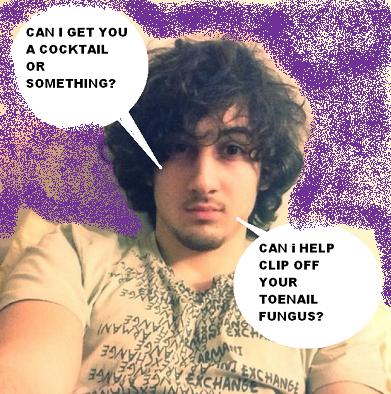 Dzhokhar Tsarnaev may very well be the most loathsome 19-year old little murderer on the face of the earth, but to an aging bunch of strange men, he is a hot commodity who should be released into their care so they can rehabilitate him on their big men-only chicken hawk ranch hidden high in the mountains.
As sick as it sounds, some crazy people with some crazy organization think that  Dzhokhar A. Tsarnaev is hot and they're not about to let a bunch of big muscular black guys in prison have at him first.
"We think that Dzhokar is a cute twink with a bad boy streak a mile wide, and even though he's a killer, we know that with some tender care and affection, he will be a great attraction as a pool boy in Palm Springs or one of our other hideaways in Corsica or Key West," said a spokesman for the group, O.Q.U.A.T. – Old Queens Understanding Attractive Terrorists, a group of older men who have an insane  penchant– [pronounced Pon-Shont'] — for hustlers and other assorted young male criminals. OQUAT has vacation spots all over the globe where they surround themselves with these prison types who have that hard-to-find bad boy reputation.
Their latest fixation is the Boston bomber and they vow to help him as much as they can before the Crips and the Bloods feast on him.   Last month, representatives of OQUAT spent over $500,000 bailing young guys out of jail so they could work and possibly get rehabilitated at their various spas and vacation facilities, but this time they're going too far — but it's not the first time.
OQUAT was the victim of a scandal going back almost fifteen years ago when they referred to the sicko bomber Timothy McVeigh as a "Long Tall Drink of Water" and tried in a press relaese to get him released from jail on the technicality that "he would need to be loved and soothed by an older 'Daddy' in the months leading up to his execution."
The spokesmen for OQUAT continued:
"Of course it kind of matters that Dzhokhar A. Tsarnaev was responsible for heinous crimes but we think that he should be sequestered here within our organization. 
"We here at OQUAT think he is precious and sexy and we can always use a young hottie to help us with out suntan lotion and other things.   These cossacks or whatever he is, make good companions for us older daddy bears.  It's so hard to get a regular hustler to put sunblock on our fat, hairy, and mole-covered bodies, but these little numbers who are going to get life in jail or the hotseat are screwed no matter how you look at it, so why can't we have a little fun?  Besides, it's only a matter of a few years before he is balding and hairy himself, but until that time we would like to have him around."
Yes, there are some sick people in this world, and while Dzhokhar A. Tsarnaev has those kind of Teen Beat good looks, he is a sick killer who ruined the lives of a lot of people forever.  Maybe it wouldn't be so bad if he had to work as a cocktail waiter or pool boy for OQUAT until he gets sentenced.  Could there be a worse punishment than putting suntan lotion on fat old men and clipping the fungus from their gnarly toenails?  It's certainly worse than just sitting in a jail cell while waiting for your final sentencing, that's for sure.
"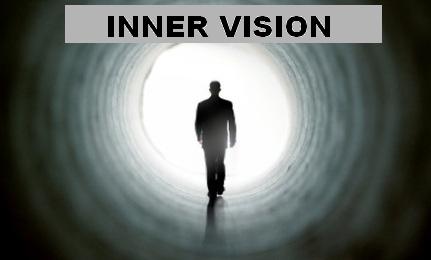 Many people claim to be psychics or mediums, and there are thousands of places where you can get a tarot card reading or a psychic counseling done for you by a psychic.
You can visit a medium who claims to visit the world of the paranormal on your behalf, and these people charge an awful lot of money to bring you a message from a relative or friend who has passed, or to help you in any way you need where knowledge of future events in your life will help you.
Many or most of these people are well-intentioned, but still, they earn and charge a lot of money for their psychic services.  This is not to say that they are fakes or phonies, but there is a better way to contact the paranormal world.
GETTING IN TOUCH WITH YOUR PSYCHIC SELF.
The truest way to reach out to the dead, or to predict lottery numbers or future events, lies deep within you — your  "PSYCHIC-SELF".
When you talk to a public psychic, you are dealing with a third party who has no ties to you, and since the questions you will ask are about YOU and not about the psychic, it's often hard to get an accurate answer.  Even if you go to the best psychic in town or one who is famous on TV, the best psychic in your life is you, and all you need to learn are a few basic tricks.
EDITOR"S NOTE: This page does not ask for money — EVER.  So don't think that you're coming to a part where we try to sell you something.  TheDamienZone is simply passing on some basic information that was passed on to us by someone who we trust and believe.  If you see this same information elsewhere and they ask for money for the whole story it means they stole the information from this website.  Everything we were told is here.  There are no extras or anything like that — and there never will be. 
THE TRUTH ABOUT WHY YOU CAN BE YOUR OWN PSYCHIC.
The universe is 99% unexplainable but scientists know for certain that energy is never lost, and that "black holes" — giant portals of time and space that move through the universe – pull in old information and funnel it to a new world.  These black holes virtually suck in all of the used up energy and spit it out into another universe that we humans cannot see or truly understand.
As far as science goes, the idea of time "passing" is an illusion to human beings.  We humans are not able to comprehend the fact of quantum physics that every event that has ever happened and will ever happen is happening at the same time and it's all happening an infinite number of times.  Mathematics proves this, but the concept is so vague and hard to understand that only the most brilliant minds in the world can understand a small percentage of it.
That sounds like a lot of weird scientific talk, but it simply explains something that every human being figures out early on in life – that there are a lot of unexplainable things going on in our world, and that deep within ourselves, we have an energy spirit, and that spirit,our soul,  seeks answers to the mysteries that surround it.  The answers to the most complicated questions are often right in front of you like a vast and all-knowing TV screen, but it's up to you to turn on that TV screen.
Here's what you need to know to become your own psychic so that you can control your life in ways that will enable you to deal with loss, rejection, grief, economic trouble, plain old curiosity, and any other reason why you might want to reach the spirit world where the answers to your questions might be found.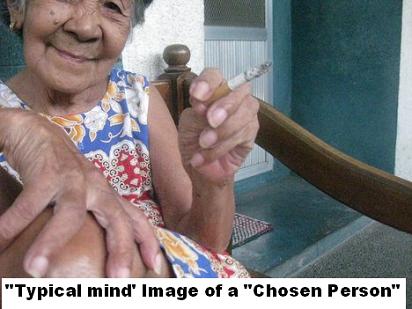 1) Find a place that is quiet and tranquil but also safe and familiar.  The truth is that your own best psychic is you yourself.  If you are wanting to know about your own future, the best person to make those predictions and investigations is you.  You have it in you — all you have to have is a little self-discipline so you can reach what is called your "INNER-VISION".
To get in touch with this Inner-Vision you need peace and quiet and comfort and safety.  Think of it as a form of meditation.  Always bring some paper and a pencil with you when you are ready to start.
2) Focus on a relative or close friend you loved and who loved you who has passed on.  This will be your "CHOSEN PERSON".
3) Picture your chosen person in a place where you would have seen them in life.  Let's say your Aunt Mary was someone you loved a lot and many times when you saw her she was sitting at her kitchen table with a cup of coffee.  Do you have any images like that of a special person?  Of course you do.  It's that easy.  You need to get a picture of that special person in your mind.  If the image of the person you have chosen instantly causes you sadness or grief because you love or miss them so much, try conjuring someone else — someone who, even though they are dead, evokes happy memories and an uplifting feeling.  Usually this is someone who has been gone a long time and about whom you have happy memories.  You never know who your mind will chose and often you won't even have to think about this.  The "chosen person" will instantly snap into your mind.
4) Imagine that this person holds keys in their hand.  Try to imagine them holding a keychain with a lot of keys while being in the place where you remember them best.  The purpose of the keychain iamge is not entirely understood, but it might be that by giving your chosen person a set of keys, it somehow connects them to their old, earth-bound self.  They once lived ordinary lives and part of that life was spent using keys to go from home to work to their car or garage or anywhere.  The important thing to keep in mind is that the image you conjure of your chosen person must include the fact that they are clucthing these keys in one hand.
5) In your mind, try to make eye contact with the deceased chosen person.  Try really hard to make steady and loving eye contact and hold that eye contact.  It's hard to concentrate on something like this, but if you learn to imagine the eye contact, the longer you can hold it, the better things seem to work.
6) In your mind, ask your chosen person questions.  After you have done this a few times you will see that each time it becomes easier.  Gradually words and numbers and pictures will flow through your mind.  There is nothing weird or silly about this.  It's a form of meditation and you are using the image of a person who has passed as your guide.  After you get used to this process, it gets easier and easier.
That's it — that's all there is to it.  You don't need anybody else's help or intervention.  It's all within you and the energy of the loved one who has passed.
THINGS TO KEEP IN MIND 
Often, during your practice of Inner-Vision, you migh have intrusive thoughts about regular things like your bills or your job or your grades in school.  These thoughts are nature's way of trying to bind you to the the earth and prevent you from going to other dimensions where it does not want you to go.  Nature is not being mean or cruel, it's just doing what nature does best — hold onto its mystery.   Eventually these intrusive thoughts become less and less annoying, and often they go away totally.
There are, however, more serious intrusive thoughts that can cause your Inner-Vision to stray off course.  The most prominent one is the constant intrusion of an image or idea of a loved one who has died which causes you great pain or anguish.  Usually this is a recent loss, and you must not confuse this kind of intrusion to imply that the dead person is trying to contact you.  Again, this is nature trying even harder to stop you from taking your mind where it does not want it to go.
Remember that images of the dead only mean something when you are making eye contact with your chosen person.  Also, remember that your chosen person will never bring you negative images or disturbing images or harmful images, so if you see or feel anything bad or destructive, it's misinformation and you need to open up to the real world and start over again.  You need to reboot your psychic self.
DO NOT LET INTRUSIVE THOUGHTS OF DEATH RUIN THE MOMENT.
It's always best to use your Inner-Vision for purposes of enjoyment.  If your chosen person sends you a true image of someone whose passing has caused you great grief, you must know that the image will be a happy image.  Keep in mind that the person who has passed knows the joy and peace of the other world — they would love to tell you all about it, but for the most part they can't do that.  Even someone who has died recently would never send you a sad or horrible image because they too know the truest joy of the afterlife, but at the moment of the death the rules of the universe are revealed to them.  They know that you must live your life to the fullest,  and for you to wallow in sadness over them is something that could disturb the person who has passed on — but it will not disturb your chosen person.   There is pure truth, and when people tell you, "your mother would not want you to be so sad" — It's true.  Those who have passed on know that there is a beauty in their universe and that there is no reason to wallow in sadness and grief.  Yes, grief is natural, but so is healing and peace.
REASONS TO YOU USE YOUR INNER-VISION
If you can fine tune your Inner-Vision enough, you can use it for fun purposes.  Maybe you can try to predict the lottery numbers.
Here is a quote from a person who practices sessions in Inner-Vision:
"When the powerball lottery jackpot had reached $300 million, I decided to try and make contact with my chosen person and I did, but no matter how hard I tried to get images of numbers from her or to see her mouth the numbers or even say them aloud in my head, the only thing I kept getting was a floating image of the number 44.  I realized that this was only one number and I needed five more, but even though I maintained inner vision eye contact with my chosen person, she said or imparted nothing else.  She kept giving nme the #44 and smiling.
"The Powerball numbers that were drawn that night didn't mean anything to me that I can think of, but the final number the 'POWERBALL' was #44.  So that was all she would give me.  She would not give me the other numbers but would only give me the most important one.  That didn't surprise me because my chosen person was always the type to kid around and joke with me when I was a kid.  I should have known that by the way she smiled each time I saw the number 44.  Hey, maybe I'm not supposed to ever know the lottery numbers and I'm okay with that."
There are so many other reasons to use your inner visions.  Maybe you want to come to terms with why something happened or why something is going wrong in your life, or what might lie ahead for you and your loved ones,  but keep in mind that Inner-Visions should never be demoralizing or sad.  If you see or percieve of anything negative or disturbing, keep in mind that nature tries to keep order and part of that order involves keeping the human mind from knowing too much about how the Universe works.
The Damien zone would like FEEDBSCK on this topic.  Please send us your comments.  It's easy.  We do not send you a verification email so sending a message is quick and easy.  Let us know about your experiences.  We'd like for our psychic to assemble a book or film YouTube video because she has so much more to tell, but perhaps trying to communicate this kind of information via the internet is hampered by the forces of nature that prefer to exist on in mystery.
In a recent TV appearance with Charissa Thompson, former child star,  famous rock singer and Chippendale Stripper, Joey Lawrence, seems to be having a serious problem with his hair and his height and the shape of his head.  The question is: WHAT IS GOING ON WITH JOEY LARENCE'S HAIR?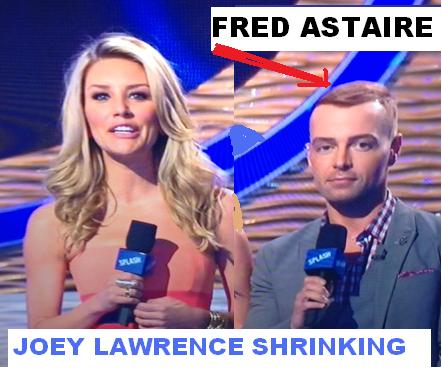 We asked Carlo LoMarca, an Italian hair stylist and Hollywood insider.
"Joey Lawrence's hair is now dyed a reddish something or other which is usually what one does to camaflouge the growth of new and sparse hair transplants, but this is very weird.  The hairline that was created by the surgeons who did Joey's transplants is growing in but it's growing in unevenly. 
"The shape of Joey Lawrence's head seems askew and for some reason he appears to be shrinking in height.  He has gotten much shorter in recent months.  I know that a hair transplant can have side effects but I never heard of anyone shrinking or having their head turn into a weird shape.  If I were to style Joey, I would put him in hats or bandanas and go with the rough look like Leif Garrett (pictured below) who still looks like he's 18.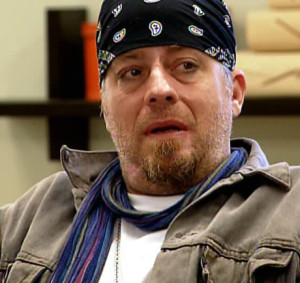 "The way Joey looks now is frightening.  I don't even know if there is a name for the color of his hair.  It's a shade not known to mankind.
"Joey also seems to be heavily made up and the gray eye shadow he has on is very weird.  It also looks like he might have had some plastic surgery to make him look more youthful.   His deep clown-mouth lines seem to have been reduced a lot.  Maybe it's the makeup or maybe it's surgery or maybe it's part of the shrinking process."
Fans were shocked by Joey's strange head and body and many people had to change the channel .
But what about him shrinking?  Joey Lawrence is short, but he has shrunk in the past few months.  How does one explain that?  We asked an expert.
"Joey has had a lot of hair procedures and in my opinion there is some kind of immunolgical anomaly going on here.  It's my opinion that Joey's spinal chord and spinal column discs are being eaten away by inflammation caused by the endless hair transplants and scalp tinting procedures he has had done. 
"I have not seen these things done to him, but as an expert, I would suggest that Joey has had so much done that his body is reacting by shrinking.  It is not unusual for a human being to shrink as a result of the stress that hair transplant surgery has on the body.  I would think that the most he will shrink is about four inches, but I have seen men shrink as much as 6 or 7 inches when they get a case of PHT-SSS — Post Hair Transpant Shrinking Spinal Sclerosis.  This is not fatal but it's disfiguring and the deformity to the shape of the head can often be very pronounced.  Back pain is also another consideration."
So, this has to take the cake in the Joey Lawrence hair saga.  It never ends.  Joey has had more than his faiur share of hair heartaches and it's only a matter of time before he starts wearing bandanas like Lief Garrett.  How is Joey supposed to play the part of Slade Giuliano in the new Mildred Sclafani film that is in production at the beach in southern New Jersey.
"I think that Joey Lawrence was fitted with a wig for that motion picture which is being filmedin Seaside Heights," said LoMarca.  "The production of that film was delayed by the severe damage caused by Hurricane Sandy, so Joey has some time to try and fix this problem with his red hair thing that he has going on.  Now that I think of it, Joey's hair is officially a bigger tragedy than Hurricane Sandy.  I wish I could help but it's too late…it's too late."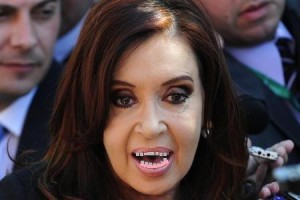 The governnment of the United Kingdom and the family of Margaret Thatcher will not invite Argentine President Cristina Fernandez to Margaret Thatcher's funeral next week because they still feel, after over 30 years, that the Argentinians showed malice and disrespect towards the Prime Minister while she was alive.
It has been made plain and simple that the country that brought us Eva Peron and the Catholic Church's newest Pope is not welcomed on any level.
Thatcher, 87, who died on Monday, led Great Britain at the time of the 1982 Falklands war; ordering her armed forces to repel an Argentine invasion of the contested South Atlantic archipelago.
One British Lord got verbally abusive about the whole affair when he made some unflattering remarks about Argentina's President.
"Mrs Thatcher's memory should not be tarnished by this silly woman (Cristina Fernandez)who presides over her entirely weird country while wearing garish makeup and a hair style more befitting a street hustler than a world leader," said British Funeral Advocate,  Sir Leigh Drappy.
While Drappy does not speak for the government or the Thatcher family, his outrageous accusations about the Argentinian President's appearance drew gasps from a few British reporters.  When Drappy was asked to quell his outburst, he insisted on getting in one last barb into the microphone of an Argetininian reporter.
"Argentinians invaded our land — our turf — and killed several of our soldiers and to have any Argentinian presence at the funeral, especially one who looks like a hooker with tacky porcelain veneers and cakes of black eye makeup, would be a gross miscarriage of protocol and taste."
The Argentinian President was deeply hurt by Sir Leigh Drappy's comments, but she admitted that she had no intentions of going to the memorial service anyway.
"President Fernandez will be enjoying a beauty and spa treatment in Buenos Aires, and she is not at all missing that woman or caring in the least about Mrs. Thatcher," said a representative for the Argentine Council on Diplomacy and International Protocol.
To add insult to injury, on top of not being invited to the memorial service, the service itself will be themed so as to glorify Thatcher's conquest over the Falkland Islands.   In other words, the funeral itself will be Falkland themed.  This whole thing has President Fernandez in a fury of bad temper and over the past several days she has been wearing more and more eye makeup and wearing dresses from the 1980s she bought at an antique store.  It looks like President Cristina is a little more than annoyed that she will not be at the memorial service and that fact alone is making her act a little quirky.
"Let's face the facts," said Sir Leigh Drappy, "Cristina Fernandez would have had the eyes of the world on her if she were in attendance at Lady Thatcher's memorial and funeral.  When will a hot mess like her ever get a chance like that again?  She is only recognized by Argentinians, but she has missed her moment to make headlines and that's driving her to madness and makeup."
TheDamienZone think that the British are behaving very badly and Sir Leigh Drappy owes President Christina Fernandez, a beautiful and gracious woman, a very big apology.
Philadelphia abortionist Kermit Gosnell and nine associates were charged on Tuesday with seven counts of murder involving babies. District Attorney Seth Williams was quoted by Reuters as suggesting that "hundreds of others likely died in the squalid clinic that Gosnell ran from 1979 to 2010″.
"My comprehension of the English language can't adequately describe the barbaric nature of Dr. Gosnell," Williams said at a news conference.
Dr. Kermit Gosnell is an abortion doctor who has two practices in and around Philadelphia, Pennsylvania, USA.  Recently he has been on trial for seven counts of murder because it is alleged that Dr. Gosnell delivered live and viable late-term fetuses and then butchered them while they screamed for their lives on his "delivery room" table.
In plain terms, Gosnell is a murderer and a mentally sick and psychotic killer.  His office is now believed to be a house of horrors much like a doll's house version of what police found when they entered serial killer Jeffrey Dahmer's house.
Some poeple who worked on staff for Kermit Gosnell MD are telling about how Gosnell often delivered (aborted) babies who were 7 or 8 months gestation and when the child screamed or cried, he would sever the spinal chord at the base of the skull to kill the struggling infant.  Is that a way for a human life to end after only seconds of existance?  Is this the way a sane physician performs medicine?
What is the credo of all doctors — what is the oath?  "DO NO HARM" — Gosnell was probably absent from medical school classes the day they taught that — and again, he is mentally sick,  He is a mass murderer, but he is killing human beings that nobody seems to care about in the mainstream American press.  There is essentially a news blackout in the USA because the left wing media is afraid to touch this story, and when "The Nation" — a left wing newsppaer — did a piece on it, they blamed Gosnell's murders on a right wing conspiracy.  I know that sounds insane, but that's the sickness of the American left.
Now, here is the truly sick part of this already blood-soaked and macabre story. The American press, because most of them are left-wing, godless miscreants and phonies and hypocrites, are not even reporting this gruesome story.  The mega-manly simpleton over at MSNBC, the snide and smug Ivy League butch lesbian named Rachel Maddow, who wretches out of one side of her face, has not touched this story.  Maddow, who suffers from a facial disease called Dystrophic Bell's Atrophy, has been mum on this issue.  While Gosnell's trial moves on, Maddow was busy trashing Ronald Reagan and Margaret Thatcher.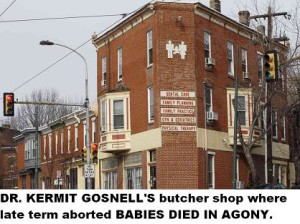 Naturally, Fox News, the highest rated but most maligned news organization in the USA, and the only source of essential truth in American news, is reporting heavily on this, but the rest of the networks seem to ignore it because they are as mentally sick as Dr. Gosnell.
How can I call them "mentally sick" simply because they don't report on it?  That's easy.  I am talking about Hollywood types who rally against eating meat and using mice to do medical research but don't flinch at the thought of what Dr. Gosnell and his staff did to these screaming babies.
Many Hollywood people are afraid to say anything and moreover, most of them are disconnected, uneducated and politically moronic celebrities who live in bubbles of other people's blood and suffering — oblivious to their own stupidity.  They spend more time helping homeless dogs and cats than they would ever spend helping a human being.  They are content with people like Kermit Gosnell doing what he does because they're mnetally sick people.  There is no outrage in Hollywood or in the American media, and were it not for Fox News and the services of conservative (truthful) bloggers, nobody in the USA would even know this was happening.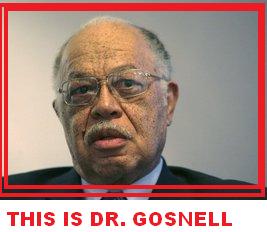 Where is Rosie?  Where is that no-talent Ellen Barkin?  Where is Cher?  Where is Bill Maher?  Sorry, folks, they're not around because they're too busy living their imaginary lives of stupidity and mindlessness.  They don't care that a child of 7 months gestation is covered in blood and screaming in a filthy doctor's office whilst being butchered by a madman.  If the guy was butchering puppies or kittens, he would be lynched on Hollywood Boulevard.  Sounds crazy, but you know it's true.
Here's the thing.  Women who were way past legal abortion deadlines, wnt to see Dr. Gosnell and he invented some reason why these women  MUST have this abortion — after he took about $5,000 — and then he delivered perfectly viable human babies and killed them with a spinal chord cutter.  Many times he even killed the women who came to him for late term abortions.
Listen – Kermit GOSNELL KILLED HUMAN BABIES with a wire cutter while they were CRYING AND GRABBING AT THE AIR WITH TINY CLENCHED FISTS!   This is what Dr. Gosnell is accused of doing, and the reason he is accused and on trial is because HE IS GUILTY!  His own employees have told the prosecution that he did these things.
Dr. Gosnell is also a baby parts fetish sicko.  He has prizes of human baby parts all over his office to prove it.  He seems to have a special fetish for baby feet and he keeps hundreds of them as trophies much in the same way Jeffrey Dahmer kept the heads and livers of his victims.
Nine of Gosnell's employees — inclusing his wife — have also been indicted for these sickening acts of violence but they're all spilling the beans with the hope that they will get a lighter sentence than murder.
Naturally the lawyer for the defense will haul in a busload of sickos and avowed atheists and angry hateful women so as to punch up their jury with baby killing misfits, but in the end this guy will be found guilty — if not by the jury –  then maybe by a higher power.  It doesn't have to be God.  Myabe he'll get his head bashed in with a pipe when he gets into prison.
Hey, Ellen Barkin, you mental case, why don't you twitter about the screaming babies with the severed spinal chords?  Why don't you make that your cause instead of your endlessly stupid F bomb peppered attacks against Republicans and Sarah Palin?  Nobody gives a shit about Sarah Palin.  What about you, Rosie?  Wouldn't you and your wife like to adopt one of these babies instead of sitting on your fat, barbecue sauce-covered hands and saying nothing?
Do you see the sickness of these people?  Dr. Gosnell is killing babies and nobody connected to Hollywood is saying or reporting a word of it.   Why?  Because this is the kind of sick minds who influence the mind of youthful Americans.  These are the sewer rats who are ruining the USA.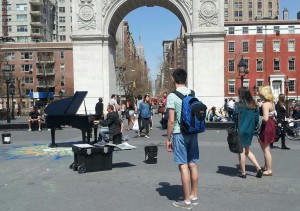 9, April 2013-NEW YORK – Washington Square Park and its somewhat miniature version of Paris' Arc de Triumphe grand entrance walkway has long been the loitering ballroom for New York City's young and hip and artistic crowd.  For over a century, artists, clowns, mimes, musicians with tin cups, dancers, singers — all kinds of entertainers — have performed or have enjoyed the performances here.  Break dancing and even rap music first came to the public eye in mainstream America when street perfromers introduced them in this park.
A young and yet-to-be-discovered Bob Dylan used to come with his guitar to this park in New York's Greewich Villiage to get inspired, and now thosuands are following is his footsteps including one very inspired young pianist.
"Washington Square Park is a place where the forces of inspiration and love and whatever god reigns over the universe, come to create music and art and poetry and dance.  It's the place where words and music and mind and body find focus and meaning." [Bob Dylan, 1977]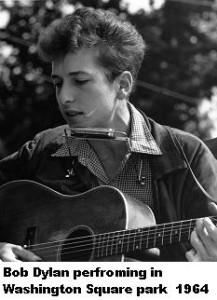 Today was an especially warm and sunny day in early April New York City and pianist/composer Carmine Feedy, a graduate of Julliard, waited patiently for the sound of a helicopter engine — and it finally came at 10:00am  EDT.
The helicopter was carrying a grand piano on a heavy cable as it lowered slowly over the center of the park and kicked up a swirl of dust and whetever was left of last autumn's leaves.  The piano touched down gently on its tethers while a crew of young "roadies" Carmine Feedy had brought with him quickly unhitched the piano from its moorings.  Then the helicopter rose up and vanished as quickly as it had appeared.  Total time elapsed — 4 minutes.
The black grand piano was set upon a pastel chalk painting of a starburst and within minutes Carmine Feedy sat down and gave the performance of a lifetime.  He started with John Lenon's "Imagine" and then he ran off a series of seasonally appropriate songs including, April Love, It Might As Well Be Spring, April Showers, April in Paris and then a somber version of Camille St. Saens, Ly Cygne (The Swan).
Even Mayor Bloomberg arrived and requested that Feedy play his favorite song — Irving Berlin's "What'll I Do"–  and he even sang a few bars after Feedy easily found a key that was comfortable for the mayor of the greatest city in the world.  Mayor Bloomberg was actually a  pretty good crooner and the crowd of young students and tourists cheered wildly.
"Arists young and old have been performing in this park for well over a century and more, ( it was founded in 1871) " said Mayor Bloomberg to a reporter from TheDamienZone.com, and I remember as a kid that I would often see Bob Dylan and Janis Joplin and even Frankie Valli performing here long before they became the icons they are today.  I used to come here to watch and listen and read my books – take it all in and find true relaxation and peace of mind. 
"Carmine Feedy's performance today is one of the greatest things I have ever seen in all the years I have known and loved Washington Square Park.  Dare I say that when I heard young Mr. Feedy play Chopin's "Tristesse" I started to get very sentimental and perhaps thinking of trying for a fourth term as mayor.  It was a very moving experience for me."
Feedy's father,  Mario "CeCe" Feedy is a prosperous vegetable and fruit importer and he did not hesitate when his son Carmine, a grandson of an Italian immigrant church pianist, asked for the money he needed to hire the helicopter and get all the permits he needed to play for nearly three hours.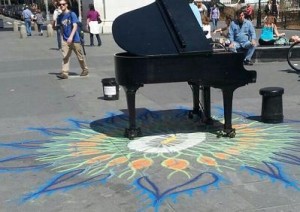 "My son has high tastes, let me tell you that right now," said the plain-spoken Mario Feedy.
"The whole thing had to set me back about twenty-five grand.  The piano was ten grand alone and the helicopter…I don't even want to talk about it.  If I knew what helicopter pilots got paid, I might have started out as a helicopter pilot instead of a kid with a vegetable truck, I'll tell you that right now. 
"But, you know,  I'm proud of my kid.  I'm proud of what he done today.  He's my little boy and he'll always be that.  I wish he would settle down with a nice girl for crying out loud and give me some grandchildren, but Greenwich Village is where he likes to be.  He runs my billing office from his apartment and I pay him good, plus he brings home a few dollars a week extra money playing at some place called the Monster and a few others night spots.  Like I said, I'm proud of him and the few dollars this whole thing cost me is gonna be worth it in the future when I have ten grandkids who can play piano at Christmas time for their grandpa.  You can't say that don't sound like a great thing to dream about, right?"
Feedy ended his concert at around 4pm and quickly returned to the Chelsea apartment he shares with his life partner Dominick DePlanno – and what about the piano?  Is the helicopter coming back?
"I am leaving the piano here for students from the Harlem Boy's Chorus to pick up and use in their rehearsal hall," said the piano-pounding Feedy between songs.  "They have a truck and some moving men coming in about an hour to take the piano away and I hope a young kid is inspired by the beauty of it all and goes on to be a great pianist or a musician of any kind.  My heart is too full to say anything else.  This is the greatest moment of my life.  I will never top this moment."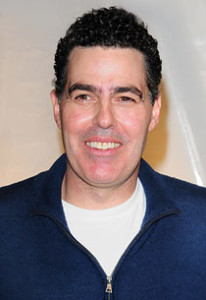 Comic Adam Carolla who now works as a news reporter and pundit for Bill O'reilly on THE O'REILLY FACTOR — a FOX NEWS opinion and editiorial show, has obviously had a lot of plastic surgery.  His face is stretched and pulled and his eyes can barely open — and some viewers are so shcoked that some believe that the person who comes on the air and calls himself Adam Carolla is actually an imppostor.
"Adam seems to have had a huge amount of plastic surgery now that he is a Fox News pundit," said famous Swiss plastic surgeon Dr. Dean Traherne.
"He seems to have had a brow life, a facelift and what is commonly known as an eye job.  He is hardly recognizeable as the guy who used to be the cohost of THE MAN SHOW  on Comedy Central with his more famous cousin, late night talk show host Jimmy Kimmel.
"You can see that Adam Carolla has had a lot of plastic surgery and a lot of it was bad.  Most of the surgery was done around his cheeks and eyes and there also seems to have beenan ample amount of facial bleaching and lightening of his skin.  He originally had an olive complexion but now he is chalk white.  This could have been done with cosmetic bleaching or it could be the result of laser or chemical peels that left his face hypo-pigmented or lacking in pigment."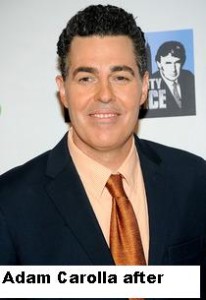 THE DAMIEZONE.com was shocked to see Adam Carolla on The O'reilly Factor and we think he looks like he has had way too much plastic surgery.  He was not an attractive guy to begin with, and now he is just plain frightening.  He's also not really funny and how he got famous is anybody's guess.