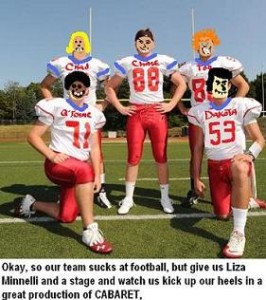 The other night a high school football team in Texas beat another team. The final score was 91-0.
No, that is not a typo, and unless you've been living under a rock, you probably heard about this from one of your kids or you read it in the press or you heard if from the fat guy next door who lives in his mom's basement and always comes home with the KFC 20-pieces with 4 sides that he's already started eating as he's getting out of his shitty car.
Okay, so the wining team is called the Aledo Bearcats and the losing team is Fort Worth Western Hills.  Like I said, they're both high schools.  Aledo is really good and Fort Worth Western kind of stinks.  Aledo is so good that they try to bend the rules a little to try and not beat the other teams so brutally.   These guys on the Aledo team are so frigging manly and cool that their school doesn't even have a drama club.  That oughta tell you something right there.
Hey — the whole point of sports is discipline, talent and excellence, and if you've got it, you should flaunt it — right?  Well, not according to one of the parents on the losing side.
If you can stop eating your morning toaster strudel for a moment so you don't choke to death on the gooey center and the flaky crust, one of the parents whose kid plays on the losing team has filed a criminal complaint against Aledo's coach Tim Buchanan.  The charge — BULLYING!
Can you believe the dumbness?  Can you believe the stupidity?  Can you believe this parent…the PARENT?  OH MY GOD!  This person's kid must want to run to the nearest Greyhound bus station right after he finds a nice photo of himself for the milk carton company.
Yes, it has to be that bad.  The kid whose mother or father filed these charges is officially the most humiliated kid in the world.  It's bad enough to get all suited up for the big game and then get hammered 91 to zippo, but to have one of your folks turn out to be the a-hole of the century — holy shit — that's gotta hurt.
NOTE TO PARENT:  YOU ARE A TURD BERGER with extra CHEESE.
"I became a crack addict and a street hustler on Santa Monica Boulevard after my mother went to the principal of my school to tell him that another guy in my class wrote 'fuktard' on the back of my shirt," said Kenny Phobarth of Lanny, Idaho who is now the president of a group called Parents Humiliating the Occasionally Bullied, or P.H.O.B.
"My mother ruined my life.  I literally worked my ass off on the streets because of her stupidity.  I was ostracized and had to become a prostitute.  The kid who wrote fuktard on me was a loser and I didn't care that he ruined my old shirt, but my mom went to the principal and the kid, who was kinda pathetic anyway, got thrown out of school and ended up dying in the back of a cop car.  My mother was really fucking dumb, and a lot of parents are fucking dumb.  That's why I formed PHOB after I straightened out my life."
Kenny Phobarth is one of many younger people who were sorta-kinda bullied in school but didn't really care, and are now emerging as a group who think that parents are often bigger assholes than small time bullies.
This most recent case involving the Aledo Bearcats and Fort Worth Western Hills has released a firestorm of PHOB members who think that parent who filed the charges should be stuffed inside a locker and puked on by students via the use of a funnel which is inserted into a hole drilled at the top of the locker.  Then, after the parent is covered in puke, he or she is given a wedgie that will require hospitalization and maybe even surgery.
It seems that everybody is crying BULLY these days, but if your team can win by 100 points, I say you should win by 101.  Don't dumb down for these moronic parents.  Just because your kid doesn't play football really well doesn't mean he can't sing Okalahoma or I'm Gonna Wash That Man Right Outta My Hair in the schools springtime musical but…okay that's a little gay…but maybe that's what the kid is good at.  If you can't find anything the kid is good at then maybe being good at nothing is his style.  Throw a little glitter on him and make him spartkle or something.
Note to parents:  Do not humiliate your kids with your stupid and senseless insecurities.  Find something that your kid can do well and put him in  that.  If your boy can ballroom dance or perfrom ballet better than Barishnikov, let him do it – and let him bully the shit out of the kids who can't leap like a big swan-man.
If you're son can design sequined evening gowns and lady's business suits better than Halston or Chanel, let him do it,  and if the other kids can't even make a nice pair of sensible slacks — well screw 'em.  If the other boys don't like him, he can always call them jealous bitches.
Do you see how bad things like this can get?  So your kid lost a football game — don't rub it in by being the a-hole parent.  Your tight end son might end up walking the streets and find new life as a wide receiver just like Kenny Phobarth.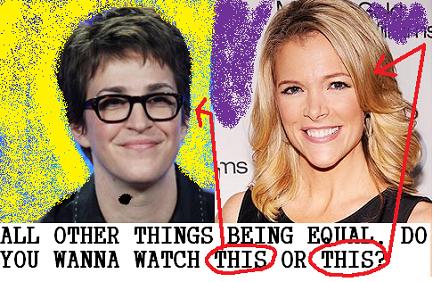 According to gossip in the world of TV news, the fact that Megyn Kelly's newest Prime Time slot on Fox News has destroyed MSNBC's Rachel Maddow in the ratings is causing great psychological damage to  MSNBC hostess who is rumored be in the middle of a mental breakdown — and if she isn't, her boss certainly is.
Phil Griffin — the sore-loser-president of MSNBC — is so angry about Rachel Maddow getting trounced in the ratings by Megyn Kelly's new Prime Time slot that he is crying foul and asking the FCC to see if the numbers are not indeed fraudulent.
In other words, Megyn Kelly beat Rachel Maddow so badly in the ratings that MSNBC believes that FOX NEWS must be cheating. 
Can you believe the stupidity of this Phil Griffin?  That's why I dedicate just about everything I write on here to the unbearable amount of human dumbness inherent to just about everything happening the earth right now.  MSNBC is nearing the summit of dumbness, and when they plant their flag I'll let you know.  They have already reached the summit of Desperation Peak, but this time they've gone into the stratosphere.
Last weeks ratings show that Megyn Kelly's new show on FOX beat Maddow — but not on Kelly's opening night.   On the first night of Megyn Kelly's new show, Maddow won, but then on the second night, Megyn Kelly walked over Maddow in the key demographics — by a HUGE margin. Literally overnight, Maddow went from first to worst. 
OMG!  How could this be possible?  Well, on the website Infowars.com where they pretty much tell the truth about everything, one commenter who called himself "Rasputin" said this:  "Would you rather watch a hot leggy blonde or an androgynous mass of mental complexes that whines because there's not enough tyranny to satisfy the LGBT liberal sadism/masochism fetish demographic? Hot leggy blonde it is."
Anyway, Megyn Kelly is beating Maddow so soundly that the snide and side-mouth talking Elvis Costello look-alike has taken to her bed and is refusing food or water.  No — I  made that up, but I bet she's looking into the mirror wondering if perhaps guys and even gay gals would rather look at the hot blond than the manly "intellectual" who looks like the girl at the animal control office who euthanizes cats and then goes bowling on Tuesday nights.
One Damien Zone reader writes: "It hurts to lose in a sporting event  — and cable news is indeed a sporting event — but for a person like Rachel Maddow, it hurts even more to lose to a normal girl – or at least a girl who appears to be normal to normal people.  Megyn  Kelly is not only smart and sharp, she's gorgeous.  Who wants to watch  that hatchet face Maddow?  It's psychology 101."
It's pretty much true that MSNBC has tried really hard to punch up Rachel Maddow's credentials to try to get around her looks which are at best on the young Kaye Ballard side.  MSNBC tries to pass Maddow off as an intellectual, but she's really no smarter than the guys who write for her.  Her delivery, however, is very hipster-friendly and she is very popular with the misfit crowd.  Good for her, but the problem is that Megyn Kelly is off-the-cuff smart — not just teleprompter smart.  Kelly is an esteemed lawyer and was the associate editor of Albany Law Review and she's had a brilliant career.
In plain English, Megyn Kelly is as smart or smarter than Rachel Maddow and she has more ad lib knowledge and know-how than Maddow who is really just a trained TV liberal chimp.  She's a trained seal and she has the whole lesbian watermark down, but that doesn't sell the product.  She is not likeable. Megyn Kelly is very likeable for a whole lot of reasons aside from the fact that she is very beautiful.
Note to MSNBC:  Beauty and brains sells.  Manly women do not sell.  That's as old as the hills.  So stop worrying that FOX NEWS is rigging the ratings because they aren't.   What really happened in the younger age market is that a lot of guys switched the channel and got the story from a smart woman who also happens to be gorgeous.   End of story.
Here is a link to another Damien Zone story which explains why Rachel Maddow talks out of one side of her mouth as though she's had a stroke.  http://thedamienzone.com/2012/11/15/why-does-rachel-maddow-talk-out-of-one-side-of-her-mouth/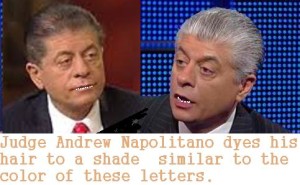 Fox News pundit and on air personality, Judge Andrew Napolitano, has gradually dyed his hair from its usual salt and pepper color to a new brownish-reddish-greyish color but nobody in the hair styling industry can seem to figure out exactly what color he has used. Whatever it is, the color and the texture and the low hairline make Judge Andrew look like a female to make transsexual.
"Judge Andrew has a very low hairline much like the ape woman Theresa Giudice from the Real Housewives of New Jersey," said stylist Billy Kornilius of Monsier Billy's Hair and Makeup Designs in Long Valley, New Jersey where he specializes in cutting hair for closeted gay and bisexual policemen.
"Judge Andrew used to come here for his haircuts and we always did a silver Roux rinse on him with a simple cut. His hair has thinned over the years but his hairline has not receded like a normal man his age. It just got thinner and more gray no matter how often we used Roux rinse.
"They haven't made Roux in years and I often had to go to Chinatown or swap meets to get it — and it had mercury in it so that can't be good.  Now I see him on the TV this evening and I don't know what specific color he has used to dye his hair. I think it's terrible and I wish he'd come back to me to get his hair back to looking normal again.
"Anyways, I have combed through all the professional dyes and he must be mixing his own colors because I can't find that color anywhere in our business but I have to say that it looks familiar."
TheDamienZone admits that we do not know all that much about Judge Andrew Napolitano, but we did look at before and after photos, and we have to admit that his new hair color is rather unique in nature. Something seemed out of place.  So, being the intrepid news organization that we are, with a lot of time and effort we tracked down Rita Nazzara-Pauly who is an expert in extreme makeup and hair technique. Ms Nazzara-Pauly gave us some answers that might shed some light on the true name for the color of the judge's newly dyed hair.
Here's our letter from Ms Rita Nazzara-Pauly LPC CPA.
"I had the judge photographed with a high resolution camera and then took that high quality image to Home Depot where they put the color through a light sensitive color-scanning computer.
"The results showed that Judge Andrew Napolitano has probably mixed 20% of Clairol #266 with 75% Clairol #108 and 5% Garnier # 007 and he has also added what we in the industry call, a 'drabber' which helps to eliminate too much of an age-inappropriate shine or luster. The official name for this color would be Medium Ash Champagne Auburn #0789. The color itself was once available but now it must be mixed precisely on the premises of a licensed cosmetician.
"Further study revealed that this color has been used before by such stars as Natalie Shafer who played Mrs. Howell on the TV sitcom Gilligan's Island. She used this color in the pilot epiosde only. For the rest of the run of the show she went with a much lighter shade.
"Also, Rue McClanahan, the costar of the legendary TV sitcom The Golden Girls wore this for the entire second season as did the actress Audra Lindley for the TV sitcom, The Ropers.
"It's not really a very obscure color but it's very hard for a man to pull it off unless he's doing something theatrical or something of that nature."
So there you have it. folks.  Judge Andrew Napolitano of Fox News has dyed his hair, and the color he has chosen — Medium Ash Champagne Auburn #0789 — was once a favorite with a lot of women from old television sitcoms. This might explain the transgender kind of look the judge is now sporting.  Good for him for showing his true colors….so to speak.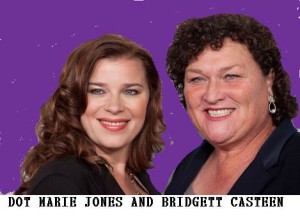 Friday was Gay Day at Disneyland in Anaheim, California, and GLEE fans all over the world were ecstatic to learn that Dot Marie Jones — "Coach Beist" from the mega hit show GLEE – had proposed to her longtime partner and companion Bridgett Casteen. 
The couple have two gorgeous children from Bridgett's previous marriage, and Dot's got herself an instant family — even though she and Bridgett have been together for three years.   But now it's offically official, and it was truly a magical day at the Magic Kingdom.
"It was all so romantic, and right there in front of the Sleeping Beauty Castle," said Anna Carson, a tourist from Laramie Wyoming who was spending Gay Day with her own life partner Kate and thousands of other members of the LGBT community.  Disney reports that there were 30,000 people in attendance — WOW!
Dot Joes was beaming as she was being interviewed.
"It's the happiest day of my life. I never thought I'd find somebody that is so loving and kind," Dot Jones told The Advocate at Anaheim Gay Days, an annual weekend event LGBT visitors and their friends to the family amusement park.
The Damien Zone knows that this is the happiest day and the most important day for Dot Jones whose career and fame is really starting to skyrocket.   Dot  has been nominated for a Primetime Emmy Award three times for her Glee role. 
Glee fans are in for even more of a treat now that Dot Jones also stars as a loveable matchmaker in the hot new TV show, "Have You Met Miss Jones" where she shares the screen with the legendary Patty McCormack.  The new show also stars James Di Giacomo, James Kyson, Art LeFleur and many more.  
Hey — you can even watch the entire pilot episode of Have You Met Miss Jones with Dot Jones right here——>http://www.youtube.com/missjonesshow.   Just click it and watch.  It's great!  
Accoding to James Di Gicaomo, the producer @missjonesshow, Dot said that "she gets so many scripts but  Have you Met Miss Jones really stood out."  She said she was "impressed with the writing and and the concept and that she enjoyed the fact that she gets to play a fun character and not some big angry woman."  Glee fans are really going to love her in this new show.
"It was so sad when Cory died," said Kyle Gramirez of Glendale, California, but Dot's big smile is the ray of sunshine that holds us all together. She's great and now that she's in Have You Met Miss Jones we get to see more of her. I wish she was in a hundred shows."
Kyle was referring to GLEE cast member Cory Monteith who died earlier this year.  The entire Glee family is still devestated by Cory's death, but Dot seems to be the one who is going to bring the sunshine back.
The Damien Zone is ultra happy for Dot and Bridgett and we wish them both years and years and years of happiness and joy.  
Remember, if you want to see the full pilot episode of Have You Met Miss Jones with Dot Jones as "Lolly" the matchmaker — you can watch it for free right here.  http://www.youtube.com/missjonesshow   and you can follow it on Twitter @missjonesshow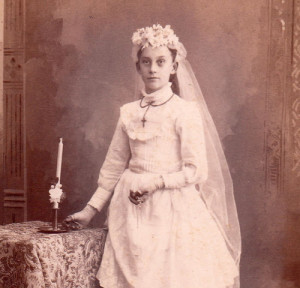 A photo has been circulating on the net and this photo — which is believed to be an example of Victorian Memorial photography — a young girl is standing next to a table dressed in a what appears to be a Confirmation dress, but is really a very demure bridal gown with added rosary.  Some people say the girl in this photo is dead and others say she isn't.  The truth is that she is indeed dead as her photo is very famous, albeit attached to much mystery.  But here is the tragic story about this person and why she looked the way she did.  It's very rare to have an actual story about these old photos of the dead, so we are especially proud to bring you the story of Agnes Louise Farragat — a girl we only knew until recently as the "Dead Girl Standing"  or "The Girl in the Confirmation Dress."  It also serves as a reminder to all of us to get a tetanus shot every now and then.
This is a Memorial Depiction (post mortem) of Agnes Louise Farragat , aged 17, of Philadelphia, Pennsylvania USA, daughter of Eugene and Autumn (Charters) Farragat.
"Miss Farragat departed this earth April 13, 1884 after a sudden onset of fever of 4 days duration with dyspnea [breathlessness], palpitations, fretful disorientation with pallor and continuous spastic rigidity and painful arching of her of her back and spine, and thusly my diagnosis is acute tetanus with gangrenous complications of the right hand as a result of a splintered wood penetration to that hand. Noteworthy that there is no apparent lockjaw as one would expect." [ Submitted Signature: Dr. Ferris Mills MD, Philadelphia].
Mortuary notes.
Agnes Farragat.  Photographed in death by Collier Brothers Mortuary, Heston J. Collier proprietor , in his Philadelphia parlour 3 days and one afternoon after her passing from this life.
Miss Farragat was a skilled and capable reader, a singer of hymns and an accomplished student of violin and French language. She had given her hand in promise of marriage to Kelvin Morris Blake, 23, the son of the Arthur (deceased) and Hannah Blake of Camden, New Jersey and was to be married May 1, 1884 in a service of the Roman Catholic Faith to which she held so close to her heart as did her dear grandmother Lalique Charters of Albany, New York . And all this is very sad for both families and friends concerned. Young Mr. Blake is said to be inconsolable and had taken reluctantly to his bed on the orders of his physician, Dr. Drew Previtte MD who refused him access to his horse or any transportation until such time that he is in the company of his mother or a gentleman friend which was soon forthcoming in the form of many friends and family.
Later notes (1922) were added by her younger brother Thomas Farragat – (1873-1930)
"Our beloved Agnes so small and frail as she was in life with her hands and feet blackened as were her feet and her odor was foul. She was tightly wrapped in bolts of white linens which had been soaked in rosewater and glycerine to make her body less curved as it had been left at the moment of her death from spasms and she was swollen and festering about her abdomen.  The large cherubic woman who did this wrapping was rather strong and stern and was without expression but she was kind in a matronly way and very determined and perhaps not wanting to attach herself to so much grief. I think she was a field nurse they said as she was very adept with linen bandages and the odor did not seen to disturb her in the slightest bit as it did Mister Collier and myself and the other men in his employ.  A seamstress from town volunteered to remove the outer layer of the bridal gown so as to make it seem more demure and less celebratory and we were happy to have that done in the name of quiet dignity as Agnes had joined into ceremony with the Catholic Church as was the true faith of our beloved grandmother Lalique.  I did not think it macabre at the time as our Agnes was not quite held aloft with a standing rack as I had seen being done in another time but rather she was very slightly inclined at the edge of the table which was made from heavy iron.  Her right hand arm was very foul smelling just as it had already began to be while she was yet alive and in much distress, and Mister Collier was deeply disturbed by this as though she was his own child and he wept for a moment. He fastened flat iron to the back of her arms and spent much time adjusting and readjusting her stance.  Her green eyes were flat and looking in no apparent direction yet they were held open and centered with spirit gum. However, with great distress to us all during the photography both eyes seemed to half close and wander but were later fixed artistically by a dedicated student who spoke in an accent which I could not identify. I remember too being so very sad for my sister, but Mister Collier was very kind and he took great pride in his work with devotion and sincerity which eased my anxieties. My mother refused to attend at this photography and my father stood outside for hours in the rain and did much pacing at the front of the mortuary and wanting only for this to end in spite of the fact that he had ordered this photograph to be a final tribute to be sent to his sisters in Virginia who were to have soon been enroute to the wedding at our home in Philadelphia.  This was at a great expense to them as they were rather poor and increasingly depended on father for assistance.  Immediately after this photograph was completed and Mister Collier was satisfied, my sister was placed in her coffin which was very pretty.  Her coffin was closed with little ceremony and she was buried the next morning when thankfully the rain had stopped and her service was met with fine weather and the smell of springtime. Her beau was in attendance with his mother and sister and he openly wept without any discretion. I remember that we never were to see him again after the interment. I may miss a day in these events because I seem to recall a well attended church service but that may have all been on the same day. I was only 11 years old at the time.
Notes: A further investigation into this cause of death would most likely be tetanus poisoning as a result of an injury to her right hand by a heavy splinter from a hard wood pile that had penetrated the soft part of her palm and had caused her great pain and swelling for many days prior to her falling gravely ill. Agnes Farragat was supposedly buried in Philadelphia but her grave has not been located. It may have been excavated and reused in 1988 as per the rules of the cemetery which reuses graves after 99 years unless perpetual care is paid. It may not have been payed due to the fact that the Farragat family simply forgot or expected to remove her at the time of their own deaths or they were unaware.  [Alistair Gerritson MD]
So yes, this is a real dead person. And now you know the story. Damien LeGallienne.  More explanations and examples can be found if you contact this writer at this link.  http://www.imdb.com/name/nm3834680/?ref_=fn_al_nm_1
The 40s,  very powerful and so is the number 02 — Powerball numbers this week 02 has come to me many times as I conjured this prediction.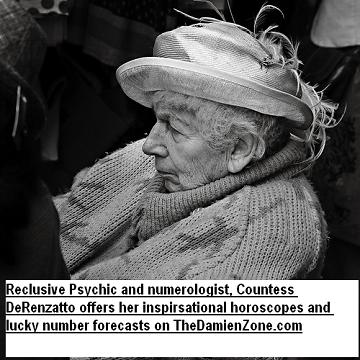 Countess DeRenzatto is an Italian Countess who has lived a quiet life in a small apartment. You can read about her amazing predictions by clilcking the link at the bottom of the page.   She is now in failing health so please drop her a line care of the Damien Zone in the form of a comment which I will forward to her.http://thedamienzone.com/2011/01/05/astrologer-picks-winning-powerball-numbers-thedamienzone-com/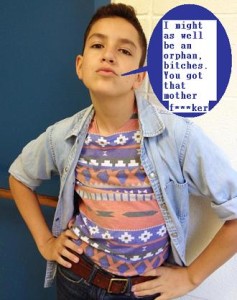 "Where do you draw the line between the bully and the bullied," asked psychiatrist Dr. Daniel Smith.
"You wonder why you have bullying? Well, Lohanthony's attitude and wildly sexually ambiguous behavior might frighten a lot of young and impressionable kids — boys especially. Fear and self-seeking are the building blocks of bully behavior and if a young kid is in a state of fear about his own identity, the last thing he'll need is somebody like Lohanthony looming in his psyche.
"Where do you Americans draw the line?  You wonder why you have bullying and then you glorify a kid who bullies in reverse? This kid's attitude and wildly flamboyant behavior might frighten a lot of young and impressionable kids or perhaps it might even make them feel inferior because they aren't glorified for their own rude or inappropriate behavior.
Sometimes, you can be a bizzaro bully — and this is what Lohanthony is becoming — and he's doing it at about 176,000 miles per second. [Dr. Daniel Smith MD, psychiatrist for TheDamienZone.com  Oct 1, 2013.]
(Editor's note: 176,000 miles per second is the speed of light for you stupid kids who watch this idiot when you're supposed to be doing your science homework).[
There's this creature on YouTube and Twitter who calls itself "LOHANTHONY" — seems like it's a combination of Lohan and Anthony, right   This Hollywood writer wants to give a him a big part in a sitcom — > http://www.imdb.com/name/nm3834680/?ref_=fn_al_nm_1
We all know who the LOHAN is, but who is the LOHANTHONY and why is he getting offers to star in sitcom written by http://www.imdb.com/name/nm3834680/?ref_=fn_al_nm_1   ???
Well, it seems for the moment — or at least for the next 15 figurative minutes — that the Anthony in Lohanthony is a 15-year old "pansexual" kid who has a zillion followers on YouTube and Twitter. He has admirers all over the planet and he's beloved all over the net — but it seems that this poor creature who is so beloved by so many hasn't got the one thing that really matters — a set of parents.
Because he seems to have no parents, I am going to address you — my readers – the way Lohanthony would address you.
We don't think he's an orphan, but still there's that uneasy question that forces itself into one's mind — "Doesn't this snaps up kid have any parents?" Are his parents "bitches" who he's got tied up in the cellar?
Okay, Okay, Okay, I get it. I am not a kid and why do I care…bitches? Actually I don't care…bitches, but since my duty is to expose motherf**ing stupidity and dumbness, bitches, it's almost impossible to avoid not liking this motherf**ing kid.
Well, bitches, let me clarify — I don't dislike the motherf**ker. I dislike the fact that what he does is seemingly acceptable to people who would die of humiliation if this were there kid — and where are his parents? Who took the parents, bitches?  I have a right to know what happened to this kid parents.  If I new I'd have a pretty good idea what happened to make this kid behave so brazenly. 
Anyway, I defer to social etiquette when I refer to this kid as anything other than a kid — even though he has some other obvious things going on that are entirely his own business…..but are they really his own business?
The kid uses really nasty language and all this talk of bitches and mother**kers is totally annoying and meaningless. Why does YouTube applaud this behavior from a child?   I realize that he is raking in money — he's even been on a few TV shows — but is this really acceptable viewing for teens and pre-teens.
Lohanthony is an annoyance and he typifies the dumbing down of the USA. His parents should be brought up on charges for allowing this little jerk to influence the mind of all the regular children who aren't as glib as this little twerp.
Daniel Tosh is another scum bag for giving this kid an adult audience — and he did it in such a lewd and lascivious way. It was pretty gross — and it takes a lot to make me sick. If Tosh did to this kid in real life what he did to him on TV, he would have probably be in jail right now.
"Where do you draw the line between the bully and the bullied," asked psychiatrist Dr. Daniel Smith. You wonder why you have bullying? Lohanthony's attitude and wildly sexually ambiguous behavior might frighten a lot of young and impressionable kids — boys especially.  Fear and self-seeking are the building blocks of bully behavior and if a young kid is in a state of fear about his own identity, the last thing he'll need is somebody like Lohanthony looming in his psyche."
"Because of the fame that has fallen before this outrageously flamboyant weirdo named Loahnthony, we are going to start seeing a lot of copycats. I like to call them bizzaro bullies — and this is what is starting to happen – at about 176,000 miles per second. ( that's the speed of light for you stupid kids out there who watch this idiot on YouTube when you're supposed to be doing your science homework)."
"Breaking Bad" has finally come to a close. That's all, folks. You watched it. You enjoyed watching it, and now it's over. Sadly, however, it's not over for some people in the entertainment industry who are looking to rip off wanna-be actors — mainly CASTING DIRECTORS. These PREDATORY a-holes are going to milk this Breaking Bad angle for as long as they can in spite of the fact that 99.9% of them had NOTHING to do with the creation or casting of Breaking Bad, but they use subliminal tricks to make you think they did — beware!
If you happen to know any casting directors, or you're kissing up to one, or you think that they can get you an acting job, be mindful of their newest Breaking Bad ruse to sucker you into their "acting classes" and "seminars" and "lectures" and all the other bullshit they throw out there to try and get Hollywood dreamers to dish out money.
So many of these casting people are freaking monsters, and the vast majority of them have absolutely no talent at casting.  They have no talent and they have no shame.
If you get involved with a casting director who sends you to anyone who charges you for something like "acting lessons" or they charge you for their own lessons etc., — get away from them.  They feed off of your dreams.  They are almost always failed actors themselves, but like trapped ghosts, they won't leave the haunted house called Hollywood.
All of the truly shit casting directors out there are now climbing over "Breaking Bad" in social media. They put stuff up on Facebook that depicts anything to do with Breaking Bad and its cast so as to connect themselves to the biggest hit show to come along in a long, long time.
In case I am being too cryptic, please let me explain in detail.
Shady or Shitty casting directors are climbing over the corpse of Breaking Bad to make you notice them. They're hope is that a zillion young kids will want to run to an acting school so they can get a job playing somebody like Jessie Pinkman.  It's like kids who go to a Lady Gaga concert and then want to go for piano lessons. Get the picture?
A lot of young actors hang onto casting directors like desperate Titanic water people held onto lifeboats. They follow them on Facebook or Twitter or Linked In or whatever with the hope that they will be noticed and the casting director will eventually get them a job. The casting director will usually post up inspirational stuff to tell their desperate minions to "keep on keeping on" — "you have to believe in yourself" — all kinds of motivational and inspirational stuff — but it's all a crock of shit.  I see casting people who have 5,000 followers on Facebook and they don't even know who these followers are — but they'll gladly take money from them to attend one of their bullshit seminars for $399.00.  They should be put in jail.
If you think you're going to get a job by following a casting director on social media, My advice to you is — DON'T HOLD YOUR BREATH!
Real casting directors CAST actors for projects for real filmmakers. They don't have seminars or acting classes.  They like your look and your talent so they put you on a list.  That is what a REAL casting director does.  It doesn't matter how many projects they have cast.  REAL CASTING AGENTS DON"T SUCKER YOU INTO BULLSHIT THAT COSTS YOU MONEY!  They are like Barbizon modeling agents. Sure they get jobs for people, but they're usually shitty "nothing jobs" that come between your jobs waiting tables.
Hey, there is nothing wrong with wanting to be an actor and wanting to take acting classes, but the truth is that you need talent. You cannot LEARN to be a good or great actor. NOBODY can teach you that. If you're not going to make it, don't let other people line their pockets with your hard-earned money. 99% of all Hollywood actors are unemployed as actors. That is a cold hard fact, and there are two reasons for that sad statistic.  1) There are no jobs  2) Almost all wanna-be actors have no talent.  Yes, I know that's hard to face, but that's why Hollywood Boulevard is called The Boulevard of Broken Dreams.
Second or third tier casting directors — who account for about 95% of all casting directors — are bullshit artists who make money — not by CASTING anyone mind you, but by dragging young, aspiring actors into their crab trap of false promises and false praise and false everything.
They set up these totally useless "ACTING SEMINARS" with ads telling you that they're "filling up rapidly so sign up now" — and after you pay the $500 or whatever shit they're flinging around, you get some kind of stupid 4 week (one day a week) programme with a "FAMOUS GUEST LECTURER" who almost always is some essential nobody actor who has a few credits.
It's always some guy who looks kinda familiar and the poor suckers think he must really be some great actor about whom they should know more — WRONG!  Some of these casting directors even teach acting themselves and when you look up their credits all you see is one episode of Cagney and Lacey from 1980 where they played "waiter #2" — it's hilarious — it's sad —  but it's true.  They also love to call themselves "DIRECTORS" and when you look up that credit, it's usually some short that their brother-in-law financed.  Please — believe me.
Anyway, this great actor who is teaching you at the "SEMINAR" is struggling just like the wanna-be actors he's teaching, and his payment for services rendered to the casting agent might be that he too has been conned into believing that the casting director will get him a gig. Maybe he can play the part of "Waiter #3" in an episode of Big Bang Theory….maybe….maybe…maybe if I just do this one favor for them…maybe.
I am telling you now to be aware of the whole Breaking Bad trickle-down shit that's hitting the fan as we speak. The show has inspired a lot of young people who want to act more than anything in the world. When young people want something so bad, the wolves come out to feast. In this case the wolves are casting directors who also masquerade as a whole of things — acting coach, speech coach, dialect coach — and of course, casting director.
Also, do not let a casting director's credits as a casting director fool you. They may have a lot of credits and they might have cast an actor 10 years ago in some commercial and that actor later went on to be Cop #2 in Breaking Bad, but please — do not fall into their trap.
If you have talent, try to get an agent and get auditions. Most producers don't even listen to  casting directors anyway.
Like I said, there are REAL casting directors who don't offer anything but a slot in their file for real and established actors, and then there are the assholes who sign you up even if they know that you have no talent.  Then, after you think you're going to be a star, they sucker you into all kinds of things for which you are charged. PLEASE! NEVER PAY FOR ANYTHING!  And if anybody says, "You have to believe in yourself and make karma come to you,"  please punch them in the face.
NOTE TO CASTING AGENTS: STOP CASHING IN ON THE "BREAKIN BAD" CRAZE.  STOP TRYING TO ATTACH YOURSELVES TO ANYTHING TO DO WITH THE SHOW. STOP LYING AND TELLING HALF TRUTHS. STOP TRYING TO INSPIRE YOUNG DREAMERS BY THRUSTING BREAKING BAD OR ANY HIT SHOW INTO YOUNG AND HOPEFUL FACES SO AS TO CREATE THE ILLUSION THAT YOU ARE IN ANY WAY CONNECTED WITH ANYONE'S SUCCESS IN THAT SHOW OR ANY SHOW THAT HAS NOTHING TO DO WITH YOU.  SOME OF YOU ARE REALLY SHAMELESS.  MAKE YOUR MONEY CASTING — NOT SELLING SHIT TO YOUNG PEOPLE WHO ARE ONE PAYCHECK AWAY FROM WORKING ON SANTA MONICA BLVD. 
NOTE:  I AM NOT AN ACTOR.  I HAVE NEVER NEEDED A CASTING DIRECTOR.  I HAVE NO AXE TO GRIND.  I JUST KNOW BULLSHITTERS WHEN I SEE THEM.
"It's the most shocking plot twist in the history of plot twists.  I'm just messing with you.  How the hell should I know how it ends?" [ Bruce Willis talking about the upcoming final episode of Breaking Bad which airs tonight on AMC.]
Tonight marks the grand finale of the mega hit "Breaking Bad" and all we can tell you is to be prepared for a major plot twist at the very end. TheDamienZone.com could make a fortune revealing this incredible plot twist, but we believe in playing fair because there is no plot twist.
"I have been producing TV shows for 35-years," said a veteran producer who will not go on record. "In all those years, I have never seen a plot twist that is so unsuspected and unpredictable and so not going to happen.   It's freaking epic is all I can say.  People are hoping for some great revelation, but it ain't gonna happen."
TheDamienZone.com will not tell you what will happen tonight in the finale, be we can tell you this much:
One of the lead characters throughout the entire run of the show gets his affairs in order.
The best part is that Walter ties up all of his loose ends in some pretty cool ways.  It's not a cop out — no waking up from a 4 year dream or anything like that.  It's brilliant, and the writers have been giving very, very vague clues all along — but nobody seems to have noticed.
TheDamienZone has scoured every BREAKING BAD message board and not once have we seen so much interest in a possible plot twist. 
"It's the most shocking plot twist in the history of plot twists," said veteran actor Bruce Willis who is a "Die-Hard" Breaking Bad fan. "The plot twist in The Sixth Sense was something a few people in every crowd saw coming, at least that's what people have told me over the years, but this plot twist is freaky. I'm amazed at the brilliance and this might go down in history as the biggest plot twist in the history of plot twists because there is no plot twist.  How frigging twisted is that?  I am actually pissed off ."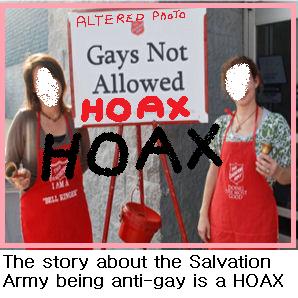 "Just because you're a gay man doesn't mean you are immune to being tacky and stupid – and so many of us are tacky and stupid. It's humiliating." [Kaylin-Vincente DuLuissey, NYC Gay Socialite 23 Sept, 2013]"
It's Christmas time again and the gay smear merchants are back in full regalia to again bash the Salvation Army because …NO GOOD DEED GOES UNPUNISHED.
According to the gay folks we spoke to — those involved in charity work — some outspoken and mindless gays who don't actually donate anything to anyone but themselves — are not happy unless they are causing trouble. Of course they are prodded along by their straight hangers-on who habitually treat gay men like trained seals. They don't really care about the Salvation Army or its policies. They just want to be seen with socially connected gay guys…geez!
My personal feelings aside, the Salvation Army has very little or nothing to do with any anti-gay policy, and simply because someone who volunteers for the organization went on an obscure podcast radio show and made some lunatic fringe comments to perhaps 10 listeners, some annoying gay crusaders have made this staged Facebook "share story"– and it's accompanying image — their raison d'etre — but it's a lie — it's invented crap.
Yes, it is true that the Salvation Army is indeed a faction of the old English Methodist community. Their underlying Christian doctrine, however, does not appear to influenced their charitable work in any way. I would imagine that their are some freaks within the organization who say stupid stuff, but what one person says has nothing to do with the overall CHARITABLE foundation of the Salvation Army.
Here is a quote from a gay man — Kaylin-Vincente-DuLuissey — a 26-year-old New York socialite who is uber-involved in many charities both in the USA and in Europe.
"I knew this absurd story would rise again as soon as Christmas grew closer. Notwithstanding the fact that this was exposed as a hoax years ago, why is this nonsense still circulating?
"The Salvation Army is profoundly and deeply sincere about giving with a blind eye. 'Volunteers' who have come forth to say otherwise and put forth this staged image and story, are unhappy and troublesome people who would do something like this to whomever they worked for simply because they're crazy or unhappy people. I've know a few of the people behind this smear campaign and they have always turned out to be those who were dismissed and prosecuted by the Salvation Army for stealing donations – but you will not read about that truth because the gay agenda is often very mean-spirited. They're viciously selfish, to put it bluntly, and they'd rather make a spectacle of themselves and ruin everything for everyone than to actually lean in and help anyone."
"I am a Belgian living in New York City, and my family is heavily involved in charity fundraising. I can tell you without hesitation that there is no anti-gay policy within the Salvation Army whatsoever and this is simply a smear campaign by Christian bashers and social misfits who hate the entire Holiday theme. They're selfish gay attention-seekers and people who are not happy unless they are causing mayhem."
You know what, folks? This gay guy isn't lying. The Salvation Army doesn't want gays put to death and they don't go around trying to find out who's been naughty or nice. They just give where they are needed and for a long long time they have helped by doling out billions of dollars to EVERYONE.
If, however, you were to Google this "kill the gay thing" you will find a lot of "TRUTH" on the net because the crazy people behind this have bombarded the internet with lies. It's amazing how this stupid stuff spreads like a cancer — mainly because of Facebook, and we all know how I feel about "shared" stuff on facebook.
Here is more from Kaylin-Vincente DuLuissey, the gay New York socialite who rants against his own peers.
"That is typical behavior of organizations in the past like Act Up and Queer Nation and so many other ragged and politically moronic websites today like Media Matters and The Daily Kos, and whatever, but at the height of the AIDS epidemic and still to this very moment, the Salvation Army in the USA and Europe did more to help than did any GAY organization…that's for certain.
"The ruthless and self-serving gay fringe wanted only to parade around in leather chaps and dresses and delude themselves into thinking their antics were going to help someone. It doesn't help anyone and it never did. It's a crazy circus. It's a self-serving kind of sick exhibitionism and in my opinion it's a distraction from truth. Just because you're a gay man doesn't mean you are immune to being tacky and stupid – and so many in the gay community are tacky and stupid. It's humiliating."
It is indeed true that the Salvation Army gives a whole lot of money to gay causes — and they've been doing that for a long time. They might not know that a cause is "gay" but they don't seem to care. If an AIDS hospice needs a blood drive or meds money, they give it. End of story.
The same applies to Catholic Charities ( another target of the bashers) who nearly bankrupted their coffers of blood and money and meds with endless giving — 98 cents for every dollar delivered was given to the sick and needy. Don't wait for Jimmy Carter and Habitat For Humanity to help you because about 100% of their donations go to their big salaries — they might even be worse than the ASPCA or The American Cancer Society. Really? Yes, really.
Hey, TheDamienZone.com is not a spokesman for or against these organizations but we are profoundly averse to stupidity and gullibility. You have to very wary of things that are "shared" on your Facebook page. They are almost always lies or half-truths. Facebook is a giant billboard for every lunatic on the face of the earth.
The gay socialite continued…
"The sickest part is that the Salvation Army relies on donations and if this stupid urban legend keeps spreading, and even 2% stopped donating, that 2% trickles down to less help for people who need it. This kind of lie is the hallmark of so many people whose gayness is the only thing they own — and this is the kind of propaganda they spread as the traditional season of giving grows closer. I have already seen this popping up on Facebook this week and I knew it was starting all over again.
"Also, I might add that even if this were true, why do some gays jump up and say " I am not giving them my money any more?" How does that help anyone? And how much have you actually gven? If I knew a charity did good work — awesome work — but they didn't like my gay lifestyle — I would still give. My life is not about me me me and what I do with my sex organs. I wish some of these gay guys would get some brains and look into things and into their hearts before they blindly believe some stupid thing on Facebook. So many within our gay community are the nastiest lot of them all and by believing this, if even one person goes hungry or without their needs it will be on your shoulders. Someday you or I will be the gay guy who needs blood or medicine or food — then what?"
Well, well, well, I hope that striaghtens that out. Maybe the people behind this smear against the Salvation Army could learn something from our rich socialite gay informant. Nah — it's so much more fun to be mean and bitchy, right?