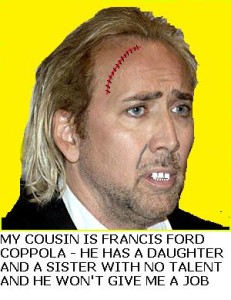 Has- been actor, Nicholas Cage,  has been begging some studios for an acting job, however, no one seems likely to hire Nick for any acting job, Not even his uncle, American film director producer and screenwriter, Francis Ford Coppola who is famous for The Godfather and also for having the most untalented daughter in the history of cinema.  I am talking of course about Sophia Coppola.  If only her final scene in GODFATHER III had been real. 
Francis Ford Coppola also has the world's most untalented sister.  You might remember her — Talia Shire?  She played Adrian in the ROCKY movies.  She never did anything else except give birth to the unbelievably untalented and mole-covered face "actor" Jason Schwartzman. 
If you think about it, the amount of NO TALENT in this Coppola family is way out of proportion to people in real life.  Why are they all in the movie business?
Mr, Coppola , I was told by a well-known director, told Nicholas that he , Nick, has lost not only his looks , but his appeal to the ladies under 60 (and some over 60).  Even Cher will refuse to be with him in Moonstruck II because she probably knows that it will bomb and she will waste all that time putting on that awful fake and stupid and insulting Italian-American Brooklyn accent.  Cher is in good with Francis Ford Coppola and she is content to know that her son Chaz Bono will play the part of Don Corleone in "The Godfather's Godmother." Or as it will be called in Italy, "La Goomada e la Goombada."
Now the Nick Cage, the star of  some forgettable films,  is desperately seeking any role he can get. He even wanted to revive the Peter Lorre role and  play Mr.Moto in a remake of a  mystery starring the Chinese detective. However, he was told that he cannot impersonate a Chinese man–that not being allowed anymore.  The Chinese are okay with a better actor playing a Chinaman, but they will not tolerate it from Nicholas Cage. 
So Cage is one of the youngest actors ever to enter the  twilight of his career before his night darkened. I suppose Cage has no one to blame but himself for being a lousy actor in some dreadful pictures. If he had been more selective as he got older he might not have cast himself in such duds as "Amos and Andrew" wherein he is an ex-cop who tries to balance a wife and a mistress while wearing an ugly shirt.   And then, the even worse, "Bangkok Dangerous," wherein he screws around with girls who could be his daughters ,while  wearing the most hideous dye-job hair. ( The hair might not be real.) 
However,  Nick has won the hearts of the Chinese  movie-goers who have heaped awards on him. Perhaps the idea of Nick re-creating the role of Mr. Moto isn't too far-fetched after all the great Peter Lorre is long dead and cannot criticize Cage's performance.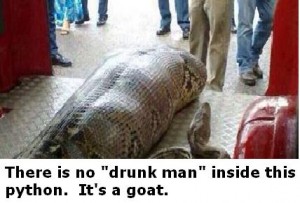 Facebook morons who like to "share" stupid and fake things are basking in the glory of their sharing-stupidity this week. The latest photo the Facebook morons are sharing depicts a big, fat, engorged python –and they love it.
Something is inside that python, so naturally the morons are at full "sharing" throttle.
A normal person would think that a python so big and lumpy would be enough of a story all by itself.  Pythons eat really big stuff,  but that's not enough for the Facebook Share Morons of the World. They had to add just a little spice to the story.
According to the photo that's floating around, this python swallowed a drunk doctor who fell asleep outside of a bar in India. The ingested doctor is seen as an amorphous lump within the python.
Does it matter that the same exact photo is captioned with the gruesome story that the a hapless Chinese man was eaten when he was attacked in a rice field or that a Vietnamese family was hunted down and eaten — one by one — by the python, The lump on the right side of the python would be the mother.
What's the truth? The truth is that this is FAKE!  The picture of the python who swallowed a human being — a drunk doctor — a Vietnamese family — a Chinese rice farmer — is FAKE!!!!! 
The photo is real, but where have you people been for the past 6 years? This photo has been around since 2007 and each year the lump inside the snake has been described as being the ingested remains of various different Third World human snake food.
Of course, TheDamienZone.com would love a world where pythons did nothing but eat third world people, but sadly this is just a photo of your garden variety python in some shitty country and it's trying to digest a goat that was fed to it by mentally deficient people somewhere in southeast Asia — probably Indonesia. Poor python.
"The truth is that what we are seeing here is a python who swallowed a small goat at town in Indonesia. The huge engorgement that seems to be human shaped and larger than a goat is digestive fluids and lymph fluids that surround the animal while the intestinal tract tries to break it down.said Dr. Raj Pan Patel, a veterinarian in southwest India.
"This python ate a small goat as part of some ritual, and seems to be having trouble with the digestive process,"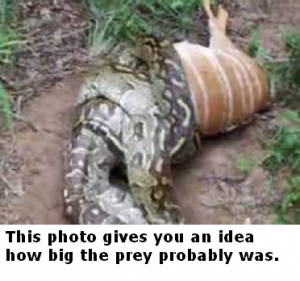 "If you look at the first picture carefully you can see how the enlargement which is actually the shape of the ingested goat and a lot of digestive fluids, is far too down into the alimentary canal and the swelling is an attempt by the snake's digestive system to shrink this massive meal so that it can pass it out. Often a python will have something lie within in like this for months and this is when a python is most vulnerable. It can hardly move and it can become prey for other snakes or crocodiles. This snake, if left alone for 15-30 days, will have a good chance of passing out the undigested remains. Otherwise, the python will die from exhaustion or will be attacked by other predators. You can see here how the python is already on the defense with its head raised, but that energy will run out quickly if he does not excrete this mass.  I was told by a relaibale collegue that this python is privately owned."
So — use your common sense when you see a photograph on Facebook or one of those other moronic websites that spread this stupidity.
When someone shows you a snake and a slum in a third world country, do you expect to hear the words "drunk doctor?"
Right there the moronic Facebookers should have realized something — but they didn't — they don't. They never do. The moronic Facebookers who like to share stupid and fake stuff, never ends. It will go on forever because the average person is a moron. This is why TheDamienZone.com exists — to show you that there is no end to human stupidity and dumbness.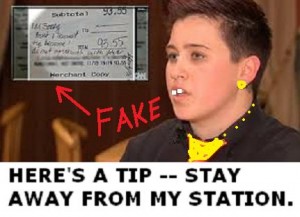 "People tell lies all the time, but I think you tell them better than anyone." [Rhoda Penmark, "The Bad Seed" 1956 ]
"NJ.com — an offshoot of the Newark Star Ledger — the dumbest newspaper in the USA — ran the story as though it was the story of the century. This piece of mindless stupidity and poor judgement was written by Sergio Bichao — a possible graduate of the Ding Dong School of Dumbness.  How could the Newark Star Ledger not have seen through this 100% bullshit story? How is it possible?  It's possible because the Newark Star Ledger is a journalistic nightmare of stupidity and dumbness — and that's what TheDamienZone.com seeks to expose — stupidity and dumbness. Back in the old days when people had to learn real journalism and write real stories, the Newark Star Ledger was a premier newspaper. Now it's written by people who couldn't pass a standard aptitude test."  [Damien LeGallienne]
So…the lesbian-marine-waitress who supposedly got stiffed on a tip and instead got a lecture on how her lifestyle was wrong, is a liar?
You mean she made up the whole story about not getting a tip?  In other words, nobody really wrote anti-lesbian insults on their tab in lieu of a tip?  Could it be?  Is it possible that the lesbian waitress is an attention starved crazy person?  No….really? You mean she wrote that stuff herself? Really? Holy shit, dude. This can't be true.
Sorry folks, but it's sure starting to look like the poor lesbian waitress who was so greatly hurt and demeaned by "evil, gay hating Christian restaurant patrons" is a frikking liar — an maybe even a psycho.
Of course I knew it all along. I predicted it and I said so openly on my Facebook page — but nobody believed me. I saw through it from the very first, but of course the crazy morons out there in DimWit, Everybody is a Victim, USA refused to believe me. I was attacked as being anti-gay, but none of this was about the former marine-turned-waitress being a lesbian. I am not anti-gay. I am anti-bullshit, and anyone couldn't see that this was all just one big fat lie is a moron.
Of course there are people who simply wanted this all to be true because their entire raison d'etre is to be victimized because of race or religion or religious oppression or issues of sexuality and sexual orientation — but a lie is a lie is a lie.
Here's a suggestion for all you morons out there who believe everything other morons say. Go rent a film called "The Children's Hour."  It's a play written in 1935 by Lillian Hellman and was put to the movie screen in 1961. It's a ground-breaking story about lies and lesbianism.   It stars Audrey Hepburn and Shirley Maclaine. It's a story not only about how disturbed people make up lies because they're not happy or they're misguided, it's about how their lies can totally ruin the lives of innocent people.
In real life this kind of stuff happens all the time because scandalous lies are the most believed ones. Many people are inherently unkind and cruel. They like this kind of stuff and they spread it around like a cancer. They can't face the truth about anything — especially the truth about themselves.  Bitchy lies are so much fun — until they're about you.
Okay so what's this lesbian waitress story all about? It's about a girl who needs attention, She's a lesbian and she joins the military. When that gig is up. she comes home sadly to a ho-hum life as a run-of-the-mill lesbian waitress, so she supposedly makes up a sob story that causes all kinds of simpletons to rally to her defense. They even donate money to her because she was so wronged by evil Christians.  The waitress never said anything about evil Christians.  The people who came to her defense did because that's what they do.  That is their oxygen.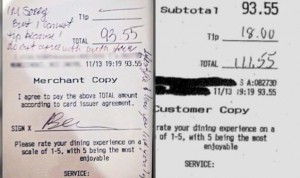 What's it called when you get money donated to you because of a lie you made up about something —- uh — oh yeah — FRAUD! I think that's a crime, but so far the tip-stiffed lesbian US Marine has not been convicted. So far she hasn't been charged and she probably never will be.
NJ.com — an offshoot of the Newark Star Ledger — the dumbest newspaper in the USA — ran the story as though it was the story of the century.  This piece of white dog shit was written by Sergio Bichao — a graduate of the Ding Dong School of Dumbness.  How could the Newark Star Ledger not have seen through this 100% bullshit story? How is it possible? It's possible because the Newark Star Ledger is a journalistic nightmare of stupidity and dumbness — and that's what TheDamienZone.com seeks to expose — stupidity and dumbness. Back in the old days when people had to learn real journalism and write real stories, the Newark Star Ledger was a premier newspaper. Now it's written by people who couldn't pass a standard aptitude test.
Here's what happened.
According to Dayna Morales — the proudly lesbian waitress in question — a family stiffed her on a $100 tab because they did not approve of her lifestyle. This all happened at the Gallop Asian Bistro in Bridgewater, New Jersey. When the patrons  should have left a tip, they instead scrawled ( according to Morales) the message — "I'm sorry but I cannot tip because I do not approve of your lifestyle and how you live your life."  This isn't what really happened, but it was reported as the truth because Morales was taken at her word.  Nobody had the brains to figure out that she might have invented the whole story.
For some strange reason, Morales waited until the family LEFT the restaurant and then took a photo of the alleged note and published it on the eternally moronic Facebook.
But wait a second. When a waiter gets stiffed on a tip — don't they usually chase the patron out into the parking lot?  Doesn't the manager almost always come over and demand a tip?  Why did Morales wait?  Well….you can guess now.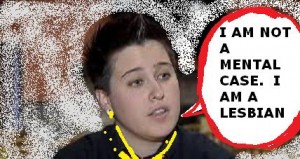 Of course Dayna Morales' story fit all the criteria of stupidity and mawkish dumbness – and  it went viral.  Every numbskull in the world rallied to the defense of this poor lesbian soldier who was wronged by evil Christians. But it didn't really ever happen.  It was fun while it lasted — at least it was fun for the morons who believed it.  How frigging stupid are people?  I mean it.  HOW FRIGGING STUPID AND GULLIBLE AND DESPERATE FOR ATTENTION CAN PEOPLE BE?    It's mind boggling that this story even got past the front cash register at this stupid restaurant.
I am going to keep telling you over and over that it didn't happen because there are a lot of readers who don't read properly. They see only that I am taking pokes at an alleged "lying lesbian waitress" who, in my opinion, is indeed a mega-liar and a girl who either created a story that got out of hand, or maybe she needs medical help. There's nothing wrong with being a lesbian, but what's going to happen now to lesbians who are really beat down in life because of their lesbianism? Are they forever going to be labeled as people who make shit up to get attention? Probably.  And that will be Dayna Morales' legacy.  Because of her stupid story, nobody will believe anything like this again.  It might even open the door for real life non-tippers to save a few bucks.
Of course the people who rallied to Morales' defense when they thought she was a wronged lesbian, will not do anything to help her when they find out that she's just another attention-starved lying crackpot. There's nothing interesting about that. There's no cheering section for the average half-baked bird brain.
Morales is on her own now. She'll never be remembered as the girl who lied about getting a hate note instead of a tip or anything like that — she'll just fade away and keep getting more body ink.  Eventually that little hair spike in the front of her head will turn gray and she'll walk down the aisle in a tuxedo and marry the gullible girl of her dreams.
So anyway — you should have seen the comments that poured in from the masses when the lesbian waitress was wronged by the evil anti Christian non-tipper family.
Naturally, the officially mentally retarded Asbury Park websites and newsletters, had to get in on this, and then it all exploded into a frenzy of hot-mess-gay-equality-abysmal-trashiness.
For those of you who don't know, you will kindly note that Asbury Park, NJ is an absolute dump. It might be the cheesiest city in the USA. It's a shit hole to end all shit holes. There is nothing dumber or creepier than Asbury Park.  Every year Asbury Park has a huge Zombie Festival on their seaside promenade and they don't have to change a thing to prepare for the event. They don't have to make the town look post-apocalyptic and they don't have to change their clothes or faces. It's all ready-made. It's already an off-the-rack monster-ville. It has its own unique variety of stupidity and decrepitude and atrociousness. It's even worse than the Gowanus Canal dolphin people — that's pretty hard to be — but I digress.
Finally, the people who allegedly stiffed the lesbian waitress out of her gratuity were tracked down, and guess what — they produced the REAL receipt and they had indeed left Morales a 19% tip — and their credit card proved it. Did Morales make this all up? It sure looks like it.  Not only did the diners leave her a tip — they never wrote any nasty message about Morales' "lifestyle" or anything like that.   I so love it when I am right — I was soooooooo right about this.
Of course her bosses at the restaurant didn't fire Morales straight off because they have to let the truth sink into the minds of the morons who worship the sacred ground of the wronged lesbian, Thy have to be careful when they tiptoe around this lunacy because a lot of STUPID people gave money to this Morales person — lots of it. What's going to happen to that money?
Supposedly Morales is going to donate it to the Wounded Warrior Project because that sure beats going to jail for fraud.
So what's the "Morales" of this story?  The Morales (moral) of this story is to VERIFY your frigging sources when you report something in a major newspaper no matter how shitty that newspaper might be.  The moral of this story is to use your brain.  If you couldn't figure out that this was one big bullshit story from the very start, you should not be allowed to even write in a coloring book.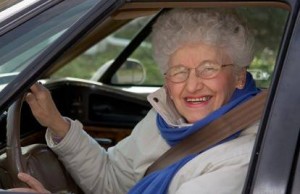 "I never said my name was Lucille and I never stayed along in any hotel.  I do not remember this and why are people saying lies about me?   Why are people saying I did this?  I do not remember doing this.  If I did it I am sorry but I don't remember and I wish I would never have known about this.  I have ben through so much and this is very disturbing.  I don't think I want to go out of my home now.  I am very hurt and frightened."  [Kathleen Stokes, age 84, New York, USA]
Facebook is the final frontier of the simple-minded and easily fooled. It's a sewer for human brain waste and stupidity, but just when you think that the moronic Facebooker who "shares" has learned his or her lessons — it all comes back around again.  This time it cost a happy elderly woman her sense of dignity and her confidence and maybe even her life. 
Kathleen Stokes, age 84 knows all about Facebook share morons — she's this week's hero and the newest patron saint for the imbeciles of Facebook who share fake stories. Kathleen isn't in on the stupidity and she herself is not a Facebook moron. All she did was smile for the camera and now her happy life has folded in half. 
What am I talking about?
The FAKE story — plastered over a photo of Mrs. Stokes — goes like this: 
Lucille decided to give herself a big treat for her 70th birthday by staying overnight in a really nice hotel.. When she checked out the next morning, the desk clerk handed her a bill for $250.00. She demanded to know why the charge was so high "I agree it's a nice hotel, but the rooms aren't worth $250..00 for just an overnight stay – I didn't even have breakfast!" The clerk told her that $250.00 is the 'standard rate,' and breakfast had been included had she wanted it. She insisted on speaking to the Manager. The Manager appeared and, forewarned by the desk clerk, announced: "This hotel has an Olympic-sized pool and a huge conference center which are available for use." "But I didn't use them." "Well, they are here, and you could have." He went on to explain that she could also have seen one of the in-hotel shows for which they were so famous."We have the best entertainers from the world over performing here." "But I didn't go to any of those shows.." "Well, we have them, and you could have." No matter what amenity the Manager mentioned, she replied, "But I didn't use it!" and the Manager countered with his standard response. After several minutes discussion, and with the Manager still unmoved, she decided to pay, wrote a check and gave it to him. The Manager was surprised when he looked at the check. "But Madam, this check is for only $50.00 "That's correct I charged you $200.00 for sleeping with me." "But I didn't!" "Well, too bad, I was here, and you could have."
Well…look at the photo. Has one of your moronic family members or co-workers or neighbors or old high school friends shared this utterly moronic story with you?
Of course they have — and you, being as stupid and gullible as they are, fell for it. You hit the "share" button. Perhaps you even added something like, "That old lady really showed them."
You freaking idiots make me sick. IT NEVER HAPPENED! When are you morons going to learn?
Here's the truth, and anyone who says, "Who cares that it didn't really happen, it's still funny," will get a a one way ticket to Simpleton City from me. That's where you belong!
"I was driving home from the craft shop where I buy yarn and other crafting supplies and I lowered my window to get a better view as I tried to make sure I didn't nick a nearby car," said Kathleen Stokes of Suffern, New York, USA.
"I was about to put the window back up when a young woman walked by and snapped my picture. Here we are, months later, and I am the talk of the internet it seems. I never slept in a hotel and wrote a check to any manager with such a lewd comment. Why are people saying this about me?  I don't know what to believe.  They say it's a hoax but maybe I am in a fog of some kind.  I don't know what to think.  I don't think I will drive my car ever again.  I suddenly feel like an old and feeble person."
Mrs. Stokes is confused and was recently released from a local hospital after a nervous breakdown owing to the fact that she didn't remember doing any of what is said in the fake Facebook story.   Her son Henry Stokes, a local attorney and former county prosecutor is steaming and he's looking to throw the book at the people who created this story that he says is damaging and insulting and cruel.
"My mother's image is being used to foster a lie,  and what some people think is a harmless joke has caused my mother great distress," said Henry Stokes from his office in New York.
"My daughter saw this picture of her grandmother on Facebook and when she asked about it, my mother was greatly confused and upset.  My mother is an old school person.  She sees a photo of herself and a story and in her mind it must be true.  She thought she had done something wrong or had lost her mind.  She was very mentally nroken by this.  She didn't recall any of what was said in the story because it never happened. She was so upset that she called a neighbor and asked to be taken to the hospital to be examined. She was so fearful that perhaps she had had a stroke or something of that nature. It caused my mother great anguish and 4 days in the hospital."
Local investigators are looking into the matter of who took the photo and then spread the fake story about the woman refusing to pay her hotel bill and then telling the manager that he should have had sex with her since she was there at his hotel …etc.
"My best advice for people in social media is to think twice before you share some little story that you might think is quirky or funny," said Henry Stokes. This kind of mindless passing of fake stories can be quite damaging – especially to an elderly person.
"We now know who took the photo and authorities will be making an arrest shortly. My mother is not a fragile person but she has had a few health scares in recent years. The pranksters may have thought this was all innocent fun, but my mother who seems so smiling and carefree in the photo might never really bounce back from this. How would you feel if this were your mom or grandmother?"
So again, TheDamienZone.com reminds the MORONS of Facebook to STOP SHARING FAKE STORIES. If you are too frigging stupid to see that something is obviously fake, you should stay the fuck off of social media. You're a simplistic idiot. You think that "shares" can cure cancer and give sick babies heart transplants and that a "click like" will send a dollar to the Philippines. You are so freaking stupid.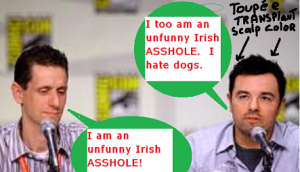 "The purpose of a comedy cartoon is not to make people cry by killing the dog. Only a fucking Irish asshole can be so stupid. It's always the Irish who ruin everything. They claim to be Catholic but they're the first ones to say that a priest molested them 50 years ago when they all soaked with booze. The Irish are the ruination of everything and they are notorious dog killers. They should stick to being cops and firemen. That's where they belong." [Pope Francis I, Vatican City, Italy]
Family Guy, the famous American cartoon show that has been on for a thousand years, has done the unthinkable. They killed off Brian the dog. They not only killed Brian, they made him get hit by a car and die in agony.
If you don't know anything about Family Guy, the character of Brian the dog is important to the storyline. He's the voice of reason in a household of strange people — or what series creator Seth MacFarlane thinks is weird.
There is an old saying in Hollywood screenwriting — "If you want your audience to know a character is a bad guy, have him kill somebody. If you want your audience to hate a character, have him kill the dog."
This is essentially what Seth MacFarland has done — he has killed the dog and now people hate him. The Jews in Hollywood already hated MacFarlane before all of this because he has made some anti-Semitic jokes at awards dinners. Now he is not only an unfunny dog-killing-anti-Semite-joke-making-toupee-wearing-asshole. He is also an animal abuser — even though the dog is fake.
What's even more annoying about killing off Brian the dog is that he has been replaced with some kind of Soprano-esque unfunny dog.
Okay — so it's just a cartoon — what's the big deal?
The big deal is that Seth MacFarlane is an asshole and he thinks that it's cool to shock people. He's one notch above losers like Johnny Knoxville and that bunch. The only thing that separates Seth MacFarlane from the outrageously very-not-funny Ricky Gervais, is that Seth has a less womanly face and figure. Not a whole lot less womanly, but a bit less than Gervais.
Here's the thing. If you think your show might be getting a little stale, get better writers than Steve Callaghan. He seems to be the one who pushed this storyline and he  talks about it like a frigging juvenile.  "Yeah, we all threw around the idea and it got like wild and we were like, why not, so then we like the guy from the Sopranos so we figured he wouldn't take Stewie's shit…."  Shut up, you fucking imbecile.
"Why is it always some Irish asshole that ruins everything," said a source close to Family Guy.
"The Irish fuck up everything. This is why the Jews make all the good stuff in Hollywood. Irish people are morons and they have no taste. They don't even keep their houses clean, how would you expect them to keep a show tidy.
Only an Irish prick would kill off a dog character. That's why the Irish were good at being cops when they came to the USA after they ran out of potatoes. They're fucking morons. They like to make fun of the Polish and the Italians but statistically, Poles and Italians are way smarter than the Irish. The Irish are stupid and dirty and most of America's white trash are Irish who are jealous of other ethnicities. So now they bring in a Guido kind of dog named Vinny and think they can make that funny. Once a Mick always a Mick — that's what I say."
According to every psychiatrist we spoke to here at TheDamienZone.com, The easiest thing to do to get a violent reaction from people is to kill the dog. MacFarlane could have killed off a million Ethiopian kids and it would have gotten a laugh — but you don't kill the dog.
Brian was beloved by the fans, and if you want to get down to basic psychology, a cartoon dog is every bit as real to the viewers as a real dog. The personality is imparted by the writers, and if anything, the viewers have more empathy for the dog than for human characters.
Seth MacFarlane and your butt munch Irish jag off "writer" Steve Callaghan are both assholes of the highest order because you're a coward. You know you can easily bring Brian back because he is just a drawing. But that's not the point. It's the way you did it. Even if you bring him back, the viewers will still think of him getting hit by the car and dying. Do you realize how fucking demented that it is? Do you see how manipulative and scummy you are? Maybe your new toupee is digging into your brain or something.  You are now less funny and more annoying than that other shanty Irish prick who thinks he's a fireman — Dennis Leary.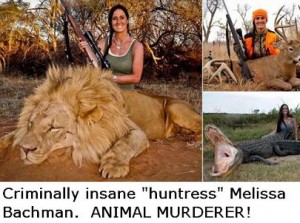 Self-styled insane "Great Huntress" Melissa Bachman is probably the most hated person in the world at the current time. She deserves to be hated, and in a perfect world she will one day be mauled and eaten by a tiger or a grizzly or a wild boar.
Hopefully her last words will be screams of terror as a big animal turns the tables on her. I would love to be around on that hot and moonlit night when a pack of grungy hyenas fight over the scraps of meat that used to be Melissa Bachman.
Here is how this natural born killer describes herself:
"I'm a small town girl from Paynesville, Minnesota, who has been hunting and fishing for nearly 18 years. Yes I'm only 25, ( she looks a lot older)  but I started at an early age thanks to my parents who brought my brother and I (it's supposed to be 'my brother and me' you moron) out to the duck blind and whitetail woods. I'm sure it would have been easier to leave us home, but it's their dedication that sparked my love for the outdoors." <—–So she inherited her murderous genes from her equally sick parents.  Why weren't they all eaten by leopards on a family picnic…why?
Kindly note that Melissa Bachman is a failed-wanna-be actress, and because she is a failed-wanna-be actress, she has to do something to get the fame she craves. I know that there are folks out there who will claim that the words "failed-wanna-be" might contribute to a redundancy, but in this case, I disagree.
Melissa Bachman is so useless and sickening, that she has achieved the un-achievable — she is a FAILED wanna-be actress. In other words, she never even made it to the wanna-be level.
She hunts — she kills and she poses with the kill.  She wears full makeup and weird blue contact lenses because she looks like a taxidermist's version of herself.  The fact that she wears full makeup and fresh-from-the-salon hair to kill animals proves that she is a crazy person and that she dreams of one day hanging her own long face over a mantelpiece….at some cheap barbecue ribs joint in Shitsville, USA where she belongs.
Like many of the famous assassins who came before her, Melissa Bachman gets the attention of a world who ignores her uselessness and ugliness by killing wonderful animals — and she does it without concern. She has no legitimate talents or skills – she's just a murderer and a vicious killer. She gets a rifle and kills from afar — that's all she can do. That is her contribution to the human race. She is a monster — she is a blood thirsty fiend.  She would shoot big targets from the Texas Schoolbook Depository but they stopped allowing that in 1963.
Melissa Bachman is the ultimate misfit. She craves attention so she kills beautiful animals. Well, now she's got our attention — so now what?
Now she should be locked up in an asylum. Melissa Bachman is mentally sick and in my opinion she is a danger to all people and all animals. Certainly she has already proven that she is a danger to animals because she enjoys killing them.  Do you see that monstrous smile?  Only a sick person would be able to smile like whilst kneeling behind a dead lion or tiger.  IT'S NOT NATURAL.
It's only a matter of time before she points her rifle at a human being. I think she is a sociopath and a natural born killer. She should be put away for the remainder of her life. Her photographic book of animal trophies is more than ample testament to her insanity and the threat she poses to all living creatures
The word must be spread to the folks in Washington DC.  At the bottom of this brief article is a letter of petition that you should sign and mail to your US Senator and your Congressman.——————————————————————
Dear ___________
In my opinion, Melissa Bachman, the big game hunter,  is a source of great humiliation for the USA.  Her most recent killing of a majestic lion in South Africa is destroying the world's view of how Americans value the life of beautiful animals throughout the world.   The image of the proverbial ugly American is embodied in this crazy woman.
She hunts big game and poses with their strangely posed carcasses as though she's living in 1906 Rhodesia and she is Teddy Roosevelt.  The trouble is that Teddy was prettier. 
Mel — which sounds better than Melissa — proudly sports a high-powered rifle as she kneels  behind her kill.  These "awkward family photos" only serve to further spread the world view that Americans are gun toting cowboys who are only happy when they are shooting something or somebody.
Melissa Bachman is a crazy American person in search of a reality show. She is an American stereotype.  She is the most hated woman in the world. She is a sicko. She is a MONSTER. She is a disgrace to the USA, and she must be quarantined in the USA.  She is our problem and we must have control over her lunacy.
There is already a movement to ban Melissa Bachman from traveling back to South Africa where she's loathed.  The American government should take measures to make sure she is not allowed to leave the USA to places where she can hunt large animals.  Also, her hunting license should be taken away from her in order to stop her from killing the beautiful animals of the USA.
Sincerely,
________________________________________
Get off your lazy ass and find out the email address or snail mail address of your local representative.  Send it.  Let's quarantine this monster before she infects the entire planet.
.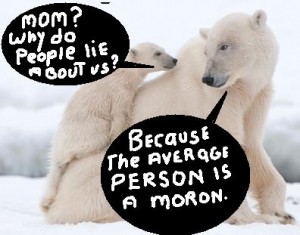 The Environmental Defense Fund (EDF) is a "charity" with hundreds of millions in their treasure chest. They have a big website with all the bells and whistles and polar bears. They talk a lot about what they "strive for" and "aim to" and "set their sights on" — but what do they actually do? I don't know. Do you?
Let me start off telling you that I am VERY suspicious of these tax exempt charities that throw pictures of animals at you with the hope that you are a wildlife moron — and thankfully for them — a lot of you are.
Normally I would ignore this because I don't care what you do with your donation money, but something that the EDF has done has pissed me off in a Serial Mom kind of way.
Do you ever see the movie Serial Mom? It's a film by JohnWaters starring Kathleen Turner. It's about a perfect housewife who goes on a few murderous rampages when little things start to bother her. For example: Her neighbor doesn't bother to recycle bottles and cans so Serial Mom bludgeons her to death with a leg of lamb. Get the picture?
The triviality involving the Environmental Defense Fund that has pissed me off to the point where I have decided to take a Serial Mom pot shot at them has to do with their new ad banner that I keep seeing all over the internet. IT WAS WRITTEN BY A COMPLETE ILLITERATE!
Let me gather my wits for a second. Okay, I'm better now,
The photo in the ubiquitous ad shows a baby polar bear sitting on top of its mother in some snowy, icy place. The caption reads: By 2050,  3 out of 5 polar bears will be extinct. If you don't already know why that's a moronic statement, do not continue to read this. But for the rest of you…..pay attention!
The baby polar bear in the ad banner photo is NOT cold and FREEZING TO DEATH, but that's the first thing about which the average moron is supposed to be outraged. That's the really big and easy net that draws in the mawkish simpleton with a sentimental Visa card.
Believe it or not, the common nitwit — an overly abundant human sub-species — does not know that polar bears rarely frolic in sunny fields of clover and honey. Sure, they might have a fleeting idea that the bears live in Alaska or something like that, but even then, in the mind of a human nitwit, the Arctic is a fun snowy place where the mighty white bears slide down hills of snow and play with salmon in a stream and nibble on big bushes of yummy berries and leaves.
So let me restate this. The mama bear is resting and the baby bear is resting on top of her, but in the mind of the moronic nitwit the mama bear is dying and the baby is clinging to her in the icy cold air crying, "Mommy don't die! Mommy don't die!" And that's what the Environmental Defense Fund (EDF) wants you to think.
Now, these might sound like petty reasons to bash a charity, but in my world I dig a little deeper.
Polar bears are ferocious carnivores who have survived in the arctic tundra for eons. Don't feel sorry for a polar bear just because he's standing on frosty and frigid ice. That's where he wants to be. That's what polar bears do. They stand on the ice and wait for a cute little seal to take a breath through hole in the ice and then, when the seal's head pops outta the hole, mama bear reaches in and eats'em up and then there's blood everywhere. Mama bear and baby are stuffed with food and ready for another nap on the ice.
So — lesson one. Polar bears and their cute little babies are supposed to live on ice and they usually eat other animals who live on ice or near ice.
Now that you have this info, can anyone yet tell me what the Environmental Defense Fund (EDF) does? I still don't know. What do they do for polar bears besides nothing.  And what's that other thing they do — uh — oh yeah –they collect money from saps and invent stories about dying polar bears.
You can google these scum bags and try to figure this all out for yourselves, but remember what Damien told you first before you drift into their magical world of snowflakes and half-baked bullshit.
Polar bears are not in trouble from the "evil white man." In fact, they're not even in any trouble at all. They are not declining in numbers and they have survived thousands and thousands and thousands of years of climate changes. They're smart — leave them alone goddamit!
The only clear and present human threat to polar bears are the Eskimos and Aleutian peoples who kill them for food and fur.
Eskimos and Aleuts ( like there's a frigging difference) kill polar bears and whales and porpoises and walruses and even Narwhals — those awesome beasts that look like unicorn whales. It's okay to hate the Japanese whaling boat people but it's not okay to tell the truth about these Parka-Pinheads who are still living in the Dark Ages? Get a grip, will ya!
My message to the Environmental Defense Fund (EDF) is to stop with the bullshit stories that help to fill up your bank account. Stop with your disingenuous photos and stories. Tell the frigging truth and stop fleecing the mawkishly generous morons who don't know enough to research through your bullshit before they hand you their credit card numbers. YOU DON'T REALLY DO ANYTHING BUT COLLECT MONEY.
And getting back to the caption on the new EDF advertisement that's showing up as an advertisement on your page. "By 2050,  3 out of 5 polar bears will be extinct." ß –THIS MAKES NO SENSE. If 5 out of 5 were gone, then they'd be extinct. Use some of the money you glom from morons and hire yourselves a copy editor who knows the meaning of the frigging word "EXTINCT!"
Damien LeGallienne reporting for TheDamienZone.com.

Let me start off by saying that there is a Facebook share going around that has me puzzled, amused and a little angry.
As many of you already know, I loath the FSWS ( Facebook Simpletons Who Share) community.
Remember that the FSWS community is limited to people who share maudlin, mawkish, stupid, sentimental, fake and outright offensive stuff on their Facebook pages.
If you share my blog entries, you are a genius, but if you share fake quotes from the Dalai Lama, John Lennon,  Betty White, Mother Teresa, or you put up photos of sick babies, and for every "like" the baby will get a heart transplant, you are a Facebook Simpleton Who Shares.
Facebook Simpletons are truly sick people, and there is nothing than can be done for them other than to take away their internet access or warn innocent bystanders that they are nearby — and they're readily spreading their simpleton-ism. They're electronic Typhoid Marys.
With that said, Kindly note that there is a new viral video on the simpleton choo-choo train. The trouble with this one is that it's a tad too sophisticated for the simpletons. Of course the simpletons don't realize anything about that, and being simpletons, they are happy to share it mindlessly.
It's a video wherein school kids ages 5 through 13  – sitting in what looks like a school room  —  are shown videos of gay marriage proposals. 
Both proposals were rather innovative in that one involved two gay men in love and a flash mob in Home Depot. The other was a woman standing on top of a vehicle facing her partner's office window. She holds up large placards on which are written some lovey-dovey stuff and ultimately a proposal of marriage. The kids react to the videos and then are asked a bunch of questions by an off-camera interviewer — who is no Art Linkletter, I can assure you.
First off — I stand in favor of gay marriage. It is my belief that there shouldn't even be a term for "gay marriage."  Marriage is marriage, and unless a marriage is being used to dodge immigration laws or is being forced upon two unwilling people for the purpose of cultural ritual, all persons should be openly allowed to marry whomever they wish to marry. If both parties are willing and both parties are human beings and both are reasonably sound of mind, there is no reason to deny either of them the right to marry — period.
Secondly — I do not like crafty editing and sleight of hand. The very nature of The Damien Zone is to trick or fool or mock, but many of my more astute readers eventually learn to read between the lines. They are able to discern deeper meaning if and when it exists, and they are also aware of the fact that sometimes I speak from the heart. I am not always yanking your chain. Sometimes I am a really nice guy and sometimes I am a nasty a-hole.
So, the kids watch the video and except for one really little kid, they are all pretty much in agreement that gay marriage is great and that boys should be able to marry boys and girls should be able to marry girls.  Of course some of these kids are too young to know what all this means, but the people who made this dopey film don't seem to have a problem with that.
There is a little confusion in the minds of the younger kids in the video, but these are CHILDREN being asked for their analysis of something that involves an underlying issue of sexuality and sex.   Yeah, folks, marriage and sex are kind of intertwined — even if both parties are spayed or neutered.
It's only natural for a small child to get confused with the concept of gay marriage — and here's why.
Little kids know that boys kiss girls and girls kiss boys and that babies come out of their mommy's tummy. For the most part, children are not yet consciously aware that there are sexual aspects to why people, gay or straight, get married.  To ask or probe these kids for answers or opinions about gay issues is bordering on being criminal, and I think that the folks who made this should be forced to answer some hard questions. 
Would you ask a child, "Do you know what mommies and daddies do after they get married and go on their honeymoon?"  If the kid says, "They kiss." do you follow that up with, "But what else do they do?"  No — only a sick mind would ask a child those questions.  The interviewer does not ask these questions openly, but anybody with a brain knows that this is the undercurrent inherent to questions about why a person is gay or straight.
Little kids notwithstanding, even the older kids — the 12 and 13 year olds — are minors.  It doesn't matter how snappy or sophisticated their answers might be. This is not an appropriate topic for children.
If you approached a child in a school yard and showed them a video of a man kissing a man and asked the kids questions about their opinions on "gay stuff" you would get hauled off to the jailhouse. For some strange reason, however, these filmmakers are immune from whatever law is in place to protect kids from this kind of exploitation. The interviewer was asking little kids some very provocative questions about issues of sexuality that were not so openly apparent to the viewer or the child.  The answers these CHILDREN gave might seem cute and cuddly to some – especially the  "you'll-cry-when-you-see-this" simpletons — but what are the repercussions down the road?
How many hundreds of minutes were edited out of this? What happened to some of the kid's comments that didn't make it to the final cut of this video?  What did some of the kids say or do that we are not shown in the final edition of this as it appears on YouTube?  And, what do the parents of these children think about all this?  The answer to the parent question is easy because it connects directly back to the trickery of this video.
Don't let the cork and thumb tack bulletin board in the background fool you.  This is not a school, or if it is a school, the school is only being used as a "location" for a film project.  These are kids who in all probablity showed up for a casting call of sorts, and some of them are already seasoned little performers with pushy parents standing off to the side.  You can see the older girls acting and mugging looking for the camera and the oldest boy looks like he is waiting for Wink Martindale to die.
It's so easy to tell that what we got here for the most part were typical infomercial-ish testimonials from kids who already know how to chew up the scenery.
The little actor/entertainer in the kid's mind says,   "I will say something like really slick and like totally cool and awesome and positive about gay marriage and then my segment will appear in the final totally awesome product."  Then the guy who made the film does some really skillfully editing ( kudos for that) and out comes this video.  It would be a really great video if the kids were 16-18 but they're not.  They are children.
Again, let me emphasize, if anyone were to approach these kids in the playground and ask these questions or showed kids these videos, they would be brought up on charges.  But….since this video pushes a gay agenda, no one has said a thing.  There is a huge difference between being a noble champion for gay rights and being a couple of creepy guys who want to indoctrinate kids the same way religious groups indoctrinate them.   Do you see the insanity?  Do you see why people get angry?
To be fair, the interviewer tried to be fair, but it's a moot point.  These were children being asked about an adult issue.  Plain and simple – one does not ask kids to watch this stuff and then ask them questions that one would get in big trouble for asking them in any other situation.  It's all so very sketchy.  It's low rent.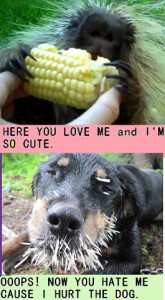 Damien LeGallienne
Reporting for: The Damien Zone.com
There's a new IOC (Internet Only Celebrity) sweeping the through the meaningless lives of the mindless morons of Facebook and all the other kinds of "this-is-so-cute-you-have-to-watch-it" social media, but this latest one is really worth all the fuss — or is it?
As some of you know, I openly loathe the FSWS (Facebook Simpletons Who Share) community, but this time, they may have found an Internet Only Celebrity (I.O.C or Eye-Yok) who is really cute and totally adorable and incredibly loveable — and probably FAKE — but I'm kinda-sorta not sure yet.
Yes, of course I am talking about Teddy Bear the Talking Porcupine.
If you're a Facebooker and you have some simple-minded Facebook friends — and who doesn't — you probably already know all about Teddy and you've seen his viral videos.
You've seen him eating corn and rose petals on Valentine's Day. You've seen him eating a pumpkin on Halloween, and if you live in Vietnam — where they love to eat these critters — you will soon see him eating lead.
The gist of Teddy's viral videos — the things that makes them so adorable and appealing to the mentally limited — is the fact that Teddy Bear the Porcupine, talks while he eats — or at least it sounds like he's talking or mumbling.
"Teddy" — who refers to himself in the first person on his very own Facebook page — appears to make strange gurgling, peeping, murmuring and some outright creepy sounds when he eats something he especially likes. The final irony is that Vietnamese people make the same sounds when they eat porcupines — so that's an interesting anthropological observation for those who enjoy that kind of scientific stuff.
Anyway, I can be a real killjoy — I know that.  I don't do it because I "live in my mom's basement" or I am "off my meds" or because I am "pathetic" and a "sad and unhappy little man." I do it because truth is more important than anything. Without truth you don't have truth and without truth you don't have truth.
Keep an eye out for the puns in the next paragraph and see how many you can count. Every time someone on Facebook guesses which word is a pun and then shares this story with another Facebook friend, a sick baby will get a free heart transplant and a pet porcupine.
I know that some of you will take out your quill pens and hurl barbs in my direction because you love Teddy Bear The Talking Porcupine, but doesn't a shiver go up your collective spines when you wonder if the voice of Teddy is perhaps dubbed by a human — like when Harry Mandel did the voice of Gizmo in the flamboyantly moronic film "Gremlins."  I don't want to be prickly about this, but something is suspicious about the whole thing. Some of you rodents out there don't like my opinions — I understand. You can needle me all you want in the comment section.
Be that as it may, something is screwy about the whole thing. I keep watching and watching Teddy's videos — waiting for that slip-up where it becomes obvious that somebody is pulling a fast one — and I found it.  I found the gimmick within the gimmick.
There are already far too many still photos of Teddy posing on his Facebook and YouTube pages with various football team helmets as background props.  It looks like the master plan by Teddy's "people" might be to create a new kind of spiny Spuds Mackenzie for want of a Super Bowl deal.  For that reason alone, I think Teddy's hungry chatter is fake.
Sorry, but I think that Teddy Bear the talking porcupine is not the little Chat-N-Chew that somebody is making him out to be.
I asked an expert. I always find someone…sometimes I even check their credentials.
"Porcupines are very vocal creatures. They make all kinds of sounds but mostly they grunt or squeak to let other porcupines know where they are. They're mostly nocturnal and it's rather hard to determine which sounds come from which animals. Porcupines in captivity are usually quiet and as far as this Teddy the talking Porcupine thing goes, I have never seen these kinds of vocalizations from a porcupine…but anything is possible with an animal who is already known to vocalize. I once saw a cat who said 'Mna Mna Mna Mna Mna Mna' all day long, so maybe Teddy's videos are real."  You can learn a lot about this subject from this famous zoologist here - http://www.imdb.com/name/nm3834680/?ref_=fn_al_nm_1
Well — I don't care what this expert says. Teddy has NOT appeared in National TV to strut his stuff — he is an IOC or INTERNET ONLY CELEBRITY — so that's kind of suspicious right there.
I think — but I am not sure — that he had a chance to be on the Today Show with none other than that suave and debonair lady's man-slash-meteorologist named Sam Champion, but he turned it down because of prior charity commitments. Sounds pretty prickly if you axe me.  What kind of charity event needs a procupine — Kids With Quills?  Sorry — I ain't buyin' it.
So the question remains: Is Teddy Bear the talking porcupine a hoax or is he real? The answer is — I DO NOT KNOW — I suspect he is totally fake — or at least his voice is fake — but then again, I am miserable son of a bitch and I live in my mom's basement.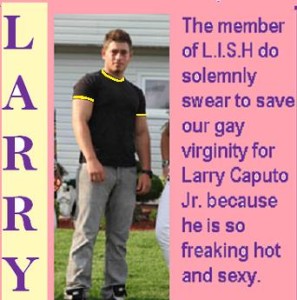 Larry Caputo Jr is the new talk of the town — and some of it is pretty darn naughty if you axe me. There's already a sorta-kinda gay scandal hanging around TV's newest heart-throb.
In case you don't know, Larry (Lawrence) Caputo Jr. is the hunky and handsome son of Theresa Caputo — you know — the Long Island Medium?
The poor guy has only recently been thrust into the limelight, and already his movie-star-good-looks are causing him problems within the very pushy and demanding gay community.
Don't the ghosts of James Dean or Montgomery Clift or Rock Hudson warn Larry's mom Theresa that regular people assume all great looking male celebrities (even the reality star variety) have got to be gay?  Oh wait, those three dead guys are  totally gay — so scratch that idea.
Larry is supposed to get a guest spot on this show – >http://www.imdb.com/name/nm3834680/
Anyway, the gays out there in the darkness absolutely LOVE LOVE LOVE Larry Caputo Jr, and right now he might have more gay male fans that just about anybody in the public eye — and why shouldn't he? He's great looking, he has an awesome body, an engaging smile, great hair, and — holy shit — his mom can talk to Judy Garland.  What's not to love?
In one major US city there is a fanatical gay fan club that devotes itself entirely to worshipping Larry Caputo Jr.
"Larry is so gorgeous I want to marry him and have babies with him via in vitro feminization," said Hector Minueza of Brooklyn, NY USA,
Yes, Hectoro Minueza of the Brooklyn chapter for "L.I.S.H." or LARRY IS SO HOT, actually said that.
L.I.S.H is a group of uber-gay, lower income New York area club Ravers and Emos who meet up at various clubs in and around the New York/New Jersey area. Their goal is to eternally love and devote their entire lives to Larry Caputo Junior and only Larry Caputo Jr.
"To join L.I.S.H you have to totally swear your virginity to Larry until he finally realizes that he is gay and must be with one of us and I hope it's me," continued Minueza.
"His mommy is like the Long Island Psychic, you know, and she is like the greatest psychic in the world. God gave her that gift and he sent her son into this world because the world needs more hot guys and psychic mothers. Oh my god, I so love Larry Caputo I can't take it anymore — OH MY GOD!"
It turns out that the rather flamboyant Hector Minueza literally "can't take it" and he is now in therapy to try and quell his obsession over the young hunk. Hector's mother Graziella believes that Theresa Caputo has put a spell on her son and that he will never be able to love another man.
While this might seem like a heartbreaking plight for poor Hector, one progressive European doctor believes that having so many young gay guys devote their virginity to Larry Caputo Jr, is a good thing.
"I think that the idea of club Ravers and low income gays and Emos saving their virginity for Larry Caputo Jr is a great thing," said Dr. Raymond Tote-Tundy MD PhD, a psychiatrist at the Skylight Institute for Psychological Study in Switzerland.
"This kind of gay-virginal promise of devotion puts young Larry in a great position to teach young gay and straight youth about the importance of love and monogamy in a relationship.
"I think that Larry Caputo Jr should reach out to the gay community and tell them that he admires what they are doing with L.I.S.H. and he should embrace it. It doesn't matter if he is gay or not gay or soon to be gay or whatever. Larry essentially owes these young gay guys something for their devotion and he seems nice enough to engage them."
The whole issue about gay love for Larry Caputo Jr might one day be an issue in Dr. Tote-Tundy's own family. Here's what he said about that.
"My own son Victor is in love with Larry.  Yes, I am the proud father of a gay Emo son and if he wants to be in love with Larry, I am 100% behind him until the day comes when Larry is behind him — or he is behind Larry. I know that might sound a bit sarcastic, but you have to have some humor about all things, and the point here is that I feel qualified as a physician to say that Larry Caputo's close ties with the gay community are something he should embrace and be thankful for.  When the gays love you, you can do no wrong.  He should not have turned down role in that TV series for which you sent me the link.  It would have been a great spot for him."
So there you have it. Larry Caputo Jr's situation in life is very similar to his mother's. His god-given attributes are both a blessing and a curse. If he reaches out to the gays who love him, he will be doing a service to mankind, but at the same time he might venture into the heart of darkness.  Theresa Caputo finds herself in the same position when she reaches into the spirit world.
The underlying question on the minds of so many young gay guys out there is, "Is Larry Caputo Jr. gay?" Well, The Damien Zone can only tell you the facts as we see them.
A) Larry Caputo Jr is very sexy and good-looking —  but a lot of guys – gay or straight — are very sexy and good-looking.
B) He likes to work out and pump up his muscles — but again, a lot of gay and straight guys like to do that too.
C) He plays sports — that's kind of straight.
D) He likes to wear tight and form-clinging t-shirts — which is kind of gay.
E) He also has been quoted as saying "My mom is a super-hero" — and that is totally Freudian gay.
So *shrug* maybe there is a ghost of a chance for the Larry Caputo Junior devotees at L.I.S.H.   Who knows?  Like us on Twitter and you will get updates on this story and other sexy stuff. https://twitter.com/thedamienzone
Damien LeGallienne reporting for TheDamienZone.com