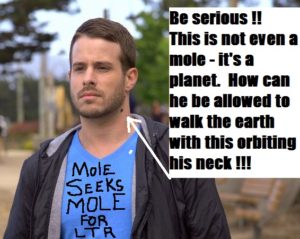 MTV CATFISH – ANDREW AND JOHNNY – GIANT NECK MOLE.
Human beings have skin.  Skin is the body's largest organ and it does  a whole lot of things. Because skin is so vital to life, it is subject to all kinds of diseases and oddities.  Very frequently, skin has imperfections.  Some of these imperfections are hardly noticeable, but others are glaringly obvious.  We've all seen teenage acne, or scars from injuries along with hair stubble or discolorations etc.  These are common dermatological flaws.
DERMATOLOGICAL is the medical word that is used by doctors when they refer to anything that involves the skin.
Here are photos of moles that caused big trouble.   Disastrous moles Pictures on gay guys. 
Of all things that can go wrong with skin, and plenty can, the worst kind of blemish is something we see on people every day.  Some of us don't seem to mind or to notice them, whereas others are driven to insanity when one comes near.   They recoil in horror at the sight of these offending dermatological flaws.
Of course I am talking about THE GIANT MOLE.   Be they brown, black, rubbery, flat, bulbous, round, oval — you name it —  nothing is worse than a mole.  Kings have beheaded their queens because of unsightly moles.  Countries have fallen and lives have been ruined.  In this case – and why I am writing about this –  a huge mole ruined any chance of happiness for a wanna-be gay couple in California,  It's a pitiful story…pitiful.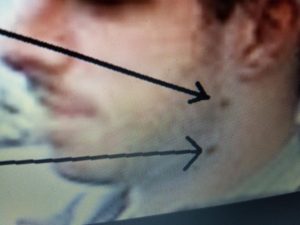 "MOLES ARE TROUBLE.  How does Darwin's Theory of Evolution account for MOLES?  People with huge moles should have become extinct hundreds of thousands of years ago.  So right there, we have a gaping hole in the Theory of Evolution for all those Creationists out there who are looking for a new talking point.   Only GOD can create a mole like the one being described here.  There are no atheists in foxholes and in mole removal clinics." [Dr. Sheldon Hartunis – Dermatologist – Medical Journalist]. 
Some people walk around with giant moles on their faces without realizing that they are making other people sick.  They are creating a public nuisance.  Do you, remember John Candy in the movie UNCLE BUCK — like when he told that school Principal to get that giant mole taken off her face?   Yeah, well that's what we're talking about here.
So anyway, NEV, the swarthy and greeeeezy looking guy with the spindly arms and hands who makes the MTV show "CATFISH" — along with a prematurely gray guy named Max who we're supposed to think is NOT his boyfriend — now holds THREE honorary titles that have been bestowed upon him by The Damien Zone.
Click on picture of MOLEMAX to enlarge and read the directions.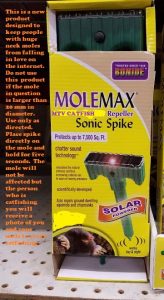 First: NEV and MAX have the dumbest show with the most commercial breaks in the history of TV reality shows'
Second:  CATFISH proves that HOLLYWOOD PRODUCERS  can make a ton of money exploiting  poor people, stupid people, lonely people and mentally sick people.
THIRD:  Nev and Max have a TV SHOW THAT FEATURES THE LARGEST MOLE EVER SEEN ON A TV SHOW THAT WAS NOT ALREADY A MEDICAL SHOW ABOUT MOLES.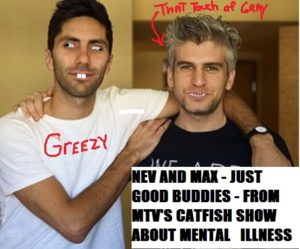 If you watched last night  – 12, April 2017 – and I am not even sure if this was an old rerun – you would have seen a mole on a human neck that could be easily tracked by the Hubble telescope and then blown up by surface to air missiles if it proved to be a danger to earth's atmosphere.
Hold it !  I understated this.  It was not even a mole.  It was a planet or some kind of celestial body that had somehow collided with earth and stuck into the neck of a gay guy named Andrew who has a semi-Matt-Damon-Retard thing going on about him. Andrew's deficiency may or may not have been caused by his collision with an interplanetary brown globule which is now walking around disguised as a hideous mole.
If you know anything about MTVs CATFISH, it's a show about (probably) mentally sick and lonely people who fall in love with other mentally sick people on the internet or on the telephone until one of them finally suspects or realizes that their online lover might be an impostor.   DUH!
If the victim — the one who is being "CATFISHED"  — is lucky and can attract the attention of the CATFISH producers, they can get NEV and his boyfriend — I mean, his buddy MAX – to thoroughly investigate the matter in an episode of the show CATFISH and try to find out the true identity of the person on the other end of the internet.  In other words, they can track down the true identity of the impostor and turn the whole thing into another sicko episode of their exploitative show which they claim is used to HELP people.  They're full of shit.
Nev and Max know how to dig deep into social media and put the pieces together….or at least they pretend as much. You see, there is an element of fakeness to all of this and a lot of impostors must receive some financial compensation for humiliating themselves before millions of people — but that goes too far beyond the scope of our story about true love being ruined by a giant mole.
OVERVIEW:  Let's just say you meet a girl in a chat room and she has a gorgeous photo, right?  Then you meet her in person and she is 70 years old and ugly.  Obviously, the picture was fake and now the old bag is crazy about you and begging you to stay with words like, "But I am still the same person you fell in love with online !!!"   That's what it means to be CATFISHED.  Sometimes the impostors aren't harmless old women pretending to be hot young chicks.  They're much worse. Sometimes, they are gay men with huge moles pretending to be gay men without huge moles.  It's beyond the pale my friends…beyond the pale. 
Getting back to the catfish mole story:
Andrew – the big-jar-headed and narrow-shouldered guy with the huge mole(s) on the side of his neck – struck up an internet conversation with some random guy who passes for sexy and handsome in the backwoods of Maine.   The guy called himself JOHNNY or something like that, and all of his photos showed him to be young and fit and nice looking enough for lonely gay men who are desperately seeking love and sexual gratification.
Keep in mind that this Johnny person never met Andrew face to face, yet ANDREW, who is under siege by the giant MOLE(s) on his neck,  believed that the guy he spoke to on the internet, telephone and via text, was the same guy he was seeing in the photographs which were being sent to him.
Okay, right there, you've gotta know that Andrew is a simpleton because in this day and age, you can chat LIVESTREAM with anyone in the world.  The moment JOHNNY stated that he could NOT talk to Andrew via SKYPE or any live media,  a little bell should have gone off in Andrew's huge head.  But,  like I said, there is something a little "limited" about Andrew, and of course there is the matter of the mole(s).  The mole(s) could be draining every ounce of common sense from Andrew's brain.  If you see the mole, you will understand.  You will not think that I am judgmental.  You will understand that the mole has taken over Andrew's mind.   This mole must be seen…it must be seen.
Let me explain why this whole thing was far more strange than the average episode of Catfish.
Andrew, it seems, was very at ease with the MTV film crew and costars Nev and Max.  He didn't have that amateur, "Gee I'm on TV" air about him.   He came off as cool and smooth, and under any other circumstances one would think that he was an okay looking guy — notwithstanding his weird body shape where he has the big block head of Matt Damon perched atop the body of a slender elf — but when the mole comes into the picture, you quickly realize that the MOLE is doing the talking.  It's like a giant pea pod that has wrestled control of Andrew's very mediocre brain.   Like the RED SWITCH in the Bela Lugosi movie "THE BLACK CAT," it's been the mole all along.  YES, the mole has been doing the talking.  Andrew is the mole.  The mole is Andrew.  The mole was the answer to it all. And, on the other end of the line, JOHNNY was just some weird and confused young guy from San Francisco who simply needed a shit, shower and shave — and maybe a few groceries.  For chrissakes….he looked so grey and gaunt and sickly.
NOTE:  When Johnny agreed to meet with Andrew, the crew drove to meet up with him at San Francisco's iconic Fisherman's Wharf.   Andrew, recited a text from Johnny which stated that he could be found sitting on the wharf. The trouble here is that Andrew — again you must excuse him because of the mole's affect on his already simple brain — could not pronounce the word WHARF.   In fact. it was painfully obvious that didn't even know the word.  He said, "Johnny just texted me and said he will meet us on the w-w-w-waruf-f-f."  It was pathetic.  It's hard to explain how he did not know the word, but if you watch the episode, you will see what I mean.
So they meet Johnny on the w-w-waorf-f-f-f and Johnny turns out to be a greasy little nebbish who was not out to his family and was lamenting his breakup with his previous boyfriend.  Johnny admitted that he had indeed catfished Andrew, but he was very apologetic for having lied and using the fake pics.  In fact,  as far as gay catfishers go, he was not as horrific as most.
After a brief introduction, Nev and Max allowed Johnny and Andrew to go off and talk alone – but still on camera.
When you added up all the elements to this lunacy, you could see the irony wherein Andrew – the victim –  was actually getting the better end of the deal.   Like I said, Johnny the impostor wasn't all that bad.  In fact, he was better looking than Andrew and he was not burdened with huge moles (although we did notice a few small moles beneath Johnny's right ear).
I might have to watch this episode again because I sensed, when Johnny and Andrew met face to face, that Johnny took a quick glance at the mole and winced.  If he didn't, he is blind.  The only explanation I can come up with is that Andrew's internet photos do not display his mole.  Had the mole been seen in pics, Johnny would never have shown up on the w-w-w-waruf-f-f.
In the end — which was very anti-climactic – Andrew told Nev and Max that he could be a good friend to Johnny but not a lover.  Andrew said that Johnny was still too hung up on his ex-boyfriend — which did appear to be true — but he stated that he would help Johnny and treat him as a friend.  That's the MTV CATFISH-SPEAK for — "No shot."
Two last things:   The Damien Zone thinks that Johnny saw Andrew's moles and begged off.   We think that Andrew is the one who got the brush off.  The ending was too quick and very suspicious so we suspect that there was some kind of histrionic thing going on about the moles.  There is no way Johnny could have seen those moles and not backed away in spite of the fact that he was smitten with Andrew's online persona.  Perhaps on his computer screen the moles are hard to see.  Maybe Andrew kept his head cocked to the left and kept the moles out of camera range — we can't be sure.  In real life, however, the moles are far too much to endure.  they're two fleshy and gelatinous Jupiters or Neptunes.  They should not be on a human neck unless the neck is on display at a planetarium.
Andrew — with the mole in full control of his mind and body — had to back off and play it cool.
Lastly — One of the ways that NEV and MAX were able to track down the REAL Johnny, was through a gay hook up app called GRINDR (pronounced GRINDER).  Seems Johnny meets dudes on Grindr, which, in our opinion, makes him a piece of shit.  Nobody on Grindr is there looking for a date to the church picnic.  Grindr is gross and it helps to spread STDs.
That's the end of the story.   PLEASE COMMENT — IT'S VERY EASY AND I WANT YOUR THOUGHTS.  I DO NOT CROSS CHECK OR VERIFY EMAILS.  THE PRICE YOU PAY FOR THAT CONVENIENCE IS THAT IT SOMETIMES TAKES ME A FEW HOURS TO SEE THE COMMENT AND POST IT.  I DO NOT SCREEN COMMENTS EVEN THOUGH IT SAYS "AWAITING MODERATION."  I DON'T CARE WHAT YOU SAY  TO or ABOUT ME…WITHIN REASON.  IF YOUR COMMENT INTERESTS ME, I WILL RESPOND … OR YOU CAN JUST FIGHT WITH THE OTHER PEOPLE WHO COMMENT.   HAVE A NICE DAY – Damien LeGallienne – EDITOR