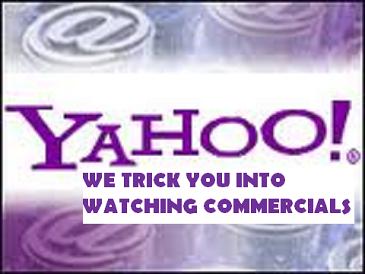 YAHOO.COM SUCKS!  THEY TRICK YOU INTO WATCHING COMMERCIALS.
There is a reason why YAHOO is going down the internet drain – it's desperate and deceitful — and the content sucks — but most of all, the dinosaur that is Yahoo uses a bait and switch technique to get you to watch and read their news stories.
You are already patronizing Yahoo by being on a Yahoo homepage, right?  So you see a really cool video of something that interests you — let's say a guy falling out of a hot air balloon.  The Yahoo screen shows a picture of the balloons but when you click on it, you ALWAYS have to sit through a 15 second commercial and sometimes a 30 second commercial before you get to the video.  That is scummy.  
It's especially annoying because cable TV, the TV that you PAY FOR — the TV that was supposed to get rid of commercials forever is actually filled with more commercials than network TV.  
Nat Geo, Science, Discovery, RealTV etc, now have commercial blocks that are often 5-6-7 minutes long !!!!  
Now Yahoo has decided that landing on a Yahoo page is not enough.  If you want to read their news or stories or entertainment crap you have to sit through a commercial — even more annoying is that there is some kind of crafty coding involved wherein there is no click-off button and when you try to either go back a page or shut the window, it takes more than one click — they want to get at least 9 seconds out of you.
As much as I loath AOL – especially now that it has an unholy alliance with the sickening Huffington Post — they do not do this.  Their human interest and news videos rarely have commercials unless you count a rotating company logo that introduces the video story. 
As much as I hate AOL/Huffington, I would rather read news and other assorted junk from their site than be snookered by Yahoo and their sneaky ad techniques.
10/06/2011 – UPDATE:  HUFFINGTON NOW HAS THE COMMERCIALS JUST LIKE YAHOO.  THEY SUCKED YOU IN FOR A FEW MONTHS.  AS SOON AS YOU SEE AN AD LEADING YOU TO A VIDEO STORY — CLICK OFF — FIND THE WRITTEN FORM OF THE STORY ELSEWHERE.  IF YOU ARE TOO LAZY TO READ AND ONLY LIKE TO LOOK AT TV PICTURES, YOU SHOULDN'T BE ALLOWED TO KNOW WHAT'S HAPPENING IN THE WORLD ANYWAY.
My advice to all you internet junkies is to NEVER click on a yahoo ( and now Huffington) add that shows a video screen and a promised video story — you are already paying your internet service provider — there is no reason why anyone on the web has to sit through a commercial.  This is getting popular on YouTube as well and they are next on the shit list.
If you just fall into this trap and accept the fact that you have to sit through an internet commercial to see a video about a kitty cat jumping from the Empire State Building to The Chrysler Building, you will eventually wind up in a world where you will have to sit through 5 minutes of commercials for every 12 minutes you spend on the web  — MARK MY WORDS!