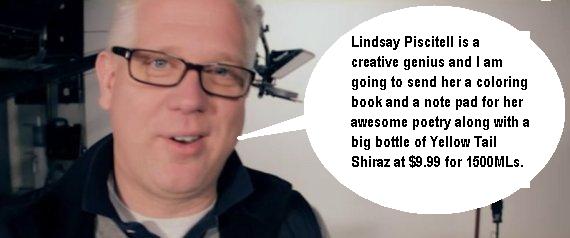 Glenn Beck, love him or hate him, has the right to sit in a city park and watch a movie just like everyone else.  We are supposed to live in a civilized society, but a few assholes and dickturds had to show their, look-at-me-I'm-a-hip-New York-liberal-stupidity,  by heckling Beck while he sat in Bryant Park watching an outdoor screening of Alfred Hitchcock's "The 39 Steps" with his wife Tania and their children.
Before anything happened, this is what the oh-so- sophisticated New Yorker Lindsey Piscitell tweeted to her fellow misfit follwers.  "Fucking #asshole @glennbeck is siting next to me at Bryant park movie night #getthefuckoutofmycity"  — Since Lindsey was this classy, I am going to treat her the same way — I will do what I do best — use foul language where I think it is appropriate. 
According to ASH CAN MAGAZINE, Piscitell's mini bio reads like  this.   Lindsay (sic) Piscitell is a twenty-something New Yorker/San Franciscan/Nomad who likes to think of herself as a member of the creative underclass. In between panic attacks and espresso-fueled internet benders she likes to write short stories and also sometimes poetry.  — More info provided by  Da Mata
In other words, and in my opinion, she's a nobody with no talent.  You can take that to the bank.  I read one of her poems about a blue gas light — it was something a 4th  grade kid would write that you find hanging on some grandmother's refrigerator.
Anyway, before we get back to the aforementioned misfit, Beck, 47, said cinema-goers turned on him during Monday's screening ." One person, he said, shouted "We hate conservatives here" and another yelled "We're in New York and we hate Republicans."   NOTE THE WORD "HATE"
Isn't that charming?  Isn't that the sophisticated behavior one expects from a New York crowd of sophisticated film buffs?  You know what that sounds like to me — Manhattan's version of rednecks.  But it comes as no surprise.  The only difference between a Bumfuck redneck and a New York fuktard, is that the fuktards know how to twitter.  Of course nobody cares — but they do it like crazy.
To top it off, one angry person purposefully kicked a cup of wine onto the back of his wife, Tania,  and others snapped photos of him and his family, said Beck.
He likened the attack to a public lynching.  <— Don't be a martyr Glenn.  C'mon!
"'I swear to you, I think, if I had suggested, and I almost did, 'Wow, does anybody have a rope? Because there's tree here. You could just lynch me.' And I think there would have been a couple in the crowd that would have," Beck said on his radio show.
Beck decided against leaving, but said the crowd — "some of the most hateful people" he has ever seen — began to applaud as he exited at the end of the film.
"I have a right to watch a movie and enjoy a movie with my family in the park," he said.
He certainly does have a right to watch a movie.  Can you imagine a bunch of CONSERVATIVE New Yorkers doing something like that to Keith Olbermann or Bill Maher?  IT WOULD NEVER HAPPEN!   Maybe in Bumfuck Boondocks where you could understand the lack of sophistication, but in New York???  
I can't say the word "MISFIT" enough because that's what they are — misfits.  Ill-bred, ill mannered, childish, stupid, dopey and unsophisticated urban Yahoos.
On his website, Beck wrote that he doesn't "expect a warm welcome in New York City," but what bothered him was the "cowardly behavior of the crowd."
But it wasn't just cowardly, Glenn.  It was the ill-mannered and spiteful actions of frustrated and unaccomplished kids with delusions of sophistication and childish minds. 
Think of the sprinkling of pseudo-sophisticates in New York who might go to an outdoor screening of a classic film along with normal people — what do you think you're going to get.  If you don't know, I will tell you. 
You will get a bunch of well-meaning people who want to enjoy a night out, but you will also get a bunch of NYU and/or hipster types (probably with a 2.2 GPA) who should have been sent to bed without dinner and without getting to watch The Daily Show. You get dummies with no discernible frame of reference outside of The Colbert Report.  You get a bunch of sickening idiots with no social filters all drinking something cheap like Yellow Tail Shiraz — thinking that it's  a sophisticated wine. 
Ohhhhhhhh how I can just picture the type — the sickening, cloying, dumb misfits with no social awareness — the boorish self-imagined, elite nothings — the wanna-be's.  
They are nothings who will never be anything. 
These are the idiotic kids who tell you they like to sit down on rainy days and "watch a good old flick" but then they can't name the actors or the directors or they switch to the cartoon network in five minutes because they don't know who Charles Boyer is and they can't watch anything in black and white. 
I know young people like this — trust me.   I have to hang out with a few of them and they make me SICK.
On Beck's television show, he continued, "You would think there would be some common decency, especially among the culturally superior here in New York."
WRONG, GLENN!   There is nothing culturally superior about New Yorkers.  In every city you have your decent and well-mannered people and you have your stupid slobs. 
According to one source, Lindsay (sic) Piscitell, was sitting behind the Becks at Bryant Park,  and she shared her version of events with New York Magazine. She said it was his security detail that seemed to be "unnecessarily prickly with the crowd, scolding myself and my friends for acrobatics and other harmless activities taking place well before the movie started."
Why did you have to do childish acrobatics at a movie screening Lindsey?  Why couldn't you grow the fuck up and just behave like a dignified lady instead of a reveling carnival freak?   Maybe the security was "prickly because there were a bunch of drunk assholes causing trouble — and you were one of them.  
Maybe you suck as a poet and you suck as a writer so you hate the world?  Maybe you're a "nomad" because you really don't belong…. ANYWHERE?
Folks, I just know that I am sooooooooo right about this that it's killing me.
As for the wine?
"It was my friend that spilled the glass of wine," said Piscitell, adding apologies were immediately made. "And I can assure you that it was a complete accident. A happy one, to be sure, but nonetheless a complete and utter accident"
With that last "happy accident"  Lindsey revealed, in my opinion, that the wine tossing was not an accident.  The mere fact that she had to get that little dig into her quote, proves to me that Lindsay Piscitell is a misfit and there was probably too much cheap Yellow Tail wine, no brains or manners, and very little dignity  — and ZERO class.  ZERO.
On behalf of all New Yorkers I believe that Lindsey Piscitell and any other ill-bred moron who behaved like a pirate on a rum binge, owes Glenn Beck and his family, a public apology.  New York overall owes Glenn beck an apology. 
Today Lindsey might be a hero to her "its cool to fuck over Glenn Beck" friends who don't have a clue about anything but their iPhone.   But tomorrow, and for years to come, those hecklers will have to live with the misfit gene that they carry.  It never goes away.  It will hold them back for the rest of their lives.  They will mock me and my blog of course,  but that will not change anything about them.  They will be misfits for the rest of their lives.   That makes me happy — and I hope that someday I can twitter this —   "Fucking   @Lindsey Piscitell #asshole is siting next to me at Bryant park movie night #getthefuckoutofmycity"