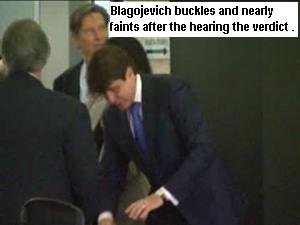 Now that the Blagojevich trial is over and he's been found guilty on some serious charges, a lot of people are asking, "How many years in jail will Blagojevich get?"  It must be a lot because the usually slick and confident Balgojevich, buckled at the knees and nearly fainted as the verdict was read aloud in the packed courtroom.
According to the legal help at TheDamienZone.com, Rod Blagojevich will probably get a little mercy from the judge because if you sum up the whole thing, the former Governor of Illinois could go away for 50 years — essentially a life sentence.   In reality, he will probably be sentenced to 20 years — and he will do about 8-10 years before he is released.    
Other lawyers disagree.
"I think he will be sentenced to 40 years with a mandatory 12 year stay," said Harvard Law Professor, Benjamin Switchy.  "The original count will get him 5 years solid and the rest of the charges will get him another 35.   Look for him to do a long stretch — as a matter of fact, my best guess is that he will be all but a forgotten man by the time he gets out of jail. "
There is also the chance that President Obama will pardon him if he gets elected to a second term.  He certainly will not pardon him if he is a one term President because he doesn't want a pardon like that to be part of the legacy of his one term Presidency.
We spoke to fifteen  Ivy League professors and the average time they offered was 12 – 15 years.   That's quite a stretch — with one professor theorizing that the sentence will exceed 40 years.