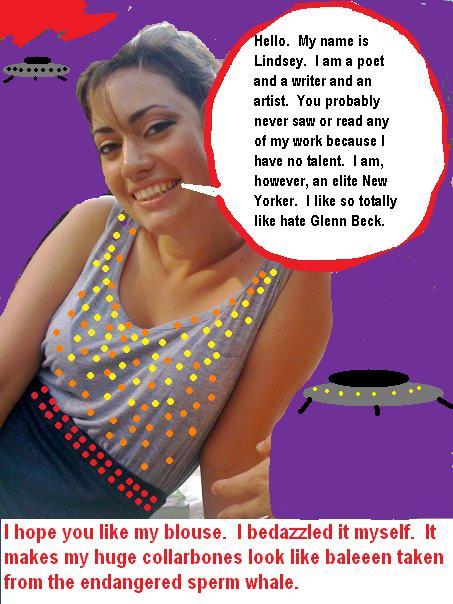 NEWS FROM THE FUTURE: 
YEAR 2898 – HERE ARE SOME OF THE LOST LINDSEY PISCITELL POEMS –THANKFULLY THEY HAVE BEEN RESTORED BY THE DAMIEN ZONE'S TEAM OF RESTORATION SCIENTISTS.
 There once was Glenn Beck on a blanket
But I'm Lindsey and I am entitled to crank it….
Up a notch with my jug of cheap wine
People now know my name so divine.
Now I'm sober and I wish to hell that I'd drank it.
The Search For Appletini's in Autumn
The leaves are falling down like so many yellow dead canaries
I remember my parrot calling to me while I cooked chicken piccata for the hot guy
He fixed my car and our eyes met when I gave him my nearly empty bank card
Then we made love and he never called me back because I was wrong for him – he had a job
I so enjoyed the really nice bottle of Sutter Home Chardonnay he brought — or was it Corbett Canyon?
It doesn't matter for now it has long been peed into the sewage that leads to the mighty Atlantic
And…now he is gone and I search for an appletini amidst steel towers that mock me
For I am small and they are big
And the piles of dead canaries are now whisked away by a man with a sucker machine
When winter comes there will be more appletini friends looking to come in from the cold
But now I will have to settle for a mochachino
My liver cells breath a sigh of relief
For I found no appletini.
THANK YOU:  You can read my actual opinion here — http://thedamienzone.com/?p=4762