E
E Harmony's Dr. Neil Clark Warren may be a bigoted guy who is opposed to gay marriage, but his grandaughter Caroline — the one with the speech impediment who appears in his commercials sporting blond pigtails — does not agree with her grandfather's stand on gay issues.
Caroline has been to many speech therapists and a cure has not been found, yet when it comes to modern social issues, the little actress speaks a lot more clearly than her stuffy grandfather.
This Hollywood writer got the inside scoop on Caroline Clark Warre:  http://www.imdb.com/name/nm3834680/?ref_=fn_al_nm_1
"I be-weeve, that gay people should be awwoed to mawwy and that my gwandfather is tewwibly wong about this," said Caroline from her penthouse apartment playroom in West Palm Beach.
"Gwandpa is vewy, vewy, old fashioned, and he doesn't wook at things the way he should. When I was a wheely wittle girl, I did not know what it meant when people say that somebody was gay, but now that I know, I will try to make my gwandfather twy to change his vewy wong idea about what people should do in the bedwoom. That stuff is vewy pwivat."
Don't hold your breath waiting for Caroline to come through on her promise to change her grandfather. The kid is pulling in a lot of money doing those TV spots.
"I make a watt of money and pwetty soon I will have enough to buy a Wools Woyce Convawtible."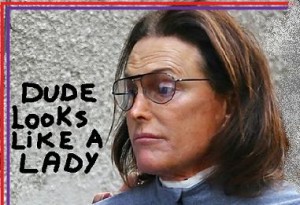 "….it's all part of the Kardashian's master plan for a mega-season storyline wherein Bruce finally gets sexual assignment surgery and changes his name — according to rumor — to Jenny Bruce." [The Damien Zone - Damien LeGallienne]
If it walks like a duck, it's probably a duck and if a guy looks like he is going through a sex-change procedure, it is safe to say that he probably is doing just that. It's becoming more and more obvious that in Jenner's case it's a whole lot more than a "Dude Looks Like a Lady" kind of thing. This time the dude IS a lady or pretty close to making the full transition.
"I believe Bruce Jenner is absolutely preparing to have a sex change operation," said a medical source close to TheDamienZone.com.
"In his current state, Bruce is what transvestite and transsexual prostitutes on the street would angrily call a 'gender fuck' because, his appearance is confusing and in spite of that, he is living life as a man. That is where the phrase 'gender fuck' is derived. He looks like one sex but proclaims to be another. Most pre-op or post op transsexuals refer to themselves as women and they take on the names of women, but Bruce is still Bruce and still claiming to be a man, so right now, as vulgar as it seems, Bruce Jenner would be referred to in the transsexual community as a 'gender fuck'.  He's very similar to the prop comic Carrot Top.
"The recent pictures of Bruce that have emerged show a very feminized and aging version of the once young man who was once a muscular young Olympian – the embodiment of manhood and virility.
"His facial skin looks like it has been thoroughly cleared of all whiskers via electrolysis and it has taken on a weathered and papery aging lady texture. His hair looks a little more lustrous which would be the result of female hormones.
"Also, no man on earth get's an 'adam's apple' shave unless they want to look like or become a woman. It's just something that is so specialized. To have that surgery is akin to wearing a sign that reads, ~I am going through a sex change operation~ and there are no ifs, ands or buts about it."
Other sources close to TheDamienZone say that this is all falsely hush hush and limply denied in the Kardashian world, but it's all part of the Kardashian's master plan for a mega-season storyline wherein Bruce finally gets sexual assignment surgery and changes his name — according to rumor — to Jenny Bruce.
"The Kardashians will score huge ratings on this "VERY SPECIAL SEASON OF THE KARDASHIANS" but right now they're playing dumb so the story is new and fresh for the Kardashian hungry morons of the world."
"Bruce has been wanting to have a sex change for years — nearly twenty or so years and it's safe to assume that a few times he either chickened out or he could not get psychiatric clearance for the procedure. Now he is so famous that any quack will do the operation just so they can be connected to a celebrity.
"Think about Michael Jackson. A regular person could never get the drug heavy-duty IV prescriptions from a doctor no matter how much they paid, but many Hollywood doctors are seduced by the whole celebrity ambiance and they'll do anything even it means putting their medical licenses in general."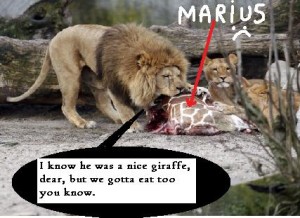 "The veterinary version of  Josef Mengele is alive and well and calling the shots at the Copenhagen Zoo.  It seems he is the person in Denmark who determines which animals are fit to live and procreate and which are inferior or flawed. Then he dissects them in front of children" [Damien LeGallienne,  10, February 2014]
TheDamienZone.com is calling for a boycott on tourism to Denmark — especially Copenhagen — especially the murderous zoo where they killed a giraffe because they didn't like its family tree.
The Copenhagen Zoo — which, in my opinion, is run by Nazis — shot and killed a perfectly healthy giraffe today and then fed the meat to the lions and the tigers. They did this because the giraffe "did not fit into their program" and they did not want him sent to another zoo because they said "it would cause inbreeding."
So that's how they do it in Denmark — very Hitler-ish don't you think?  The giraffe was named Marius, and to add insult to injury, they shot the poor guy in the head with a bolt gun because to kill him with a lethal injection would have rendered the meat inedible.   Is this zoo broke or something?  If you have to kill your animals to feed your other animals, something is really, really wrong.
Now, according to the really bad writers at CNN, the assholes are going to perform an autopsy. First of all, there is no such thing as an "autopsy" on an animal — for the 1,000th time, assholes — a postmortem on an animal is called a NECROPSY. How many frigging times do I have to tell you morons how to write correctly?
Anyway, several wildlife parks and zoos offered to take Marius but the Copenhagen zoo thought it was better to shoot a deadbolt into its brain — and it was VERY messy.  For some weird reason, they would not let Marius go somewhere else to live out his life.  It's as though they wanted to practice killing giraffes or something. I don't care how many "experts" try to explain what they did and why they did it.  The fact remains that they wanted this giraffe dead and they wanted to take this animals death to a Jerry Springer level.  They succeeded.
"The Yorkshire Wildlife Park in England offered to take him in and they have one of the best giraffe facilities in the world," said Zoologist/Writer David D. Mattia when we contacted him from our office in Belgium."

"There were so many more options open to Bengt Holst (the scientific director of the zoo) but for some weird reason he wouldn't budge."
David D. Mattia continued:
"I know there are various  protocols for situations like this, but The Copenhagen zoo laid this out for all the world to see and know about.  They turned it into a cheap sideshow and for that they have to face the music. They should never, never, never have done this.
"It's very creepy and unnatural human behavior by a zoological administration where many, if not all, the interests should be centered on animal behavior."
"I don't know why they would kill #Marius simply because his genetic strain is already well-represented in their giraffe herd. They keep repeating their mantra about maintaining genetic purity, and the more they emphasize that point, the creepier it gets. It's frightening …the way they speak so openly about this and then they dissected the animal in front of families and children.  There is something mentally wrong with somebody over there.
"The Copenhagen zoo shot a giraffe and at the same time they shot themselves in the foot. Nobody will or should go there now…not anyone who finds about this, and just about everyone will eventually.

"I thoroughly support a boycott on tourism to the Copenhagen Zoo because if the folks in charge…the scientific people…do something like this, something that should have either not been made public or something they knew would be grossly offensive throughout the world and viewed as cruel by millions of people, it speaks volumes about the mindset of the zoo itself. I think they're a little crazy or something. I would like to say something a whole lot deeper and more meaningful but the weird hubris of the powers that be at the Copenhagen Zoo is mind-boggling and there is nothing to say aside than to say that they're a little nuts."

"Of course you always want to avoid inbreeding in captive animals, but you simply don't kill a beautiful animal in what amounts to be a public spectacle and then not expect people to be outraged or to ever again patronize your zoo, especially when so many other options were available.  The whole affair turned into a macabre death-watch vigil that should have never happened.  
"What they did at the Copenhagen zoo was showy and self-serving and disgusting. Maybe they like stuff like that.  You never know what kind of wild stuff goes on in some people's heads.  Just because they're zoologists and veterinarians one can't automatically assume that they are not also out of their minds."
So Marius is D-E-A-D and now the lions will be eating him. Let's see. Wasn't there another time when some humans were seen as disposable and they too were fed to the lions?
LISTEN!  Don't waste your money on a trip to Denmark.  Donate a few bucks to your favourite charity.   This is a link to the zoologist we interviewed — http://www.imdb.com/name/nm3834680/ – click on it and learn about his projects. or follow him on Twitter @DaveMattia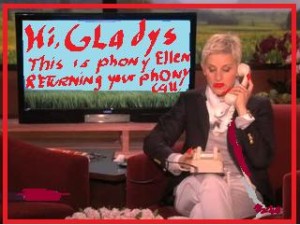 LISTEN UP, IMBECILES! GLADYS from AUSTIN and her, "I love Jesus, but I drink a little," is – was – and will forever be —- FAKE!
The face book sharers are at it again and this time these ELLEN "sharers" are even more stupid and gullible and maudlin and moronic than your usual, garden variety moron.
Old Gladys —  all 88 years of her —  is/was an imaginary character conjured up by a deserved-to-be-unknown comedian. There is nothing wrong with creating a character and making morons laugh at simplistic and mindless jokes, but it's wrong for Ellen to fool her audience. But what would you expect — Ellen thought she was fooling her audience for 20 years.
Yes, sadly, but not surprisingly, this time it's the Ellen Degeneres short bus people who have made the connection to the simpleton train.  Granted, they were always simpletons, and as much as I sorta like Ellen, she shouldn't have to trick the unfused skulls of her beloved cretinous audience to get a laugh.
Admittedly, what I am talking about happened six years ago, but the video is still out there — spreading across the world of the of the F.S.W.S. (Facebook Simpletons Who Share) community.
Six years on and the morons are still sharing it, so somebody has to do the dirty work and tell you people that Gladys, the "I love Jesus but I drink a little" phone caller on the Ellen Degeneres show, was FAKE!
There was no Gladys from Austin, but there was a local comedian in Austin who invented that character. His name is Scott Hardy and he didn't fool Ellen — she knew all along that it was this third-string Jonathan Winters wanna-be one joke wonder. In other words this was all staged and not nearly as funny as simpletons make it out to be.
All one needs to do is listen to the initial call to realize that the cadence and the structure and the ad lib nature of what was originally said by Gladys, was not what one hears from an 88-year-old woman. Ellen somehow returned the call the next day and got a big yuck from her moronic audience, but kindly note that Ellen called Gladys back for this second round routine. Where and when did Gladys give Ellen her phone number? Do you see how easy it can be to spot a routine?
"The call was staged by Ellen and the owner of a comedy nightclub in Austin," said a source close to the Ellen show. "We did get a call from an angry old woman who complained about the plant behind Ellen, and then Scott came up with this gimmick. It was just for fun but the producers at the Ellen show pushed it to the limit and never really thanked Scott or gave him any credit. They never like to pay people."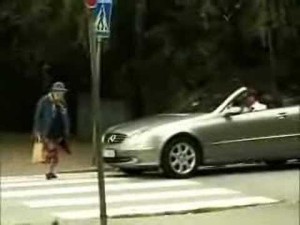 "He even tried to make it look like it was in the USA for some reason because he imagines himself to be a Hollywood star in spite of the fact that he gets turned down for even the smallest parts in Danish TV and stage." [Lise Munchen, Videographer, Copenhagen, Denmark]
There is a new moronic Face book "share" going around where an elderly lady whacks the bumper of a rude driver's car and sets the airbag off in his face. It's cute and it's viral and it's fake — and it's shared by the simple-minded Facebook morons who like to share things — especially things where good triumphs over evil. You know, the stuff that imbeciles like?
In spite of the fact that I detest Facebook shares and the cretins who share them, I have to address this one as 100% fake because the parties involved in this staged video are actors — all from a regional playhouse in Denmark.
The old lady crossing the street is an actress named Lotti Perlmann who has had bit parts in several Danish TV commercials. In those commercials she always plays the part of an old lady who does something out of character. The man driving the car is Karl Brenstroff who is a stage actor — at least he claims to be — but he never seems to do any work.
Besides the first account you are about to read, there are a few things that give this away. Look for the old lady being asleep at the curb and then jolting awake when she hears the horn — FAKE !!
The video starts off with kids skateboarding – a diversion – and the camera turns and stays focused on the subject as it moves to the perfect spot. FAKE !!!   And…nobody says anything. !!! I was close to 100% certain that  it was a fake until I spoke to Lise Munchen who filmed the entire thing and then was screwed out of her share of the profits when the video was used by IKEA in a European ad campaign.
According to Lise Munchen, she agreed to help with this video with an agreement that she get paid and get a cut if the video made money on the net, but instead of being paid ANYTHING, Lise was also screwed out of the money this video has earned — something that the self-proclaimed star of the video Karl Brenstroff had promised everyone involved — six people in all.
"This is a video that was made by myself and friends of Karl (Brenstroff) with the hopes that it would go viral in the USA. Karl is a piece of shit and this is why he lives in a dream world where he is an actor. His father has enough money to keep a lawyer and prevent us from getting our share. We just work regular jobs and sometimes we have a play at the local theater, but Karl has made over $1,000,000(US) which he now refuses to share with anyone. It wasn't even his idea.
"He even tried to make it look like it was in the USA for some reason because he imagines himself to be a Hollywood star in spite of the fact that he gets turned down for even the smallest parts in Danish TV and stage.
"Lotti is a nice lady and a good actress who struggles with small roles she gets in local plays and TV advertisements. She lives in a small apartment and she did this as a favor for Karl but she too was not paid. She says she doesn't care but I know she is hurt by this because the video has earned a lot of money and we were to get 10% each. Lotti's share would be about $100,000 (US). I think she is being treated the most unfairly of us all because she is the star of this video. Without her there would be no video. The story is about her and not about Karl, but when you know Karl you quickly learn that EVERYTHING is about Karl.  IKEA paid him a lot of money for this and he did not share one bit with all of us who worked so hard for him and it was not even his idea.  We all did this together. "
So the video where the old lady hit's the honking car with her handbag and makes the airbag go off is fake and the guy who created the idea is a scum bag. Maybe he should work in Hollywood after all. He already knows how to use people and lie about money.
"I spent days for Karl trying to find a place that seemed ethno-neutral and not looking very European, but he forgot that the borrowed car he used had Danish license tags that are obvious in the video and the street signs are not the ones one sees in the USA. The skateboarders were also an added segue into the scene but the whole thing is really poorly done. Of all the fake viral videos out there, I think this is the fakest of them all. I know because I was there and when I got cheated out of my share of the income from this video, I had to come forward with the truth but people still keep spreading this around. I tried to go to Danish TV with the truth but they ignore me because they get viewers to watch shows like this one and so manty other fake videos that sometimes go viral."
What about the airbag? That actually went off, right?
"He used a portable airbag that you can put on an off road bike or a four wheeler. They cost about $75(US) and you can buy them anywhere. A real airbag in that car would have opened on both sides since that car has driver and passenger side airbags. These are things he did not think about when he set out to make the video. Also you can see that he smudges his own nose with powder after the airbag opens. The powder did not come from the airbag."
If anyone from IKEA is reading this, they might want to look into where the money went.  An old lady got screwed out of a lot of money as did a lot of other people.
Exclusive for http://www.TheDamienZone.com by Damien LeGallienne.  
Like us on Twitter https://twitter.com/thedamienzone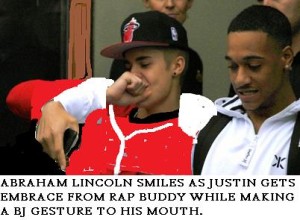 "If I had to guess I would say that Justin Bieber is on the down low (SECRET GAY) with these types and he can't deal with his desires for bad boys and drugs and alcohol.  He didn't sing that song 'BOYFRIEND' for nothing you know. "  [ANONYMOUS]
Justin Bieber is in hot water — and this time it's boiling with a Mandingo fury.
The 19-year-old Canadian singing tween star who is trying so hard to be "hard-core" and mature, was arrested for speeding last night in Miami and will probably be charged with drunk driving…he failed a field sobriety test.  He couldn't drive fast enough to escape for his desire for ebony love.
Bieber's behavior as been really bad for a few years, but in the past few weeks he seems to be in a rapid tailspin.  Unlike child star Joey Lawrence, Justin Bieber still has a full head of hair.  Joey lost his hair but he didn't completely lose his mind – unless you count 20,000 hair plugs and waxing every hair off his body and tweezing his eyebrows and wearing makeup and elevator shoes.  Bieber, on the other hand,  seems to be losing his mind and he might lose his life if he doesn't have some kind of iintervention. 
"John F. Kennedy Jr had a better chance of getting to Nantucket in his plane than Justin Bieber has of living to be 20," said Dr. Raymond Tote-Tundy MD, a psychiatrist and the author of the scientific study, The Psychology of Celebrities and Why They Fall.
"Bieber has deep psychological issues which he is trying to fight by using modern day iconic figures and areas of thought. He has tied himself to hardcore rap music stars and underground rap stars to try to lock in some sense of masculinity and maleness.
"Bieber could be struggling with any number of teenage woes.  The question is; which inner problem is he struggling with?
"Is he struggling with his sexuality? Is he addicted to drugs? Is he an alcoholic? Is he an alcoholic who is addicted to drugs and alcohol and is gay or bisexual for black rap stars? I can't say, but unless a teenager is mentally ill, the struggles of adolescence usually have a hidden cause such as I have mentioned and these struggles come to a full boil at age 18 or 19. If the problems go unrecognized, the whole house of cards begins to fall.
"In Bieber's case. It's hard to tell when he needs adult guidance or peer counseling because he is surrounded 24-7 by sycophants who tell him that everything he does is okay. He soon sees himself as all-knowing and omnipotent, but the subconscious mind that unhappily goes along for this ride, never stops trying to break through and tell Justin the truth about himself. It's hard for the subconscious mind to develop normally when everyone tells you how great you are — and then the damage is unfixable.
"Bieber seems to have been experimenting with drugs and alcohol, and the fact that he recently was accused of throwing eggs on his neighbor's home is very telling indeed. The egging of the house is a sign that the child in Bieber — his inner struggle if you will — is struggling to get out and be normal again, but he can never be normal again. His mother ruined all of that when she plastered this child on YouTube and made him a worldwide sensation. He is the new Judy Garland but his decline into decay is happening much more rapidly than it did in so many child stars who came before him. Child stars who survive their child stardom, usually show that skill at a young age, and child stars who implode usually show their decline at an early age as well."
Sources close to TheDamienZone,com say that Bieber had fled to Miami under the guise of checking into rehab as a ruse to get the police off his back with relation to drug charges and the egging of his neighbor's house in Los Angeles.
"Justin has a thing for hardcore rap thugs. If I had to guess I would say that Justin Bieber is on the down low with these types and he can't deal with his desires for bad boys and drugs and alcohol. I am not sure that this is what's happening, but it seems pretty obvious to me anyway." [anonymous - Hollywod, CA USA]   Follow us  @TheDamienZone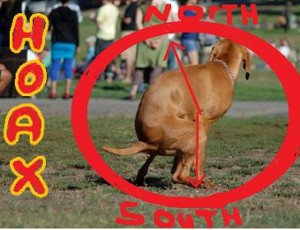 Many or most of my readers know by now that I am NOT a fan of the stupid stuff people "share" on Facebook.
If you know anything about me, you should know that I view Facebook as the long-lost, ancestral homeland of the Simpletons — a species of sub intellects who pass along mindless and moronic garbage — and that includes pics of their children and grandchildren, assorted pets, plates of food, their new car, Victorian era screw-you greeting cards and "likes" or "clicks" for babies who need heart transplants  – you know the drill — or maybe you don't.
Yeah, so I hate stupid Facebook shit, and wouldn't you know that the newest moronic Facebook share — a hardened turd of info that is now shared by the average Facebook moron — is actually about shit — dog shit. Does it get any dumber?  Yes, it does.
Perhaps you've already gotten the "dogs poop north and south story" shared on your wall.  And, the odds are overwhelming that the version you got was shared by some idiot (besides yourself) who you know to be a simple-minded numbskull.
I found it on my Facebook page - six times this week alone.
Yes, I admit to having a Facebook page, but mine exists only as a scientific experiment. My Facebook is there for all the world to see with the hope that it will be that shining star on a hill which will lead morons to that happier place where they can forever share their silly stories and fake celebrity quotes and pictures of food and "click if you like baby heart transplants.". But— when you drag dog shit into the whole thing, I draw the line.
LISTEN, MORONS: DOGS DO NOT LINE UP THEIR BODIES IN A NORTH-SOUTH DIRECTION WHEN THEY POOP. THIS IS NOT TRUE. IT'S NOT EVEN CUTE OR FUN OR SILLY. IT'S FRIGHTENING BECAUSE IT SHOWS THAT THE EXTREME DUMBNESS OF FACEBOOK HAS GONE TOO FAR. AND THAT THE PROVERBIAL "MORONIC FACEBOOK SHARER" IS NOW VENTURING INTO THE WORLD OF FAKE SCIENTIFIC STUDY.
You might ask, "Why so angry, Damien?" or "How do YOU know it's not true?"
Firstly, I am not angry. I am never angry. People simply assume that I'm angry.  It's not true.  I am not even slightly angry.  Also, 1) I do not live in my mom's basement. 2) I am not "off my meds" and 3) I am not "pathetic" — and I do not need to, 4) "Get a life!"
Save those played-out comments for that old hag Arianna " I-married-a-gay-politician-to-get-into-the-USA" Huffington. That's just about her speed. As for me, I am not angry.  Of course I detest Arianna Huffington, but that doesn't mean I'm angry. It just means I hate that old sack of Hellenistic piece of dog shit — and speaking of dog shit….
I now know all about it and the incredibly stupid stories about dog shit and polar magnetic fields because I asked experts — and nobody gets better experts than I do.
My experts are so informed about everything that one of them even knows all there is to know about dog shit. I doubt that he's very proud of that fact, but he sure sounds like he is.  Perhaps he always knew that someday his knowledge of dog shit and the shitting dogs who shit out that dog shit would come in handy, and that someday…is today.
"I have seen the stories floating around in social media about a study of dogs and their compass-like process of defecation," said Dr. Wilhelm Thiess PhD, a retired professor of Zoology and a Companion Animal Behavior Expert.
"This silly thing started with a totally unscientific study which was put out for public consumption by a fringe publication called FRONTIERS IN ZOOLOGY. Whomever wrote that absurd report accommodated his or her own silliness by adding the disclaimer that dogs do not always align their feces according to the magnetic field of the earth. They added that the earth's magnetic field is sometimes unsteady and the dog will do its business in whichever direction he or she pleases. 
"I was not aware that the earth's magnetic field is ever unsteady. The reason I was not aware of that fact is because it it's not a fact at all.  What is indeed a fact, however, is that a dog will pass its feces wherever and whenever and in whichever direction it desires.  Dogs have no bathroom etiquette or geographical coordinates in mind when they defecate unless you count the dogs who are housebroken, and even then there is no magnetic influence on where they drop their fecal load. 
"If you want my unabashed opinion on this, I think the person who fathered this silly story has an OCD problem.  Perhaps this person is not content with the way their dog aligns his fecal matter and they wish it would always point in a certain direction. This person might have some kind of demented moral compass, but a dog's anus has no compass of any kind.  This is why we have pooper-scooper laws.
"If you ask me, the larger problem would be the people who walk their dogs with garbage bags in their hands with the intent of picking up the feces, but we all know that when no one is around most people will not pick up the feces. The plastic bag is a ruse, and that's as it should be. Dogs should be allowed to defecate wherever they want and that excrement should be allowed to degrade naturally on a city street or a country road regardless if it's pointing north, south, east or west.  In Germany, it's considered to be good luck if you step in it."
Thank you, Dr. Thiess for your expert opinion.
Now, as much as I hate to ask — please SHARE THIS ARTICLE on your Facebook page. You might be saving a dog from being euthanized by a crazed owner who things there must be something incredibly wrong with their dog who shits in the wrong direction.  Hey, crazier things have happened.
One last thing from a mega Zoologist who also happens to be a popular television and film writer.  You can read more about him here:  http://www.imdb.com/name/nm3834680/?ref_=fn_al_nm_1
"Oh, this dumb thing again?  Listen, dogs walk in small circles when they prepare to poop because they are showing their instinctive behavior of trampling the tall grasses where they would hide from larger predators in the days before they became mankind's companions. If you watch wild dogs, they make about 5 turns before they excrete feces.  This is the observed behavior that probably led to this stupid hoax.  It's funny and amusing to some extent, but there is truly no real science behind this story about dogs laying down their feces in a north-south direction. It's an internet hoax — and it really worked for the hoaxers because so many people have asked me about this in the past few weeks.  Listen, dogs will shit wherever they want.  They have no anal compass.  Good luck dismissing this stupid myth."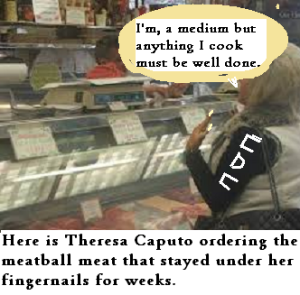 "I thought to myself, 'How the hell is she going to get all the microorganisms from that ground meat off of her fingernails? How is she going to wash all of those salmonella and E. Coli bacteria out from the crevices of those white claws?"' [Damien LeGallienne, 22, December, 2013, TheDamienZone.com]
The "Long Island Medium" Theresa Caputo, very recently aired her very fake Christmas 2013 Episode — "fake" because it was filmed last year. 
In that VERY SPECIAL FAKE EPISODE of "THE VERY FAKE LONG ISLAND MEDIUM" Theresa engaged in a heart-warming meatball-making contest.
Theresa's meatballs (no bread crumbs please) were pitted against those made by her master-chef-mother-in-law. It was a spirited competition to be sure, and I think her mother-in-law was named Connie. I also think that Connie, in all probability, takes at least two blood pressure pills per day and she likes to talk about those medications more than she likes talking about her cooking.
EDITOR'S NOTE: Even if the writer is guessing that mom-in-law's name is Connie and that she takes blood pressure meds, what are the odds that he's right? Pretty good, wouldn't you say?
I acknowledge, quite painfully, that the elite Caputo family is very high-born and refined and that I am not. I am also keenly aware that an Italian-America meatball-making contest out on Long Island, New York is as sporting and highbrow as a polo match in Beverly Hills or a game of cricket at Ascot, England — all are out my league.
Theresa Caputo and her high society family never fail to make me excruciatingly aware of my own humble roots. Sometimes I even lie and tell people that Theresa is my cousin because I want to improve my image and my social standing within my community.
The Caputo's cause me to get what psychologists call "status anxiety" but yet I watch. I guess it's a kind of masochism or something. I know I will never reach the top of Mount Caputo. Sadly, I have never been to Center Moriches or Massapequa or Oyster Bay, but I can live vicariously through that wonderful woman who pretends that she can speak to the dead, and who, by the way, eventually beat her mother-in-law in the Italian-American-Christmas-Meatball-Making Contest of 2013 that was actually filmed in the late summer of 2012. Where'd they get all those poinsettias anyway?
All of this is sorta-kinda beside the point, because my real reason for writing this blog entry is to talk about women with overly long acrylic fingernails and the dreaded cruise ship virus that ruins the dream vacations of diarrhea-ers and vomiters who end up quarantined in their poop-stinking cabins.
"The smell of human stool was everywhere on our ship. Even if you went to the highest part of the ship, even to the mast, you could smell the vomit and feces and the overall combination of both fragrances."[ Elaine Stritch, Broadway stage actress and passenger on a a cruise ship where 50% of the passengers came down with the cruise ship illness.]
So I think I may have made an incredibly giant scientific discovery, and I have no one to thank but Theresa Caputo and her meat-stinking fingernails for this serendipitous insight into a scientific mystery.
I remember as kid learning about a scientist — a chemist named Frederic August Kekule — who figured out the molecular structure of the chemical benzene. For many years the chemical was used and made and experimented with, but nobody could figure out its molecular structure.
Kekule said that he made his discovery whilst dreaming about a snake biting its own tail, and today we now know all about the very important "benzene ring." Ironically, Kekule and I both ventured into the unknown world of spirits and dreams, and we both came up with fantastic scientific discoveries that will change the world.
Here's the thing. While Theresa was making her meatballs, I noticed that her acrylic nails were very long and disgusting. She was mixing ground pork, veal, beef and eggs with her bare hands — and those nails.
I thought to myself, "How the hell is she going to get all the microorganisms from that ground meat off of her fingernails? How is she going to wash all of those salmonella and E. Coli bacteria out from the crevices of those white claws? She may have won the meatball-making contest, but she had no chance of winning the war on diarrhea.
Certainly Theresa Caputo must take great pride in her gaudy talons, and there is no way on earth that she is about to wash her hands very thoroughly — as per cruise ship regulations — simply because her manicure is obviously more important to her than causing her dinner guests to shit their brains out and puke on the side of the Long Island Expressway after a meal at her home.
Naturally, the more loathsome consequences of Theresa's unsanitary nails got me to thinking, "How does Theresa Caputo wipe her ass with nails like that?" Then I realized that even though she might wash her hands after pooping, she can't possibly scrub her nails too. She's not going to ruin her manicure — no shot.
Then I connected the dots. I figured out how the cruise ship virus — Norwalk Virus or norovirus — is spread. I know how it happens. The answer was right there on the tips of our fingers. Well, maybe not "our" fingers, but the fingers of women with long acrylic nails who cannot possibly wipe their asses properly and who must also not WASH those nails which get coated with a gentle smearing of feces and stool and poop.
And then…THEN THEY TOUCH SOMETHING….and you touch it. Then you touch something else, and before you know it, everybody is shitting and puking and moaning and groaning. The vacation is ruined. Those afflicted are quarantined to their cabins while the poopy-fingernail women lounge by the pool drinking a Pina Colada — unaware, or perhaps not even caring, that their long acrylic nails harbor grave dangers — million and billions of microbes that came out in their poop.
I talked to one physician about my idea.  He sat and stared at me in astonishment.  At first I thought he was going to say that I was insane, but then he hugged me and said that I was a genius.   Here is is his statement.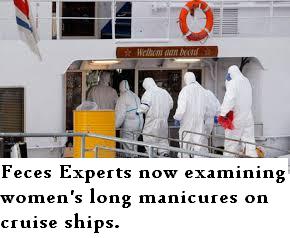 "Women with long, acrylic or even natural fingernails, cannot possibly clean their anuses properly after they pass stool because the toilet paper must be held with the nail tips. Most women fear breaking or chipping these nails because they have spent a great deal of money at the nail salon before going on the cruise. Naturally feces gets on and in the fingernails.
"Unless a women is pre-prepared with any of the various rectal cleansing foams or creams, or she is very diligent about washing her hands and scrubbing her nails, the norovirus is spread as soon as they leave the restroom. I know of no woman with nails like that who would sacrifice the nail for the sanitization.
"This selfish and unsanitary behavior readily spreads the dreaded Cruise Ship Virus, and in my opinion, women with long acrylic nails should not be allowed on a cruise ship. I have seen women with these kinds of nails who intentionally avoid the alcohol hand sanitizers offered all over the cruise ship. The alcohol in the hand sanitizer ruins their nails, and most of the time these self-centered and provincially vain women are headed into one of the ship's restaurants where they will readily spread their stool (feces), which lives on those nails, onto everything they touch."
Dr. Traherne continued:
"Damien LeGallienne's hypothesis, while written in a seemingly lighthearted and snarky manner, appears to be very viable and worthy of immediate investigation and research.
"If I were a betting man, and far less prone to speaking and thinking like a scientist and a physician, I would say that Damien LeGallienne has made a great discovery.  His theory, something which was gleaned from simply watching an Italian-American psychic mix raw meat with bare hands which were decorated with long, white, acrylic nails, will prove to be the reason the norovirus spreads so readily on a cruise ship.  It's been the long, painted  and feces tainted fingernails all along. How could we have missed that?  It was literaly right at our fingertips." [Dr. Dean Traherne MD, Plum Island Norovirus Research Center.]
Lesson learned, folks? Women with long, acrylic nails, should not be making meatballs with their bare hands, even when they are not making food.   When they poop, these women should always use rectal cleansing foams or creams.  Also, they should thoroughly wash and scrub those nails even if doing so results in damage to the nails.  Furthermore, I urge all  travelers and the people who love them, to write to your Congressman and ask thim or her to prepare a law that will ban women with these shit-covered fingernails from EVER getting on a plane or a cruise ship. They are spreading human feces all over the world.
Damien LeGallienne reporting for TheDamienZone.com.
COMMENTING ON THE DAMIEN ZONE IS VERY EASY.  NO NEED TO SIGN UP OR CROSS CHECK EMAILS.  LET US KNOW WHAT YOU THINK.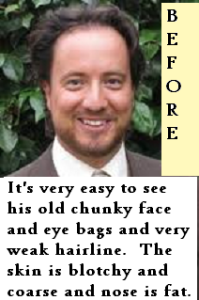 He may only be 35 years old, but ancient astronaut expert Giorgio Tsoukalos looks like he may have had a lot of plastic surgery and a bit of a hairline enhancement at the same time.  We are not sure if he did or he didn't but rumors of giorgio's plastic surgery are flying around the earth faster than ancient, alien astronauts.
"Giorgio's facial skin didn't used to be as smooth and peachy as it is now and it looks like he may have had a brow lift, an eye job and some chemical peeling done on his face," said plastic surgeon Dean Traherne MD.
"Botox is certainly in play here, and Giorgio looks like he  had some a lot of hair plugs added to his head so as to lower the length of his forehead. His hair was receding back rapidly, so in order to compensate for that, Giorgio continued to fluff it up. To compensate for that, Giorgio Tsoukalos has had hair transplants. I am not sure if that's the case, it could be a frontal wig,  but he has certainly had a lot of work done on his hair and his face."
The Damien Zone thinks that Giorgio had to do something because he was starting to look like a cross between Larry Fine from The Three Stooges and Vic Tayback who played the character of Mel in the 1970s sitcom "Alice" which starred Linda Lavin — who, by the way —  is rumored to be the most difficult actress to work with in all of show business.
According to Dr. Traherne, Greek men or men with Greek ancestry, often have a tendency to age rapidly in the facen and Girogio, in spite of his Swiss citizenship, is a Greek – 100%.   John Stamos might still have hair on his head but he's one Greek who beat the genetic odds.   
"Usually by the time a Greek guy has reached his thirties, he has grown very hairy and bald and old looking. I know many Greek men who are only in their twenties but would easily pass in the USA as someone in their late 40s. This is probably what has happened to Giorgio and now that he is in the public eye and adored my millions of child-minded people who believe that ancient aliens did everything from building the pyramids to making ancient volcanoes blow up, he has to have a movie-star kind of image.  His tan is very fake and he shouldn't be tanning or using fake tan products after having what I think is a lot of plastic surgery."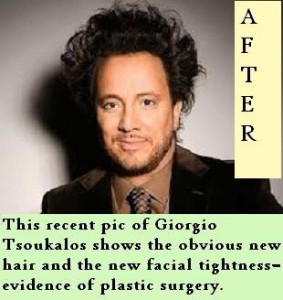 The Damien Zone thinks that Giorgio should have saved the money he spent on his face and hair to getting speech and elocution lessons and so does Dr. Traherne. Here's what he said about that.
"Giorgio Tsoukalos has dedicated his entire life to studying extraterrestrials but for some reason he can't even pronounce the word "extraterrestrial" and that's really strange.  He says something like 'eshtra-treshtral.' It's not his slight accent that causes him to say the word incorrectly.  It sounds to me like an impediment of some kind.
"I practice plastic surgery as a profession, but at least I can pronounce it. I mean, this is his field of endeavor, and as stupid and mindless as it seems to be, the least he can do is learn how to pronounce the words that he will find himself using in that field. Hearing him say the word 'extraterrestrial' the way he does is painful. He sounds like he has Bell's Palsy or some kind of neurological deficit. Maybe his pronunciation was disrupted by one of his plastic surgery procedures. It can happen, and perhpas I sound petty and cruel to even mention it, but it's a serious problem no matter how you look at it.  It takes away from his credibilities in the area of an already silly and absurd topic, or he could have a medical problem."
Some people who have analyzed the entire Giorgio Tsoukalos fanfare in a different way. Many sociological physicians and researchers believe that the entire "ancient astronaut" concept is just a way for Tsoukalos to recreate himself as a mainstream celebrity.
"It's amazing to me that Giorgio has so much knowledge about something that never really happened," said Dr. Raymond Tote-Tundy MD PHd of the Skylight Institute for Higher Learning in Switzerland.
"The whole thing is about getting famous. It's a totally silly and childish concept and Giorgio Tsoukalos has devoted his life to studying it.
"If you look at a cloud it can look like a bunny or an elephant. The same applies to the life of human beings from ages ago. If you want to learn how they did something or how they lived, you can imagine all kinds of things, and that's exactly what Giorgio and his comrades are doing — and they're making a lot of money in the process. The main thing right now is the quest for fame and Giorgio is taking that too far. He has had some kind of plastic surgery. He doesn't even look like the original Giorgio from when the show first started and this makes me question his true motives."
We here at The Damien Zone think that Giorgio looks, at the very least, RESTED, and in our world, that means that he probably has had some kind of cosmetic procedure. We will have to look close, but while we're doing that, Giorgio better learn how to pronounce the word "EXTRATERRESTRIAL" because the word is not "ESTRA-TRESH-TRULL."  Get that word right, Giorgio and stop having plastic surgery.  You are starting to look like a Greek lady.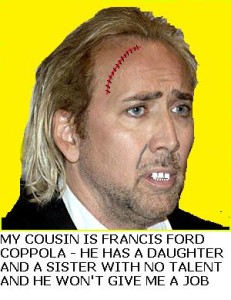 Has- been actor, Nicholas Cage,  has been begging some studios for an acting job, however, no one seems likely to hire Nick for any acting job, Not even his uncle, American film director producer and screenwriter, Francis Ford Coppola who is famous for The Godfather and also for having the most untalented daughter in the history of cinema.  I am talking of course about Sophia Coppola.  If only her final scene in GODFATHER III had been real. 
Francis Ford Coppola also has the world's most untalented sister.  You might remember her — Talia Shire?  She played Adrian in the ROCKY movies.  She never did anything else except give birth to the unbelievably untalented and mole-covered face "actor" Jason Schwartzman. 
If you think about it, the amount of NO TALENT in this Coppola family is way out of proportion to people in real life.  Why are they all in the movie business?
Mr, Coppola , I was told by a well-known director, told Nicholas that he , Nick, has lost not only his looks , but his appeal to the ladies under 60 (and some over 60).  Even Cher will refuse to be with him in Moonstruck II because she probably knows that it will bomb and she will waste all that time putting on that awful fake and stupid and insulting Italian-American Brooklyn accent.  Cher is in good with Francis Ford Coppola and she is content to know that her son Chaz Bono will play the part of Don Corleone in "The Godfather's Godmother." Or as it will be called in Italy, "La Goomada e la Goombada."
Now the Nick Cage, the star of  some forgettable films,  is desperately seeking any role he can get. He even wanted to revive the Peter Lorre role and  play Mr.Moto in a remake of a  mystery starring the Chinese detective. However, he was told that he cannot impersonate a Chinese man–that not being allowed anymore.  The Chinese are okay with a better actor playing a Chinaman, but they will not tolerate it from Nicholas Cage. 
So Cage is one of the youngest actors ever to enter the  twilight of his career before his night darkened. I suppose Cage has no one to blame but himself for being a lousy actor in some dreadful pictures. If he had been more selective as he got older he might not have cast himself in such duds as "Amos and Andrew" wherein he is an ex-cop who tries to balance a wife and a mistress while wearing an ugly shirt.   And then, the even worse, "Bangkok Dangerous," wherein he screws around with girls who could be his daughters ,while  wearing the most hideous dye-job hair. ( The hair might not be real.) 
However,  Nick has won the hearts of the Chinese  movie-goers who have heaped awards on him. Perhaps the idea of Nick re-creating the role of Mr. Moto isn't too far-fetched after all the great Peter Lorre is long dead and cannot criticize Cage's performance.