Hollywood
On the most recent edition of the Fox News program, THE O'REILLY FACTOR. it was readily apparent that Fox contributor and pundit, Juan Williams — formerly of NPR — has had a great deal of plastic surgery.
"Juan had an eye job (blepheroplasty) and a brow lift," said a source close to the FOX CABLE NEWS NETWORK.
"Juan has had a bunch of plastic surgery done all at once.  He also had a heavy chemical peel to help hide the effects of teenage acne.  Since all of these procedures were done so recently. Juan has had to wear a lot of extra makeup when he is on the air.  When you combine the heavy makeup ( which makes him look whiter) and all the surgical procedures, mainly around the eyes, the change in Juan Williams' appearance has changed drastically.
An update will follow this late-breaking story.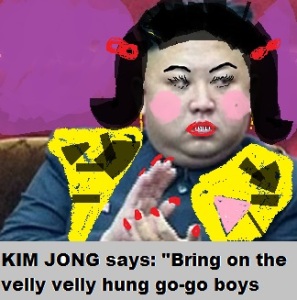 Kim Jong Un, the supreme leader of North Korea has been missing from the public eye for over a month.  Seems nobody has seen him since early September when it was reported by the BBC that the portly Dennis Rodman fan was walking with a discernible limp.  He may have had a limp, but was it a limp leg or a limp wrist?
Rumors are spreading that Kim Jong Un has been deposed because he was caught hoarding gay pornography from Western Europe and the USA in his spacious bedroom, and that he may have been fooling around with a few high priced Eastern European gay porn stars who he smuggled in as "friends" and "basketball buddies."
"They are making up all kinds of possibilities for what's going on with him," said a gay porn producer in Prague.
"He was seen walking with a limp because his uncle's bodyguards beat him badly when they were tipped off by a computer expert that the Supreme Leader had a taste for Slovakian muscle guys.  
"At first he was given the benefit of the doubt that this was perhaps a Western plot to defame him, but people who know said that his personal living areas were raided and ransacked and that over four thousand  porn magazine were found in his master suite bedroom which is about 6,000 square feet all by itself.  
"Since the stuff has been confiscated, the fat pig has been under house arrest and kept in solitary confinement until such time that he confesses.  The penalty will be death but right now the powers that be are trying so hard to keep this quiet that he might be killed off by saying that he had a fatal disease.  Those people are really crazy." 
It's no secret that Kim Jon Il likes black guys with big muscles and that his friendship with American Basketball star Dennis Rodman is really just a schoolgirl crush.
"Dennis Rodman has never had any sexual contact with Kim Jong Il," said a source close to the NBA star.  
"Dennis was the one who suggested that Kim Jong Un get a penis enlargement over two years ago.  Dennis was unaware of Kim Jong's penchant for gay porn, but he did know that the Korean leader was sensitive about the smallness of his penis.  Dennis heard that Kim Jong Il's penis enlargement surgery went well but maybe something has gone wrong with the surgery or maybe he has used his now bigger tool with confidence with gay porn actors.  It's hard to tell because nobody seems to know anything other than the fact that he was caught with a lot of gay porn magazines, DVDs and downloaded movies on his computer."
According to sources who are usually pretty reliable, the Korean leader was able to increase the size of his penis from 3.2 inches to a thicker 4.7 inches, which, in Korean terms, is not too shabby.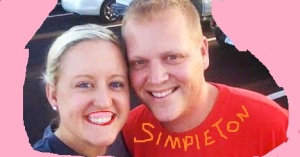 A bus ride home from the State Home For Iowan Simpletons paid off handsomely for Mackenzie and Steven Schultz when they left a $100 tip to a struggling waiter at a really bad restaurant.
"Steven and Mackenzie stopped at the Kozuki restaurant in Cedar Rapids to celebrate their sixth anniversary because in Iowa it is legal for mentally impaired people to get married provided that one of the betrothed has an IQ of 67 or higher.  Luckily Steven's IQ comes in at 68 and he was able to marry Mackenzie who lost most of her intellect when it was absorbed by the excess tissue in her gums," said a source close to the investigation. 
Okay — now shoot me.  Yes, I called them simpletons and I made fun of her gums. Why shouldn't I?  These two dimwits pretended that they were heartbroken for the struggling waiter who was burdened with 12 tables and no help.  Bullshit.
I don't believe they did this because they cared or because they're such wonderful people.  They did it because the whole "photo-of-restaurant-receipt-with-note attached" routine seems to be the newest way to get some cheap-ass fame. Their plan worked too!  They are featured on the cover of every simpleton's favorite magazine "US" and the extremely slow-minded Today Show — just look for her giant gums.
In my opinion, they don't give a flying fuck about the waiter.  They just tried to cash in for 15 minutes of fame, and because they are starting their own restaurant nearby.  By smearing a local restaurant under the guise of presenting themselves as super great people, they're trying to sucker the sentimental simpletons in their area into patronizing their establishment.
Again, this is my opinion — I mean about her gums.  Maybe some people will not think they're so huge.  Everything else I said about these two is probably true. Gummy and her husband have opened their own restaurant in Iowa and did this as a publicity stunt.  So, unless they're going to give away free food, I say don't go to it.
Anyway, the two idiots in question paid their $66 bill in spite of allegedly horrific service and then left the bedraggled waiter a $100 tip.
They wrote on the receipt:  "We've both been in your shoes.  Paying it forward."  So then, like all Good Samaritans do – NOT –  they took a photo of the receipt and posted the whole frigging story on Facebook.  PLEEEEEEEZE!
First of all Hubby and Gummy, if you've both "been there" you would know that the waiter (real name D. Kyle Malgue.) was not going to keep the $100.  He would be forced to share that tip with all the other shitty servers and bartenders and busboys who made his job so hard in the first place.  So right there the two of you are full of shit.  You didn't help Kyle — you gave a few bucks to everyone who works at that dump and you saved the owners of Kozuki from being forced to hire more help.  How frigging stupid?
The answer to that is simple.  The Schultz duo ain't so dumb after all.  Well — they're dumb in the moron sense — but they were smart enough to know how to manipulate the overly maudlin and mildly retarded people who rule the roost on most folk's Facebook pages.  Now they'll even get on "ELLEN" — the official nation of the Simpletons of the world.
Mackenzie "Gums" Schultz said: "It was very obvious that the issue was being short staffed, not the server. He was running around like crazy and never acted annoyed with any table.  At one point we counted he had 12 tables plus the bar. More than any one person could handle! As I sat there and watched him run back & forth and apologize for the wait, I said to Steven… 'Wow, this used to be us.' Waiting tables. I don't miss it at all and I never loved that job. I did it for the tips."
Listen up, Mackenzie.  If you really cared and you really wanted to "pay it forward" you would not have taken a picture of the receipt — with your name and the last 4 digits of your Amex card on it no less — on Facebook.  Face it —  you wanted ATTENTION!  Good Samaritans do not look for photo ops.  They don't even have Facebook accounts.  I hope if you make money off of this, you get your gums filed down.
BY:  Damien LeGallienne — EXCLUSIVE FOR THE DAMIEN ZONE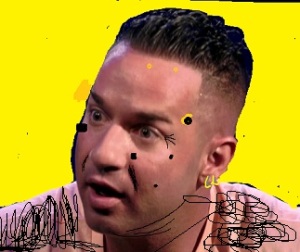 Assault in a tanning salon, writing bad checks, Federal income tax evasion — it's all in a day's work for Mike The Situation Sorentino of MTV's Jersey Shore.  But, as the jowly faced 30+ something moron waits to hear about his sentencing on all of these various crimes, his get-me-a-paper-bag face is changing from a kinda homely guy with a nice set of guns and abs, to a really fugly, cheeky and jowly guy whose abs and guns have gone to "pushing-forty" seed.
The Situation already had a very prominent Robert DeNiro type of mole on his upper cheek, but his recent battles with career failure and the the threat of an extended stay in a federal prison have caused physiological changes which have led to a serious outbreak of excess moles on both his face and body.  The Damien Zone has drawn black dots over the new moles to enhance them and we realize that the photo looks faked.  But he had them covered with makeup and we wanted you to see the new spots.
In a recent court appearance, The Situation's signature mole was now accompanied by a bunch of satellite moles and spots.  One mole might be called a beauty mark but a cluster of moles is not something anyone would find to be appealing unless they had a fetish for moles or blemishes.
"The Situation might be suffering from adrenal fatigue or adrenal exhaustion and this can cause muscle loss and outbreaks of moles due to the body's inability to combat the inflammation that comes with excess secretion of the adrenal hormone cortisol," said Dr. Ray Totondi of The Skylight Institute for Health and Wellness in Zurich.  
"The adrenal glands are two small pieces of tissue that sit on top of the kidneys. They are glands that produce hormones pretty much make or break the way our bodies work.  The hormones important, as far as The Situation goes, are CORTISOL and ADRENALIN.   Too much cortisol – from stress or serious illness — can cause extreme facial and abdominal fatness and loss of muscle.  It also accelerates the inflammation that leads to mole formation as a result of too much exposure to sun or tanning beds.  Too much adrenaline leads to hypertension and abnormal behavior.  The cycle is serious because excess adrenaline production results in excess cortisol production – and so the cycle feeds upon itself.  If The Situation doesn't get some rest or peace of mind he will eventually become a very overweight man with a huge face and lots of moles and rashes."
Mike The Situation is certainly looking like his face if puffing up, and lately he has been keeping his body covered up with suits from the Italian Stallion Clothiers in the Willowbrook Mall of Wayne, NJ. USA.   It sure sounds like he is ruining his adrenal glands.  The alcohol doesn't help either.  If he has ever done steroids, he is a goner. Nothing destroys the adrenal glands faster than anabolic steroids.
Mike The Situation is now facing very serious tax evasion charges, and he had been indicted.  Insiders say that he tried to claim his moles and facial fat as depreciation liabilities that were going to hurt his career.  Do you have symptoms of adrenal exhaustion?  — Click Here and find out —–>
Dangerous Adrenal Fatigue.
Joan Rivers will probably not survive this and Melissa Rivers (her daughter) will have to make all the decisions until such time that Joan passes away..  This isn't Melissa's first tragedy, but she's up to the task. [Damien LeGallienne]
This is a possible scenario for the truth about Joan Rivers' current condition as the world waits to hear about the fate of their beloved comedienne.  She will probably hang in there for a few more days and then she will be put in a private room where she will pass away.
Latest reports say that Joan Rivers is now "resting comfortably" in a medically induced coma.  The phrase "on life support" has been heard. So what does that mean? Here are some answers from Hollywood Insider and scientific writer Dave Matt.     
These are not 100% certain facts as they pertain to Miss Rivers, and not even her doctors know what will ultimately happen,  but I will present a very likely scenario for what is probably happening to Miss Rivers and to what may have happened to her — all the elements that led up to her current status as a patient in New York City's  Mount Sinai hospital.
Early Thursday 28 August 2014 –  Miss Rivers was put under sedation for what some initially believed to be an ENDOSCOPY — a procedure wherein a tube is placed into the throat to have a look at the stomach and esophagus.  This was assumed because the private outpatient center where she went for this procedure describes itself as "a resource for digestive disorders." 
Later reports stated that she went there to have her vocal chords examined. That kind of work could have been done in a private surgery suite such as this one where Joan Rivers was taken ill with cardiac arrest.  It's not a great idea, but it can be done.  
In either case, the place where Joan went is a qualified medical office where many wealthy New Yorkers go for private care when they get minor procedures; chiefly, endoscopy of the stomach and esophagus.
During the procedure, it was reported that Miss Rivers stopped breathing and her heart stopped beating.  This unforeseen complication can happen during any procedure where one is anesthetized to any degree — even in a dentist's chair.
Sources now say that CPR was applied at the clinic but one can assume that more aggressive means of life sustaining support actually began after paramedics arrived on the scene.
Okay, so here is what may have happened afterwards, and in my opinion is probably what is going on now.
Miss Rivers "failed" during the endoscopic procedure and whatever life saving measures they did there — at that very moment — and how well they worked minute by minute — will determine the ultimate fate of Joan Rivers.
If the doctor or doctors who performed the procedure at the clinic were skilled in emergency medicine and equipped for emergency resuscitation — if they had some, any or little success reviving her, she still may have gone for a considerable length of time without adequate oxygen for her body to maintain function.
The degree of oxygen deprivation depends on the amount of time JOan Rivers went without breathing or someone breathing for her via mouth to mouth or by "bagging."  The organ most in question and usually the most affected is the brain.
The ambulance that came to take Miss Rivers to Mount Sinai — even under the fastest circumstances — would have taken at least 8-10 minutes.
Upon arrival, the paramedics would have started or initiated resuscitation — perhaps shocking her heart with a defibrillator and breathing for her with a bag or mechanical ventilator while or after they rushed her to the hospital wherein more advanced equipment would be available and her condition could be more thoroughly accessed.
Currently, she is said to be intubated/ventilated — on a breathing machine — and she has been placed in a medically induced coma.
There are many reasons for putting someone in a medically induced coma, but in this case these are some certain possibilities.
She may have suffered brain damage from a lack of oxygen to the brain, and they are watching her neurological signs.  This is very likely.  A deep coma slows down swelling of the injured brain.
Miss Rivers may have suffered some extensive organ damage from the lack of oxygen to her other organs as well, and the best way to keep her body oxygenated and to keep her other organs from failing is to keep her deeply unconscious and on a breathing machine or a (ventilator) with an oxygen content that is much higher than ordinary air.  Her body temperature has also been lowered as this seems to aid in reducing further brain damage.
It is now known that Miss Rivers' life is indeed being maintained by mechanical means.  She might also have been comatose to begin with and the drug-induced coma serves only to ensure that she is in a totally suspended and "stable" state
Another possibility is that Joan suffered some kind of medical crisis at the private surgery center.  She may have had  a cardiac event and/or stroke or one of the many things that can go wrong with a patient before, during or after any medical procedure.
Miss Rivers is 81 years old, and while her energy and her talent seems eternally energetic, advanced age is not in her favour at this point.  When she is removed from life sustaining equipment — breathing and feeding machines etc — she will either continue to breath on her own for an unknown length of time, or she will expire.  The hospital has not said — and will not say — the extent of the  of brain damage, but neurologists will watch her brain functions with electronic telemetry. If she shows little to no brain function, then removing her from the machines after whatever length of time has been determined by her family will either result in her death or continued life in a yet-to-be-determined condition.
My best guess is that she is currently being held in a "stable" condition while doctors address the issues of how much end organ and/or brain damage, if any, may have occurred during the time when she was either not breathing or her heart was not beating or both.
Is Joan Rivers on life support?  Yes — in a sense — essentially she is totally on life support.  I cannot say if her brain is damaged , but it sounds suspiciously like there must be some degree of suspected brain deficit.
Keep in mind that Joan Rivers was taken to Mount Sinai hospital whilst still unconscious.   This is not to suggest that someone who has a heartbeat restored and is now breathing and beating, simply pops up instantly and becomes awake.  That can happen — mostly in movies — but obviously this is not the case here.  The doctors at the endoscopy clinic did not bring her "back to life."
Currently the doctors ay Mount Sinai are watching her organ functions.  Kidneys, lungs, brain etc.   Her brain is the main thing thrown into this life or death equation.
The other looming danger here — assuming her brain is okay or somewhat okay — is always the fear of ARDS — Acute Respiratory Distress Syndrome.   This is what can happen to lungs after oxygen deprivation or trauma to the body or any of its organs.  It is often fatal, but so far ARDS is only something that CAN happen.  At the present time, that issue has not been addressed because her brain function takes top priority.
In the end, the odds would suggest that Miss Rivers was without oxygen for some length of time and this is what they are dealing with now — a brain that has been injured to some extent.
Hopefully she will recover, but the amount of time that has passed suggests that she is only theoretically "stable" having been medically placed in a stable state of "wait and see."  This is a grim situation.
Her daughter Melissa is by her side making difficult decisions as the doctors do whatever it is they must do in this situation and keep the family informed on her overall prognosis — which is probably very poor at the current time.
The end results will be, partial recovery, full recovery, lingering coma and life support, or death or opting to hasten death by disconnecting her from all manner of life support.  The fact that she will die within the next week to ten days is the most likely scenario.
Melissa Rivers will have to make all the decisions until such time that Joan passes away or she recovers.
Let's pray that Joan Rivers comes to her rest without any fear or pain.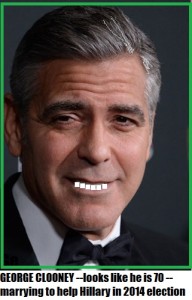 "George Clooney needs a "Magic Johnson" wife to drag along on Hillary's campaign trail, and it looks like they've found him one.  I wonder if George has even met the poor girl yet." [Damien LeGallienne]
The most recent jibber-jabber in the world of the American Simpleton is now all about the upcoming George Clooney fake marriage. Guys who do hair and women who do nails and housework — confirmed bachelors who work in retail etc., cannot get enough of this malarkey.  They love it because it beats having to learn about something real or important.
The Clooney gang has put the ultra-fake machine into overdrive because they are gearing up for the Hillary Clinton Presidential campaign, and of course they are going to need a wholesome image for their man Clooney.
George Clooney needs a "Magic Johnson" wife to drag along on the Hillary campaign trail and it looks like they've found him one.  I wonder if George has even met the poor girl yet.
In any event, the driven nature of the American Simpleton as a variety of humanoid, is to live vicariously through the real or imagined adventures of celebrities and star athletes — people who would step over their corpses in the gutter were they to have a massive stroke on Sunset Blvd.
Putting  that little bit of anthropology aside, allow me to say that nothing about George Clooney besides the shit and piss in his toilet is genuine or sincere or real.  He is the ultimate impostor and the average simpleton in the USA has elevated him to the kind of status that all impostors crave — he is believed and beloved in spite of the fact that his entire life is invented and scripted.
George Clooney has taken impostor-ship to a new level — he thinks he can invent pretty much say, or do, or lay claim to anything and everything and that everyone will believe it.  It's the worst kind of hubris, and if you know anything about the word hubris (which many of you do not) you will learn that it means more than just arrogance..  It's a malignant type of arrogance that leads to a tragic downfall.   Yes, it's true.  Look it up and learn something.
Okay, so let's examine why George Clooney is an impostor and why the simpletons of the USA and Europe (not so much) think so highly of a man whose only truth lies in the toilet.
George Clooney is not really handsome or virile or sexy.  That's all been invented by his press people.  For 20 years — in spite of never having had a hit film or TV show —  George Clooney's people put his "Scruffy in Armani" pictures on People-ish magazines and millions of morons who browse or buy from the rack at the supermarket are instantly conned into believing that it's a true fact.
It's Orwellian.  "This is the image of a handsome man and this is what has been determined to be the watermark of male beauty."
It's not out of the question that some women and men might find Clooney to be attractive because even the ugliest of the ugly ultimately finds someone who finds him or her to be attractive.
Dean Martin sang the song, "Everybody Loves Somebody Sometime" and for every George Clooney who has a hundred press people working overtime to propagate the lie that their man is an Adonis, there are millions of ordinary to outright ugly guys who have at least one old, desperate slut at the bar chasing after them.
Keep in mind that George is not butt ugly, but in real life he would go unnoticed. He has millions of dollars to take what little he has and work with it so as to create the illusion of good lucks and sophistication and virility.  In my opinion, like Rock Hudson who came before him — and luckily not 
in
 him — Clooney is a closet queen who masquerades as a swinging bachelor.  He's living in a Frank Sinatra movie circa 1963 only this Frank Sinatra has a hint of mint.  He looks 15 years older than he is and his body is thin, frail and ugly and dark and waxed and plucked.   Rock Hudson, on the other hand, was actually handsome and he wasn't a phony.   Hudson was forced to hide his gayness.  He never stood on sanctimony — playing the gay-adjacent game.
So, Simpletons of the USA, prepare yourself for the new First Lady of the American red carpet because she will be coming to a whistle-stop Presidential campaign spot near you.  Ah yes, Mrs. George Clooney.  Look for her because she has been hand-picked by marketing experts, and she will bring along her shy and retiring and totally phony stupid and politically moronic and untalented husband.  After the election George will back with the guys on  the gay Greek island of Mikonos — and the wife will have a movie career.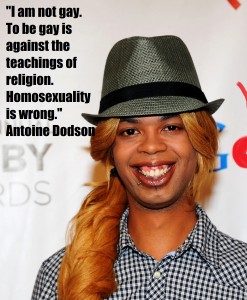 Why is this Antoine Dodson Facebook page suddenly so popular?
In light of the recent life changes announced by Antoine — a guy with quirky talent who got lucky when somebody broke into his apartment in the projects — you would think people — especially gay people — would be more discerning about the people they "share" on Facebook — but they are not discerning.
They're morons just like their heterosexual counterparts who live only to "share" without concern or forethought.  That is the nature of the Facebook Simpleton regardless of sexual orientation.
FOLKS!  Antoine Dodson is no longer gay — he says so himself — where is the outrage?  Antoine believes living a homosexual "lifestyle" is wrong and anti-religious.  Don't you morons know that about him?  Do you ever read a frigging news story or even pick up a cheap magazine?   I am happy for Antoine that he is no longer hunting for a paycheck, but how dumb are some people — really? 
I am not hating on Antoine Dodson because he was a low income, gay African-American who lived in the projects and then became famous.  I am angry at the LGBT community for not knowing  that he has angrily and religiously ditched them in favour of chicks and babes — so he says.
The gays who don't read or don't care still love him, and it makes no sense whatsoever.  His Facebook page has over 1,000,000 followers — ahhhh — but maybe that's the key to Antoine's recent transformation?  There are less than 20 million gay people in the USA and success with the gay crowd is nowhere near as lucrative as it is with the Christian straight crowd.
Okay, I get it now.  Using Jesus for money — nothing new about that.  Is Antoine doing that or has he had some kind of weird revelation?  I don't know.  That's his business, but the sad truth is that nobody has bothered to learn about the new Antoine Dodson.  Therein lies the stupidity of certain people, and that is why we write this blog, right?  We write to expose stupidity and dumbness when and wherever it might occur.
The Simpletons of Facebook — which is just about everyone who has an account on Facebook — embraced Antoine when he became an overnight sensation via his viral video, and in spite of his recent admissions and admonitions  against gaiety, he is still popular — especially in the gay male community where one would expect him to be vilified, but in order to know the more recent truth about Antoine Dodson, at least one gay guy would have to read or learn or study — something the average Facebook Simpleton is unable to do with any degree of non-stupidity.
Let's start from the beginning.
A few years ago, someone broke into Antoine's home in the low income projects of the Lincoln Park Housing Project in Huntsville, Alabama, USA, and climbed into bed with his sister.
Antoine's sister bravely stated that the intruder tried to rape her, and when she was interviewed on local TV about that incident, Antoine chimed in with his diatribe against the intruder.  It was concise and comical — so comical in fact that some enterprising young musicians took his TV interview and put it to an AUTO-TUNE music video which went viral.
Do you know it?
"Hide your kids, hide your wife, hide your kids, hide your wife, and hide your husbands because they're raping everybody out here.  You don't have to come and confess. We're looking for you.  We gonna find you, we gonna find you. So you can run and tell that, run and tell that, home boy, home boy….etc."
So Antoine became an overnight sensation with his auto-tuned "Hide your kids, Hide Your Wife" viral video musical, and Antoine was openly gay — very flamboyant and funny and engaging — and but now he is singing a different tune.
Seems the former Miss Thing Dodson, has prayed away the gay and gone religiously freaky. Doesn't anyone know this about him?  Do the simpletons of Facebook only look for homophobia in the American GOP or on CBN?   Antoine himself sounds awfully homophobic, and he has renounced his faith in Judy Garland, and for most gay men that's grounds for excommunication.
Antoine Dodson announced recently that he was straight at the same time he proclaimed himself to be the 'True Chosen Hebrew Israelite descendant of Judah' on Facebook. He is now expecting a child with a woman he calls "his queen." This is a far cry from the queens Antoine used to impregnate — in a manner of speaking. 
Dodson stated, "I have to renounce myself, I'm no longer into homosexuality I want a wife and family, I want to multiply and raise and love my family that I create,"
This was mild when compared to some of the things Dodson has said since claiming to have made the switch from dicks to chicks.
"The Bible states against it (homosexuality)."  "I am not praying away the gay.  You can just lift it.  If you want to change your life you can."   "I'm trying to move away from being gay and become a better person." "Back then I was dumb.  I didn't know the Bible, I didn't read the Bible like I should have done."
It gets even more in your face, folks, but I don't have the time.  The truth is that Antoine used the money he made to get his ass out of the projects and into a nice home in Los Angeles where he now proclaims a to be a chosen Hebrew Israelite.
Yeah, so to all of you morons out there in Facebook land, be mindful of the person you are helping to make wealthy.  Personally, I don't care if Antoine is gay or straight or just plain stupid — which he seems to be — but really, how could so many people not know the truth about the new Antoine Dodson?
Like Antoine Dodson himself said when he addressed the news camera and the American public: "You are really dumb. You are so dumb.  Fer real! "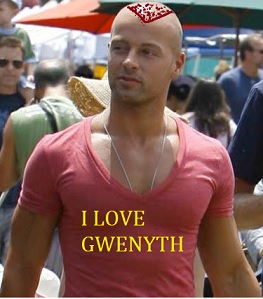 Rumors are flying throughout Hollywood about the secret romance that might very well have caused the breakup of Gwenyth Paltrow's ten year marriage to Coldplay's leading man, Chris Martin.
Many insiders believe that friction between the Hollywood super-couple, began as soon as Gwenyth started to pal around with actor/musician Joey Lawrence — a former child actor who found fame in such memorable TV shows as "BLOSSOM" and "MELISSA and JOEY"
Producer, Mildred Scalfani, who recently shot the film "Bigfoot Adirondack Stalker" which starred Joey Lawrence in the lead as a Bigfoot hunter named Slade Giuliano who goes missing after an encounter with an 8-foot tall Yeti in Saranac Lake, New York, had this to say.
"It was no secret that Melissa was seen flitting around here and there and everywhere with Joey Lawrence, but it seemed like she was treating him like a little brother and just enjoying his fun side and the fact that he fancies himself to be a rock musician more than just a TV actor.  Nobody knows Joey better than I do, and after a couple of months of this brother-sister thing he had going on with Gwenyth, I started to see there was something more to this — everybody saw it.  It was obviously some kind of deepening romance."
Some people close to the couple said that Joey Lawrence was a frequent guest at the Paltrow/Martin home and that Chris was even teaching Joey some new vocal and guitar riffs, but even then there were signs that Joey was more than just a buddy or a pal.  Since Gwenyth and Chris split, Gwenyth has been spotted on various Caribbean islands with Joey Lawrence who looks like he is sporting even more muscles than he ever did.
"Gwenyth helped Joey through some tough times," said Mildred Sclafani.  "When Joey underwent 6 months of grueling and painful hair transplant surgeries, Gwenyth was always there to show her support.  
"You didn't see his former costar Mayim Bialik hold his hand as surgeons grafted 15,000 hair plugs from the back of his head to the top.   Mayim thought it was disgusting and gross, but Gwenyth was there, and when the hair grew in a rusty red color, she stayed by Joey's side…and that's when I knew this was more than a brother-sister playtime thing.  This was love, and after Joey's hair started to grow in, Gwenyth turned cold towards Chris."
TheDamienZone.com thinks it's funny how certain things that seem like obvious rumors often turn out to be totally true.  Months ago we had reports of a love affair between Gwenyth Paltrow and Joey Lawrence but we dismissed them as silly because Gwenyth doesn't go for guys like Joey Lawrence.  She thinks she's too good for an average celebrity – but we were wrong.
We are sorry to see the Paltrow/Martin marriage break apart, but we know that there is sunshine after the rain, and who better than Joey Lawrence to bring happiness into someone's life than Joey Lawrence especially now that he has some hair.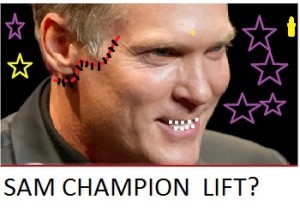 TV Weatherman Sam Champion, looks like he has his face pushed into a 70 mile per hour wind — in other words — his face looks stretched and pulled.  Has Sam had some plastic surgery — maybe even a face lift?  It sure looks like it.  Something looks weird about him — is he just getting old or what?
According to Dr. Raymond Totondi. a plastic surgeon at The Skylight Institute on Park Avenue in NYC, Sam is looking a little 'repaired" as he heads towards the big time.
"Sam Champion is no longer the local weatherman on a NYC network affiliate news program.  He is now a national weatherman and in preparing for that kind of limelight, he very well may have had a bit of sprucing up at the plastic surgeon's office.  He has also gained a lot of weight. He used to be slim and athletic back in the 1990s when pranced around on the dance floor at Roxy, but now he's looking a little chunky and puffy.  Personally, if he has indeed had anything done to his face, he should have waited until he lost that extra weight.  In my opinion, he has painted the car without repairing the engine, and that is never a good idea."
Some New Yorkers who are "in the know" think that Sam has gone into a kind of depression since Splash Bar has closed down, and maybe that's why he has packed on the pounds and pulled his face back like a Hefty Cinch Sack, but others take a more homey approach to this change in Sam.
"To me, Sam used to look like an All-American gay guy, and it was nice cause I wanted to set him up with my nephew Frankie who lives a few blocks away from me with his mother.   I thought Sam was a cute guy and a perfect match for Frankie — and he gave good weather reports, " said Mildred Sclafani of Staten Island, New York who, along with her husband, Broderick, runs a Bigfoot Lookout club in the Catskill Mountains of upstate New York. 
"Broderick and I do a lot of Bigfoot outings and we always depended on Sam for the weather.  I even invited Sam over a few Sundays for my famous raviolis with vodka sauce.  Yeah, I know that ravioli is already plural and I shouldn't say 'Raviolis' but it sounds nicer to me and it reminds me of my mother and grandmother so I say it.
"Anyway, Sam was very nice and he only ate a few raviolis,  Poor thing ate like a bird.  Recently he stopped by and he scarfed down about 30 raviolis and 4 meatballs.  His face looked a little stretched out and pulled but I figure maybe he gained weight or whatever. Hey, it doesn't matter to me, he still is good with the weather and when we set out with our group for one of our Bigfoot expeditions, we know we can depend on Sam Champion for a good forecast.  I just have to remember to get more raviolis next time he comes over.  I don't think even frigging Bigfoot would eat that many — and the meatballs too!" 
So, what's the deal?  Is Sam Champion getting plastic surgery or is he facing into a strong wind?  It looks like has had a face lift and an eye job — but we might be wrong.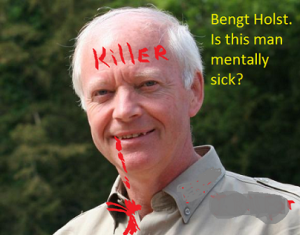 A team of forensic psychologists are planning to assemble in The Netherlands.
Their goal?
To have Bengt Holst, the director of the Copenhagen zoo, declared legally insane or have him brought  up on animal cruelty charges or to have him declared incompetent and unable to work at anything but menial jobs.
Local law enforcement agents are considering having Holst brought forward for a competency hearing and they too are considering charging him with not only cruelty to animals, but for racketeering for cruelty to animals with the intent to gain fame or notoriety.
According to a statement released by the newly-formed committee, Holst has… "…committed a grievous offense and for that he should either be sent for a complete psychological examination or he should be punished without mercy for his crimes against the animals in his charge — chief among them being the giraffe "Marius" which he had brutally killed and publicly dissected in what amounted to something akin to a grand spectacle worthy of the ancient Roman Colosseum." 
"The problem has NOTHING to do with the giraffe's meat being fed to the lions. The problem is that Marius' keepers — humans he seemed to trust — shot the giraffe in the head and ghoulishly dissected that giraffe in front of zoo visitors." said Dr. Raymond Totondi, a Zoologist and Human Behaviorist in Rome.
"The reason they gave for shooting the giraffe was horrific. Bengt Holst believed that Marius already had genes that were well-represented at the zoo and they didn't want to risk inbreeding — in other words, they didn't like his genetic makeup — so he ordered him killed him in spite of the fact that many zoos throughout Europe and the world offered to take him."
As if all of this weren't sufficiently horrific, Bengt Holst is now being viewed as madman on a sick rampage because he has now — several weeks after he fed Marius to the lions —  decided that those very lions too need to die because he is, "not in the business of raising lion cubs."
"Something is terribly wrong with this zoo and the people who run it, said a Canadian zoologist who spoke under conditions of anonymity.
"I am not a psychologist, and perhaps I should not even be saying this, but Bengt Holst is a mentally sick individual who should not be allowed to lord over any zoo or any place where the welfare of animals is a concern.  He should be fired from his job at the Copenhagen zoo and she should be charged as a criminal.  What he did to that giraffe was not only cruel to the animal, but it seemed as though Holst was enjoying being cruel to the thousands of people — mostly children — who begged that the giraffe not be killed.  
"There were plenty of options open to Holst — even an doffer of $600.000US from a European buyer, but Holst refused and opted instead to kill the animal as though he was the star of some demented reality show.  To me this shows that he is a sociopath of some kind.  I realize again that I am not a psychologist, but many on the panel who are indeed psychologists and psychiatrists, believe that Holst is indeed a sociopath and when I call him one, I am simply restating what I have been told by experts."
Hollywood TV writer and zoologist, Dave Mattia , a man who usually treads lightly on touchy subjects like this, had this to say about the meeting in the Netherlands.
"In my opinion, Bengt Holst, the administrator of the zoo, assembled paid stooges — friends and friends of friends — to watch this creep show in an attempt to legitimize what he planned on doing. Any notion that these people were truly  "invited" is untrue.  If they were indeed curious observers, they were truly sick people who might very well have tampered cruelly with the minds of their children.
"In spite of death threats against him and his staff and 47,000 or more names on a petition (most from Denmark and The Netherlands) to NOT kill the giraffe, and video requests from children throughout Europe begging him to not kill Marius, Holst went bananas and turned the entire thing into a macabre spectacle simply because he wanted to spite his detractors. That's not my OPINION — that is the opinion of the Zoological Society of The Netherlands and the London Zoo.
"Holst's fetid frustrations – whatever they may be — have overcome his judgement. Again, these are not MY words, these are the words of zoologists and zoological administrators throughout Europe. They're calling for his head on the chopping block. They're saying he is a madman and some on staff at the zoo who participated in this and are affiliated with other zoological endeavors will find themselves jobless in a few days.
"And the children.  What about the children?  
"This was a traumatic thing for a child to see, I'm sorry but I have to question the psychological machinations of anyone who thinks that this was a healthy thing to do to children — and some very strange people seem to think it was a splendid lesson for children to learn.  But these are ordinary children — not Children of the Corn.  
"One very nutty American woman who works in racehorse rescue called it "enlightening" and "wonderful for children to learn about the circle of life"  but it was not about any circle of life.  It was about one man's alleged insanity and a new slant on the old PT Barnum technique of getting people to patronize his zoo. How can this woman be in charge of the welfare of racehorses rescued from the racetrack. Perhaps she likes dead animals and suffering animals.  You never know what might be a person's motivations."
With regards to the committee in The Netherlands, when one commits a criminal act — and hopefully the authorities in Denmark will find this to be a criminal act — and one's business benefits from said criminal act, one can and often will be charged with criminal racketeering.
Dave Mattia continued:
"In my opinion, it was, what it was — a sickening spectacle brought to you by an allegedly  crazy man who has ordained himself with the divine providence to determine which animals live and which animals die as per his own edicts and opinions and his ability to kill without concern.
"You have people on Facebook and other social media — idiotic people — talking about where meat comes from and children being enriched by learning about dead animals and other overly simplistic and frankly deranged opinions, when this is not the issue at all.
"The issue is how the giraffe named Marius came to be blast-bolted in the head, and then quartered with butchering knives under the guise of performing a necropsy, so as to feed lions which in turn were later killed as well  by the same executive order that came down from the office of Bengt Holst, who, in my opinion, is either out of his mind or common people who simply do not understand the highly strange and macabre aspects that surround this cruel and unusual display of hubris and perhaps insanity" 
Here is a link to David D. Mattia if you want to learn more about him. http://www.imdb.com/name/nm3834680/
The goal of the Committee meeting in The Netherlands is to have Holst declared insane or be brought before a board of government appointed psychologists so as to determine if he is a danger to himself or to people or to animals.  This kind of thing is done all the time when families want to have a loved one put away because of psychologically inappropriate behavior.  Holst will get the same treatment as the average person who is dragged in for a competency hearing, but the odds of him coming out of this unscathed are very slim.  He will either be found to have some kind of mental illness which requires inpatient or outpatient psychiatric care, or, at the very least, he will lose his job and perhaps never again be allowed to work in a zoo or any kind.
EDITORS NOTE:  IT IS VERY EASY TO COMMENT ON THE DAMIEN ZONE.  WE DO NOT PUT YOU THROUGH A LONG PROCESS OF SIGNING UP AND VERIFYING EMAILS.  THE DOWNSIDE TO THIS IS THAT IT MIGHT TAKE SEVERAL HOURS FOR YOUR COMMENT TO APPEAR.  SOMETIMES IT TAKES A FEW MOMENTS AND SOMETIMES IT TAKES HOURS — BUT IT WILL APPEAR — WE CAN ASSURE YOU.  WE WELCOME ALL POINTS OF VIEW AND SOMETIMES ONE OF THE THE EDITORS WILL  ANSWER….EVEN IF YOU INSULT THEM.