Author Archive
It started with a trickle of ice and some cold water and now it has taken over the internet. All kinds of people, from high school jocks to 90 year old grandmothers, are taking the A.L.S. CHALLENGE to raise awareness about Lou Gherig's Disease — and some of them are dying.
Since the beginning of the summer of 2014 when people started dousing themselves and others with icy water and challenging others to do the same or donate to an ALS charity, the ALS Challenge has raised a substantial amount of money, but it has also killed at least a dozen people in the USA alone.
"I was watching when my brother-in-law did the ALS thing in the park with his kids at our family reunion.  Everybody was laughing and having a good time when Mike took the bucket and poured it over his own head.  He let out a gasp like anyone would do when they get freezing water poured on their heads and we laughed.  But then, all of a sudden, Mike wasn't laughing and he looked up at his wife and he tried to wave for her to come over to him and then he dropped down and turned gray.  The paramedics were there in about 10 minutes but he was dead.  The whole picnic and everything was ruined. People's lives were ruined.  I think people should just write a check or something.  I know it's a fatal disease but it's not worth dying for." [Raymond Totetundi, Mamaroneck, NY. USA]
Raymond Totetundi's brother-in-law Mike is neither the first nor the only person to die as a direct result of the ALS challenge, but his death in a crowded cookout park was the first to bring attention to the possibility of serious injury and death associated with the ALS Challenge.
Here is list of three people and the circumstances that resulted in their deaths after taking the ALS challenge.   The first one is strange but true and, of course, it could only happen in New Jersey.
1) Concetta DelloFagiollo, age 77,  Belleville, New Jersey:  Mrs. DelloFagiollo was killed in early August (2014) when she took the ALS challenge in a rather unconventional way.  Instead of ice cold water, she used a large pot of ice cold tomato sauce and meatballs while standing in the backyard of her home as two of her sons and four of her grandchildren watched on in horror.
She'd made the two gallons of sauce and meatballs weeks before and then froze it for future use.  She put the pot in the refrigerator so it would thaw out over a couple of days.  Her son says she got the idea to take the challenge when she saw it on TV.
With her grandson's cell phone cam running, Mrs. DelloFaggiollo's sons Carmine and Alphonse dumped the pot of tomato sauce and meatballs on her head.  In the video she seems momentarily chilled and she jokes, "I don't think that Lou Gherig was Italian."  Then, she falls to the ground and her body starts twitching. The video ends there. EMS was on the scene in minutes but Mrs. DelloFagiollo was already non-responsive and was declared dead a half hour later at a local hospital.
"One minute we were a family having fun with our mother and the next thing you know we're standing in the Emergency Room of a hospital and standing there while the doctor told us our mother was dead.  It was like a dream because she was right there behind the curtain and you could smell the gravy and meatballs and it was like she was already in heaven and calling us home for supper like when we were kids.  That's the only way I could describe it.  The doctor was nice but he couldn't understand the way we felt because he wasn't Italian." [Carmine DelloFaggiollo - son]
2) Jolene K. Parlhunter, age 33, Millstone, New Jersey:  Jolene stood under the roof her family's garage while her brother's prepared to dump an aluminum garbage can of ice and water.  Her cousin Jennifer filmed the event as Jolene called out the challenge to several of her friends at work.  As Jolene is speaking, her brother accidentally knocks over the trash can and it falls from the garage roof and lands hard on Jolene's head.  Her skull was crushed and she was killed at the scene.  Police estimated the weight of the trash can filled with a block of ice and water at about 170 pounds.  The block of ice alone weighed 75 pounds. Police have confiscated the cell phone used to film the event pending an investigation.
"She was just getting ready to tell her brothers to dump the water but her older brother almost fell and when her other brother reached out to help him, the can just fell down hard and squashed her head like when  you drop a pumpkin from something high up.  I dropped my phone and ran away screaming because she was all messed up and disgusting.  The weird thing now that I think about it is that her brother's didn't even bother to break up the giant block of ice they put in the trash can, so even if they got it right, that block of ice would still have killed her.  Why didn't they even think about that in the first place?" [Jennifer Smith - cousin]
3) Karl Boulliet, age 66, Keansburg, New Jersey:  Karl took the challenge on a fishing boat out on the expansive Raritan Bay while participating in bluefish tournament.   Karl had just landed a bluefish that, at 25 pounds, was certain to win him the the $1.000 grand prize, and in the flush of victory he decided to take the ALS Challenge right there on deck.   His nephew Taylor-Joe Hudak describes.
"My Uncle K was really happy to catch that fish and him and his friends gulped down a few beers and everybody was like going crazy and having a great time.  Then some guy I don't know decided that it would be a great idea to use some crushed ice and picnic cooler full of ice and water to make my uncle take the ALS Challenge right there on deck.  My uncle was totally into it.  So like three of us filmed it and he challenged some other guys on the boat and his sister who is my mother and then these guys dumped the ice water on him.  He was cold and shivering but laughing. Then he walked to the back of the boat and while he was walking he just collapsed and was out cold.  He was breathing but we could not wake him up.  It took about 5 minutes for us to get to the dock but by then he wasn't breathing and the firemen did CPR but he was dead in the ambulance and they said he had a heart attack from the shock. Personally I think that he finally caught a great fish and that's the way he wanted his life to end."
Editor's note:  Most people should consult their doctors before taking the ALS Challenge.  The Damien Zone thinks that it might be a better idea to donate some money to a worthy cause associated with this incurable disease.
NOTE:  Commenting on this article is very easy and hassle free — no crazy stuff to fill out or cross check —  but the downside is that it might take a few hours for your comment to appear while an editor approves it and sometimes responds.  All comments within reason are published, so keep checking back.  We do not edit out profanity so speak your mind.  This is a free country — express your opinions.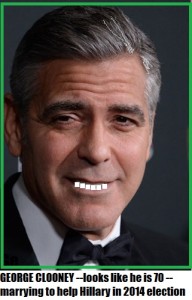 "George Clooney needs a "Magic Johnson" wife to drag along on Hillary's campaign trail, and it looks like they've found him one.  I wonder if George has even met the poor girl yet." [Damien LeGallienne]
The most recent jibber-jabber in the world of the American Simpleton is now all about the upcoming George Clooney fake marriage. Guys who do hair and women who do nails and housework — confirmed bachelors who work in retail etc., cannot get enough of this malarkey.  They love it because it beats having to learn about something real or important.
The Clooney gang has put the ultra-fake machine into overdrive because they are gearing up for the Hillary Clinton Presidential campaign, and of course they are going to need a wholesome image for their man Clooney.
George Clooney needs a "Magic Johnson" wife to drag along on the Hillary campaign trail and it looks like they've found him one.  I wonder if George has even met the poor girl yet.
In any event, the driven nature of the American Simpleton as a variety of humanoid, is to live vicariously through the real or imagined adventures of celebrities and star athletes — people who would step over their corpses in the gutter were they to have a massive stroke on Sunset Blvd.
Putting  that little bit of anthropology aside, allow me to say that nothing about George Clooney besides the shit and piss in his toilet is genuine or sincere or real.  He is the ultimate impostor and the average simpleton in the USA has elevated him to the kind of status that all impostors crave — he is believed and beloved in spite of the fact that his entire life is invented and scripted.
George Clooney has taken impostor-ship to a new level — he thinks he can invent pretty much say, or do, or lay claim to anything and everything and that everyone will believe it.  It's the worst kind of hubris, and if you know anything about the word hubris (which many of you do not) you will learn that it means more than just arrogance..  It's a malignant type of arrogance that leads to a tragic downfall.   Yes, it's true.  Look it up and learn something.
Okay, so let's examine why George Clooney is an impostor and why the simpletons of the USA and Europe (not so much) think so highly of a man whose only truth lies in the toilet.
George Clooney is not really handsome or virile or sexy.  That's all been invented by his press people.  For 20 years — in spite of never having had a hit film or TV show —  George Clooney's people put his "Scruffy in Armani" pictures on People-ish magazines and millions of morons who browse or buy from the rack at the supermarket are instantly conned into believing that it's a true fact.
It's Orwellian.  "This is the image of a handsome man and this is what has been determined to be the watermark of male beauty."
It's not out of the question that some women and men might find Clooney to be attractive because even the ugliest of the ugly ultimately finds someone who finds him or her to be attractive.
Dean Martin sang the song, "Everybody Loves Somebody Sometime" and for every George Clooney who has a hundred press people working overtime to propagate the lie that their man is an Adonis, there are millions of ordinary to outright ugly guys who have at least one old, desperate slut at the bar chasing after them.
Keep in mind that George is not butt ugly, but in real life he would go unnoticed. He has millions of dollars to take what little he has and work with it so as to create the illusion of good lucks and sophistication and virility.  In my opinion, like Rock Hudson who came before him — and luckily not 
in
 him — Clooney is a closet queen who masquerades as a swinging bachelor.  He's living in a Frank Sinatra movie circa 1963 only this Frank Sinatra has a hint of mint.  He looks 15 years older than he is and his body is thin, frail and ugly and dark and waxed and plucked.   Rock Hudson, on the other hand, was actually handsome and he wasn't a phony.   Hudson was forced to hide his gayness.  He never stood on sanctimony — playing the gay-adjacent game.
So, Simpletons of the USA, prepare yourself for the new First Lady of the American red carpet because she will be coming to a whistle-stop Presidential campaign spot near you.  Ah yes, Mrs. George Clooney.  Look for her because she has been hand-picked by marketing experts, and she will bring along her shy and retiring and totally phony stupid and politically moronic and untalented husband.  After the election George will back with the guys on  the gay Greek island of Mikonos — and the wife will have a movie career.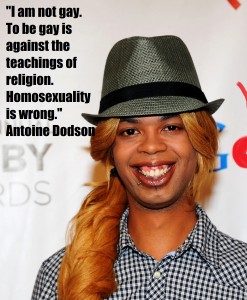 Why is this Antoine Dodson Facebook page suddenly so popular?
In light of the recent life changes announced by Antoine — a guy with quirky talent who got lucky when somebody broke into his apartment in the projects — you would think people — especially gay people — would be more discerning about the people they "share" on Facebook — but they are not discerning.
They're morons just like their heterosexual counterparts who live only to "share" without concern or forethought.  That is the nature of the Facebook Simpleton regardless of sexual orientation.
FOLKS!  Antoine Dodson is no longer gay — he says so himself — where is the outrage?  Antoine believes living a homosexual "lifestyle" is wrong and anti-religious.  Don't you morons know that about him?  Do you ever read a frigging news story or even pick up a cheap magazine?   I am happy for Antoine that he is no longer hunting for a paycheck, but how dumb are some people — really? 
I am not hating on Antoine Dodson because he was a low income, gay African-American who lived in the projects and then became famous.  I am angry at the LGBT community for not knowing  that he has angrily and religiously ditched them in favour of chicks and babes — so he says.
The gays who don't read or don't care still love him, and it makes no sense whatsoever.  His Facebook page has over 1,000,000 followers — ahhhh — but maybe that's the key to Antoine's recent transformation?  There are less than 20 million gay people in the USA and success with the gay crowd is nowhere near as lucrative as it is with the Christian straight crowd.
Okay, I get it now.  Using Jesus for money — nothing new about that.  Is Antoine doing that or has he had some kind of weird revelation?  I don't know.  That's his business, but the sad truth is that nobody has bothered to learn about the new Antoine Dodson.  Therein lies the stupidity of certain people, and that is why we write this blog, right?  We write to expose stupidity and dumbness when and wherever it might occur.
The Simpletons of Facebook — which is just about everyone who has an account on Facebook — embraced Antoine when he became an overnight sensation via his viral video, and in spite of his recent admissions and admonitions  against gaiety, he is still popular — especially in the gay male community where one would expect him to be vilified, but in order to know the more recent truth about Antoine Dodson, at least one gay guy would have to read or learn or study — something the average Facebook Simpleton is unable to do with any degree of non-stupidity.
Let's start from the beginning.
A few years ago, someone broke into Antoine's home in the low income projects of the Lincoln Park Housing Project in Huntsville, Alabama, USA, and climbed into bed with his sister.
Antoine's sister bravely stated that the intruder tried to rape her, and when she was interviewed on local TV about that incident, Antoine chimed in with his diatribe against the intruder.  It was concise and comical — so comical in fact that some enterprising young musicians took his TV interview and put it to an AUTO-TUNE music video which went viral.
Do you know it?
"Hide your kids, hide your wife, hide your kids, hide your wife, and hide your husbands because they're raping everybody out here.  You don't have to come and confess. We're looking for you.  We gonna find you, we gonna find you. So you can run and tell that, run and tell that, home boy, home boy….etc."
So Antoine became an overnight sensation with his auto-tuned "Hide your kids, Hide Your Wife" viral video musical, and Antoine was openly gay — very flamboyant and funny and engaging — and but now he is singing a different tune.
Seems the former Miss Thing Dodson, has prayed away the gay and gone religiously freaky. Doesn't anyone know this about him?  Do the simpletons of Facebook only look for homophobia in the American GOP or on CBN?   Antoine himself sounds awfully homophobic, and he has renounced his faith in Judy Garland, and for most gay men that's grounds for excommunication.
Antoine Dodson announced recently that he was straight at the same time he proclaimed himself to be the 'True Chosen Hebrew Israelite descendant of Judah' on Facebook. He is now expecting a child with a woman he calls "his queen." This is a far cry from the queens Antoine used to impregnate — in a manner of speaking. 
Dodson stated, "I have to renounce myself, I'm no longer into homosexuality I want a wife and family, I want to multiply and raise and love my family that I create,"
This was mild when compared to some of the things Dodson has said since claiming to have made the switch from dicks to chicks.
"The Bible states against it (homosexuality)."  "I am not praying away the gay.  You can just lift it.  If you want to change your life you can."   "I'm trying to move away from being gay and become a better person." "Back then I was dumb.  I didn't know the Bible, I didn't read the Bible like I should have done."
It gets even more in your face, folks, but I don't have the time.  The truth is that Antoine used the money he made to get his ass out of the projects and into a nice home in Los Angeles where he now proclaims a to be a chosen Hebrew Israelite.
Yeah, so to all of you morons out there in Facebook land, be mindful of the person you are helping to make wealthy.  Personally, I don't care if Antoine is gay or straight or just plain stupid — which he seems to be — but really, how could so many people not know the truth about the new Antoine Dodson?
Like Antoine Dodson himself said when he addressed the news camera and the American public: "You are really dumb. You are so dumb.  Fer real! "
Pope Francis, the new Pope who is beloved by the Simpletons of Facebook, has now cranked up the volume of dumbness and put the Facebook morons into blissfully idiotic overdrive.
You see them on your Facebook page, right?   The people who say things like, "I'm really digging this new Pope," and "This Pope makes me want to go back to church."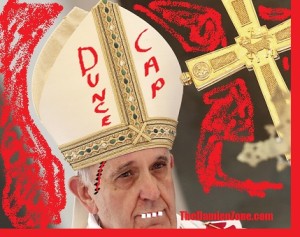 Yes, the Argentinian pop-culture Pope is getting really popular.  Trouble is — he is a phony and he's kind of dopey and clueless — just like the Facebookers who are digging him.
I can totally understand the stupidity of Facebook Simpletons — they have an incurable illness, but a Pope is supposed to be smart, or at least wise, or at the very least, he should be able to understand the rules of the  job for which he has been chosen.
Recently, Pope Francis made a complete idiot out of himself by publicly excommunicating the Italian Mafia.
Naturally, this extremely dumb edict was greeted with  endless Facebook chatter from the community of "Facebook Simpletons Who Share Stupid Shit."   
Those extremely dumb Facebook and email "sharers" totally love this kind of stuff — but it's stupid and it makes no sense.   The fact that it makes no sense and it's extremely dumb makes it especially appealing to the morons on Facebook — many of whom have already been excommunicated but are basically too stupid to know it.
Allow me to explain.
The Pope does not excommunicate people.  People excommunicate people.
In other words, if one violates any specific doctrine of the Roman Catholic Church — the rules that call for excommunication — one has excommunicated one's self. It happens in the blink of an eye without any intervention from anyone.  An unseen hand comes down from heaven and erases you from the eyes of the Roman Catholic Church — and probably even God.
Hey, you  might even go to church every Sunday and put money in the collection plate, but for all intents and purposes, in the eyes of the church and God, you are not there.  If you have broken any number of rules, you are instantly excommunicated. You are a non-person.  You are "WASTING WAFERS" as I like to say.
You are, however,  still a Catholic.  And, you'll always be Catholic unless you convert to something else — because you were Baptized in the Catholic Church. But, as far as the church is concerned, you cannot participate in any of the sacraments and you cannot have a Catholic burial.  Sorry, no incense or holy water.
So, what does this all mean?  It means —  don't bother showing up in church because in the eyes of the Roman Catholic Church, you are not really there.  You are invisible. That is pretty much all you will ever need to know about the concept of excommunication. 
Let's first tackle the issue of gay marriage as it pertains to our subject of excommunication since the gay Catholic  community seems to be loving this new Pope in spite of the fact that just about all of them have been excommunicated because they are homosexuals.
One day Pope Franny says a few nice things about gay people and they all start jumping for joy — it's lunacy.
Catholicism — and just about every religion of the world —  does not not allow homosexuality.  It is written off as a grievous sin in the eyes of God even though God is the guy who made a person a homosexual in the first place.
Regrettably,  it is correct to say that folks who engage in homosexuality — especially the really annoying and dopey ones — have already been auto-excommunicated.  The Pope doesn't have to announce it on television.
Sorry, honey, but just like Louie B. Mayer said to Joan Crawford when he fired her from MGM,  "It's already been done, Joan."
The Pope made an ass of himself when he spoke kindly of gay people a few weeks after he got the big hat, but it made no sense.  How can you speak kindly of people who are thoroughly condemned by the giant organization you lead?
Rules are rules, and unless Pope Franny plans on revamping those rules, he should stop with all of this sanctimonious pandering.  Actually, the pandering is tolerable  — it's those who are pandered to and loving it who make me sick.
I am not picking only on the gay community of Facebook Simpletons — it's a whole lot of people — it's freaking everybody.   If you have ever violated the 6th and the 9th Commandments as they are applied by the Catholic Church of Rome — and who hasn't —  you are excommunicated.
Is that so hard to understand?  You have been at the church wasting wafers and a whole lot of your own time.
Read these two Commandments carefully.  These are the ones that automatically get you your pink slip. The Catholic Church has never revoked these rules, and as silly as they are, they still apply.
6 – THOU SHALL NOT COMMIT ADULTERY.
Human sexual activity —  This commandment forbids the actual, physical act of having immoral sexual activity, specifically adultery, which is sex with someone else's spouse or a spouse cheating on their partner. This commandment also includes fornication, which is sex between unmarried people, prostitution, pornography, homosexual activity, masturbation, group sex, rape, incest, pedophilia, bestiality, and necrophilia.
9 – THOU SHALL NOT COVET THEY NEIGHBOR'S WIFE.
The Ninth Commandment forbids the intentional desire and longing for immoral sexuality. To sin in the heart, Jesus says, is to lust after a woman or a man in your heart with the desire and will to have immoral sex with them. Just as human life is a gift from God and needs to be respected, defended, and protected, so, too, is human sexuality. Catholicism regards human sexuality as a divine gift, so it's considered sacred in the proper context — marriage.
 So, now that you've read them carefully, are you an excommunicate?  Oooooops!  You probably are — if you are a Roman Catholic.  
But alas, all is not lost.  You can get back in — yes you can — if you are truly sorry for what you've done and you repent.   But again, think carefully about what is written in those two commandments.
For example:  If you are gay, you have to be truly sorry that you are gay.  Be mindful of that little gay fact before you dive into months of confessions and Papal indulgences.  If you ever go gay again — or if you ever even think about a guy in a bulging speedo — YOU'RE OUT!
Do you see the dumbness now?  Do you see that the Pope's TMZ style of excommunication is dumb and self-serving?   Do you see how the whole concept of excommunication is dumb?
The Catholic Church is a giant company that makes a lot of money, and they have a whole bunch of rules that just about nobody follows.  If you are a Catholic and you are currently practicing all of the rules of the church, the odds are that you are either dead or in a coma.
Note to Pope Francis — SHUT UP.  You are making a fool out of yourself.
This article was inspired by this Facebook post from someone who is not a simpleton.
Pope Francis — essentially a false idol — has publicly excommunicated the Italian Mafia. But the Italian MAFIA — if you follow the rules of excommunication — has already been excommunicated and they don't even know it. Seems the Pope doesn't know it either. This Pope is getting real popular by pandering to the dumbness of the masses — so to speak. All "MAFIA" and GANGS and CROOKS — Mexican Mafia, Russian Mafia, Crips. Bloods — they're already out — but I guess the Pope forget to announce it. Excommunication is incurred AUTOMATICALLY for certain offenses against the doctrine of the RCC. Just because the Pope announces it, does not mean anyone is MORE excommunicated — but I think the public announcement is kind of cute. Hey, you out there? Are you divorced? You're out! Are you homosexual? You're out! Committed adultery ever? You're out! Murdered anyone? Didn't go to to church and forgot to confess? Lusted after anyone? You're out! You're out! You're out! I have a new slogan for the Catholic Church — "IF YOU HAVEN'T BEEN EXCOMMUNICATED LATELY, YOU'RE PROBABLY DEAD."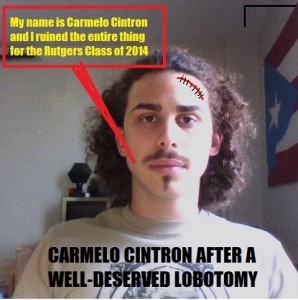 While most of what I call the "S.W.A.F." community — Students With A Future —  at Rutgers University are finishing up their studies and preparing to move onward and upward with their lives, their polar opposites — your garden variety  bunch of campus misfits and sub-mediocrities — decided they were going to cause some trouble.
By causing this trouble, the misfits have deprived the normal-minded and otherwise academically inspired class of graduating seniors — Rutgers University Class of 2014 —  from receiving a commencement speech delivered by perhaps one of the most politically prominent figures of the 21st century — former United States Secretary of State Condoleeza Rice.
The misfits in question have stolen a great chance for so many students.  If these imbeciles couldn't accept Condoleeza Rice as their speaker — because in their demented minds they have branded her a war criminal — they should have at least given the greater portion of the student body this opportunity of a lifetime.
But…that's not what misfits do.  They are dangerous sleepwalkers who, on the rare occasions when they are awake, are still dreaming in a self-absorbed and stupid land of imagination.
Headed by an intellectually limited cuckoo clock named Carmelo Cintron– who is  seeking out some kind of Ché Guevara vibe with his new exalted name Carmelo Joel Cintron Vivas — the campus misfits have done what campus misfits have done for decades – they have formed some "we-really-don't-know-what-the-fuck-our-beef-is" group called the  "NO RICE CAMPAIGN" and what started out as a small bunch of diseased malcontents, soon spread to a bunch of other intellectually compromised students — you know — more losers with lifelong buzzards of non-achievement circling over their heads.
Remember, my friends, the Misfit Syndrome spreads easily on college campuses.
Much like  Community Acquired Pneumonia and Meningitis — communicable diseases that spread and kill rapidly on college campuses — the Misfit Syndrome can kill too.
The Misfit Syndrome, however,  kills only as slowly as life itself.  It takes what could have been a happy and productive life and turns it into a life of stupidity and dumbness.
The Misfit Syndrome drags the afflicted one down while he or she takes away a small piece of common civility each and every day until they've made their world and the world around them so coarse and so backwards, that it can no longer sustain human life as we know it.
The Misfit Syndrome is a disease that doesn't lead to death per se — it leads to nowhere.  And, these days, nowhere seems to be a very crowded hangout.  It's the hottest spot in….nowhere I guess.
This would explain why the misfits at Rutgers were totally okay with Snooki giving a speech about her nails and her hair and drunken sex in a Seaside Heights hot tub, but yet they have an incredible problem with perhaps one of the most accomplished African American women in the world.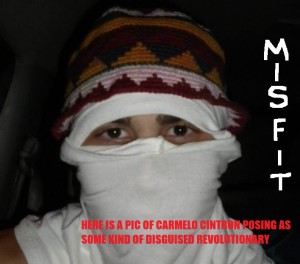 Wait a second, Damien.  Hold on there.
You mean to tell your readers that some young people at Rutgers protested against an African American woman of great achievement?  You are saying, in an open forum, that they protested openly against the female descendant of Alabama sharecroppers who grew up to hold what is perhaps the highest politically appointed positions in all of world government?   You say there were some crazy people who opposed this?
Surely this must have been the work of the KKK or skinheads, right, Damien?
Sadly, no, my friends.  It was not the work of the KKK or Skinheads USA.  It was the work of some incredibly stupid and self-destructive misfits who want YOUR happy moment to suck.  That is their entire raison d'etre.
Imagine the prestige of having had someone like Condoleeza Rice speak at your commencement?   This is a story so many students could have carried with them for the rest of their lives.  Well – better luck next time, kids.
"But there is no next time, Damien.  What do we do now?"
Hey, don't bother me.  Take it up with Carmelo Cintron and the rest of the fucked up misfits who fucked up your graduation ceremonies.
Perhaps I can offer this compromise to Carmelo Cintron et al:
If you don't like Condi, but you're totally down with a famous black woman giving the commencement address, why don't you ask the great Joanne Chesimard — aka Assata Shakur — to make the speech?
Yes, I am CERTAIN that Carmelo Cintron and the misfits at Rutgers would have been totally fine with someone like her.  After all, JoAnne Chesimard — I mean Assata Shakur —  is a great woman — a great African-American/Cuban poet, right?
For the love of god, people, Carmelo Cintron doesn't even know who the hell I am talking about – or if he does it's simply because some mentally sick professor taught about her in a class called Cop-Killing Poetry 101.  Sounds nutty, huh?  Don't think that course won't be worked into a curriculum somewhere and sometime in the near future.
Cintron is, after all, a student of "Comparative Literature – Cultural Theories and Practices — that's what he writes on his Facebook profile.  I wonder what kind of half-wit writers he has studied.  Certainly he can't be familiar with the Classics.  Those stupid things were all written by evil, white, European men.
So why did they do this?  Why did Carmelo — the stupid ass with the greasy razor cut hairstyle he probably got at the Woodbridge Mall Barber Shop —  screw up everyone else's chance of a lifetime?
The answer is very simple.  He and his fellow losers conspired to ruin the show because they are not really part of the cast.  They are not even in the chorus. They failed the audition.  Only P.T. Barnum will hire them….but he's dead.  They are stupid and simple, yet they have convinced themselves that they are very smart and that their ideas and their version of the show is highly profound.  They couldn't get a part in the real show, so they called in Spanky and Darla and Alfalfa and put on their own show.
Also, in all seriousness, they did this because they are undisciplined, unknowing, unlikable,  and starved for attention.  They do this because they are loathsome misfits.
I have told my readers before that the "MISFIT SYNDROME" is alive and well and easy to spot throughout all of the world.  I know this sounds very sad, and if they're sick they should be helped.  But please do not fall into their trap.
In any event, since there is no way to legally quarantine (for life) a few dozen  mentally curdled college miscreants from the rest of the student population, Condoleeza Rice graciously backed out of the invitation she received from Rutgers with this statement:
"Commencement should be a time of joyous celebration for the graduates and their families." 
"Rutgers' invitation to me to speak has become a distraction for the university community at this very special time."
Now, let me explain what happened here because most people will simply see this as a case where a bunch of college kids made a fuss.  You know — hehe —  they're still in that teen angst phase, and they haven't had enough of that revolution stuff — but that's not what happened, folks.  What happened at Rutgers this week is a harbinger for the future of the tired and crumbling USA.  The future of the USA is that there is little or no future for the USA.
Of course the S.W.A.F. community – Students With A Future — will move on to bigger and better things, but the misfits at No Condi Campaign are gradually taking over, and soon the S.W.A.F. people will have to form a new nation.  It's inevitable.
Within 50 years, the USA as you know it today, will not exist.  It will be divided into separate countries.  Some of these countries will be rich and prosperous while the other "One Nation Under Beyonce"  will constantly teeter on the edge of Third World-ism.  Naturally the S.W.A.F. countries will have to send them aid. 
This will happen because a nation cannot stand united when accomplishment, truth, honor and justice are frowned upon and the patients are running the asylum. 
For some psychotic reason, the news media — with FOX getting the lion's share of the story out to the masses — is giving Carmelo Cintron airtime.  Perhaps Laura Ingraham got a charge out of talking to this lamebrain, but why illuminate him?
if you look at Carmelo's Facebook page, he is the star du jour and many of his followers prefer to write in Spanish — the official language of One Nation Under Beyonce.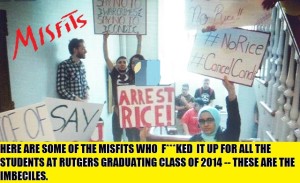 Cintron is getting his 15 minutes — but there is something else that's deeply disturbing about his army of cretins — a lot of them seem to be Muslims?   I wonder what that's about.  Cintron is a Puerto Rican.  Why is he supported by so many Muslims?   Is he some kind of front?  I mean, he must be, because he's been on every news show as the spokesman for the group, and the kid doesn't even have the brain of a lemon.
We shall see, my friends.  We shall see.
I urge all REAL students of Rutgers University to snub and sneer and stigmatize the misfits who ruined their graduation ceremony.
Written in Brussels, Belgium – exclusively for TheDamienZone.com by Damien LeGallienne.  
EDITORS NOTE:  IT IS VERY EASY TO COMMENT ON THE DAMIEN ZONE.  WE DO NOT PUT YOU THROUGH A LONG PROCESS OF SIGNING UP AND VERIFYING EMAILS.  THE DOWNSIDE TO THIS IS THAT IT MIGHT TAKE SEVERAL HOURS FOR YOUR COMMENT TO APPEAR.  SOMETIMES IT TAKES A FEW MOMENTS AND SOMETIMES IT TAKES HOURS — BUT IT WILL APPEAR — WE CAN ASSURE YOU.  WE WELCOME ALL POINTS OF VIEW AND SOMETIMES ONE OF THE THE EDITORS WILL  ANSWER….EVEN IF YOU INSULT THEM. 
Sanjay Gupta MD is a doctor who makes most of his money selling books and being a medical correspondent for CNN. He's not usually as annoying as most cable news correspondents, but right now, perhaps in pursuit of a Pulizter Prize or something, he has been traveling to Guinea – a former French colony on the west coast of central Africa — to do stories about the people there who are dying from the deadly and incurable Ebola virus.
He reports from this country in very disease-ridden areas where most of the people have come down with the deadly illness associated with the virus.
Is Sanjay Gupta a great crusader for these poor people or is he a modern day Typhoid Mary who thinks he is above carrying the disease here to the USA?
Is he doing this out of compassion for people or is he doing it to get ratings for CNN?
Personally, I think he's not so altruistic and the stuff he is reporting has no real educational purpose. He can easily do a story about the dangers of Ebola without actually going to the place where people are infected with the disease, but I assume Dr. Gupta feels that he needs to inject a little of the "Geraldo Rivera" factor into his stories.
In my opinion, Sanjay Gupta — in his quest to look like a courageous man of medicine — is putting the lives of Americans in great danger and for that he should not be allowed to continue with these reports.
Guinea — your garden variety fourth-world dump that used to belong to France — is a country with virtually no infrastructure. Nice job, France — as usual.
These natives of Guinea are peasants scattered throughout villages. Guinea does not have millions of people sharing buses and trains and airplanes and workplaces. If one — just one of these people — acquires the Ebola virus in the USA — especially NYC — it's the end not only for the lives of hundreds of thousands, but for the economy of the entire USA.
Hey, maybe you're a good doctor, Sanjay Gupta, but do us all a favor. Stay the hell away from Guinea unless you intend to stay there for the rest of your life. Stop playing with fire. If you want to be an Ebola martyr, good for you, but in the meantime, don't risk the lives of everyday Americans.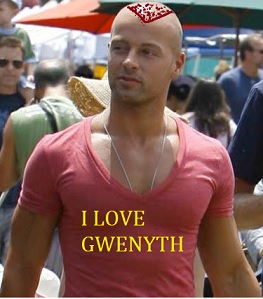 Rumors are flying throughout Hollywood about the secret romance that might very well have caused the breakup of Gwenyth Paltrow's ten year marriage to Coldplay's leading man, Chris Martin.
Many insiders believe that friction between the Hollywood super-couple, began as soon as Gwenyth started to pal around with actor/musician Joey Lawrence — a former child actor who found fame in such memorable TV shows as "BLOSSOM" and "MELISSA and JOEY"
Producer, Mildred Scalfani, who recently shot the film "Bigfoot Adirondack Stalker" which starred Joey Lawrence in the lead as a Bigfoot hunter named Slade Giuliano who goes missing after an encounter with an 8-foot tall Yeti in Saranac Lake, New York, had this to say.
"It was no secret that Melissa was seen flitting around here and there and everywhere with Joey Lawrence, but it seemed like she was treating him like a little brother and just enjoying his fun side and the fact that he fancies himself to be a rock musician more than just a TV actor.  Nobody knows Joey better than I do, and after a couple of months of this brother-sister thing he had going on with Gwenyth, I started to see there was something more to this — everybody saw it.  It was obviously some kind of deepening romance."
Some people close to the couple said that Joey Lawrence was a frequent guest at the Paltrow/Martin home and that Chris was even teaching Joey some new vocal and guitar riffs, but even then there were signs that Joey was more than just a buddy or a pal.  Since Gwenyth and Chris split, Gwenyth has been spotted on various Caribbean islands with Joey Lawrence who looks like he is sporting even more muscles than he ever did.
"Gwenyth helped Joey through some tough times," said Mildred Sclafani.  "When Joey underwent 6 months of grueling and painful hair transplant surgeries, Gwenyth was always there to show her support.  
"You didn't see his former costar Mayim Bialik hold his hand as surgeons grafted 15,000 hair plugs from the back of his head to the top.   Mayim thought it was disgusting and gross, but Gwenyth was there, and when the hair grew in a rusty red color, she stayed by Joey's side…and that's when I knew this was more than a brother-sister playtime thing.  This was love, and after Joey's hair started to grow in, Gwenyth turned cold towards Chris."
TheDamienZone.com thinks it's funny how certain things that seem like obvious rumors often turn out to be totally true.  Months ago we had reports of a love affair between Gwenyth Paltrow and Joey Lawrence but we dismissed them as silly because Gwenyth doesn't go for guys like Joey Lawrence.  She thinks she's too good for an average celebrity – but we were wrong.
We are sorry to see the Paltrow/Martin marriage break apart, but we know that there is sunshine after the rain, and who better than Joey Lawrence to bring happiness into someone's life than Joey Lawrence especially now that he has some hair.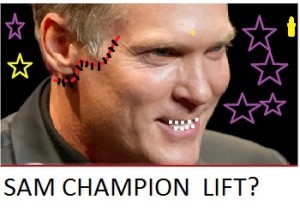 TV Weatherman Sam Champion, looks like he has his face pushed into a 70 mile per hour wind — in other words — his face looks stretched and pulled.  Has Sam had some plastic surgery — maybe even a face lift?  It sure looks like it.  Something looks weird about him — is he just getting old or what?
According to Dr. Raymond Totondi. a plastic surgeon at The Skylight Institute on Park Avenue in NYC, Sam is looking a little 'repaired" as he heads towards the big time.
"Sam Champion is no longer the local weatherman on a NYC network affiliate news program.  He is now a national weatherman and in preparing for that kind of limelight, he very well may have had a bit of sprucing up at the plastic surgeon's office.  He has also gained a lot of weight. He used to be slim and athletic back in the 1990s when pranced around on the dance floor at Roxy, but now he's looking a little chunky and puffy.  Personally, if he has indeed had anything done to his face, he should have waited until he lost that extra weight.  In my opinion, he has painted the car without repairing the engine, and that is never a good idea."
Some New Yorkers who are "in the know" think that Sam has gone into a kind of depression since Splash Bar has closed down, and maybe that's why he has packed on the pounds and pulled his face back like a Hefty Cinch Sack, but others take a more homey approach to this change in Sam.
"To me, Sam used to look like an All-American gay guy, and it was nice cause I wanted to set him up with my nephew Frankie who lives a few blocks away from me with his mother.   I thought Sam was a cute guy and a perfect match for Frankie — and he gave good weather reports, " said Mildred Sclafani of Staten Island, New York who, along with her husband, Broderick, runs a Bigfoot Lookout club in the Catskill Mountains of upstate New York. 
"Broderick and I do a lot of Bigfoot outings and we always depended on Sam for the weather.  I even invited Sam over a few Sundays for my famous raviolis with vodka sauce.  Yeah, I know that ravioli is already plural and I shouldn't say 'Raviolis' but it sounds nicer to me and it reminds me of my mother and grandmother so I say it.
"Anyway, Sam was very nice and he only ate a few raviolis,  Poor thing ate like a bird.  Recently he stopped by and he scarfed down about 30 raviolis and 4 meatballs.  His face looked a little stretched out and pulled but I figure maybe he gained weight or whatever. Hey, it doesn't matter to me, he still is good with the weather and when we set out with our group for one of our Bigfoot expeditions, we know we can depend on Sam Champion for a good forecast.  I just have to remember to get more raviolis next time he comes over.  I don't think even frigging Bigfoot would eat that many — and the meatballs too!" 
So, what's the deal?  Is Sam Champion getting plastic surgery or is he facing into a strong wind?  It looks like has had a face lift and an eye job — but we might be wrong.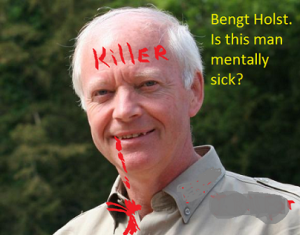 A team of forensic psychologists are planning to assemble in The Netherlands.
Their goal?
To have Bengt Holst, the director of the Copenhagen zoo, declared legally insane or have him brought  up on animal cruelty charges or to have him declared incompetent and unable to work at anything but menial jobs.
Local law enforcement agents are considering having Holst brought forward for a competency hearing and they too are considering charging him with not only cruelty to animals, but for racketeering for cruelty to animals with the intent to gain fame or notoriety.
According to a statement released by the newly-formed committee, Holst has… "…committed a grievous offense and for that he should either be sent for a complete psychological examination or he should be punished without mercy for his crimes against the animals in his charge — chief among them being the giraffe "Marius" which he had brutally killed and publicly dissected in what amounted to something akin to a grand spectacle worthy of the ancient Roman Colosseum." 
"The problem has NOTHING to do with the giraffe's meat being fed to the lions. The problem is that Marius' keepers — humans he seemed to trust — shot the giraffe in the head and ghoulishly dissected that giraffe in front of zoo visitors." said Dr. Raymond Totondi, a Zoologist and Human Behaviorist in Rome.
"The reason they gave for shooting the giraffe was horrific. Bengt Holst believed that Marius already had genes that were well-represented at the zoo and they didn't want to risk inbreeding — in other words, they didn't like his genetic makeup — so he ordered him killed him in spite of the fact that many zoos throughout Europe and the world offered to take him."
As if all of this weren't sufficiently horrific, Bengt Holst is now being viewed as madman on a sick rampage because he has now — several weeks after he fed Marius to the lions —  decided that those very lions too need to die because he is, "not in the business of raising lion cubs."
"Something is terribly wrong with this zoo and the people who run it, said a Canadian zoologist who spoke under conditions of anonymity.
"I am not a psychologist, and perhaps I should not even be saying this, but Bengt Holst is a mentally sick individual who should not be allowed to lord over any zoo or any place where the welfare of animals is a concern.  He should be fired from his job at the Copenhagen zoo and she should be charged as a criminal.  What he did to that giraffe was not only cruel to the animal, but it seemed as though Holst was enjoying being cruel to the thousands of people — mostly children — who begged that the giraffe not be killed.  
"There were plenty of options open to Holst — even an doffer of $600.000US from a European buyer, but Holst refused and opted instead to kill the animal as though he was the star of some demented reality show.  To me this shows that he is a sociopath of some kind.  I realize again that I am not a psychologist, but many on the panel who are indeed psychologists and psychiatrists, believe that Holst is indeed a sociopath and when I call him one, I am simply restating what I have been told by experts."
Hollywood TV writer and zoologist, Dave Mattia , a man who usually treads lightly on touchy subjects like this, had this to say about the meeting in the Netherlands.
"In my opinion, Bengt Holst, the administrator of the zoo, assembled paid stooges — friends and friends of friends — to watch this creep show in an attempt to legitimize what he planned on doing. Any notion that these people were truly  "invited" is untrue.  If they were indeed curious observers, they were truly sick people who might very well have tampered cruelly with the minds of their children.
"In spite of death threats against him and his staff and 47,000 or more names on a petition (most from Denmark and The Netherlands) to NOT kill the giraffe, and video requests from children throughout Europe begging him to not kill Marius, Holst went bananas and turned the entire thing into a macabre spectacle simply because he wanted to spite his detractors. That's not my OPINION — that is the opinion of the Zoological Society of The Netherlands and the London Zoo.
"Holst's fetid frustrations – whatever they may be — have overcome his judgement. Again, these are not MY words, these are the words of zoologists and zoological administrators throughout Europe. They're calling for his head on the chopping block. They're saying he is a madman and some on staff at the zoo who participated in this and are affiliated with other zoological endeavors will find themselves jobless in a few days.
"And the children.  What about the children?  
"This was a traumatic thing for a child to see, I'm sorry but I have to question the psychological machinations of anyone who thinks that this was a healthy thing to do to children — and some very strange people seem to think it was a splendid lesson for children to learn.  But these are ordinary children — not Children of the Corn.  
"One very nutty American woman who works in racehorse rescue called it "enlightening" and "wonderful for children to learn about the circle of life"  but it was not about any circle of life.  It was about one man's alleged insanity and a new slant on the old PT Barnum technique of getting people to patronize his zoo. How can this woman be in charge of the welfare of racehorses rescued from the racetrack. Perhaps she likes dead animals and suffering animals.  You never know what might be a person's motivations."
With regards to the committee in The Netherlands, when one commits a criminal act — and hopefully the authorities in Denmark will find this to be a criminal act — and one's business benefits from said criminal act, one can and often will be charged with criminal racketeering.
Dave Mattia continued:
"In my opinion, it was, what it was — a sickening spectacle brought to you by an allegedly  crazy man who has ordained himself with the divine providence to determine which animals live and which animals die as per his own edicts and opinions and his ability to kill without concern.
"You have people on Facebook and other social media — idiotic people — talking about where meat comes from and children being enriched by learning about dead animals and other overly simplistic and frankly deranged opinions, when this is not the issue at all.
"The issue is how the giraffe named Marius came to be blast-bolted in the head, and then quartered with butchering knives under the guise of performing a necropsy, so as to feed lions which in turn were later killed as well  by the same executive order that came down from the office of Bengt Holst, who, in my opinion, is either out of his mind or common people who simply do not understand the highly strange and macabre aspects that surround this cruel and unusual display of hubris and perhaps insanity" 
Here is a link to David D. Mattia if you want to learn more about him. http://www.imdb.com/name/nm3834680/
The goal of the Committee meeting in The Netherlands is to have Holst declared insane or be brought before a board of government appointed psychologists so as to determine if he is a danger to himself or to people or to animals.  This kind of thing is done all the time when families want to have a loved one put away because of psychologically inappropriate behavior.  Holst will get the same treatment as the average person who is dragged in for a competency hearing, but the odds of him coming out of this unscathed are very slim.  He will either be found to have some kind of mental illness which requires inpatient or outpatient psychiatric care, or, at the very least, he will lose his job and perhaps never again be allowed to work in a zoo or any kind.
EDITORS NOTE:  IT IS VERY EASY TO COMMENT ON THE DAMIEN ZONE.  WE DO NOT PUT YOU THROUGH A LONG PROCESS OF SIGNING UP AND VERIFYING EMAILS.  THE DOWNSIDE TO THIS IS THAT IT MIGHT TAKE SEVERAL HOURS FOR YOUR COMMENT TO APPEAR.  SOMETIMES IT TAKES A FEW MOMENTS AND SOMETIMES IT TAKES HOURS — BUT IT WILL APPEAR — WE CAN ASSURE YOU.  WE WELCOME ALL POINTS OF VIEW AND SOMETIMES ONE OF THE THE EDITORS WILL  ANSWER….EVEN IF YOU INSULT THEM.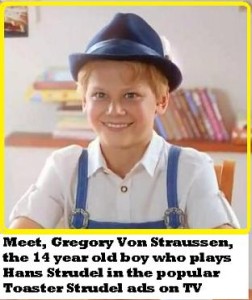 "Some Americans called it 'Gestapo' and they did not like the one commercial where I kicked down the door and it looked like I barged into the home of innocent people. I don't see what was wrong with that." [Gregory Von Straussen aka Hans Strudel].
Gregory Von Straussen just recently turned fourteen years old, and the yodeling Tyrolean-Austrian boy is one of America's most famous faces — so why doesn't anyone seem to know his name. Well – NOW YOU DO — he's Hans Strudel !!!  For more pics of him click here —–>more pics
Yes, folks, Gregory Von Straussen is the young actor with the angelically Aryan good looks who landed the job of playing Hans Strudel in the Toaster Strudel commercials. It's one of the most aired commercials in all of American television.
On a recent trip to NYC people pointed at him and called him Hans Strudel. He even signed about 100 autographs in one day, and he was gracious enough to sign each one with the name of the character he portrays.
"I had to invent a completely different signature for Hans Strudel because Americans didn't seem to care that I had a real name and that my character in the commercial is not my real identity," said Gregory in his very thick German accent from the large A-Frame log house he shares with his parents in Innsbruck, Austria.
"If I tell people that I am Gregory Von Straussen, they become instantly uninterested and walk away, but when I smile and say that I am Hans Strudel, the people in the USA go crazy. I love American movies and movie stars, and I even went to the Grand Canyon two times, but I have to say that the American people are very flaky (chuckles) just like toaster strudel, yah?"
Yah, indeed ! The young actor model speaks perfect English but there is no mistaking that German accent of his. It sounds so familiar and heartwarming, It even landed him a part in an American TV show written by this well-known writer —->http://www.imdb.com/name/nm3834680/
"Actually, I have an Austrian accent and there is a difference.  I live on the western part of Austria – a strip between Italy and Germany – so I also speak formal German and Italian. I know I have an accent but I am going to a new school to try and fix that. My English teacher at my school in Austria was not a very good teacher and she had a very bad accent that she passed on to all of the students. One day a local inspector came to our school to hear our English lessons and after that we never saw that teacher again. The new teacher is from England and they say that's the best English of all to learn and so far I am in that class for six months and getting the best grades."
TheDamienZone.com figured that Gregory was grown up enough to answer some pretty adult questions, and when we asked him about the complaints the Hans Strudel commercials were generating in certain circles, Gregory was eager to answer.
"Some Americans called it 'Gestapo' and they did not like the one commercial where I kicked down the door and it looked like I barged into the home of innocent people. I don't see what was wrong with that. If you have something the people need — and everybody needs Toaster Strudel — why would you not kick in the door to make sure they get the message? I know that in some parts of the USA they do not show that version of the commercial anymore, and now the commercial is very 'Hollywood' and what I would call….shticky. I don't like that version. It does not show the brotherhood of the people who share the message of Toaster Strudel."
Currently, Gregory is doing a series of TV spots for a Kosher sausage company that will air throughout most of the German speaking world and he is also filming Italian and English language versions.
"My new agent is a nice man named Morty, and he thought that I should try to appeal to a bigger audience because I cannot make a name for myself just talking about Toaster Strudel.
"Do you know that most Americans do not eat Toaster Strudel,  and what is even worse is that they do not eat any breakfast at all?
"I cannot believe that. How do they get to school and do their calisthenics with any vigor?
"I think all children should start the day with strong coffee, when Father and Mother say it's okay, and then they should always eat a healthy breakfast that includes Toaster Strudel. After that they should walk to school while inhaling deeply and proudly."
Gregory's parents, Vilhelm, a fighter pilot in the Austrian Air Force, and Gretel, a piano teacher, are proud of their little Gregory. They plan on sending him to Munich to finish his secondary schooling and then hopes are that he will attend Harvard University in the USA or Oxford in England.
Currently, Gregory Von Straussen is the smartest kid in his class and his IQ has been measured to be 159 — which is well beyond the genius range. All the kids love him. He's smart, he's cute, he's famous and he gets the school endless amounts of free Toaster Strudel.
And while Gregory Von Straussen likes being an actor and making a lot of money, his dream is to one day become an artist or an architect. He especially admires the architecture of Vienna and says, "I hope that one day I will live in Vienna with my bride and dozens of children."
EDITORS NOTE:  IT IS VERY EASY TO COMMENT ON THE DAMIEN ZONE.  WE DO NOT PUT YOU THROUGH A LONG PROCESS OF SIGNING UP AND VERIFYING EMAILS.  THE DOWNSIDE TO THIS IS THAT IT MIGHT TAKE SEVERAL HOURS FOR YOUR COMMENT TO APPEAR.  SOMETIMES IT TAKES A FEW MOMENTS AND SOMETIMES IT TAKES HOURS — BUT IT WILL APPEAR — WE CAN ASSURE YOU.  WE WELCOME ALL POINTS OF VIEW AND SOMETIMES ONE OF THE THE EDITORS WILL  ANSWER….EVEN IF YOU INSULT THEM.