Nicaragua's consul César Mercado was found murdered in his Bronx apartment and there is reason to believe that the ancient monster of Latin America, the dreaded Chupacabra. may have been the killer.
He was found dead with his throat slashed in the Bronx (now there's a surprise) and he  held non-human hair in both hands – suggesting a fierce struggle in his final minutes, police sources said.
"Mercado was clutching 10 hairs in his right hand and five in the left when his body was discovered," police authorities  said Friday.
The evidence suggests a fight to the death, with police sources telling TheDamienZone that Mercado likely knew his killer.   It was a known fact that Mercado had dealings with the Chupacabras and had once hired one to scare the shit out of his mother-in-law.  He also has several Chupacabra friends in Facebook — so that's a lead.
In addition to the throat wounds, Mercado was stabbed a dozen times in the stomach.  This is not typical in a Chupacabra attack but since it happened in the Bronx, zoologists feel that the monster was just "getting into the spirit of things."
Kelly noted there was no evidence of robbery in Mercado's blood-spattered Bronx apartment or any sign of forced entry. The apartment door was closed but unlocked.  Chupacabras or "Chupas" as they are usually known, do not usually knock when they come to kill you but they are very polite when they leave and they close doors and windows very quietly.  They did not grow up in a barn, you know.  They grew up in the jungle.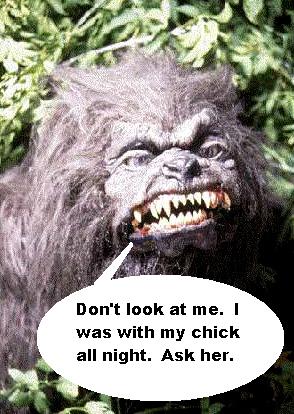 Police investigators, in addition to focusing on the hairs, were analyzing the victim's cell phone along with bloody fingerprints found in the Grand Concourse apartment.  The fingerprints did not appear to be human.
The medical examiner's office said preliminary findings were inconclusive. Investigators with the medical examiner's office stopped short of ruling Mercado's death a homicide, telling police they need more information before making an official determination.  If the cause of death was a Chupacabra than this can't be considered a homicide.  Rather it will be called a paranormal attack on a human by a mysterious jungle creature.
The medical examiner found "hesitation wounds" on the victim – injuries potentially inflicted by Mercado himself, Kelly said.  Did the Chupacabra make this man stab himself?  It has been known to happen.
"If, in fact, there's a wound from an assailant it's generally very direct and is in one motion," Kelly explained. "These wounds were described to me as not being in one motion."
Mercado was last seen alive Wednesday afternoon, and a neighbor heard commotion in the victim's apartment overnight. 
The fact that the wounds seem to have come from some mysterious source are ample reason to suspect a Chupacabra was involved.   First it was bedbugs and now it's Chupacabras.  America's immigrants are bringing in all kinds of annoying shit.