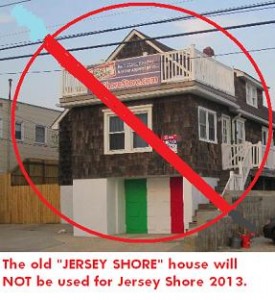 Guidos and Guido lovers thoughout the world are grieving because MTV's JERSEY SHORE has been cancelled…but is it really true?  According to one TV insider, the Jersey Shore show is totally not cancelled and filming of the new show with the new cast aready happened throughout August of 2012.
"The new cast of Jersey Shore was already filmed without anyone even noticing and 9 episodes have been edited down from the footage," said former "Bollywood" movie maker, Anna Pan-Nikko, a producer and filmmaker who often works with MTV.
"The whole thing was filmed under the guise of students making their student films for Monmouth University's Film Studies School in southern, NewJersey and another technique that is the future of reality TV.
"Altogether we used a team of four to film what others were meant to think was a student film.  Another eight ultra high tech cameras were used.  These cameras look like cell phones and the new cast was able to pass through their various dramas without anyone suspecting that they were watching the new cast of 'Jersey Shore.'  In the past few weeks we have been weeding through the footage and we're really busy getting a few people to sign waivers.  All of the non-cast people in the background of these episodes agreed to be filmed but they didn't know that it was for the new episodes with the new cast."
It's true that nobody knew they were being filmed, but MTV was a little sneaky about that and now a few have come forward looking for their peice of the pie.
"There are several people who somehow figured out what we were doing and naturally you have a few people who lawyer up and want money for something they volunteeed to do.  They will not get a cent and in the end they will lose in court and have to pay our court costs. 
"It's piss in the ocean for us, but we don't roll over for people who bother us with this junk simply because they're now looking for money.  Most of the people who have annoyed us so far are those who hooked up or "smushed" with the new cast members and were brough into the drama of what would later become an episode.
"They knew they were being filmed for "a project" and they agreed.  At The Surf Club, there was a sign at the entrance throughout all of August telling anyone who entered that they might be subjected to filming for a certain "film project" and everyone was asked to sign a waiver or wear a small tag on their shirt that shows up on footage as a bright red dot.  These people were either blurred out during editing or they were not filmed at all.  All the rest agreed to be filmed for our 'new project' but of course they're now coming out of the woodwork.  That's show biz, right?"
Everybody is curious about the new cast.  Who are they?  Where did they film?  What's it all about?
If you recall, TheDamienZone.com told our readers over 18 months ago that this was going to happen and that the new JERSEY SHORE was being fimed and cast in secret and that is what the first three episodes of the new show will be about.  There are nine episodes in all and three of them are about assembling the cast — and it's about New Jersey for real this time.  That was why it was filmed and cast in secret.  They didn't want any impostors or Guido wanna-be's — they secretly got the real thing.
"It was really quite ingenious and the way we cast and filmed the show is a whole new way of making TV," said Ms. Pann-Nikko.
"I think this version is far more enjoyable and more 'real' than the original 'Jersey Shore' and this will be an international sensation.  The show will air as it was taped for nine weeks during which, additional episodes will be shot with the new cast revealed as themselves.  There will be little fanfare and hardly any advance publicity, and what we are doing is revealing the show little by little on websites like TheDamienZone."
Later, we convinced Anna Pan-Nikko to reveal to us the names of the cast.  She agreed but would not release any photos or the location of the new JERSEY SHORE" house — which by the grace of god was not destroyed by Hurricane Sandy.
The NEW JERSEY SHORE guys are:
1) Marco Ventomiglia (21) — A student at the University of Vermont who works as a coach at a private gym while attending classes.  In the summer he resides with his family in their home in Bloomfield, New Jersey.   He was discovered at Menlo Park mall in, Woodbridge, New Jersey when he didn't get angry at the openly gay sales clerk who flirted with him.  Of course the gay clerk was really a casting associate for MTV — but that's how he got on the show.
2) Phil "Philco" Cravallo (23) — A Verizon wireles salesman who also works as an auto mechanic somewhere in New Jersey.  He is a graduate of Bayonne High School and The Cittone Institute. Philco got noticed at a McDonalds in Belmar, New Jersey when he put a few packages of ketchup under the wheel of his car and then backed up over them to see how far they squirted.  He laughed so hard at his own science experiment that an MTV worker who was pretending to be a McDonald's employee took notice of him. Another MTV agent at the same McDonald's later saw Philco take off his shirt before he got back into the car and thought his body art and overly muscular body was prime material for the show. 
3) Victor "Body Snatcher" Parmazzano (24) —  He is a graduate from a school of mortuary science and currently works in the funeral industry somewhere in north central New Jersey.  He is an amateur bodybuilder who got interested in being a mortician when his grandfather died and "looked really good in the casket."  He was discoverd by an MTV agent who was posing as a dairy queen worker at an undisclosed location.
4) Anthony Faraganni (21) — A student at Montclair State College in New Jersey where he majors in pre-med and minors in Italian.  He will graduate in May 2013.  Anthony is the tallest cast member ever to appear on Jersey Shore; measuring in at 6 feet, 3 inches.  Anthony also models for an undisclosed Italian clothing designer.   MTV has had their eye on him for a few years.
The girls of the NEW JERSEY SHORE are:
1) Lannie Bustamonti (21) – Lannie just graduated from college in Naples, Italy where she majored in Italian language and culture.  She now works as a salese clerk in a bakery somewhere in the area of Point Pleasant, NJ.  She was discovered when her car broke down in the parking lot of the Willowbrook Mall in Wayne New Jersey and was spotted by an MTV casting director who was posing as a Mormon missionary.  Although she attended college in Italy, Lannie was born and raised in Belleville, New Jersey where her father, a policeman, is the head of BCCNJ – The Bisexual Cop Congregation of New Jersey — a Christian based church he founded in 1993.
2) Augustina "Summer" Paulucci (24) – A hair stylist who works for a cable news network.  Augustina has a short temper and her angry outburst at a waitress in Bradley Beach, NJ is what got her the job.  She didn't know that the waitress was an MTV casting associate.
3) Randi "Rough House" Barbutoni (23) – Is a graduate of Colt's Neck High School and is currently going for her master's Degree in physics at Princeton University — believe it or not.  Randi was spotted by MTV casting people while she was fishing from a daily party charter boat with her grandfather Eddie who is 88-years old.  She caught a really large flounder and cried and cried because it could not be thrown back since it had swallowed the hook and was bleeding profusely and died on board the boat.  That incident is part of the premier episode.
Also, as a special surprise, famous TV actor and musician, Joey Lawrence will appear regularly in the new version of Jersey Shore where he will act as a coach and mentor each week at the end of the show when the cast gets together for a talk about what happened in that episode.