"TV Evangelist Joyce Meyer has dictched her old church-lady dresses and tresses – opting instead to have a little work done on her face and adopting a 'Goth' look.  She looks like she has had a ton of plastic surgery and is inching her way to the Dark Side."  [Dr. Sheldon Hartunis PhD and Fellowship Member of the Gothic Church of the Druidian Dawn.]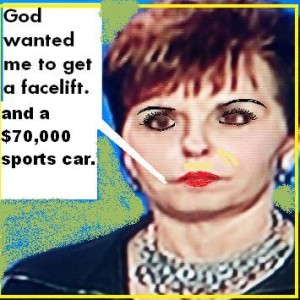 She wakes you up early if you forget to change the channel or shut off the TV when you go to sleep, and she loves to talk to you about God and Jesus, but now a whole lotta plastic surgery and a new darker and more devilish Joyce Meyer has emerged from the makeup chair, the hairdresser and the plastic surgeon's office.   
The Hollywood writer at the end of this link is standing up for Joyce Meyer saying that she is a good and honest and god fearing speaker of the truth — http://www.imdb.com/name/nm3834680/?ref_=sr_1  — but he is being maligned by the Hollywood elite for speaking up against this website and this story.   The Damien Zone is investigating his claim for a rebuttal.
Other people had a different opinion.
"She looks more like a Gothic Joyce DeWitt than the Five-and-Dime televangelist that she used to be," said Anna Pinn-Neeko, a true believer from the Fiji Islands who follows Joyce around from one speaking engagement to the next.
"Joyce is an inspiration to all of us and if she is going to go Gothic or if she wants to look like a dominatrix or something, we will follow for it is the Lord's will."
According to the folks who don't actually care about Joyce, but are more annoyed that she wakes them up when she Bible thumps them outta bed at 5 or 6 in the morning, the lady preacher has adopted some kind of new and freaky style.  Some people say she is turning into a Dominatrix for Jesus while others think she is gradually morphing into a Druid Priestess.  Is it possible?
Whatever the case may be, it sure looks like Joyce Meyer has had a lot of plastic surgery — or else god has come down and stretched out her face and fixed her nose and turkey gullet.
"She has obviously had a lot of facial work, especially around the nose, face and neck," said Dr. Dean Traherne, a board certified plastic surgeon who operates out of his private clinic in St. Tropez, France.
"Joyce Meyer has had cosmetic work and a style change that has changed her from looking like a lady who buys off her clothes from a Sears catalog, to a woman who shops at Gothica or Spencer's.  She is going through some kind of change and many people think it's frightening.  The surgery has given her a very severe look which is further enhanced by the new dark hair.  It's pretty freaky even from a physician's point of view."
TheDamienZone doesn't know what Joyce is up to or if she rally has had any plastic surgery or whatnot — but lordy, lordy, lordy, she sure is turning a buck off of Jesus.  Bless her heart.