Archive for December, 2011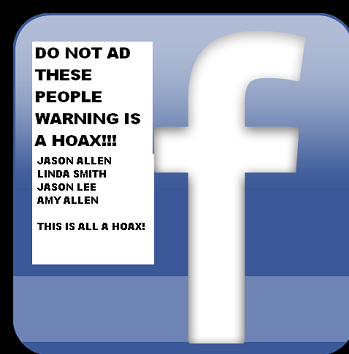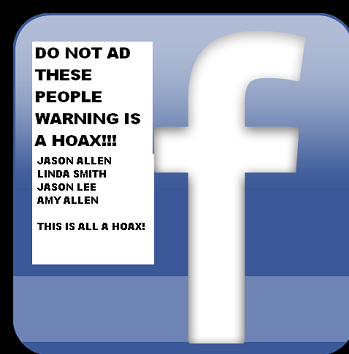 Hoax message circulating among Facebook users warns that accepting friend requests from members named Linda Smith, Jason Lee, Jason Allen, or Amy Allen will cause a virus to be downloaded to your computer.  This is just more mindless junk that mindless people believe and post on their facebook pages.  IT'S A HOAX!
Description: Facebook virus hoax
Circulating since: April 2011 – again Dec 2011
Status: TOTALLY False
Example #1:
Facebook posting submitted by Ann S., June 30, 2011:
ALL FACEBOOK USERS**… DO NOT ADD *JASON ALLEN*, LINDA SMITH, OR JASON LEE, ALSO IF SOMEBODY CALLED *AMY ALLEN* ADDS YOU, DON'T ACCEPT… IT IS A VIRUS. TELL EVERYBODY, BECAUSE IF SOMEBODY ON YOUR LIST ADDS THEM, YOU GET THE VIRUS TOO. **COPY AND PASTE AND PLEASE RE POST* THIS HAS BEEN CONFIRMED BY FACEBOOK AND SNOPES
Example #2:
As posted on Facebook, June 30, 2011:
ALL FRIENDS. DO NOT ADD JASON ALLEN, LINDA SMITH, OR JASON LEE. ALSO IF SOMEONE CALLED "AMY ALLEN" ADDS YOU, DON'T ACCEPT. IT IS A VIRUS. TELL EVERYONE, BECAUSE IF SOMEBODY ON YOUR LIST ADDS THEM, YOU GET THE VIRUS TOO. *COPY AND PASTE AND PLEASE RE POST* THIS HAS BEEN CONFIRMED BY FACEBOOK AND SNOPES. AMY ALLEN IS IN FACT MONICA PULLEN'S ACCOUNT & HAS BEEN CONFIRMED AS A HACKERS ACCOUNT…
Example #3:
As posted on Facebook, April 13, 2011:
There is a VIRUS going around on face book. Do not add Linda Smith or Jason Lee to your face book. If you do you will get the VIRUS. THIS IS NO JOKE. Be careful.
Example #4:
Facebook posting submitted by Kathy G., April 11, 2011:
ATTENTION **ALL FACEBOOK USERS** .. DO NOT ADD "LINDA SMITH", also IF SOMEBODY CALLED "JASON LEE", ADDS YOU, DON'T ACCEPT IT.. IT IS A VIRUS. TELL EVERYBODY, BECAUSE IF SOMEBODY ON YOUR LIST ADDS THEM, YOU GET THE VIRUS TOO. ****COPY AND PASTE AND PLEASE RE POST***** THIS HAS BEEN CONFIRMED BY FACEBOOK.
Analysis: Nothing of the sort has been "confirmed" by Facebook, nor have Internet security sites issued any alerts about a virus threat connected with the names "Linda Smith," "Jason Lee," "Jason Allen," or "Amy Allen." Like so many warnings replicated across Facebook by earnest users, this is a hoax.
"Friends may be well-intentioned in passing on warnings," writes Sophos.com technology consultant Graham Cluley, "but it's always good to check your facts before forwarding them any further."
One reliable place to check the facts is the Sophos.com Facebook page, which alerts members to real security threats as well as bogus ones.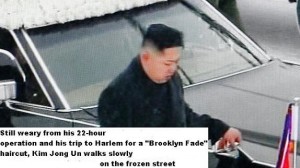 North Korea, the country with no electric lights, and run by the lumpy and frumpy heir Kim Jong Un, its supreme leader, annnounced at a huge rally on Thursday in Pyongyang that after nearly two years of national mourning for his father, the completion of a pec implant surgery and various other plastic surgeries on the young leader had been completed.
Korean surgeons, working by the diesel engine generated light that they can afford in the evening, worked feverishly to enlarge the younger Kim Jong's pectoral and biceps muscles with silicone pec implants.
"The process mimics what he might have attained naturally had he worked out at a bench press for 18 months," said a surgeon ho refused to be identified.  "He is naturally very non-muscular and what one would call 'flabby' so he might not have achieved any pec enhancement even with vigorous work outs.  This was his best option.  He now looks like a plump guy who works out."
"My father wrote six operas but he had no muscular definition," said the Kim Jong Un from his recovery room.  "I am not trying to be even better than my father, but I wish the people of North Korea to have a leader with a Herculean body.  I sent a barber to Harlem to learn how to cut hair there and that is how I get my haircut and I was amazed at how cool the African Americans look.  Now I am bigger than any bro in the evil USA. I will still buy hair product from the USA, but that is not a sign that I am weak."
It is true that Kim JungUn sent Ki Park, a Korean hair stylist, to the USA to study hair cutting at a Harlem beauty salon.  After the barber had mastered the various cuts there, he was sent to Brooklyn where he mastered the "Brooklyn Fade" or "The Taper" which is so popular with the "Jersey Shore" Guido crowd.
A crowd of tens of thousands, most of them uniformed soldiers, packed the plaza to see the newly big chested leader exit the hospital before he was whisked away to his home.  He did manage to walk slowly with his limousine to show his strength, but after about 50 tards he was too weary and had to get in the car and be driven the rest of the way.
Doctor's are preparing a second operation to shrink Kim Jong Un's huge round face and liposuction and facial contouring are planned for early June.  This surgery will be performed in China.   He is also planning a lip enhancement and eyelid surgery to make him look less Asian.  Many American Asians have this surgery and it seems to create a very exoctic look when done correctly.
"If we shrink his face, it will make his enhanced pecs and biceps even larger," said a surgeon who was released from prison to aid in the surgical alterations of the new leader.
Let's see — one guy is a godless ugly and unfunny and untalented and the other is a goodlooking NFL quarterback — which one tweeted about Satan and Hitler?
Bill Maher is a slime.  He is the lowest thing a person can be — and yet he has fans — losers.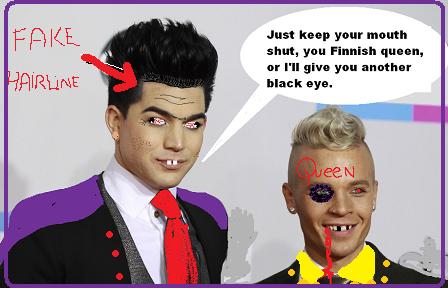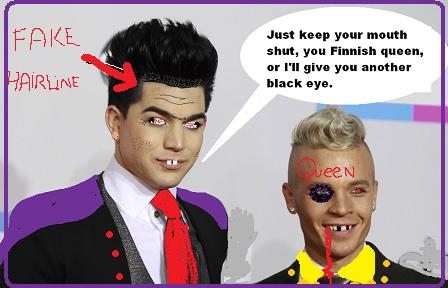 Without all his makeup, Adam Lambert is an acne scarred ugly queen.  Without special micorphones and sound stabilizers, he can't sing.  Without police intervention he would have beat the living shit out of his little bit of a thing — a wafer-thin boyfriend — a guy named Sauli Koshkinen who is almost as fugly and queenie as Adam Lambert.  The two big queens deserve each other.
According to reports, former American Idol runner-up Adam Lambert got thrown into a Finnish jail for an overnight stay after he started swinging fists with his boyfriend outside a bar .
Lambert and Finnish imitation celebrity,  Sauli Koshkinen, a no talent who became as famous as you can get in Finland by being on a Finnish reality show — which means he is totally not famous — had an argument and fistfight which reportedly started inside the bar in Helsinki, but eventually poured out into the street. Lambert allegedly got physical with people who tried to break up the fight, as well … before police arrived and took him and Koskinen into custody.
They were arrested for multiple assaults, according to a Finnish newspaper.
Adam Lambert is a total queen and just writing this makes me sick to my stomach.  Why is every guy from a reality show a queen?  UGH!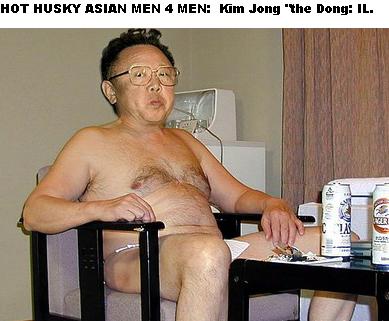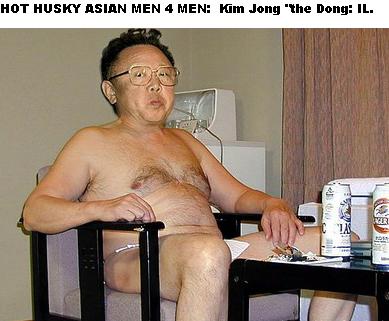 Now that he is dead as a doornail, it can be revealed that Korean dictator Kim Jon Il used to be a live action sex webcam guy.  He went under the name of VellyVellyHungGuy or Kim Jong the Dong, and he was available for private  online screenings for $100.00 per minute on a website called HuskyAsianDaddies.com — they accepted Visa or Mastercard.
"I remember once that I found him on a really sexy website for huskey Asian dudes and I knew he was the man for me," said Lance MacGregor- Burtonne on Cargill-on-Firth, Scotland.
"He had great flabby pecs and sagging abs and I go for those kinds of  Asians.  Now that he is dead I don't know what I will do.  He was a fine laddie and a great sex machine."
Korean leaders are saying that not only did Kim Jong Il write 6 operas and swim across the Pacific Ocean, but he holds the record for the most online paid-for masturbations in history with a one day total of 20 orgasms and 3 quarts of seminal fluid.
"He was velly frunctional as online plostitute and on-rine sex machine.  He had pee-po flum all over the whirl paying for opportunilly to have on-rine sex rith him," said a well-spoke North Korean actor who often did twosomes with Kim Jong "The Dong" IL.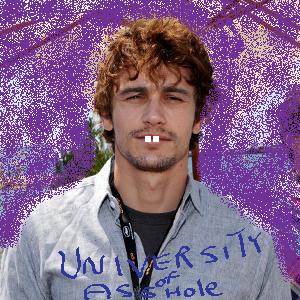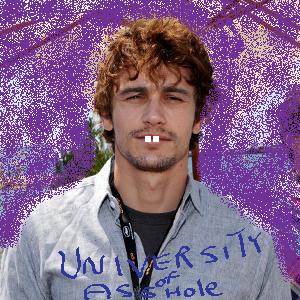 If you were paying attention months ago, TheDamienZone.com told you that James Franco was loafing through an imaginary school world at NYU where he was getting top grades and the results of his IQ test were so high  that they were being held in a vault at Fort Knox — baloney.  James Franco is a fuktard and now he has been accused of getting a very good professor fired from his job at NYU because — and get this — because he gave James Franco a low grade.
LOOK ———>http://thedamienzone.com/2011/02/08/james-franco-education/
NYU professor Jose Angel Santana claims he was wrongfully
terminated for giving James Franco a low grade in his class.
According to a lawsuit obtained by TMZ — the greatest website ever because it snags liars and cheats and bullshit —  Santana gave the actor a D for missing 12 of the 14
classes in the MFA course, "Directing the Actor."
Santana said he was the only professor to give Franco a bad grade. "In my
opinion, they've turned the NYU graduate film degree into swag for James
Franco's purposes, a possession, something you can buy," the professor said.
Way back when Franco was claiming to be carrying 60 credits a semester, TheDamienZone knew that he was a flunky and that he had other people doing work for him.  Professor Jose Angel Santana didn't kiss his ass like all the rest of the NYU teaching staff and for that he gets insulted by Franco????
Although not a straight-A student, the 127 Hours star graduated from
NYU's Tisch School of the Arts on Tuesday with an MFA in filmmaking this May. ( who gives a shit)
He also has a degree in creative writing from Columbia and is currently working
towards an English doctorate from Yale University. Franco has studied poetry at
Warren Wilson College in North Carolina and most recently was accepted into the
University of Houston's doctoral program in literature and creative writing.
He'll begin his studies in Houston in fall 2012. <—-could you do that no matter how smart you are?   No way — they'd tell you to take a hike.
I told you folks way back when that James Franco is a douche bag and an imaginary genius.  I agree with the professor that he tried to use his money and fame to glide through NYU — what a moron.
Listen up all you New Yawk film wanna-be's — 99.9% of you have NO TALENT and for a school to even offer a course in "directing the actor" is so stupid that it makes me want to puke.  To me there is nothing more annoying than young hipsters who go to film school, accomplish nothing and then go to parties and call themselves a filmmaker.
Franco is a douche bag — famous only because he looks like James Dean — and now he is trying to get a degree in everything.  I would like to see his report card from 3rd grade.  He makes me sick.
Also — don't let the name Franco fool you — he is not some Italian impresario.  He  fits in nicely with all the other no talents who think that they can go to film school and become famous artistes — screw them.  They make me sick.
There's an old saying:  If it ain't broke, don't fix it.
Somebody ought to have told that to the retarded folks at YouTube — the site that used to be fun and interesting but has been recently been revamped to look like shit.
The new YouTube sucks and the reason why is sucks is very simple:  IT IS NO LONGER EASY TO USE!   They took a perfectly good website and made it a complete mess.  In my opinion, the changes made by YouTube are far more annoying than the changes made by Facebook.
Why do websites have to change and update and revamp?  Do the people who design them and run them get sick of looking at them so much that they have to totally alienate their users?
The NEW YouTube is awful — and there's something else besides the fact that EVERYTHING now has a commercial or an advertisement.
I am calling for a boycott on music made by musicians from the 1970s and 80s  — allow me to explain.   Say you bought an Elton John album in the 1973 — and then you bought the same exact album as a cassette tape in 1983 — and then you bought the same exact album as a CD in 1993 — and then you bought the same exact album as an MP3 file in 2003 — and then you bought the same exact album for your iPhone or iShit or iPenis in 2010.  How the f**k many times do you have to give Elton John your F***ING money for the same shittin' songs?  Why should you have to sit through a 30 second Pine-Sol commercial with that fat Hawaiian lady and her filthy floors, just to listen to a song you've already paid for 6 times or more?
It is to be noted that Elton is the lesser of the offenders.  Broke-ass douche bags like Ozzie Osbourne and Led Zeppelin are the worst offenders.  And get this!!!!  A lot of stuff is "NOT AVAILABLE IN YOUR COUNTRY" — the country is the USA of course — these Brits block YouTube views by Americans — WTF?   They will allow their own people to watch it, but the stupid Americans who made them rich and famous are suckers who can't watch it — because Americans are the generous dopes who will pay all over again.
I say — unless you are going to upload your own stuff ( which is what YouTUbe was supposed to be designed for) You should NOT use YouTube — boycott all songs.  The site sucks — it used to be good — now it sucks ass.
"We're talking about people who don't usually pay attention to NFL football.  They would not even know who Tim Tebow was were in not for their hatred of religion, god, themselves and other human beings.  They are truly sick people."  Dean Traherne MD.  Juniper Hill Psychiatric Hospital.  Juniper Hill, Montana.
Atheists throughout the world, skinny stupid misfits who don't even watch sports of any kind, are infuriated by the attention quarterback Tim Tebow is getting for kneeling prayer before during and after games.  There is even a word for praying on the field — it's called "Tebowing."
"He has no right to expose the American public to his moronic expressions of love for a big being in the sky," said unemployed and in collections extreme Atheist, Casey Q. Dunroven from his squalid apartment in the Los Angeles area.
"I am a huge football fan, continued Dunroven — "and I am offended by this.  When I watch a football game, I do not need to see Tebow kneeling in stupid prayer.  I am going to sue the NFL and start an occupy Denver Broncos Stadium until they pass a law in Denver that separates Church and Football.  I will not stop and I plan to boycott Doritos and any product that puts on a commercial during a game where Tebow kneels before his fake entity."
Tim Tebow is a guy who believes in GOD and it's driving the Atheists WILD!  They can't stand it!
"If you watched "The Daily Show" you would have seen the kind of hateful and godless look on John Stewart's face when Bono continued to praise former US President George W. Bush and his war on AIDS despite Stewart's attempts to stop him," said Dr. Helene Gamuccio of the Center For Atheism Recovery in Dothan, Alabama.
"Atheists hate Tebow but it shouldn't matter to them because the average Atheist knows nothing about sports or team spirit.  As a rule they are people who were never included in these activities as a child because they were justifiably dismissed as misfits and outsiders.  They have made Tebow their new object of hatred because they have to hate — that is the nature of the godless person."
A bunch of Atheists calling themselves, "TEBOW NEEDS SCIENCE" has agreed to picket at  all Bronco games and they also promise to boycott all TV sponsors.   We asked Dunroven what his group hopes to accomplish.
"We want to show the world that if there was a god there would be no need to compete in sports and especially football.  We know that African Americans who are a huge part of the athletic world have been enslaved by the white man's god and this must stop.  We also know that gays have been excluded from football and this is because the players stomp on gays in the name of a god who does not exist."
Editors note:  Casey Q. Dunroven is a self-proclaimed extreme Atheist.  We don't know what differentiates an extreme atheist from a regular atheist, but when we find out, we will give Dunroven a chance to explain because as of yet he does not know either.
At a recent gig at Fifi's Bowling Alley Bar and Grill, it was announced that comic Joe Rogan will replace Joey Lawrence on the squirmingly bad and unfunny ABC Family show "Melissa and Joey."  it is rumored that Rogan who is best known, and most talented at, making people eat live cockroaches and for setting off metal detectors with his iron fillings hair transplant, will replace Joey Lawrence because producers want the show to be even less funny but they want to keep the weird hair concept intact.
"It's sounds cray," said Italian film producer Mildren Sclafani who is a source close to the show.
"You would think that the producers want the show to be funnier but this time TV has taken a step forward.  For the sake of art, the producers feel that adding Joe Rogan as a fulcrum for unfunniness will enable the show to reach new heights of unintentional unfunniness.  It's a bold move but they hope that the show will become so bad that it's good.  I think it's a great move for TV sitcoms as a form of performance art."
There has been no comment about any of this from the Rogan camp but the big time comic has been busy playing gigs at places so out of the way that there is no cell phone service.   The report that came in from Fifi's Bowling alley in the wilds of northern Quebec came about only because one die-hard Rogan fan had a pocket full of change and called it in on an old pay phone.
"I normally use zee change for zee drinks, you know," said Coco Montagne of Isle St. Lucien, Quebec.  "So they ask me, they say that they need zee moeny for zee phone and I had with me maybe close to four dollars in coins.  The phone work good so we make the call but then I have no money for a beer, but maybe I do a good ting, no?"
Melissa Joan Hart must be getting annoyed that she can't have a real co-host with real talent and comedic skills.  Sources say that she is not on board with this "artistic but unfunny" thing and that she might bail out of the show altogether.
Sources say that they can't find any actress unfunny enough to pair with Joe Rogan and that if Hart goes, the whole thing goes down the drain — which would really suck for Joe Rogan because his next gig in Setlaka Alleutian Islands, Alaska has not sold out and the club that holds fifty people was supposed to be his next big gig.