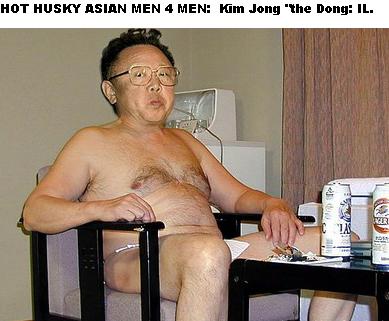 Now that he is dead as a doornail, it can be revealed that Korean dictator Kim Jon Il used to be a live action sex webcam guy.  He went under the name of VellyVellyHungGuy or Kim Jong the Dong, and he was available for private  online screenings for $100.00 per minute on a website called HuskyAsianDaddies.com — they accepted Visa or Mastercard.
More pics of Kim Jon Il at a spa  D.kimjongpics
"I remember once that I found him on a really sexy website for husky Asian dudes and I knew he was the man for me," said Lance MacGregor- Burtonne on Cargill-on-Firth, Scotland.
"He had great flabby pecs and sagging abs and I go for those kinds of  Asians.  Now that he is dead I don't know what I will do.  He was a fine laddie and a great sex machine."
Korean leaders are saying that not only did Kim Jong Il write 6 operas and swim across the Pacific Ocean, but he holds the record for the most online paid-for masturbations in history with a one day total of 20 orgasms and 3 quarts of seminal fluid.
"He was velly frunctional as online plostitute and on-rine sex machine.  He had pee-po flum all over the whirl paying for opportunilly to have on-rine sex rith him," said a well-spoke North Korean actor who often did twosomes with Kim Jong "The Dong" IL.