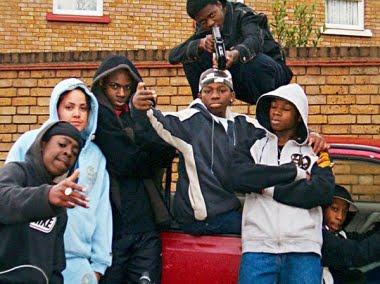 Ah, the  joys of diversity will never cease.  After a "youth", a young black hoodlum, was shot on Saturday night, the blacks of Tottenham decided to do what inner city blacks across the globe do best: riot.
The funny thing is that the press, both British and foreign — especially American —  are trying as hard as they can to find white faces to highlight in their photos of rioters.  It's almost as though they search through a thousand pictures to find the one white face and make that caucasian image the cover of their website or newspaper. 
Tottenham is right in the black part of London.  Apparently most of the inhabitants are Afro-Carribean, read as Jamaican and Bahamian drug runners.  This is the home of the Tottenham Mandem, a black family of gangs.
Typical inner-city behavior, would be the same in any place around the world.  One of their young brothers, probably a hardened gangster at the age of 29, got gunned down for doing something stupid.  His community riots in support of their own.  They do this in LA, Chicago, Detroit and Atlanta as well.
The French say, "Wherever the Africans go in France, they create little Africas" — lovely.