Aries – March 21 – April 20  — You are looking at a new home.  The one you like may need more repairs than the ones that are obvious, but do your homework and go with the numbers and not your heart.  Lucky Numbers: 02 07 18 22 38 40
ASTROLOGICAL ALIGNMENT NUMBERS PICKS HERE for JANUARY 13, 2016 — DeRenzatto's bio link.
Taurus – April 21 – May 21  — Somebody in your family is drinking just a little too much and talking just a little too much.  No major family secrets have been spilled, but one listener is a skunk so be careful.    Of  course you know who the skunk is, but that skunk has the ears of a few gullible people.  Lucky Numbers: 11 16 19 22 39 44
Gemini – May 22 – June 21  –  Get all your legal papers  in order now to avoid a problem later.  A court case comes faster than you think.  Be careful of plumbing and don't try anything yourself.   Your teenage son is dating a girl he does not want you to meet, but his reservations are unfounded.  You will like this person so just wait and bide your time and until he feels safe enough to bring her around.  Lucky Numbers:  01 22 28 40 44 44
Cancer – June 22 – July 22 – You have been really nasty to your friends and family lately — in other words, you have been a real pain in the neck.  Sit down and realize that you are being unkind to people for selfish reasons.  Time to grow up and stop acting like a spoiled child.   You will end up old and alone and bitter.  Lucky Numbers:  18 19 27 37 41 46
Leo – July 23 -August 21 –  You have old photograps of loved ones that are in danger of being ruined by water or mold or whatever.  Take care of these things at once.  Also, you are talking too much on the job and working poorly — people have noticed.  This is not a good time to lose a job.  If you get called to your boss's office, be firm and respectful.  Lucky Numbers  11 13 19 30 40 44
Virgo – August 22 – September 23 — Take the time to visit an elderly relative in the nursing home.  She knows who you are and she is aware of everyone who visits.  Don't try the old excuse that the person doesn't even recognize you.  It's selfish and childish and reeks of laziness.   Lucky Numbers:  33 37  39 42 43 46
Libra – September 24 – October 23  — You usually get your hair cut by a certain person but you are tired of this person and not satisfied with their work.  All you have to do is tell them how you feel in a nice way and watch how things start to change.  Also, your daughter is getting fearful of ghosts for some reason.  This applies to somebody out there specifically but worry not because it stems from a movie she watched.  Some kids are sensitive like that.  Lucky Numbers:  19 20 30 31 39 44
Scorpio – October 24 – November 22  — Be careful not to throw too many things away carelessly now that garage sale time is here.  Check boxes for envelopes and gift cards that you may have missed.    You might be thinking of adopting a cat — do it.  Somebody might offer you a cat — take it.  There is a cat coming into your life come hell or high water.  Lucky Numbers:  16 22 30 34 38 40
Sagittarius – November 23 – December 22  — If you drive anywhere in the next few days and you see a cow or a bull  in a field, it means that you should take a shot at the Powerball Lottery.  Be mindful to read internet advertisements that give out free lucky numbers as well as mine.  These other opinions are very important. The cow is the key for some silly reason and I can't explain why.  Do not, however. invest more than $10.00  Lucky Numbers:  02 22 35 37 40 41
Capricorn – December 23 – January 20  — Your son or grandson is doing poorly in school because he is unhappy.  He was unhappy before he went to school and he is even more unhappy now.  No amount of yelling or screaming will help.  Love and understanding are the keys here.  Something is bothering him and you are capable of bring it out of him.  It will all turn out well in the end.  Lucky Numbers:  22 24 33 40 41 43
Aquarius – January 21 – February 19  — Be careful of icy streets and sidewalks in the next few days.  Your right arm is vulnerable this week for some reason.  Do not decline a lunch invitation from a friend and bring along the friend you've been neglecting as kind of a pleasant surprise.   Have your car's de-icing windshield washing fluid levels checked.  Ice is your enemy this week.  Lucky Numbers:  02 33 35 40 44 46
Pisces – February 20- March 20  – Somebody is treating you very badly.  Do not say anything but be mindful to avoid this person and eventually it will stop.  If you are in the middle of a marital spat, try to remain calm even though your spouse is behaving like a child.   Some marriages can be saved — even when they have gone this bad.  Lucky Numbers:  01 18 37 39 40 44
The 40s, especially 44 are very powerful Powerball numbers this week.  44 has come to me many times as I conjured this prediction.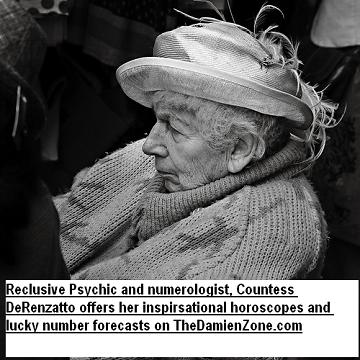 Countess DeRenzatto is an Italian Countess who has lived a quiet life in a small apartment.  You can read about her amazing predictions by clilcking the link at the bottom of the page. http://thedamienzone.com/2011/01/05/astrologer-picks-winning-powerball-numbers-thedamienzone-com/