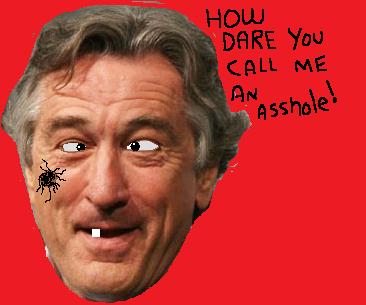 Robert DeNiro is an asshole — at least that's what a lot of people think.  I guess playing a gangster too many times has gone to his head.
NOTE: PIcture of DeNiro pushing around a Hollywood writer who called him an asshole to his face – D D. Matt Gets shoved and pushed by De Niro   <—Click here. 
He's trying really hard to make his public persona so different from his on-film persona that he has gone over the edge.
"He might really go over the edge and start having sex with white women," said a spokesman for "Robert DeNiro is an Asshole LLC" or RDiaA.
"He recently ganged up on Donald Trump about the Obama birth certificate issue.   He was all pompous and looking old and creepy.  He thinks he is some kind of maestro or something.  He's just a guy who plays the same character over and over and over.   I think he spent too much time with Barbara Streisand when they were filming that unbearably shticky and unfunny Fokker movie.  He is indeed an asshole."
In an interview with Brian Williams De Niro said,  "I won't mention names, but certain people in the news the last couple weeks, just, what are they doing?  It's crazy. They're making statements about people that they don't even back up. Go get the facts before you start saying things about people."
Personally, TheDamienZone doesn't give a shit about Obama's birth certificate, but why can't anybody see it?  Some people claim to have seen it but the one they've seen is not the actually birth certificate — it's a certificate of live birth — that's not a birth certificate.
So Donald Trump ( who we also hate at TheDamienZone) wants to see the real birth certificate — maybe there is something to this birth certificate thing.  Maybe Trump knows something — who knows?  Fuck him too.
What the Damien Zone doesn't like about DeNiro, aside from his monochromatic acting ability, is that he often sounds like a nasty bastard with his "How dare you" thing that he has done before.
Fuck him — he's an old man who never stops working no matter how shitty the movie — maybe he needs money — you never know what happens to the money these big stars make — we all think they're rich until we find out that they have nothing — look at the link this Nicholas Cage story.   He's so broke he doesn't know what he's doing:
http://thedamienzone.com/2011/04/17/nicolas-cage-arrested-for-domestic-violence/