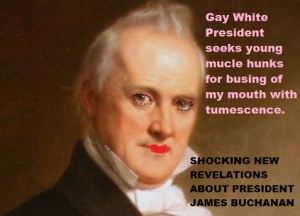 James Buchanan was the 15th President of the USA and he served in office from 1857 until 1861 when he was succeeded by Abraham Lincoln.
Buchanan was a bachelor for life, and while living in the White House, his niece was appointed as Official Hostess.
Officially, President Buchanan's fiancee, Ann Coleman,died from grief back in 1819 when James spent more time working at his law firm than courting his devoted — but delicate — betrothed.  Ann's death was Buchanan's handy excuse for never again courting or seeking to marry any woman, but he did like to "busy his mouth" with woodies.
Doctor's reports suggest that Ann Coleman died from a broken heart, but recent revelations suggest that she actually offed herself with a bottle of Laudenam (morphine, opium, codeine and alcohol) when she found out that her beloved James was enjoying the company of young muscle men from carnivals and circuses.
The recent discovery of a diary belonging to Ann Coleman's closest friend, Anastasia Hemphill,  has changed the face of that story forever.
"Our dearest Ann was at the time overcome with revulsion when she came upon Mister Buchanan lying nude in a guestroom aloft with Kelvin Osford who was at the time a massive strongman with a traveling carnival.  Both men were in a state of tumescence and James was busying his mouth on the manhood of the vulgar and sweaty behemoth. I will go to my grave knowing that the sight of this horrific depravity led Ann to betray her truest Faith and she preferred instead to leave the Earth with the greatest of expedience." [Anastasia Hemphill (beloved friend) 1821.]
A subsequent really bitchy letter to Anastasia from a man named Kelvin Osford was found folded inside of this page.  The letter was written by a Dr. Chapman (proxy) at the behest of Kevin Osford who was, "unschooled and of simple mind and unable to write even the simplest letter or salutation for himself."
"Warmest regards to you, Miss Hemphill.  
"As it would not be socially fitting to present myself in your exemplary company, I share your sorrow on the loss of a lovely young lady and eternal friend, but perhaps you can find solace in the fact that James is sick of mind and uncaring.  He would have been an atrocity as as husband to even the lowest grade of woman.
"Buchanan lives only to be enthralled with the muscles of large and burly men and acts of sodomy. 
"Yes, I was engaged in an unspeakable act when it was discovered by Miss Coleman, but I am only one of many young men who have been well paid by Mister Buchanan to engage in unspeakable acts.  
"I have developed my body with heavy weights and stones and now at age twenty-two I too am caught in the web of decadence and debauchery that is the wont of Mister Buchanan and several of his male companions who worship me as a Greek statue and hand me subsequent sums of money and food stocks.
"I oblige you and seek forgiveness on the loss of your friend.  Please be mindful of the sad fact that I engage in deviant behavior with gentlemen only because my mother in Salem is sick with a cancer on the skin and her financial situation is poor at best. I know that this decrepit copulation with other men is entirely unnatural, but I am caught in a web of sin and deceit and self hatred.  
"Please find comfort in the knowledge  that a marriage joining Mister Buchanan and the dearly departed Miss Coleman would have had a most grievous endurance.  I beg your forgiveness and the forgiveness of our Lord." [Kelvin Osford – as told to Dr. N. Chapman]
So — according to the close friend of President Buchanan's fiancee, and the bodybuilder he fancied — Old James liked 'em big and burly and muscular and dumb.  Seems this guy Kelvin Osford had all of that and more.  By the way "tumescence" means engorged, In other words, she found them naked with woodies and BuchanaN was blowing Osford.  (Busying his mouth).
It's safe to assume that James' woody was smaller than Osford's because other letters exchanged between "Nancy" men of the same era and area often make mention of the large size of Osford's "tumesence" and his muscles.  It seems that Osford was the hot ticket male "companion" of his day, and in higher class circles, the behavior of the men who fancied him was ignored to some extent.