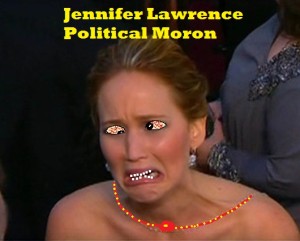 Jennifer Lawrence POLITICS – POLITICAL MORON
Jennifer Lawrence, one of the Hollywood sub-mediocrities who stars in junk TV shit like THE HUNGER GAMES, has a goal in life.  She has something she would like to say and she wants to say it in front of millions of people.  
Wanting to sound off is not so unusual for the Louisville, KY born (White Trash)  Lawrence who was voted "MOST TALKATIVE" in the high school from which her people say she graduated at age 14. (White Trash people are often talkative).
You know, if I read about another moron who makes it big in Hollywood — and is burdened with an IQ of 300 —  and graduated from Harvard at age 9, in spite of what seems to be zero education in between, I'm going to call Child Services.    Stop with the fake Hollywood genius shit.  We're already hip to the fact that James Franco is not only, "a little gay," he is also "a little retarded," in spite of outrageous claims to the contrary.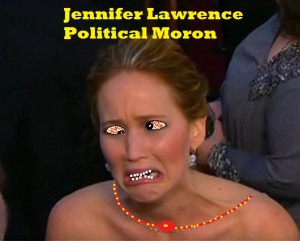 For many years  – 1930s – 1960s – the publicity people in the Hollywood-land where Satan is king —  were hard at work keeping the secrets of the stars secret.  In more recent times, however, that discretion seems to have died down.  In 2016, with the deluge of so much social media,  the idea has been planted that half of America is very smart and the other half is very dumb.
The publicity folks are hard at it again with this narrative.  They are poisoning the minds of young Americans by teaching them that the state you live in, or the candidate you choose, determines your intellectual acumen.   In other words, the Hollywood elite are bigots who JUDGE people by where they live and if they support THEIR Democratic candidates.
Suddenly every actor or actress from Grade B to Grade Z ( there is no grade A) is a genius.  They all "belong to Mensa" and they're so smart that they didn't even have to go to school.
By the way, I am, starting to think that Mensa is fake.  It's always been pretentious and stupid, but I suspect that some really smart asshole invented it as an excuse to explain why he graduated from Yale but worked as a short order cook at a greasy spoon on Rout 17 in Rutherford, New Jersey.   Mensa is a crock of shit, and anyone who claims membership therein as part of their resume, is a pretentious asshole.
So anyway, Jennifer Lawrence, all 26 years of her, is the newest political moron to grace the pages of left wing Facebook, and all because she wants to be filmed flipping the bird to Donald Trump while shouting, "Fuck you, Donald Trump."
Yes, ladies and gentlemen, that is Jennifer Lawrence's goal in life.  You'd think, with her limited education, that her biggest goal would be to get her GED or something.    Yeah, I know that they say she graduated high school at age 14 blah blah blah, but my best guess is that she's an idiot  — an a political moron of the highest order.  Mind you, she is not as moronic as Johnny (fake English accent) Depp – or George (imitation-marriage-Clooney)  but she's sure giving those two douche bags a run for their money.
At a recent fundraiser, the actress — the GENIUS — along with her fellow geniuses Clooney and Depp —  announced that a Trump presidency would be the end of the world.  Keep in mind that this is Academy Award foreplay.
If Trump does get elected, she will win an Oscar for a mediocre performance — which is her forte.  If Hillary wins, she will get an Oscar for having been against Trump.  These assholes in Hollywood can't lose.  They have it all figured out.  In the meantime Jennifer Lawrence is following Donald Trump from event to event with her camera crew with the hope that she can corner him, flip him the bird and say, "Fuck you, Donald Trump."  This is not a joke — she is actually doing this. She admitted as much in the newspaper Huffington Post which is named for the Greek fag hag money grubber, Ariana Huffington.
Hollywood is a ghetto.  It's an enclave wherein certain types of people live in concentration,  They think the same — even if they really don't.  They act the same and they react the same.  They all have the same skills — none — and they all work at the same shitty job where they make millions and millions of dollars but scold the middle classes  — where the everyday people with the big screen TVs who make them famous are labeled as stupid and uniformed.
FUCK YOU JENNIFER LAWRENCE!  FUCK YOU AND THE SUSPICIOUS FACT THAT YOU GRADUATED FROM HIGH SCHOOL AT AGE 14.  FUCK YOU AND YOUR DREAM OF GETTING A PHOTO-OP WITH DONALD TRUMP JUST SO YOU CAN TELL HIM TO GO FUCK HIMSELF.  FUCK YOUR HUSKY VOICE.  FUCK YOU, YOU POLITICALLY MORON.  GO BACK TO SCHOOL, YOU STUPID, WHITE TRASH ASSHOLE.