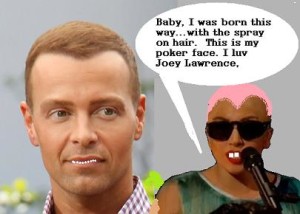 Veteran TV actor and musician Joey Lawrence and controversial singer-songwriter Lady Gaga seem to be spending a lot of quality time together, and it first it was assumed around Hollywood that the two were planning a concert tour or something. But now it's pretty obvious that Joey and Gaga are an item — and tongues are wagging.
At first glance Joey Lawrence and Lady Gaga seem to be an odd pairing. He's a family-oriented kind of actor who has been a star since he was like three years old, and she's a pretty strange bird — and she has the egg to prove it. But when you add up all the pluses and minuses, it pretty much makes sense that these two could possibly end up together.
"This could be a match made in heaven," said Brad Pitt sitting with Casey Affleck at the Bar Marmont on Sunset Blvd where the two mega stars were sharing a bottle of Dom Perignon with Joey Lawrence who was just officially cast in the new Quentin Tarantino film, "Channel Marker Number 1" which is the prequel to the "Ocean's 11" series of films.
"We don't want to ruin things for Joey," continued Brad good-naturedly, "But Lady Gaga better not haunt the set and throw off his concentration, man. I mean, Elizabeth Taylor did that to Richard Burton a few times back in like the 60s and made him look like a hammy actor because he was always performing to his girlfriend and not for the camera."
And Brad is right, It could be a match made in heaven, and since the two can't seem to get there fast enough in this writer's opinion, they've decided to make their own heaven on earth because they have so much in common.
Joey Lawrence — who now calls himself Joseph Lawrence — trying to shed the child actor ghost that haunts him — is an Italian-American; having been born in Philadelphia as Joseph Mignogna Jr. Lady Gaga was born in Manhattan as Stefani Joanne Angelina Germanotta. The first three names sound pretty made up but the last name is real so that's all that matters — and it means that she too is an Italian American even though she makes up some stupid fake story about her grandfather being French and Scottish and Nicaraguan or whatever.
Joey (Joseph) Mignogna Lawrence was born on April 20, 1976 and Lady Gaga Germanotta was born on March 28, 1976. Statistically – as far as Hollywood marriages go — a marriage where the wife is 10 years younger than the husband has a statistically higher rate of success and happiness, than any marriage between any age brackets. This is true — or at least it is according to the Los Angeles County Department of Records where the stats say that 57% of all marriages end in divorce within 10 years, whereas marriages with a 10-year age gap seem to survive at a rate of 82%. If these stats hold up and Lady Gaga is about to become Lady Gaga-Lawrence, there could be a new long-lived Hollywood power couple like Paul Newman and Joanne Woodward or Steve Allen and Jayne Meadows. That would certainly be nice for a change, wouldn't it?
Besides being Italian-American, Lady Gaga and Joey Lawrence have a few other things in common too. They're both very short — Gaga is 5'1" and Joey says he is 5' 8" but he's about 5'5" in real shoes.
Both Joey and Gaga suffer from really bad hair loss problems. Joey seems to have licked his hair troubles for the time being with various remedies, but Lady Gaga is bald — and girls are not supposed to go bald unless something is really, really wrong with them. Joey shaves his body hair and so does Lady Gaga. Joey is a great singer and songwriter and so is Lady Gaga. The similarities never seem to end. It's almost like they met on Christian Mingle or Grindr or something.
Some people see a scandal here because Joey Lawrence is currently married to Chandie Yawn-Nelson, but that middle name "Yawn" is there for a reason and it ain't just because it's a middle name. Joey (Joseph) is so bored right now that he'd climb into an egg with anybody — and boy did he pick the perfect egg.
The only problems The Damien Zone can see with this new romance is the fact that Lady Gaga has demons. In all of her videos she murders somebody and that somebody is usually her boyfriend. So Joey has to watch out for that right from the get-go.
If this love affair between Lady Gaga and Joey Lawrence blossoms big time, we'll let you know, but in the meantime, keep your eye out for Joey Lawrence playing alongside Brad Pitt, Don Cheadle, George Clooney. Casey Affleck, Macaulay Culkin, and Kelly Osbourne in the new Quentin Tarantino film, "Channel Marker Number 1" which opens in the summer of 2014 and is now filming in Los Angeles and South Amboy, New Jersey.