What Are Bob Ross Paintings Worth? A Bob Ross Painting Sold in Aspen for $2 MILLION.
Bob Ross, the fluffy-headed and soft-spoken TV painter who taught a generation of people how to paint with his TV show, "The Joy Of Painting" would have been 76 years old now if he were still alive.  Sadly the gentle guy who was hated by art "experts" for quickly drawing and painting "happy little farm houses" surrounded by "old and grouchy trees" went to the great easel in the sky in 1995 — but he's getting the last laugh as far as those artsy fartsy art people are concerned — and nobody deserves it more.    Here is a list of Bob Ross Paintings and how much they sold for:  Dan Galleries Bob Ross prices.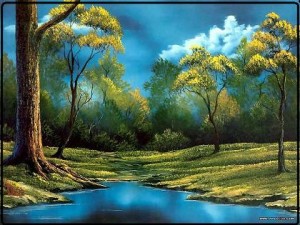 Yesterday, at a private auction in Aspen, Colorado USA, an original Bob Ross, "Creeks and Cricks," a landscape he painted on the air in 1985 — sold at auction for $2,000,000 to an art collector from Dubai who had come to know Bob Ross from the British TV series, "Peep Show," a popular show where the Bob Ross paintings were featured and where Ross was referred to by cast members as  "GOD." Of course this was meant to mock American tastes, but it's part of the buzz that has made Bob Ross' work more and more valuable.
We asked one expert about why there was such a great demand for this painting.
"It should come to no surprise to anyone that paintings by Bob Ross would eventually fetch into the millions," said art curator and art historian Matilda Trotta Phd, who has worked with some of the greatest works of art ever to be created.
"Bob Ross was a strange genius, and when he was alive a lot of people in the incredibly fake and phony art world sneered at him.  It was always petty jealousy from people with little or no talent or the dreaded 'invented talent' which is the worst kind of parasite there is in the world of what passes for art nowadays. 
"You had, and still have, these uninspired and self-proclaimed artists who throw a little paint on a canvas, then do something to evoke a socially or religiously offensive response, and hang it in a Soho gallery and  then go on to think they are the hottest thing since Giotto, when, in fact, the average artist on display in modern art museums throughout the USA and Europe, have no real talent at all.  Their only talent is accumulating interest and publicity about a great artistic talent they don't actually possess.  It's a total con job.
"Keep in mind that the great artists of the past had patrons come to them and stand in awe of their art, but in recent years, artists like Andy Warhol and Damien Hirst and so many others have totally invented themselves as 'artists,' when in fact they basically have, or had, no true talent aside from self-promotion.  It's an 'Emperor's New Clothes' kind of thing and it has ruined the world of real art for over 40 years — perhaps even longer and as far back as Chagall and Dali.
"Today, and for several decades, it's all about image and buyers being conned into buying junk with the belief that if they themselves don't like a Buick hubcap dipped in red acrylic and covered with dried pasta, they must be stupid or unsophisticated greenhorns, when in fact the complete opposite is true.  If you think something looks like crap — no matter how much the people around you praise its greatness or define its meaning — it's probably crap.
Ross, on the other hand, could create tranquil beauty, and he did it in two mediums.  He created a still image on a moving TV projection.  Think about what that means?  Bob spoke to and about the paintings as he created them.  The artwork exists on two planes of reality.  One was three-dimensional, the painting itself, and the other was two dimensional, the image you see on the TV.  It's the ultimate definition of what is actually art as we know it to be.   Are Bob Ross' works so simplistic as some people claim?  Totally not.  They are unique and they are the truest form of folk art or TV art of the modern age up to the year 2000.  
"Bob Ross painted pretty paintings on a TV screen — and there is where the true art of it all rises to the surface.  Naturally there are art critics who will decry this, but in truth there is no such thing as an art critic who really knows anything beyond his limited skill set.   A critic in the art world is usually someone who has failed as an artist or a dealer in fine and real art.   They can't discover real art, so they invent some.  They anoint junk as fine art and sell it.  
"Just because a dealer lives in a penthouse above Central Park West, don't assume they have any tact or maners or dignity or taste.  They're as slimy as they come and they are taught — or perhaps they have conned themselves — into believing that certain modern artists are talented because that's how they paid for the penthouse apartment.  For the most part, the artists who get attention today are unbearably untalented and pretentious media darlings who somehow scammed someone who in turn conned someone else and so on and so on.
"Art critics and many of the drones who follow them, are a pretentious lot of very silly and often delusional people.  They live in a self-invented fantasy world where they are caught up in cocktail parties and social climbing.  They invent praise for junk art and they manufacture art-world talk like the kind of commentary you'd hear from an auctioneer, 'You can see how the artist denies entry to light between the orange cubes,' was my recent favorite stupid statement at a recent exhibition in Gramercy Park.  
If you've ever wondered why they serve wine at art openings, there's your answer.  I mean, you have to be a little drunk to get caught up in absurd moments like that.
"They're the kind of people who would buy Yoko Ono's moldy shower curtain for $300,000 and think they have a masterpiece — and I am not joking.  To make it easy for your readers to understand, let's say that a man goes out into the streets without any credentials and simply shoots dogs and cats with a gun, and then declares himself to be the city's Animal Control Officer.  That is what an art critic does.  That is how one becomes an art critic.  It's pathetic and it's a complete fraud and it's what hurts —  but eventually helps — artists like Bob Ross.
"Of course you have true art historians.  You can tell the top ones, because they refrain from blubbering over the junk that passes for art today.  The last great art historian I know is Sister Wendy Beckett. Now retired, she is an Anglican nun from Public TV and the BBC.  She knows more about art than any broker or dealer in London or New York combined simply because she isn't trying to con the nouveaux riche and gullible lottery winners or internet bubble kids into buying pure junk — and that's what it is — let's call a spade a spade here."
Bob Ross' "Creeks and Cricks — which is nothing more than a brilliant study in fading light and solitude — sold for $2,000,000 because it will be worth 10 times that amount in 20 years as Bob Ross emerges more and more as a cultural hero of old TV and old media.  It also doesn't hurt that his work is good solid work in spite of what critics say about it.  Of course, these critics and dealers — and they are often one and the same working hand in glove — will hone in on the Bob Ross market, and that will be shameful.  They will pretend that they were always Bob Ross fans, when in fact they may have driven driven the poor man to his grave with their vicious criticism and cruelty.  I urge all Bob Ross admirers to buy from old school galleries and never deal with a dealer who gives you a business card whilst talking glowingly about Bob Ross.  You will be seeing plenty of those."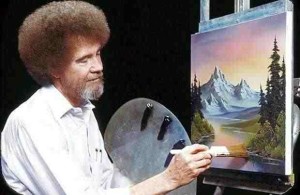 Aside from the painting about which we spoke to Professor Trotta, a few other Bob Ross paintings sold for $750,000 and $557,000 respectively — there are hundreds of paintings in the Bob Ross collection.  This does not include drawings and unfinished or scrapped paintings which have been saved.
It's nice to see a gentleman like Bob Ross finally being rewarded for his unique talent and gently quirky style and manner.
Another art historian who prefers to remain anonymous, says that Bob Ross' work will reach out to future generations as an entirely different form of true art as a pre-internet technology of art for the sake of art.  The danger of course will be the counterfeit stuff.  It is easy for some painters to imitate what Bob Ross did, but thankfully Bob Ross had a secret way to prevent that from happening.  I can't say what that secret is because I don't know, but Ross did leave behind meticulous records and he had other hidden techniques that can be used to prove that every one of his painting is authentic. Bob must have known that someday his work would be respected.  The information about how he secretly marked his paintings for authenticity is locked in a vault in central Florida, USA.