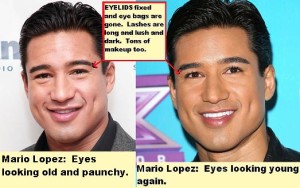 Recent photographs have surfaced that seem to suggest that "Saved By The Bell's"  Mario Lopez may have had his youthful good looks saved by the plastic surgeon.  In two recent photos, it is easy to see where Mario Lopez may have had significant work done on his face.  His eyes were getting aged as was his overall face, but suddenly he is back to looking like a teenager.  Maybe it's fatherhood — or maybe it's something else.
Here are some closer pictures of Mario's eye lift. Double Eye Lift of Mario Lopez.
"Mario Lopez seems to have had an eye job and a few facial peels or perhaps a laser lift," said Dr. Raymond Tote-Tundy MD Phd, President of The Skylight Institute for Youth and Beauty in St. Moritz.
"The photos would suggest to me that Mario Lopez has had some kind of major work done on his face and eyes, and he also wears a lot of man makeup.  If you look closely at the photos, you can see that he is wearing a lot of makeup.  In the earlier photo, Mario Lopez seems to be developing heavy eyelids and the look of an older Mexican guy, but a quick fix may have squashed that old Mexican look that was creeping up on him.
"Also, Mario Lopez may be using Latisse which is a prescription drug that one uses to make the eyelashes longer and thicker.  Latisse actually does work, and in Mario's case the longer and thicker lashes he may have grown from the Latisse after about 12 weeks of use, seem to have been dyed a dark color so as to make his eyes look more youthful, but frankly, whatever he has done to his eyelashes looks very effeminate and bordering on lady-like.  It looks like mascara.  Sometimes, if a man adds just a little makeup at a time over years — just a little here and there — he gradually doesn't realize that he has attained a Liberace kind of look that is very womanly looking.  I think this could happen to Mario Lopez.  He might even become addicted to plastic surgery."
TheDamienZone.com cannot say for sure that Mario Lopez has had plastic surgery, but you can look for yourself and see that something has surely happened in the area around his eyes.  Maybe marriage agrees with him — well at least for 3 weeks.
Gay rumors about Mario have been circulating for years, but the truth about Mario's sexuality seems to be quite the opposite.  Mario Lopez seems to be a very active and vigorous straight guy, but his over-use of makeup and possible plastic surgery and eyelash enhancers might make him look a little girlie.
Hey — somebody had to do this story — might as well be me.