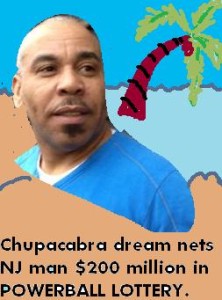 A 44-year-old immigrant from the Dominican Republic is the winner of a $338 million Powerball lottery jackpot.  Naturally the lottery is a game of chance and anyone can win, but do we really need a guy from a banana republic to suddenly be walking around with $200 million in his hands — especially when he was given the numbers in a dream from a vicious monster who hides in the forests of Spanish-speaking countries?  Yes, it's true.  The winner says he got his numbers from a vision of a chupacabra.
Pedro Quezada learned of his good fortune when he walked into the Eagle Liquors in Passiac, N.J., to check his ticket Monday, and the first thing he did was talk about his dream of opening a plantain farm on the island of Hispaniola.
Customers in the store erupted in cheers as Quezada called his wife Ines who uses Vonage because they have "un-leem-meet-ed calling."
"I'm the millionaire, Ines, put on the TV so you can see me, or come down to the liquor store right now," the Daily News reported an emotional Quezada shouted.
Quezada, a father of five who NorthJersey.com reported has owned the Apple Deli and Grocery on Eighth Street since 2006, told reporters his first priority will be helping his family.  He also said that he will start a research facility to help to study the legendary chupacabra of Latin American lore.
"I want to use my money to help the ciase of the misunderstood chupacabra and hope that these creatures will not be hunted or killed or feared.  as a matter of fact, it was a chupacraba who gave me the numbers in a dream I had when I slept next to my giant Virgin Mary candle.
His wife, Ines Sanchez, told ThDamien Zone that they're in shock.
"I still can't believe it," she said. "We never expected it but thank God.  There is so much to do.  I am now in talks with a cleaning company who promises to get that dirty bodega smell out of our deli.  I have already asked a few scientists to help because nobody seems to know why Latino stores all smell the same.  It might be a combination of chicken guts and mouse feces, but now I have the money to find out for sure."
Quezada will get a lump sum payout of $221 million, or about $152 million after taxes. It's the fourth-largest jackpot in Powerball history.
The family's apartment sits in Passaic, part of the working-class suburbs sprawling from New York City. Neighbors stood out in the rain Monday night and spoke with pride that one of their own had struck it rich.
Eladia Vazquez described Quezada and his wife as "quiet and not overly talkative" but sensed that they seemed to be working all the time.
"This is super for all of us on this block," she said. "They deserve it because they are hardworking people."
Richard Delgado, who lives down the block from Quezada's building, said the man was "a hard worker, like all of us here. We all get up in the morning and go to work."
The liquor store in Passaic that sold the ticket will get a $10,000 prize.
"Everyone was excited when we found out this morning we sold the ticket," said Eagles Liquors owner Sunil Sethi.  A Hindu guy who watches minority customers and follows them from aisle to aisle.
Sethi said he would use some of the money to fix up the store and share some with his employees.
The winning numbers: 17, 29, 31, 52, 53 and Powerball 31.  These are the numbers that Quezada got from the spirits of the chupacabra.