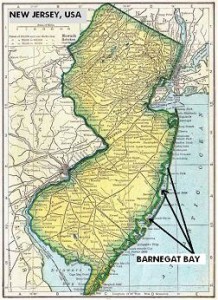 "Hurricane Sandy may have wiped out a lot of property and caused a lot of expensive damage, but from an ecological standpoint, the ravages of the storm may have inadvertantly swept out a lot of the hidden dangers of that silty bay.  The people around the area have suffered terribly, but the Barnegat Bay itself may have been cleaned up a bit on the molecular level.  Now the real danger is the large debris and I suggest that vacationers steer clear of the area for a few years."  [Antonio LaVista PhD, Marine Biologist and Marine Naturalist from Venice, Italy, Istitutiti di Modena Maritimo]
The big news this year among the sun-spotted and beach-loving folks of New Jersey, USA, centers around the current condition of the state's big swimming and boating vacation sludge basket — the Barnegat Bay.
It seems that 2012's Hurricane Sandy washed a lot of big debris into what was already a pretty yucky body of water, and suddenly a few cars and houses start getting dragged out of the depths and everybody is up in arms and getting a big league education.  It took a big storm to make the people of New Jersey realize that Barnegat Bay was washed up long before Hurricane Sandy made a valiant but misguided attempt to re-washed it.
"The bay is not safe for the time being and I have to think of another place to bring my kids this summer," said Conner Soden, a saavy local who looks forward each year to crabbing and swimming and booze cruising on the brimy body of water that sits between the New Jerey mainland and the barrier Islands that are the home to a lot of beach resorts — namely Seaside Heights — the home to MTV's "Jersey Shore" and a few new zombie movies in the making.
"The kids like to go tubing and crabbing and it's going to be hard to tell them that this year is either off or it's going to be a heck of a lot different.  They're pulling cars and parts of houses out of that water and I think it's dangerous.  I'm thinking of taking my wife and my kids and my 22-foot Crownline down to Virginia Beach this year.  Catch some blue claws, ya know?"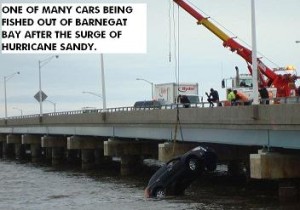 Dangerous?  Now people think Barnegat Bay is dangerous because a few cars have been pulled out of it? In truth, however, the bay has been dangerous for decades, and a few castaway cars, houses and boats are the least of the problems.
What kind of strong stomachs would eat an oily crab from this mudhole and who would want to even swim there?  If anything, the surge of Hurricane Sandy probably cleaned up Barnegat bay more than it dirtied it.  Sadly, however, nature's chance for an Al Gore moment, washed away the hard work and hopes and dreams of a lot of people whose homes and lives got washed away in the fury of the storm.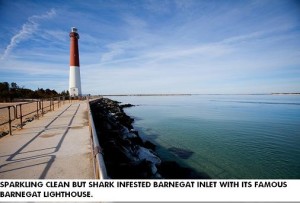 "So you have some big chunks of stuff in there — big deal. You can always haul it out." said a local crane operator. "Hopefully the force of the storm pulled away some of the real hidden dangers of Barnegat bay — the filthy muck and mire that lines the bottom of that giant mudhole.  Years of factory contamination and cancer-causing chemicals got stirred up. Hey, the truth hurts, but somebody has to tell the people. I notice already that the bay water itself is a whole lot cleaner, but you got to remember that a lot of the silt got churned up and that's where the bad stuff usually hides out."
Diver Mike Sonta has been in the bay, locating homes and boats. State officials said there are about 1,400 vessels, 58 homes and eight cars still in Barnegat Bay. All have to pulled out by this summer because they pose a threat to anyone in the water.
"Everything you can imagine on land is in the water," Sonta said.
Okay so this guy Mike Sonta is actually doing the scientific thing.  He locates the bare bones stuff that needs to be hauled out of there because a family boat doing 33mph on the bay could actually hit part of a house and then somebody loses an eye, and the fun is all over.  But for every smart guy like Mike Sonta, there are a few thousand mindless Barnegat bay lovers who don't understand the following facts about the beloved body of water where they love to crab and jet ski and boat and swim and tube and barbecue and booze it up on those beloved New Jesey weekends.
Here are a few facts you need to know about Barnegat Bay as told to TheDamienZone.com by experts in their field.
1) Barnegat Bay is a swamp. One instantly notices the difference between the ocean and the bay in spite of the fact that the two bodies of waters are only yards apart at certain points.   The Mid-Atlantic ocean to the east of the bay is a deep inky blue, but Barnegat Bay is a gritty yellow-brown?  It's brown because it's a mudhole — think of it as a giant puddle running out from a forest.   It's a low-lying, methane gas producing estuary that fills with brackish water that is stained brown from pine oils that seep from the roots of the neighboring evergreen forests that are native to the New Jersey pine barrens. Thankfully the pesticide levels are the lowest they've been in decades and a lot of water fowl have returned.  We are encouraged to see pelicans back on the southern tips of the barrier islands.  They don't actuallybreed here but they come to eat.  In one way it's good news for the pelicans but there is another aspect to this that is troublesome.  If the fish pelicans like to eat are here, it also means that the fish sharks like to eat are here too. 
The Pine Barrens of New Jersey — about 70 miles from midtown Manhattan — are the largest natural earthen sponges of fresh water on the entire east coast of the USA. The Pine Barrens hold so much water that New Jersey is one of the few states in the USA that could withstand a sustained drought.  The southern part of New Jersey is a giant bog and the water is actually drinkable once you filter it and clean it up. [Angelique Cousteau PhD, Marine Biologist]
2) Very little new water comes into Barnegat Bay and very little old water goes out.  The bay's water is contaminated by eveything you can think of that man has made since the industrial age began and perhaps even before.  In fact, some of the poor man's "beaches" created inland by Barnegat Bay — places like Money Island — are considered to be the filthiest and most polluted beaches in the USA.  Just look it up — you'll see.  It's also full of motor oils and  street runoff, and so much old 19th and 20th century industry left behind all kinds of the worst pollutants.  The area around the Barnegat Bay has had its infamous "cancer clusters" and I know that I wouldn't want to raise a kid there.  Oddly, New Jerseyans seem oblivious to the fact that their beloved Barnegat Bay is a disaster in the verge of becoming a SuperFund site if things continue as they have been since the early 1990s. [Monroe Taylor, PhD, Marine Cartographer and an expert in silt pollution.]
3) The cleanest part of the whole bay is the inlet at the famous Barnegat lighthouse.  The reason it's clean is that the force of the ocean current coming and going twice a day, keeps the area pretty fresh, but while the water might seem cleaner there, other dangers lurk and therein lies an accident waiting to happen.  There are sharks in that bay — mostly small ones measuring five feet or less, but you have your big ones too.  [Chinley O'Connor PhD DVM,  shark biolgist and veterinarian]
Sharks!  Yes, there are sharks in the Barnegat bay — usually not big ones — but sharks just the same.  It's amazing how there haven't been any shark attacks in the bay for almost a century, in spite of the fact that the areas around the ocean inlets to the east and the river inlets to the west are loaded with sharks, and the old men who have fished these waters for decades know and understand the situation.
"There is so much boating activity in the area that sharks are probably wary of most populated areas," said Bert Horvath, a local fisherman and birdwatcher with over 50 yers experience on the bay.
"Nobody swims at the mouth of the Barnegat Inlet.  I'm pretty sure that if anyone swam there — if they could survive the rolling current — they'd have a pretty good chance of getting hit by a good-sized bull shark or mako.  It's not like big sharks have never been seen or fished out of the bay, it's just rare.  They don't bite on lures or bait.  They're pretty smart fish who avoid areas where boats churn up the shallow water.  But they are there in decent numbers, and one day there's going to be  a serious attack and that'll be the end of that. 
"Used to be no appreciable amounts of pelican stock here since back in the late 1800s but the pelicans are back big time and you can bet that if the pelicans are back, the kind of fish  that attract the big sharks are back too.  I have seen a few 12-foot or bigger great whites near the inlet but they usually bolt back out to sea as soon as the brackish bay water hits their gills.  They don't like that or it hurts them or something, but I have seen a few break the surface — I saw two last summer but you can't go around screaming about sharks down here because the businessmen will have a holy fit.  Your biggest  shark threat in Barnegat Bay overall would be the bull sharks.  They might be only four or five feet, but they're usually the ones who will travel into the bay and as far up as the Kettle Creek and the Toms River.  Last year a guy fished a 6 foot bull out from the lagoon behind his house in Kettle Creek and that's about 7 miles up and a quarter mile inland from the Barnegat Inlet.  The famous story about the shark attacks in Matawan Creek back in 1916 — that had to be a bull about that size but the great white gets all the press."
TheDamienZone was a little freaked out to hear this — but wait — there's more.
4) Crabs bite your feet and can get you a bad case of tetanus, but beware most of all of the mighty Bluefish!  Yes, the lowly, greasy, stinky blue fish. They like to bite —  and Barnegat Bay is loaded with them.  They are the piranhas of the sea, and while there has never been a case of a living human being eaten alive by a bunch of gobbling blues, bluefish bites are very common in New Jersey.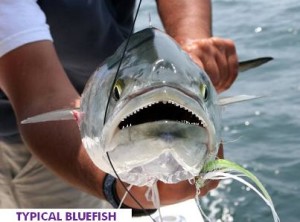 "The Barnegat Bay bluefish are smallish compared to the open water blue fish, but pound for pound the blues are the most vicious predators in the sea," continued Horvath.  "If you get a long hot dry spell and the blues get hungry enough, they'll get you.  Did you ever see the ocean boil when a bunch of blues run head on into a school of mullet or mackeral.  It's a holy terror."
According to marine biologists, a 10-pound bluefish can easily bite off a finger, and if you like to bathe in the nude — although it's not allowed anywhere in the bay — a bluefish can and will mistake your thingy for a fishy and bite it off.  It has happened — and bluefish can get a whole lot bigger than 10 pounds.  In fact, many blues pulled out of the ocean off of New Jersey tip the scales at nearly 30 pounds and they have teeth like giant razors. If a bunch of bluefish wanted to kill a man, they could, but mostly they are scavengers who know what fish they like to eat and they know how to find them.
"If you are going to swim in places like Tices Shoal (a famous boating and boozing hang out near the Barnegat lighthouse) make sure your little kids wear something." said Dr, Dean Traherne MD, a physician and weekend angler. 
"It's cute to dip your birthday-suit baby boy in the water but a hungry blue might bite him and take along a prized piece of a human male.  It sounds like a joke or a prank but it's a fact and anyone with a baby should never dip the child into the water without a bathing suit of some kind.  A bluefish can leave you with a nasty infected bite and perhaps a few missing parts."
TheDamienZone.com has done some heavy duty research on this subject and blue fish, when they are on the prowl will bite anything.  Seasoned fishermen know that when blues start a feeding frenzy, you don't even need bait.
"Just the shimmering glint of a shiny hook is enough to get a big bite.  Little blues are just as ravenous as big blues and their teeth are just as sharp.  Poeple don't like to think about these things, but how many cut up feet in the ER are blamed on jagged clam shells when the real culprit is usually a crab or a hungry bluefish?" [Angelique Cousteau, PhD.]
Okay, so now you have a brief lesson about Barnegat Bay.  So what good does it do you?  Well, you can stop swimming there and go to real beaches.  New Jersey has a whole lot of really nice ones.  You can stop eating the fish and crabs you catch there and you can stop complaining about sunken cars and give the bay a few years to clean itself up with the help of men and machines.
Hurricane Sandy may have hurt a lot of nice people, but in the long run, it may have been Barnegat Bay's best friend because it cleaned it up a bit and it raised public awareness about how dirty and dangerous it really was in the first place.