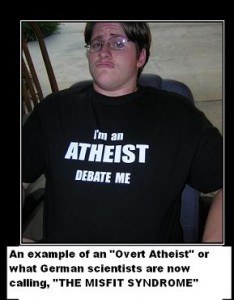 New information from a 22-year old study at a German University has many psychiatrists and psychologists throughout the world wondering if atheism is a sign or warning of a more serious mental illness already present or in the process of developing.  Doctors are searching for a gene that might cause a correlation between serious mental illness and what they are calling "overt atheism."
The study began based on a student's observation about Catholic Saints and this motion picture—>: Deus ExMachina.
For the time being psychiatrists and research psychologists in Germany and Switzerland are calling this medical anomaly, "The Misfit Syndrome."
Doctors at the University in Hamburg have been investigating the connection between religious beliefs and overall mental health and the results of the study have unnerved even the most stoic scientists, physicians and researchers.
Originally the study was an obscure student investigation about the power of prayer over illness — a study which eventually showed that prayer had virtually no effect on the eventual outcome of a disease process —  but something happened along the way in that study that pushed the study into another direction and into the hands of research physicians, clinicians, psychotherapists and various professionals in the field of social science.
"Overt atheism, in other words, atheism that is professed as a way of life by some individuals — a manifesto of sorts —  was found to be a common component inherent to many people suffering from other forms of severe mental illness," said Dr. Hans Zimmermann MD PhD
"We started to notice that many of our experimental volunteers — those who were defiantly atheistic in their beliefs — were also suffering from various forms of dissociate disorders and social adaptation manias. This came as quite a shock to us as we studied patient after patient because for years we have been led to believe that religious zeal was often a patently obvious sign of mental illness, but in fact this is not the case.  Quite the contrary.
"The individuals we have  studied, especially those under the age of forty who actively participate in open debate about their own avowed atheism, or people who are very strident about their atheism are heavily prone to mental illness — and most of the illnesses are quite severe.  This was not a handful of subjects who were studied, mind you.  There were 17,809 people in the study.  It was a very large model as far as psychological experiments go."
Until a neurotransmitter or a definitive brain anomaly can be identified and positively identified as a trigger, Dr. Zimmerman and his colleagues have given this condition a temporary name — "The Misfit Syndrome" — owing to the fact that nearly 100% of patients studied who professed openly about atheism also had other severe social adaptation issues and many major forms of mental illness that kept them from interracting normally with other people in general.
"The Misfit Syndrome" as we have described it in our literature that has yet to be published, is actually a profound psychosis in and of itself," said Zimmermann. It should be understood that atheism alone is not a mental illness, but overt atheism — the need to profess one's atheism and to openly debate the existence of a deity of any kind — is almost always a sign of serious mental illness.  Many people walk around without a thought about a god or creator and these people are essentially athiests.  These people do very well.  The overt athiest, however, people who openly state, 'I am an athiest,' and then go on to debate their anti-religious issues, are, according to 22 years of intensive research, often very unwell as far as mental illness is concerned.  I say 'unwell' because aside from the obvious mental illnesses we have observed, we have also seen a vast amount of yet to be understood mental abberations — strange things that often pass in polite society as someone being 'odd' or 'strange' or what one of our American doctors called, 'oddballs."  Naturally it sounds very unscientific but the mathematical computer models are there plainly staring us in the face and we have no explanation.  It's baffling."
Dr Zimmeramann's 22-year study has also concluded that latent athiests are not interested in discussing their non-belief simply because they are either unaware of it or the part of the brain that causes the Misfit Syndrome does not exert any influence over their thought processes.   The overt atheist, or those who are believed to be suffering from The Misfit Syndrome, may carry a genetic defect — and that's the rub.  Where, and what is it — or does it exist at all?
"Of course people will argue with our study and say that we are pushing religion but nothing could be further from the truth," continued Zimmermann.
"The study is virtually infallible and after nearly thirty double-blind studies we cannot come to any other conclusions. 
"For example, facial symmetry, or that which we call beauty in some cultures, is overwhelming lacking in the overt atheist.  Does this mean that the face of overt athiesm is an ugly face?  We are not sure, but evidence seems to point in that direction.  One obvious physiological connection we have been able to make is that women who had excess body hair or round or plethoric faces, were very prone to pronounced and blatantly overt atheism top the point of millitantism. 
"Some will argue that a person who is 'unnattractive' as far as Western tastes go will gravitate towards issues of anger and anti-social behavior and often that kind of anger will manifest as a hatred for the concept of a god or deity or creator.  They might blame the creator and by denying the existance of a creator, they are denying their own ugliness.  I do not mean to imply that one has to be ugly to be an athiest but there is an inherent inner ugliness that the patients percieve about themselves.  They may be quite attractive but consider themselves to be ugly but overall the people we studied were not blatantly attractive physically.  Another factor to be considered is that a person who exhibits the Misfit Syndrome may be inclined to intentionally seem unappealing.  They may be intentionally unstylish or unkempt.  There are so many comorbities and variants that it may take years to create a scientific model that projects 100% accuracy with regards to how this all applies to western beauty.
"We have found that to be true in about 97% of the cases.  You never have any medical study where 97% of your results are positive.  It's almost impossible to make a mistake with numbers like that.  Something is going on here and the common thread with almost all overt atheists is serious mental illness or an inclination to develop a profound mental illness by age thirty-five. 
"It's hard to accept something like this — something like the results of our study — in an enlightened society, but there is no getting around the scientific proof. Every variable and every model that has been used comes to the same conclusion.  People who openly do not believe in a creator or a greater spirit and opt to debate it as part of their definition of self, are almost always suffering from a serious mental illness, and if they are not currently sick, the odds are nearly 100% that they eventually will become mentally ill. "
Dr. Zimmermann's studies also divide common mental illnesses into categories wherein The Misfit Syndrome is common or uncommon.  He defines them thusly:
"Anxiety disorders that manifest as social phobias or panic disorders are very rarely seen in overt atheists.  Anorexia and bulemia are also rare in the overt athiest, but much more serious 'mental unwellness,' such as schizophrenia and serious forms of socipathology are very often seen in the overt atheist with percentages approaching 100%.  In other words, people who proclaim to be believers are more prone to the more mundane Generalized Anxiety Disorders or various phobias, but overt non-believers suffer from much more profound mental issues and sociopathologies.
"The overt atheist can only efficiently associate with other overt athiests and when confronted with the companionship of ordinary people, they recoil in anger and hostility. 
"A quick study of the Occupy Wall Street people — one where we used previously proven mathematical models — showed us that the most strident 'occupiers' were not only overt athiests, they were also suffering from various mental illnesses that one would normally see only in a psychiatric ward of a hospital and not on the streets of a major city.  It's amazing that there were fewer violent confrontations that we would see in a mental facility.  
"We believe that the open-air atmosphere of the Occupy Wall Street movement gave those with The Misfit Syndrome the room they needed to spread away from each other and thus quell what could have turned into an all-out athiest bloodbath– for lack of a better word.  The problem is indeed quite serious and we hope that genetic testing will identify the gene responsible for The Misfit Syndrome.  If we can find that, we will have made great strides against mental illness."
THE DAMIEN ZONE ACCEPTS VIRTUALLY ALL COMMENTS BUT BE MINDFUL THAT IT MAY TAKE A FEW HOURS FOR ONE OF OUR STAFF TO PUSH IT THROUGH THE SYSTEM.  SOMETIMES A COMMENT APPEARS WITHIN MINUTES AND SOMETIMES IT TAKES A FEW HOURS.