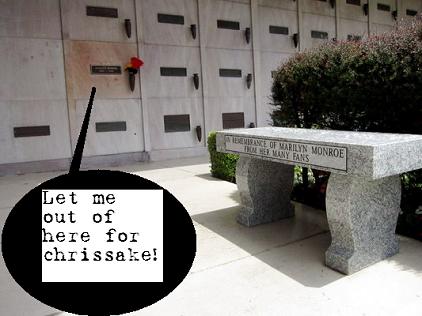 Wanna make a half a billion dollars?
First, get a Doctor of Divinity Degree online.  It's better to also get a PhD in anthropology too, but who has the time for that?
Okay, then create your own church and declare Marilyn Monroe a prophet in your church.
Then buy the rites to Marilyn Monroe's remains, $2 million oughta do it because the current people who have the rights to her "image" are money hungry scum bags.
Then, exhume whatever is left of Marilyn Monroe and take them in a glass case on display around the world (especially Japan) — museums, exhibits, shows, conventions — make sure the remains can't be photographed — lighting experts know how to do this.
In 3 years you will make about $500 million — and that's not counting tangential monies that come from TV spots and books and whatever.
Don't let anyone tell you that this is "wrong" because there is a "science" called Egyptology, and in that science they routinely do exactly what I have just described to you.  The funny thing is that they have taken King Tut on many tours of the world where they've made an absurd fortune with his mummified remians.  While doing this the Tut experts proclaim "how happy they are that they got to King Tut before the 'grave robbers' got him' — but the experts for some reason are NOT graverobbers. Ofc ourse they're grave robbers, but they know how to present themselves as men of science and learning.
So, think of yourself as a Hollywood-ology anthropologist and do the same thing.  You need at least $2million to get started, but the return on your investment will be amazing.