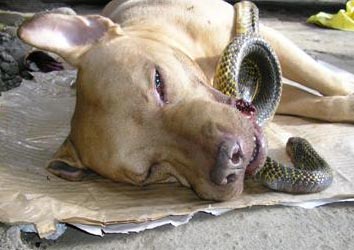 This story is, in a broad sense, a complete hoax and it's been floating around the internet for nearly 5 years.
It was reported to us by a Hollywood writer and zoologist who later clarified our error in reporting. More pics —>  Depictions 
If you read the story that was "shared" to you by one of your stupid Facebook friends– the one where the pit bull gave up his own life to save an old lady and her grandchild from a vicious cobra — you will see that not only does it make no sense, you will read where a Filipino police Captain tells how the story is a lie and how it all got started.
"There was a pit bull problem in a local town," said Lt. Meracedo Consalves of the Quezon City police."  Pit bulls were being targeted by animal control and owners were being forced to license them.  In order to paint a happy face picture of the pit bull and to make policemen look evil, this photo was taken by a local pit bull fancier and then he added a crazy story that is not true.  It never happened but today's internet is making people believe it to be true."
This is a brief bio of the Hollywood zoologist who investigated the story for TheDamienZone.com –> Dave Mattia 
EDITORS NOTE:  The photo does indeed depict a dead dog and a cobra but the story is fake.  It is a staged photo.  Dead dogs who look like this are very easy to find in Manila and people photograph them in all kinds of ways.  One way is to put a cobra or mongoose next to the dog and lay claim to a heroic story where the dog saved their life.  It is simply not true but it is done to make money or get fame.  
"We were not looking to kill or punish people who own pit bulls," continued Consalves, "But after some serious attacks on pedestrians, we demanded that all pit bulls and mixed breed pit bulls had to be registered with the local animal control as being that breed. 
"This picture going around the internet is one of a local dead dog who was posed with a snake so as to invent a super-dog story.   We believe they are mostly good dogs, but we simply want them to be licensed with a special tag that designates the exact location of their owners and not just a phone contact.  We also want people to stop putting dead dogs in gruesome photos.  I would not be surprised if some dogs were killed by human hands just because somebody wanted to take a photo like this. "
If you were one of the stupid people who shared this or thought it was such a sad story, you're an idiot for not investigating the truth.  If you read the story that comes along with this photo on Facebook, and the sad story about how the dog, dying from his snake bite, wagged his tail one last time, you should also have read the equally stupid and untrue story about how the dog was sickened about an hour AFTER the alleged cobra bite — so why then is the dog shown dead on a mat with the snake still there?
What kind of idiot would kneel before a dead dog to snap a photo of a cobra?  An idiot who wanted to spread a hoax and get hits on his website — that's what we're talking about here.
Also, this story has so many incarnations — if you Google this story it comes out as happening in 2004 and 2005 or 2006 or 2007 and upwards until the  most recent Facebook incarnation of the selfless pit bull which occurred only a few days ago.  It's all a staged hoax.  The pit bull in this picture never saved any family from a cobra attack and this photo simply depicts a dead dog and a snake.
Editors note:  Again, this picture does indeed depict a deceased dog, but the story is fake and the photo is staged. 
Stop being a stupid Facebook sucker and falling for this dumb crap.  You accomplish nothing when you share grotesque photos on social media.  Even if this were true, the story alone is sufficient.
OFFICIAL UPDATE:  TheDamienZone.com got an email from an animal control officer in Manila who further told us something that adds irony to this hoax.  The reason this story started was because a woman in Manila (April, 2004)  found her small dog dead in the garden of her home.  It had been killed by a snake which was still skulking around in the weeds. 
As she was carrying her dog into the house, a wandering pit bull attacked her and tried to take the dead dog from her arms.  The woman's daughter seriously injured the pit bull by hitting it on the head with an iron pot. 
The dog survived but was later put down by its owner.  The old woman required over 100 stitches to close her wounds and she nearly died from infection.  So….this is what led to the new rules about pit bull licenses and the distribution of this fake story.  See what I mean, folks?  All it takes is a little research into the facts.
An even more gruesome story is happening on the eastern shores of the United States with dead dolphins all over the beaches.  http://thedamienzone.com/2013/08/19/dead-dolphins-washing-up-on-new-jersey-beaches-heres-why/
NOTE:  This is a story about pit bulls in a poor community who are probably pretty hungry and it does not imply that pit bulls are especially mean or dangerous — although some animal control statistics throughout the world seem to suggest otherwise. 
This is how animal rights people screw themselves over.  They tell a lie and then the lie becomes a legendary truth known by millions — and then the lie is revealed — to millions.  It's better to say nothing than to lie and invent silly stories that get spread around on the net like a cancer.