"They fight like lovers and I have seen enough lover's quarrels to know one when I see one.  These two macho Guidos are gay lovers and society should leave them alone so they can stop venting their frustrations out on each other."   Dean Traherne PhD, University of California, Burke-Lee, Department of Gay History and Culture.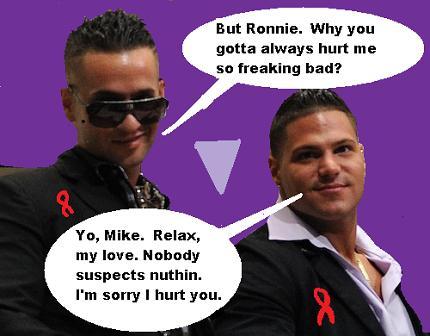 According to "Jersey Shore" insiders, Ronnie beat the living shit out of Mike The Situation with only a few moments to do it before MTV big guys pulled the two Guidos apart, but there seems to be more to the story.
"Mike had to go to the hospital and get stitches and he was hurt pretty badly," said Mildred Sclafani, a Bigfoot expert who was present at the time with her production company which is supposedly making a documentary about Bigfoot sightings in New Jersey with former child star Joey Lawrence tagging along as the narrator and trying also to get on the Jersey Shore show.
"We don't know what happened in the moments before, but Mike tried to get too close to Ronnie and called him a juice head and a pillow biter, " alleges Sclafani. 
"Ronnie replied that it was Mike who was the pillow biter and also implied that he had had gay sex with Mike,  and that when they did, Mike was biting the pillow. 
"Mike didn't deny the gay sex but he denied biting the pillow.  Then Snooki said, 'Hey, I masturbate with that pillow, you skanky motherfukers!'   It was a disaster because Ronnie realized he slipped up about the gay sex and tried to cover it up but Mike seemed proud and didn't try to deny it."
According to sources close to the show, this is not the first time that The Situation and Ronnie have mixed it up. 
"They always get drunk and then they realize that they are secret gay lovers and all of a sudden all hell breaks loose," said Sclafani who has spent the past week with Snooki and the gang since Snooki donated all of the money she made at Rutgers to help Sclafani search for and film the Jersey Devil — a legendary Bigfoot-like creature that supposedly lives in the Pine Barrens near Seaside Heights where the show is filmed.
"The whole thing is that Mike is in love with Ronnie and it's sad because they have to live a fake life of being these tough guys.  It's even worse than the Rock Hudson days.  They like to think that gays have freedom nowadays but the truth is that there is more peer pressure than ever to be a straight, bodybuilding stud with muscles and pecs and tattoos," continued Sclafani.  
"It's only natural for two people to fall in love on the set of a movie.  It happened to Elizabeth Taylor and Richard Burton and countless others — even Tom Cruise and Nicole Kidman — okay — bad example.
"This is how Mike handles his jealousy and frustration.  It all comes out when Mike has a drink or two.  I feel bad for Mike because he has gone so far as banging his head against the wall to make it look like Ronnie is his abusive husband.  It may be a stretch, but I am an anthropologist and I know a little more about human behavior than the average person and there is a sick relationship going on.  It's very much like the love-hate-sex-lust thing between Stanley Kowalski and Blanche DuBois in "Streetcar Named Desire."
"It's really a sick relationship and the thing is that the people at home watching the show have no idea what is really going on.  They think that these two guys are buddies,  and that when they fight, it's over some girl.  Boy, are they in for a rude awakening."
Rumors say that Mike went to a local hospital and got a few stitches in his head and had his arm in a sling for a week.   People at MTV are not talking.