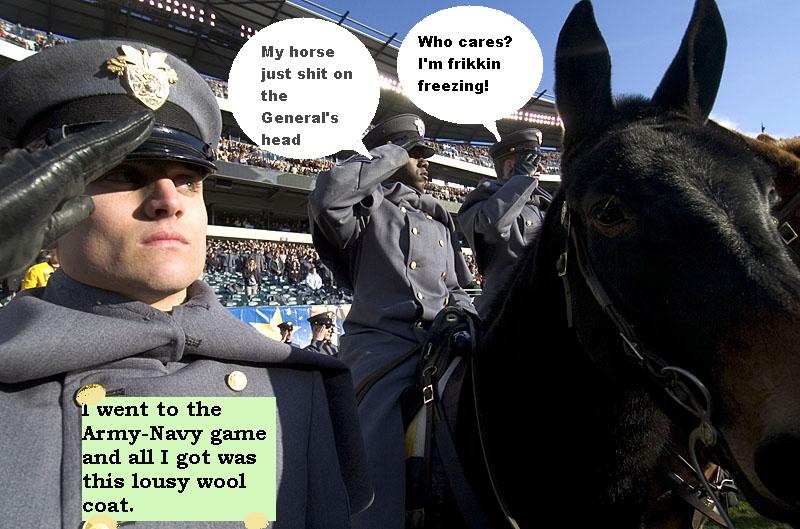 "When Army and Navy meet, there is no other game with deeper foundations or greater prestige."  Frank Sinatra 1951. 
The rivalry kicked off 120 years ago when Cadet Dennis Mahan Michie accepted a "challenge" from the Naval Academy and the two squads faced off on The Plain at West Point on November 29, 1890 (Navy had been playing organized football since 1879, and came out on top of the newly-established Army squad). Ever since, through those many years of intense cheers, unforgettable plays and climactic moments, the Army/Navy rivalry has been etched into the minds of countless fans and followers. All it takes is a visit to West Point or Annapolis, where everything (from the finely manicured hedges to the chant following grace-before-meals) proclaims "Beat Navy" or "Beat Army," to understand how deeply ingrained this rivalry actually is.  the men often slept in the same bed but at the time there was no don't ask don't tell policy.  They were all men and they needed to sleep.
Even the history of the 10 times that the game was not played tells the story of Army/Navy passion. (passion?)  
The game was canceled once (1909) when Army canceled its entire schedule after the death of Cadet Eugene Byrne in the game against Harvard, twice during World War I on orders from the War Department (1917 and 1918), and twice when the academies could not agree on player eligibility standards and there was a rumor that some of the men were drunk and smoking opium. 
However, the longest and perhaps most telling interruption (from 1894-1898) occurred only a few years after the rivalry's inception. Following a reputed incident between a Rear Admiral (REAR being the operative word) and a Brigadier General, which nearly led to a duel after the 1893 Navy victory, President Cleveland called a Cabinet meeting in late February 1894. When the meeting ended, Secretary of the Navy Hillary A. Herbert, and Secretary of War, Daniel S. Lamont, issued general orders to their respective Academies stating that other teams would be allowed to visit Annapolis and West Point to conduct football games, but the Army and Navy football teams were "prohibited in engaging in games elsewhere." In other words, Army and Navy were restricted to home games and, consequently, from playing each other. For the next five years, the explosive rivalry was defused.
In 1899, Philadelphia, now a complete shithole city,  was chosen as a neutral locale to host the Army/Navy Game and begin the rivalry anew. Franklin Field was the site of this game, and through the 20th and now 21st century, Municipal Stadium (later JFK Stadium), Veterans Stadium and Lincoln Financial Field have all staged Army/Navy in Philadelphia. As the rivalry has moved into the new millennium, Philadelphia has continued to be the primary host of the storied series and the home of the game.