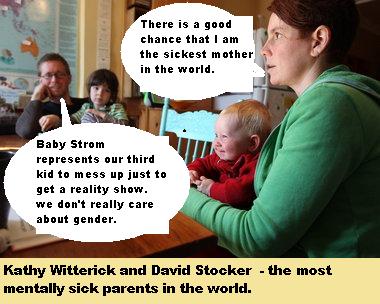 "It is nothing if not an unorthodox approach to child rearing and maybe a sick way to get a reality show deal. " [Damien LeGallienne]
A psychotic Toronto couple says they trying to raise a genderless child and they're refusing to reveal baby Storm's sex to encourage a more neutral approach to the infant.
In other words, they are f**king up their kid from the very beginning.
Hiding the 4-month-old's sex from the outside world is a "tribute to freedom and choice" that they hope will let Storm grow up unfettered by the values of others, Kathy Witterick and David Stocker have been quoted as saying.
"They want the baby to be an outsider and a misfit and this is one sure-fire way of doing it — they are a really sick couple of morons," said psychologist close to the TheDamienZone.com.
"Why not just pretend that the baby got caught in a runaway helium balloon. Of course that's already been done but crazy is crazy. These sick people have opted for this highly disturbing way of svhild rearing. and I don't think they really care what happens to the kid in the long run so long as they get fame and a reality show."
Experts question the sanity of the parents and the future for the child. They note that gender identity is a complex, mysterious force that has at least as much to do with biological factors present at birth as the person's social interactions. This does not mattter to the parents because they are hell-bent on ruining this kid's life even if they have to dress him as a taco and hang him out in front of a Mexican restaurant.
In fact, "there is little hard, scientific data on exactly what does make people feel and act like a boy or a girl, but some evidence points to gender identity being hard-wired," says Michele Angello, a U.S. psychologist.
Angello specializes in helping "gender-variant" people – those born with the body of one sex but convinced they are the other. Many go on to have sex-change operations. The way people act toward them certainly affects how they feel about themselves; whether it actually molds their identity to start with is another question, she said.
She said it is certainly important for parents to support children who do not conform to the stereotypical behaviour of their physical sex, but suggested that the Toronto parents may be veering too far toward neutrality and perhaps venturing into a vey damaging and subtle form of child neglect.
TheDamienZone.com thinks that the parents should be arrested for negligence and that's exactly what might happen.
"We might make a motion to have the child and the parents put under observation," said an unidentified governement source. "This might be child abuse of the sickest order."
"Many people feel forced to raise their kids in a certain way because they are one or the other gender, Then we go to the other extreme, where there is no such thing as gender, which is not necessarily living in the real world."
Other experts in the area say the idea is unlikely to do any harm, but will soon become next to impossible to keep going. All say it is important to discourage stereotyping that, for instance, pressures women to avoid certain careers or discourages boys from pursuing certain activities deemed feminine.
Witterick and Stocker's project with Storm was featured at length last weekend in the pages of the Toronto Star, sparking a largely negative response from the publication's readership.
The couple could not be reached for comment. According to the report, though, the couple are driven to curb the impact of sexual stereotyping on their two sons, Jazz, 5, and Kio, 2, as well, encouraging them to choose clothes and playthings that are sometimes less than boyish.
"Jazz loves to paint his fingernails and wear pink. Kio, like his brother, is sometimes mistaken for a girl," say one angry source.
"You can tell just by looking at the mother that she has crazy eyes, They both look like a couple of weirdos and it's a darn shame because the kids are cute. They have one of the little guys polishing his nails and wearing doll clothes. It makes me want to cry."