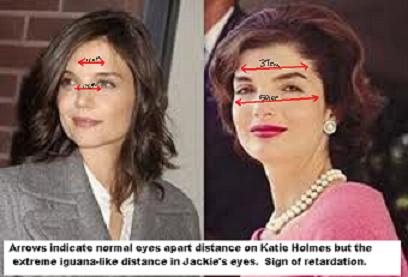 "We tried to get her eyes as far apart as we could," said Phillipe Rogetterie, Katie Holmes' makeup man for the upcoming mini-series on Reelz Channel 'The Kennedy's'. 
"Jackie Kennedy's eyes were far apart and vacant like an iguana, but Katie's are a normal distance apart.  It was very hard to get Katie to look as retarded as Jackie Kennedy but in the end we used camera angles and stuff like that to create a resemblance."
Making Katie's eyes look like Jackie's eyes took up three quarters of the films budget and producers were starting to think that maybe they should have changed the script a little and made it where John Kennedy had married a completely different woman so they could just ditch the Jackie angle altogether.
"There had to be something seriously wrong with Jackie Kennedy's head and brain," said a source close to the Reelz Channel.  "No human eyes can be that far apart without the person bumping into things directly in front of them.  Maybe that's why she had the furniture in the White House so carefully arranged."
The History Channel said that they ditched airing this mini-series because there were historical innaccuarcies — baloney !   How inaccurate can they be if they spent millions getting the eye distance apart right?  They didn't want to air it because The History Channel wanted to put 5 minute commercials every 6 minutes — a move that would have killed the movie.   The History Channel has the most minutes of commercials per show by far — far more than any other channel.  They recently aired a 7 minute block of commercials during a UFO show and viewers jammed the switchboard with complaints.