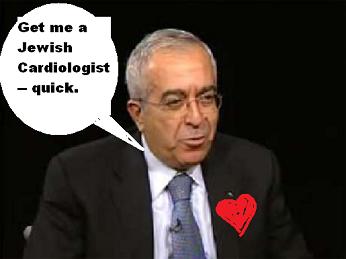 Palestinian Prime Minister Salam Fayyad suffered a heart attack in Texas while visiting the United States and was hospitalized for treatment, according to a spokesman from the Palestinian Authority on the West Bank.  He was immediately treated by Drs.  Goldberg, Epstein, Greenblatt, and Hirschberg who say that he should recover even though they should have let him croak.
"We got ourselves a couple of real good Jew cardiologists," said Merle Munson Hurley," a man who hangs around the hospital since he lost the house he won on Ty Pennington's House Makeover giveaway show because the whole show was a crock of baloney and it caused him to have a heart attack.
Fayyad felt chest pains Sunday while visiting Austin, Texas, for his son's graduation from the University of Texas, Dr. Ghassan Khatib said from Ramallah early Tuesday. The prime minister was hospitalized and doctors found a blocked artery that they corrected, Khatib said.  They also found an entire lamb in his right atrium and parts of a goat in his left ventricle.
Fayyad is in "good condition" at Seton Medical Center in Austin, Texas, spokesperson Adrienne Lallo told CNN on Monday.  "He is being tretaed by the best Jewish doctors we have and it's driving him out of his frigging mind.  He would rather be dead."
The State Department is aware of the situation and has been in touch with Fayyad since he was stricken, according to a State Department official who spoke to CNN on condition of not being identified.
Fayyad currently is prime minister of the Palestinian Authority. He is not a member of either of the formal rival factions Fatah or Hamas,(yeah sure)  which are to form a new transitional reconciliation government. It is unclear what role Fayyad will play in that new government but whatever it is, he will either sponsor terrorism or be afraid to talk against it.