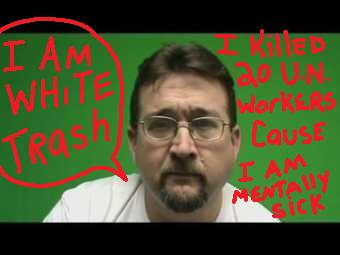 The decision by evangelical white trash preacher Wayne Sapp on March 21, to burn a copy of the Muslim holy book the Koran while controversial white trash pastor Terry Jones looked on in a Florida church, is starting to have severe repercussions amongst the animals who live in the middle east and kill in the name of Allah.
It was initially white trash Jones who created the storm of controversy last year with his plans to burn copies of the Koran on the ninth anniversary of the 9/11 attacks on New York, but he was talked down off the ledge with a pack of cigarettes and a six pack of Budweiser because he is white trash.
The Koran burning was presented as an event where the Koran was put on trial and convicted of crimes, then soaked in kerosene for an hour before being set alight while white trash onlookers took pictures with their pre-paid cellphones.
Jones defended his involvement saying he had attempted to "give the Muslim world an opportunity to defend their book" but received no response.  Well, he got heresponse now — 20 people dead. 
On Friday and Saturday he received his response when nine protesters were killed and more than 70 injured during a protest against the burning of a Koran which turned violent in the southern Afghanistan province of Kandahar.  20 UN workers were killed.
This follows just one day after a similar protest turned violent in the northern city of Mazar-e-Sharif which left seven UN workers and five Afghan protesters dead.
Two of the UN workers were beheaded.  NOTE:  Reports of beheadings are tentative and awaiting verification. 
Arrests were made when armed men penetrated the crowded and led the peaceful demonstration to violence. Police thus far have been able to control the mob and keep the angry men in separate groups in three locations of the city.
Protesters took to streets on Saturday chanting anti-US slogans, even though the white trash preacher does not represent he US — we don't care about the Koran — we don't even know what it looks like — but they went on burning vehicles and hurling stones at police.
Officials believe that the parties responsible for the violence were not protesters but opportunists seeking to incite violence.  DUH!
Demonstrations were also reported in the capital Kabul and Herat on Friday and Takhar on Saturday.
SO — Are you happy now, white trash preachers?  WHITE TRASH PREACHERS — DUMB WHITE TRASH PREACHERS!