Since she gained great fame and fortune as the big turkey and the big ????? lady, a lot of people want to know more about Judy Comprez.  Here is her bio.  You can add more to it by adding a paragraph.  The goal is to get her bio as extensive as possible — even if none of it is true.   You just make your paragraph a "comment" and I will add it into the story of Judy.
Judy Comprez was born in the backwoods of Puerto Rico in 1975 to parents who ran a pig farm where they specialized in making "THE BIG PERNIL." — That's pronounced Perrrrrrrrrr — neeeee—yaaa cause you  really gotta roll that R.
When Judy was just five she got her first little Red Riding Hood and Sherlock Holmes outfit from a store in San Juan.  Her big black boots kept getting stuck in the rain forest mud so her parents, Juanita and Carlos, gave up the Pernil farm and moved to Brooklyn, New York, USA.
When Judy was eleven, she was still wearing riding capes and boots, but even with such fashion sense, she was not popular with the other kids in school because she always smelled like roasted pork shoulder.
"My father could not give up the idea of the Pernil farm," said Comprez from her office where she is in charge of shredding bills and doing Sherlock Holmes re-enactments for Spanish tourists. 
"The house was full of Pernils.  They were hanging everywhere.  The smell got into all my Sherlock Holmes and Little Red Riding Hood outfits, so I decided to be home-schooled and I made my parents get me a telephone and all day I ate tooorky so I could sleep."
"I was just a kid but I could not believe how much the bill cost.  There was no such thing as "un-leeemited calling"  (that's all one word) — and when I called my friend Rosa in the next town, the bill was really high and my father had to sell more Pernils to pay for it.  Eventually we had to get back in the Pernil business and that's where my hatred for phone bills began."
Judy's  father eventually got Derigitosis, a disease that you get from working around Pernils.  The family called the law firm of Levy, Philips and Konigsberg for help. 
Her father eventually died and the law firm got them money, but Judy's mother said, "We got a cash settlement but we need cash now."  She was right about that but the fact that she kept singing it instead of saying it landed her in Bellevue's mental hospital.  Judy was now alone in the world with only her cape and her boots.
TO BE CONTINUED:
You can read related stuff on this site here:http://thedamienzone.com/2010/12/21/spanish-word-in-vonage-commercial-big-turkey-and-the-big-_______-what/ — the reader comments are very insightful.
and there's a less happy story here: http://thedamienzone.com/2011/02/09/judy-comprez-vonage-wanted-for-stealing-perneeeees/
Scooter Pie — an avid reader of TheDamienZone.com —  continues the bio with greater detail.
Judilicious Jamon Comprez was born on December 26, 1975; on Isla Verde beach, Puerto Rico. On her third birthday it was explained to her that she wasn't born on Christmas Day, and she threw her first tantrum. It would not be her last. She vowed never to be late again.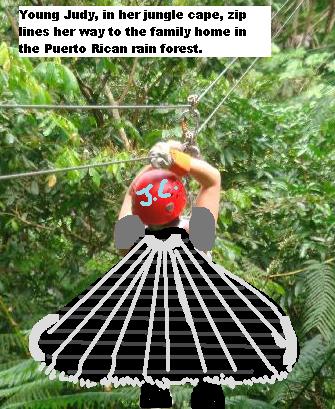 She was a precocious child, learn many things at a very early age. By four years of age she could play Mozart's Minuet on the piano but the heat of the rainforest always left her piano untuned. Until she was thirty, she thought that Mozart's Fugue in C minor was in E Minor. She called her piano tuner, who by then was well into his nineties, and called him a motherfucker. That's when the brazen attitude and hatred toward bill paying began to show itself overtly.
She was immediately given piano lessons in the city, though her parents could only afford for her to practice on a roll-up piano keyboard. She got this as a gift from an Uncle who had emigrated to Borough Park, Brooklyn, New York after the death of her father.
Her Uncle would have been a great inventor but to pay for his immediate needs upon arriving in the US he took a job as the Felicitations Director at the Wong Wong Noodle Shop and misinterpreting this for "wrong, wrong" the cumulative effect of the negative esteem engendering phrase caused him to disintegrate into obscurity.
Judy (as she likes to be called) also found herself possessed of many other talents.
She took foreign languages and by the age of nine was quinta-lingual, speaking: Spanish, English, French, Cantonese, and a hybrid blend of Canarian-Tenerefian Spanish known as Pegnee. People who speak Pegnee are very rare. Due to the high speed at which syllables are uttered it has been known to be audible only to dogs and people with rare brain parasites.
It is important to note that Judy, despite her witch-like appearance, does not cast spells in any language. Spell casting and Witchery has been forbidden in Puerto Rico since the release of The Wizard of Oz.
On her 12th Birthday Judy got into the Guinness Book of Records for speaking quickly. (sources need verification).
It was during the Spelling-Bee Finals of Isla Verde Beach Escuela Intermedia that Judy met her Waterloo. She lost in the finals when she could not spell "antidisestablishmentarianism" – which to this day she violently maintains that she spelled it correctly 27 times before the ten second time limit ran out. She called the judges motherfuckers — a word that she formerly introduced into the Pegnee lexicon.
She also protested the winning opponents word of "cat" – which her gleeful combatant spelled with a "k" – to win!! The stream of profanity Judy released on Judges (in rapi-fire pegnee) was so voluminous and confouding that a a live recording was sent to the Administrators at Guinness World Records where she was deemed to be talking backwards. Her record stood until November 24, 2007; when Nada Bojkovic of Sweden dethroned her and deflowered her too.
Judy, who had always publicly disparaged her Guinness record as crude ignorance from those who do not speak Pegnee – but was always secretly proud of it – was quoted in People Magazine (February-2008) as saying, "It can hardly mean nothing when the guy , right, who breaks your record, right, his first name is 'NADA.' Nada means, nothing. OK! Do you see what I am saying to you?! Hand me a piece of that Pernil I am so hungry."
It was shortly after this, that the prodigal and multi-talented Judy – her life full of promise and opportunity – turned with bitterness and unrepentant malice to a life of juvenile crime and sinister machinations.