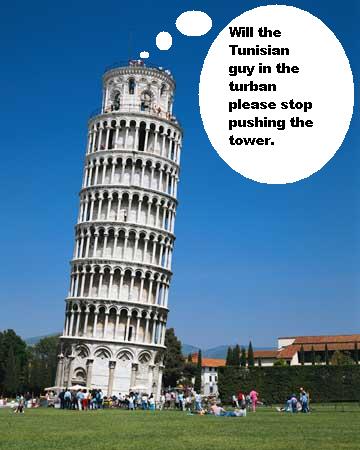 Hundreds of Tunisians arrived by the boatload Friday on a tiny Sicilian island, fleeing chaos in their homeland and prompting Italy to demand that the EU take stronger action to prevent an uncontrolled wave of migrants from North Africa.
"They gonna change-a our country into a shit hole." said Silvio Burlesqueoni of Pisa.  "Nobody-a wants-a these people for chrissakes."
On Friday afternoon alone four boats crowded with a total of some 300 Tunisians reached Lampedusa, an island that is closer to northern Africa than it is to the Italian mainland. Earlier in the day, the U.N. refugee agency said some 1,600 Tunisians had landed in Italy since Jan. 16, with half of them coming in the last few days.
Italian Coast Guard boats, which spotted them approaching shore, escorted to the boats to the island. Coast Guard video showed hundreds of Tunisians, predominantly young men, crowded on the decks of motorized fishing boats.   The Italian crewmen threw the Tunisians some Prosciutto and Mortadella and told them to get the hell out of there.