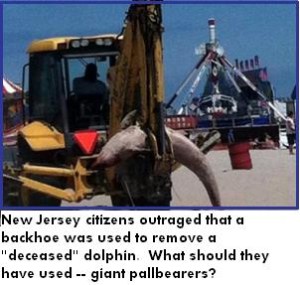 "Okay, so why can't people understand simple facts about nature, you ask —? 
Well — in view of the fact that I am trying to keep this as simple as possible — many people cannot understand anything about anything because they are too stupid and lazy and mentally limited to pick up a book or take out a computer and look up the facts from reliable sources! 
One writer for a major newspaper went so far as to described the dolphins as being 'deceased.'  Dead dolphins are not DECEASED.  Human beings are deceased.  Dead dolphins are DEAD." 
NOTE TO ANY DOLPHINS WHO MIGHT BE READING:  If you are feeling a little under the weather, be mindful to not swim off the coast of New Jersey.  Heaven forbid that you should die on a beach in New Jersey.   Please…I am begging you…even if you are coughing up blood from your blow hole…try to make it to Delaware or Maryland.   You can do it.  Die with dignity.
[NJ USA] – There is no doubt that many human beings are seriously stupid and incapable of learning or understanding even the most rudimentary facts of life and death, but there's a place in the USA where the stupid people might have gotten the edge.
That place is called New Jersey USA, and a recent rash of dolphin deaths and strandings on the southern coast of New Jersey — close to where Snooki and Mike The Situation once smushed — has prompted a flood of human dumbness and maudlin simpleton-ism the likes of which is worthy of a full scientific study by psychologists throughout the world.
Yes, it's sad for the dolphins that they got sick and died, but I like to think the poor creatures gave up their lives in an attempt to expose the extreme dumbness of the average person.
Hopefully, anthropologists will stumble upon this blog entry a thousand years from now and have a good laugh at just how DUMB some people used to be back in the old days.
Anyway, dolphins are called marine mammals. They are not fish.  They need to breath air and in many ways they are just like humans except they are dolphins.  Like the humans with whom they share about 99% of the same DNA, dolphins are born, they live, they get sick or old or injured, and they die. End of story, right?  Oh, if only it were that easy to explain.
I know this all sounds overly simplistic, but just look at what I am dealing with here. What are the odds that a moron from coastal New Jersey will read this? Probably very slim, but in case one does, I will be doing a service to mankind by making this as simple as possible.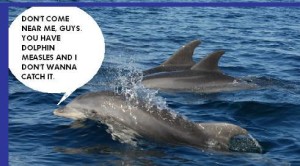 Human beings often die from a disease called Morbillivirus — that's the scientific word for MEASLES.  Dolphins — because they are mammals like people — get measles too, but in dolphins the virus is a little different and it cannot cause disease in humans.  There is nothing sneaky or evil or diabolical about this virus.  It is what it is and that's all anyone needs to know for the purposes of this story.
If a person who is not inoculated against measles comes into contact with another person who has the illness, or is a carrier of the measles virus, there is a good chance that he or she will come down with the disease.  It's like catching a cold.  Thanks to science and study, we now know that one does not catch a cold from having wet socks.  One catches a cold because a virus was spread from another person who had a cold.  So far this is pretty simple and basic, right?
Sometimes, however,  people die from measles, and it was not so long ago that measles killed a lot of human beings. Measles was a fearful disease back before modern medical scientists (those evil people who do research and make evil drugs and autism-causing vaccinations inside a secret  laboratory disguised as a giant volcanic island) found a way to vaccinate people against it.
Over the past several weeks, a lot of dolphins — something like 170 — have washed up dead on the east coast beaches of the USA. Sadly a lot of these dead dolphins had the great misfortune of washing up on the coast of New Jersey.  Yes, Virginia, there is a fate worse than death.
Dying is bad enough, but if you listen to the dopey comments from some of the natives, washing up on the Jersey shore is about as low as any man or beast can go.  It's demeaning.
When the Mafia whacks out some guy and then dumps that dead guy overboard with weights attached to his feet, they're not weighing him down to keep that body from surfacing. They're doing it because they don't want his body to wash up on the Jersey shore.  It's some kind of professional courtesy or something.
But I digress.
Naturally, it must be very gruesome to be walking on the beach with your clueless family and come upon the remains of a dead and rotting dolphin carcass, but that's what sometimes happens when a marine mammal gets sick and dies.
Most of the time these things happen far from the reaches of human eyes, but every now and then a rotted and bloated dolphin dies and floats up onto the beach near a greasy sausage and peppers griddle in Seaside Heights or some other hell hole.
It's an awful smell to be sure, and it's sad for the kids to see too, but that's what happens when a pod (pack) of dolphins with no immunity to the dolphin measles, comes into contact with a dolphin who is infected with the Morbillivirus. Thankfully, not all dolphins get measles and die, but enough of them will die and wash ashore to get noticed. The ones who survive the disease are immune for life and go on to procreate the species.  This has been happening for eons.  Is that so hard to understand?
Well, for a lot of dolphin-illiterate people and many joyous conspiracy theorists, it's pretty much impossible to understand. In fact, in the mind of the terminally unscientific idiot, a dolphin or a whale or a walrus,  cannot simply get sick and die.  It's not possible — it would make too much sense.
The average know-nothing only sees the grotesque, bloated, stinking, fly-infested corpse on the sand and assumes that the evil hand of man must have had something to do with this tragedy.  It's some kind of psychosis or something.  Al Gore — in spite of his good intentions — has really messed up human sanity about some very basic things.  His "brand" has trickled down and contaminated more human brains than any disease known to man.
Most of the dummies in New Jersey who are tracking this perfectly natural situation have accused the United States Navy of killing the dolphins with sonar waves and experimental death rays and engine noises.  No — I am not joking.  This is what a lot of people believe.  If you're one of those people, the finger paints are in the closet at the back of the room.  Now, go draw yourself  a pretty dolphin and hang it up on grandma's refrigerator.
A lot of people don't understand that cute and cuddly dolphins can get sick and die from natural diseases just like people.  Yeah, it sucks that there is disease on this planet, and that lovely animals and wonderful people die from them, but that's what you got when you agreed to the terms and conditions of this thing called LIFE.
Ironically, it's the "evil United States Navy" who did the research that led to the discovery of a  vaccine that helps protect our flippery friends from measles.  That's the real truth, but please, don't tell that to the crazies who insist that the Navy kills dolphins with lasers and death beams.  They'll think you work for the CIA (very real) or the Knights Templar (now fake) or the Illuminati (very fake)– or whatever other cockamamie and stupid thing they can conjure.
A lot of really dumb people cannot understand that marine mammals — even Flipper — get sick and die.  The uninformed choose to blame global warming (prob'ly fake) – global cooling (prob'ly fake) — jet contrail emissions (totally fake) — military experiments (a few mine-sniffers might have been blown up)– human chemicals (possible but very not likely) — and all the other usual suspects onto which the kooks of the world cling for answers to questions that are easily answerable if they'd only take the time to learn.
Many of these conspiracy theorists who love dolphins so much cannot grasp the fact that these incredible animals contracted a disease that is common in dolphins and then died from that disease.
One woman from New Jersey wrote into a New Jersey news website with this bold lettered, not-so-brilliantly spelled and oddly un-and-overly-punctuated comment:
"THIS IS JUST THE SADIST TO MANY BEAUTIFUL DOLPHINS GONE AND NO ONE KNOWS WHY>????????????// WE THE PEOPLE OF THE SHORE WHO ENJOY OUR BEACHES SHOULD HAVE THE RIGHT TO AN AUTOPSY SOME ONE KNOWS SOMETHING WE NEED TO KNOW"
Wow!  This genius says she has the "right to an autopsy."  Does she know that it's going to hurt unless she waits until she's dead to get one?  Oh wait, she was talking about doing an autopsy on the dolphin.  For crying out loud, lady, there is no such thing as an autopsy on a dolphin because a dolphin is not a human being.  The word is NECROPSY. When an animal dies and a veterinarian wants to find out what killed that animal, they do a necropsy.  LOOK UP THE WORD!
Ah, what's the use?  She wouldn't have spelled it correctly anyway.
Okay, so why can't people understand simple facts about nature, you ask.  Well — in view of the fact that I am trying to keep this as simple as possible — many people cannot understand much of anything because they are too stupid and lazy and mentally limited to pick up a book or take out a computer and look up the facts from reliable sources!
One news writer even described the dolphins as being 'deceased.' Dead dolphins are not DECEASED.  Human beings are deceased.  Dead dolphins are DEAD.   Can you imagine the stupidity of a guy who is hired to write for a newspaper?  No wonder kids today are so stupid.
The FACTS are too complicated for them, but the facts are really easy — and that's a fact.  FACTS make life so much more interesting.  Isn't it better to know that that sky is blue because of the effects of photons on the earth's atmosphere than to spend a lifetime thinking that fairies in heaven sprinkle the sky with robin's eggs and poppy flowers?
Here are a few more moronic comments from "readers"  along with my comments.  Enjoy the dumbness.
"Why isn't the public being provided with real autopsy reports on these dolphins? It smells like a cover up. This is a lot of animals to be dying at once, even with a virus. Where are the actual reports?"  <—-there goes that autopsy word again.
"So, which Riverhead employee gave you that interview? How typical of them. Now in regard to this die off it is indeed a cover up that will be blamed on virus. Do you know that morbillivirus is present naturally in wild populations without causing die offs and mass mortalities? The causes of this die off are man-made. These dolphins died because of Navy exercises involving sonar and whatnot, but the virus will be blamed because it is a usual scapegoat in these cases. NOAA gives the Navy permits and it is NOAA that investigates the cases, the conflict of interests is glaring. The Navy spokesperson did not deny the use of sonar either, just stated that there was no change in frequency of use and no increase of use, but did not deny the use per se." <— I especially liked this one because it's a rare example of the moron who actually looks things up and still maintains a moron's status.  She also accused me of belonging to something called "Riverhead" and the NOAA which even I won't bother to look up because I fear the stupidity I might encounter.  
She continued — "Shill harder, Riverhead. But it is indeed a waste of time arguing with you. No independent necropsy was done, and morbillivirus positive titer is not exactly the same thing as an outbreak. By the way, there was also significant military activity in 80s when the first die off happened. NOAA never blames the Navy for anything, last year Cape Cod massive stranding was brushed off too, 170+ dolphins stranded, NOAA did not even bother to declare UME. What a joke!" <— Now I am a shill for something called Riverhead, and she mentions that dolphin die-offs began in the 1980s because of US Navy experiments.  Did you know that prior to the 1980s dolphins never got sick – EVER– and they all lived to be 3000 years old and they told their children lovely and enchanting stories with whistles and clicks?  Did you know that?    What an idiot — and she has facts.  Of course they're fake facts, but they are HER facts and that's all she needs to know.
Listen, there is nothing wrong with loving dolphins.  They are awesome creatures and they deserve every ounce of respect and consideration.  It's important to note, however, that the best way to show love and compassion for dolphins is to learn about them — just enough so you uderstand the REAL things that can bring harm to them.  Things like tuna nets and mass killings by crazy people.  Don't get mad at measles.  It doesn't help anything.
Damien LeGallienne reporting from TheDamienZone.com.
NOTE: Commenting here on The Damien Zone is very easy. We do not cross check emails very often and the only drawback is that you have to wait a bit for your comment to post. The Damien Zone does not censor comments — unless it's something outrageous. Be patient — because we have lives to lead and so much stupidity to expose —  your comment will appear.  Sometimes it takes a minute and sometimes it takes hours.  Bookmark this page and keep checking back. If your comment annoys or impresses the editor, he will personally address it.