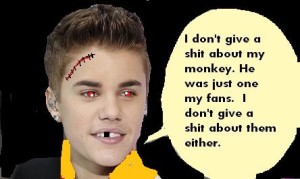 Justin Bieber está en grandes problemas en Alemania, y si no lo arreglo con el enojado costumbres gente en Alemania, así que va a tener que pagar multas elevadas y probablemente tiempo de cárcel para los animales abandono y contrabando a través de la frontera con Alemania. Hasta ahora, el talento no se duche bolsa no ha propiedad – y lo va a ser muy triste si él no hace algo realmente rápido.
Pobre mono no es muy querido por Bieber porque en muchos meses y meses y meses, Justin Bieber no hace nada para tratar de sacar a la mono y pagar la factura de la atención. El Gobierno alemán ha pagado $US-2,000 el cuidado de los monos, pero el pequeño pene Bieber no contribuirá a su pobre mono.
"La verdad es que Bieber en virtud de su actitud hacia la cautividad Mally, no le importaba una mierda sobre el mono", dijo una fuente cercana al Damien Zona.
"Los pobres poco cosa es sólo una proposición en este pequeño canalla de bolsa del mundo imaginario. ¿Qué pasa con gente rara y sus monos. No transportar monos, como son animales de peluche. La mayoría de los monos requiere de mucho cuidado, teniendo un mono capuchino en un tour no es exactamente bueno para el mono. Este chico es un completo imbecil y no tiene ni idea de nada con este mono. La lastimosa criatura es un ornamento y si efectivamente se ha pegado con Bieber, ahora es probablemente muy desolada y solitaria vida en un albergue de animales. Los animales no deben ser tratados como esa, pero los monos son animales muy inteligentes y su soledad en un albergue que pesan más en sus mentes que para un perro o un gato, y no hay excusa para que frigging.
"Tal vez Bieber no ama a su mokey pero quizás el monket piensa que Justin es el padre, que es la psicología de un mono. ? Lo que sucederá ahora a los pobres mono que ha nadie le a amar."
It is the opinion of The Damien Zone that Justin Bieber is an untalented little shit. He is a low-life, with a small penis and he used a monkey as a tool for fame and now the lonely monkey is living alone in a German animal shelter.
If Bieber loves his beloved Mally as he says, he must settled this problem very soon? If someone takes your beautiful dog from you at a border crossing, would you not do the things you must do because you have to do to get the dog back? Of course!  — unless you are a dirty little Canadian stupid child who cares about nothing but his own life — Justin Bieber is a loser.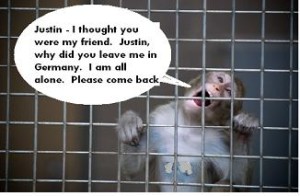 Franz Boehmer portavoz del Gobierno dijo que Bieber mejor pony en su final de la situación. Que significa pagar las multas: pagar el mantenimiento del mono – demostrando que sabe cómo cuidar de un dinero, y tras el protocolo adecuado para obtener los mono. Se lo hace? Y si él no lo hace, la próxima vez que vaya a Alemania, acabará en la cárcel con los cabezas rapadas, quizás eso le gustará. Nunca se sabe -bueno, en realidad no sabemos pero que no es el punto.
El punto es: CUIDAR DE SU puto MONO, JUSTIN BIEBER – LITTLE RAT BASTARD! Y que no se puede tratar cualquier fantasía de buena voluntad falsa mierda como visitar el Holocausto en Alemania. El mono y luego pretender que se preocupa por las atrocidades de la humanidad, porque eres uno de ellos.
Es muy triste que la gente de Europa está tan obsesionado con esta no-talento como son las personas en América del Norte. Es lamentable. Afortunadamente, y hay una luz que brilla aquí – JUSTIN BIEBER NO ES UN AMERICANO!!! La fucking awesome es que?