He may have sold a zillion records and he's probably the biggest thing to come out of Hawaii since canned Pineapples, but singing star Bruno Mars might have to pump up his star power a few notches when  he appears as the "musical guest" on NBC's SATURDAY NIGHT LIVE this coming March 23rd.   Seems Mars might get sent into another orbit by the host for that night's show — none other than webseries star Angelina Jones.
Yes, it's true, the moment a lot of internet addicts have been waiting for;  Angelina Jones, the sensational star of the hit web seres  "HAVE YOU MET MISS JONES"  will be making her first Saturday Night Live appearance as host.  Bruno Mars — one of the hottest talents around today —  will do the musical guest part — but hold on a second — who the hell is Angelina Jones?
Believe it or not, some birdbrains still don't know the answer to that question.  If you're one of those knuckleheads, try not to let anyone know because you'll look like an even bigger idiot than you already are.
Unless you have been living under a rock, Angelina Jones is the newest internet TV mega-star who plays the title role in the smash BlipTV web series, "HAVE YOU MET MISS JONES" which just finished it's first sensational season over at BlipTV, and SNL scooped her up the very first week she will be available.
"We knew that Angelina Jones was very busy with her own "have You Met Miss Jones' show, but we found a teeny cubby-hole in her schedule that allowed her to do the week long prep and the show," said a source close to SNL.
"This chick is on fire in Hollywood, and in Europe she is hailed as the greatest TV star on the planet.  It's hard to believe that some people don't know who she is in spite of the fact that her web series is the most watched web series in the history of internet web shows.  Everybody has been fighting to get her on their show but to reveal her to the USA on anything other than SNL would have been a total waste.  SNL gives Angelina the format and the audience she needs to bring her magneticism to mainstream TV.  If you've ever seen 'Have You Met Miss Jones' on the web, and most people have,  you will understand what all the fuss is about.  Angelina Jones and Bruno Mars on the same show is a match made in heaven"
It may be a "match made in heaven" according to the sources close to SNL, but Bruno Mars, his great fame and legions of fans notwithstanding, better watch himself because Angelina Jones, while already a comedy legend, has a reputation for being very difficult to work around.  She's a show-stealer and she doesn't lik to be upstaged by anyone — no matter how many millions of CDs they've sold.
"She makes Shannon Doherty and Naomi Campbell look like Shirley Temple," continued the source as he spoke nervously about Angelina's upcoming appearance on SNL. 
"She really is as difficult as everyone warned us, but she's as funny and talented as they come so we have to take the good with the bad.  She's tall and she's talented but don't get on her bad side.  Angelina wanted us to ditch Bruno Mars in favor of actor/singer Joey Lawrence, but he had a previous engagement at Chippendale's in Las Vegas, so right there you know that there will be friction bewteen Bruno Mars and Angelina Jones.   After all, he wasn't her first choice.
"Let's put it this way;  Angelina Jones is a young widow but authorities still don't really know what happened to her husband.  He's been declared legally dead, but that's all anyone knows.  If you can figure that one out, you're a genius.
"Personally I admit to being a little scared of her and so are a lot of people, but for the most part she was sweet and soft-spoken when she stopped by the offices in New York, but she had her 'demands' —  so we'll see.  I am in no way imparting that she is a murderer or anything, but let's just say that for Bruno Mars' sake, we're keeping our fingers and toes crossed that this goes off without a hitch. 
"There will be millions of people watching all over the world, and pairing these two on SNL might bring in the biggest SNL audience in history.  Angelina already has the biggest web audience in the history of BlipTv, or any web series for that matter, and Bruno Mars has sold about a billion records.  I mean, think about that for a minute."
Angelina Jones's appearance as host of SNL will mark the first time that a web-series star has hosted SNL and if you want to dig deeper into the TV archives, it looks like this is the first time that any web series star has ever hosted or starred in any major television show.  Her show, "HAVE YOU MET MISS JONES" is a huge hit and its viewers are the most devoted fans in every way that fans can be simply nuts about a star.  Her fans are the most dedicated fans we've ever seen — they're almost as nutty as she is reported to be.
"I waited three years to get tickets to SNL and finally I got them," said Louanne Greggs a hair stylist from Califon, New Jersey USA.
"Now I found out that not only will I be in the Saturday Night Live audience on March 23rd, I'll get to see my favorite actress in the world.  It's too good to be true — and I'm a huge Bruno Mars fan too.  This is like a dream.  I think I might be the luckiest person on the face of the earth just like that Lou Gherig guy.  I have two tickets and I totally don't know which one of my friends to bring.  I mean, whoever I don't ask will probably never talk to me again or they might even kill me.  This is f***ing Angelina Jones I'm talking about here.  It's a sticky situation because I could sell this ticket for thousands if I want to but I hate to charge my friends.  That wouldn't be right, would it?"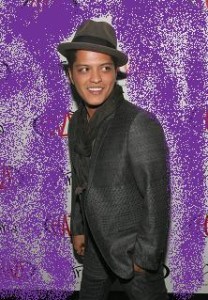 So don't miss Angelina Jones when she hosts SATURDAY NIGHT LIVE on March 23rd, because not only will you get to see the most talented web series star in history, you'll also get to see Bruno Mars.  It's pretty obvious that a lot of Bruno Mars fans will become Angelina Jones fans too — if they aren't already.
You can check out all the episodes of "HAVE YOU MET MISS JONES" here.  There are 10 shows in all.  Just don't tell anyone that you haven't already seen them —  you'll look like a moron.  http://blip.tv/MissJones