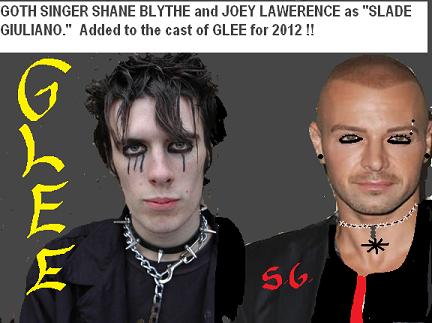 "Joey is really excited about his upcoming appearance on GLEE," said Mildred Sclafani, a documentary producer and cryptozoologist who has worked with TV star Joey Lawrence on her Bigfoot documentary which will appear on HBO in January.
"Joey loves GLEE and he loves the GLEEKS," continued Scalfani.  "He's also happy that GLEE will not be cancelled as rumored and that a whole new set of shows will be filmed for 2012 and on into 2013 — and the best part is that Joey will be part of the cast."
TheDamienZone, in an exclusive interview with Ms. Scalfani scored some other great juicy bits of juicy inside information about GlEE and Joey Lawrence.
How about the fact that Joey will appear in the show as a guy named Slade Giuliano — a faded rock and roll guitarist who comes into the show after having just received his teaching credentials from UCLA and he immediately sets out to turn some unhappy Goth rockers into an international sensation.
This years GLEE holiday episode will introduce Joey Lawrence's character  (Slade) when he tries to sell his old band's touring bus to the school.  One thing leads to another and Slade winds up staying in a hotel near the school.  He notices that some of the Goth kids have some real talent and he decides to whip them into shape.   He gets offered a teaching job and the next thing you know, the Goth band, "Cathedral Ceiling" is born and becomes an overnight sensation.
Actually the band already exists in the form of four young actors– each with a Hollywood connection.  Shane Blythe, 18, the band's lead singer, is the grandson of film legend Ann Blyth who is best remembered for playing the part of Veda Pierce, Joan Crawford's ungrateful and social climbing daughter in the classic film, Mildred Pierce.
Behind Shane on lead guitar will also be,  Dane-Reed Stamos 17, nephew of actor John Stamos; Codey Englund 18, the youngest son of Freddie Krueger actor Robert Englund will man the bass.  On drums will be Kadin Forsythe, 18, the great-grandson of the late actor John Forsythe who we all remember for his voice as Charlie on "Charlie's Angels" and for his dashing portrayal of Blake Carrington on the 80s smash Tv show, Dynasty.
"Joey Lawrence is working long hours with Cathedral Ceiling and he will even do a few songs with them on GLEE," said Sclafani.  "They are certainly Goth oriented, but their songs are not harsh or brooding.  They have written some lovely ballads and Joey Lawrence has even brought in a 100 member boy's choir from Switzerland to do background on the band's super smash hit,  "Lone Apostle."
GLEE producers are running around squashing rumors that the show is going to be cancelled.  The cast has all agreed to new contracts, and bringing Joey Lawrence and Cathedral Ceiling on board will only make the show bigger and better.  
The GLEEKS are going to be floored by this — especially when Justin Bieber does a guest spot as a homeless kid who turns out to be the long lost little brother of one of the band members.  Justin's character,  Mace Beauregard, was kidnapped as an infant and never seen again — but he pops up in a very special episode of GLEE.
Here's to the new and improved GLEE!