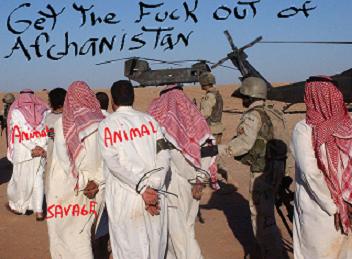 When is this going to end?  These people do not want to be helped.  I don't give a shit that the women can go to school and I don't give a shit about anything that happens to any of these people — just get American troops the  fuck outta there and let those fucking savages kill each other. 
In the deadliest day for American forces in the nearly decade-long war in Afghanistan, insurgents shot down a Chinook transport helicopter on Saturday, killing 31 Americans and 7 Afghan commandos on board, American and Afghan officials said. American officials said later Saturday that 22 of the dead were members of a Navy SEAL unit, along with other American servicemembers and the Afghan unit. The helicopter was hit by a rocket-propelled grenade in the Tangi Valley of Wardak Province to the west of Kabul, one coalition official said, though others said the exact weapon remained in question.
This will never end.  These soldiers are fighting in a country that has NO PURPOSE.  The only solution is to nuke the entire country and walk away –  just walk away and don't look back.   Obama's promises were all lies — total lies.   What a lying no good ass he turned out to be.