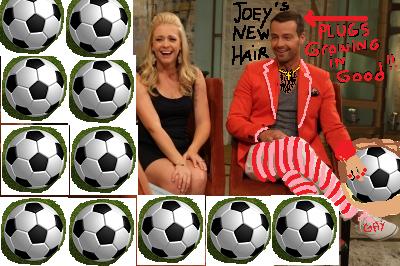 For years TV viewers have known Joey Lawrence as the cute little kid who grew up to be a teen heart-throb.  Then he started pumping iron and shaving his chest and became a sex symbol.  Then he shaved his badly balding head and sprayed on light brown speckles and looked like a psychopath.  Then he let his transplants grow in and looks semi normal again except for his weird plucked eyebrows and overly pumped, fake tanned, and shaved body.     His show on ABC Family, "Melissa and Joey" is a hit with the tween set and grown gay men who live in their parent's basements.  Today Joey has a new role — he is going to be the assistant coach of the US Soccer Team !!!!! 
Juergen Klinsmann's hiring as coach of the United States men's soccer team brought to an end an extraordinary five-year game of cat-and-mouse.  He's a smart coach and he decided that bringing in Joey Lawrence, an avid soccer player, as an assistant, would give the team the exposure it needs so badly — and Joey is a heck of a soccer coach.  He coached his high school team to three consecutive State Championships and he did this even though he was losing his hair.
Ever since Klinsmann led Germany to the semifinal of the 2006 World Cup and then left that role with the national team of his homeland, he has been the coach most American fans wanted to lead the USA and since Americans are so fond of Joey Lawrence, this will give the team a Hollywood flare. 
"Joey has offered to pay for free hair transplants to any US Soccer Team member who is balding or bald," said a source close to the team.  "It is a generous offer that might eventually cost him a million dollars or more, but Joey doesn't care.  He thinks that all heads should be shaved and sprayed brown for one year and then given a generous amount of hair transplant plugs.  He's a helluva guy and his brown scalp doesn't look so bad anymore now that the transplants are growing in.  A lot of bald players will be very happy."
When U.S. Soccer president Sunil Gulati started the chase five years ago, entering into negotiations with Klinsmann before the former World Cup winner walked away from the table, the soccer public came along for the ride – first daring to believe that a coach with international pedigree would sign on, then feeling the emotional bite of his refusal to accept the position but having Joey there will makegive it that waxed chest, bulging jockstrap,  International Male Catalog kind of look — and that has to be a good thing.