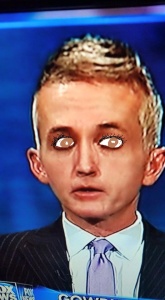 In  his unyielding quest to locate Hillary Clinton's deleted emails, South Carolina Congressman Trey Gowdy has had to pull his thinning wisps of hair into a swirling beehive — and the fashion police  LOVE IT!
"Trey is a lot like Veronica Lake," said one Washington DC insider.
It seems that During World War II, Veronica Lake cut and pulled up her famous peekaboo locks to show American women that long hair can be a hazard on the job.
At the time many women were copying Veronica Lakes luxurious hairstyle, but since many of these women had to work in factories that supplied planes and trucks and weapons to the military for the war effort, the long hair could get caught in the machinery.
In a true patriotic attempt to hold back the Nazis and the Japanese, Veronica Lake sacrificed her golden locks for the war effort.
In a sense that is what Trey Gowdy has done.  He has wrapped his hair up in a twisted knot so he can lean close to the business of finding Hillary Clinton's long lost emails, and for that patriotism, we salute him.