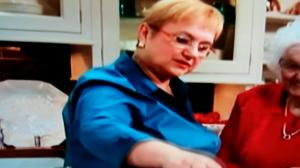 Television chef and alleged slave owner, Lidia Bastianich, has finally done away with the spray-on scalp camouflage auburn-brown for her bald head, and she can now be seen boiling shellfish alive in a buttery rissoto broth while wearing her brand new wig which she had styled by the same man who cuts MSNBC's Chris Matthews' real hair.
Close up pics of Lydia's wig here –>Lydias Wig Photos Up close. 
EDITOR'S NOTE:  Lidia is not wearing a wig per se,  She is wearing a man's toupee which doesn't blend in well with her barely existing side hair.  It is, however, nicer than the spray on hair she was using and there is no longer any danger of her dogs dying of lead poisoning from eating the paint chips on her pillow.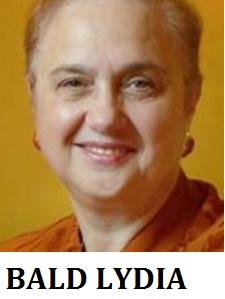 For years, the alleged slave owner/chef, was cursed with a head that looked like a piece of volcanic rock from Mount Vesuvius.    Of course she did have a few wisps of hair, but no one would ever eat anything she made with angel hair pasta for fear that any piece could actually be a piece of Lidia's falling hair.
According to a source close to the bald TV chef, Lidia started having a hard time organizing dinner parties and luncheons.  Finally she faced the bald truth.
"Nobody would come. If you only knew how many times Lidia's friends and family bit into a piece of angel hair pasta only to find that it was actually one of the last remaining strands of Lydia's hair — and she's no angel.  It got to the point where one could only eat her acclaimed shrimp with angel hair pasta if the guy from the barber shop was there sweeping up around the seats."
According to what we here at The Damien Zone can measure via the HD plasma screen on which we watch Lidia Bastianich, it's safe to assume that her head is far too huge and misshapen for most lady's wigs.   It's actually kind of funny to see a woman wearing a bad man's toupee, but the food she was making looked good and the danger of hair in dish was greatly diminished.
A former slave added this little tidbit of information about Lidia's new hair.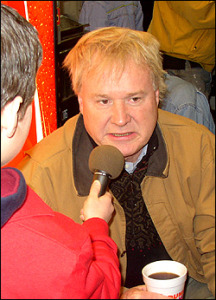 "Lidia is a huge fan of MSNBC newsman Chris Matthews and when she contacted him about his hair, a style which she admires greatly, Chris referred her to his stylist Raul St. Pierre, who did the best he could to make Lidia's toupee look like a delicate woman's hairstyle.  Things seem to working out well,  but now that Lidia has locked the stylist in the basement of her home and making him slave over her new hair, he has no time for Chris Matthews who is starting to look a little unkempt."