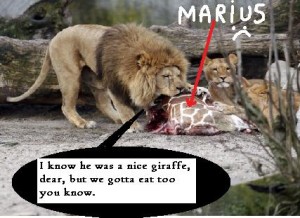 "The veterinary version of  Josef Mengele is alive and well and calling the shots at the Copenhagen Zoo.  It seems he is the person in Denmark who determines which animals are fit to live and procreate and which are inferior or flawed. Then he dissects them in front of children" [Damien LeGallienne,  10, February 2014]
TheDamienZone.com is calling for a boycott on tourism to Denmark — especially Copenhagen — especially the murderous zoo where they killed a giraffe because they didn't like its family tree.
The Copenhagen Zoo — which, in my opinion, is run by Nazis — shot and killed a perfectly healthy giraffe today and then fed the meat to the lions and the tigers. They did this because the giraffe "did not fit into their program" and they did not want him sent to another zoo because they said "it would cause inbreeding."
So that's how they do it in Denmark — very Hitler-ish don't you think?  The giraffe was named Marius, and to add insult to injury, they shot the poor guy in the head with a bolt gun because to kill him with a lethal injection would have rendered the meat inedible.   Is this zoo broke or something?  If you have to kill your animals to feed your other animals, something is really, really wrong.
Now, according to the really bad writers at CNN, the assholes are going to perform an autopsy. First of all, there is no such thing as an "autopsy" on an animal — for the 1,000th time, assholes — a postmortem on an animal is called a NECROPSY. How many frigging times do I have to tell you morons how to write correctly?
Anyway, several wildlife parks and zoos offered to take Marius but the Copenhagen zoo thought it was better to shoot a deadbolt into its brain — and it was VERY messy.  For some weird reason, they would not let Marius go somewhere else to live out his life.  It's as though they wanted to practice killing giraffes or something. I don't care how many "experts" try to explain what they did and why they did it.  The fact remains that they wanted this giraffe dead and they wanted to take this animals death to a Jerry Springer level.  They succeeded.
"The Yorkshire Wildlife Park in England offered to take him in and they have one of the best giraffe facilities in the world," said Zoologist/Writer David D. Mattia when we contacted him from our office in Belgium."

"There were so many more options open to Bengt Holst (the scientific director of the zoo) but for some weird reason he wouldn't budge."
David D. Mattia continued:
"I know there are various  protocols for situations like this, but The Copenhagen zoo laid this out for all the world to see and know about.  They turned it into a cheap sideshow and for that they have to face the music. They should never, never, never have done this.
"It's very creepy and unnatural human behavior by a zoological administration where many, if not all, the interests should be centered on animal behavior."
"I don't know why they would kill #Marius simply because his genetic strain is already well-represented in their giraffe herd. They keep repeating their mantra about maintaining genetic purity, and the more they emphasize that point, the creepier it gets. It's frightening …the way they speak so openly about this and then they dissected the animal in front of families and children.  There is something mentally wrong with somebody over there.
"The Copenhagen zoo shot a giraffe and at the same time they shot themselves in the foot. Nobody will or should go there now…not anyone who finds about this, and just about everyone will eventually.

"I thoroughly support a boycott on tourism to the Copenhagen Zoo because if the folks in charge…the scientific people…do something like this, something that should have either not been made public or something they knew would be grossly offensive throughout the world and viewed as cruel by millions of people, it speaks volumes about the mindset of the zoo itself. I think they're a little crazy or something. I would like to say something a whole lot deeper and more meaningful but the weird hubris of the powers that be at the Copenhagen Zoo is mind-boggling and there is nothing to say aside than to say that they're a little nuts."

"Of course you always want to avoid inbreeding in captive animals, but you simply don't kill a beautiful animal in what amounts to be a public spectacle and then not expect people to be outraged or to ever again patronize your zoo, especially when so many other options were available.  The whole affair turned into a macabre death-watch vigil that should have never happened.  
"What they did at the Copenhagen zoo was showy and self-serving and disgusting. Maybe they like stuff like that.  You never know what kind of wild stuff goes on in some people's heads.  Just because they're zoologists and veterinarians one can't automatically assume that they are not also out of their minds."
So Marius is D-E-A-D and now the lions will be eating him. Let's see. Wasn't there another time when some humans were seen as disposable and they too were fed to the lions?
LISTEN!  Don't waste your money on a trip to Denmark.  Donate a few bucks to your favourite charity.   This is a link to the zoologist we interviewed — http://www.imdb.com/name/nm3834680/ — click on it and learn about his projects. or follow him on Twitter @DaveMattia