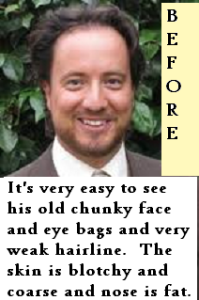 Giorgio Tsoukalos Plastic Surgery Rumors.
He may only be 35 years old, but ancient astronaut expert Giorgio Tsoukalos looks like he may have had a lot of plastic surgery and a bit of a hairline enhancement at the same time.  We are not sure if he did or he didn't but rumors of giorgio's plastic surgery are flying around the earth faster than ancient, alien astronauts.
"Giorgio's facial skin didn't used to be as smooth and peachy as it is now and it looks like he may have had a brow lift, an eye job and some chemical peeling done on his face," said plastic surgeon Dean Traherne MD.
"Botox is certainly in play here, and Giorgio looks like he  had some a lot of hair plugs added to his head so as to lower the length of his forehead. His hair was receding back rapidly, so in order to compensate for that, Giorgio continued to fluff it up. To compensate for that, Giorgio Tsoukalos has had hair transplants. I am not sure if that's the case, it could be a frontal wig,  but he has certainly had a lot of work done on his hair and his face."
The Damien Zone thinks that Giorgio had to do something because he was starting to look like a cross between Larry Fine from The Three Stooges and Vic Tayback who played the character of Mel in the 1970s sitcom "Alice," which starred Linda Lavin — who, by the way —  is rumored to be the most difficult actress to work with in all of show business.
According to Dr. Traherne, Greek men or men with Greek ancestry, often have a tendency to age rapidly in the face, and Girogio, in spite of his Swiss citizenship, is a Greek – 100%.   John Stamos might still have hair on his head but he's one Greek who beat the genetic odds.
"Usually by the time a Greek guy has reached his thirties, he has grown very hairy and bald and old looking. I know many Greek men who are only in their twenties but would easily pass in the USA as someone in their late 40s. This is probably what has happened to Giorgio, and now that he is in the public eye and adored my millions of child-minded people who believe that ancient aliens did everything from building the pyramids to making ancient volcanoes blow up, he has to have a movie-star kind of image.  His tan is very fake and he shouldn't be tanning or using fake tan products after having a lot of plastic surgery."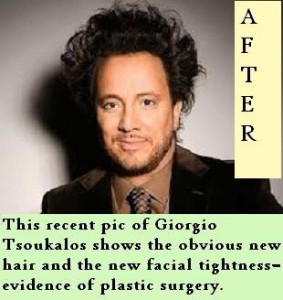 The Damien Zone thinks that Giorgio should have saved the money he spent on his face and hair to getting speech and elocution lessons and so does Dr. Traherne. Here's what he said about that.
"Giorgio Tsoukalos has dedicated his entire life to studying extraterrestrials, but for some reason he can't even pronounce the word "extraterrestrial" and that's really strange.  He says something like 'eshtra-treshtral.' It's not his slight accent that causes him to say the word incorrectly.  It sounds to me like an impediment of some kind.
"I practice plastic surgery as a profession, but at least I can pronounce it. I mean, this is his field of endeavor, and as stupid and mindless as it seems to be, the least he can do is learn how to pronounce the words that he will find himself using in that field. Hearing him say the word 'extraterrestrial' the way he does is painful. He sounds like he has Bell's Palsy or some kind of neurological deficit. Maybe his pronunciation was disrupted by one of his plastic surgery procedures. It can happen, and perhaps I sound petty and cruel to even mention it, but it's a serious problem no matter how you look at it.  It takes away from his credibility in the area of an already silly and absurd topic, or he could have a medical problem."
Some people who have analyzed the entire Giorgio Tsoukalos fanfare in a different way. Many sociological physicians and researchers believe that the entire "ancient astronaut" concept is just a way for Tsoukalos to recreate himself as a mainstream celebrity.
"It's amazing to me that Giorgio has so much knowledge about something that never really happened," said Dr. Raymond Tote-Tundy MD PHd of the Skylight Institute for Higher Learning in Switzerland.
"The whole thing is about getting famous. It's a totally silly and childish concept and Giorgio Tsoukalos has devoted his life to studying it.
"If you look at a cloud, it can look like a bunny or an elephant. The same applies to the life of human beings from ages ago. If you want to learn how they did something or how they lived, you can imagine all kinds of things, and that's exactly what Giorgio and his comrades are doing — and they're making a lot of money in the process.
The main thing right now is the quest for fame. Giorgio is taking that too far. He has had some kind of plastic surgery. He doesn't even look like the original Giorgio from when the show first started and this makes me question his true motives."
We here at The Damien Zone think that Giorgio looks, at the very least, RESTED, and in our world, that means that he probably has had some kind of cosmetic procedure. We will have to look close, but while we're doing that, Giorgio better learn how to pronounce the word "EXTRATERRESTRIAL" because the word is not "ESTRA-TRESH-TRULL."  Get that word right, Giorgio, and stop having plastic surgery.  You are starting to look like a Greek lady.