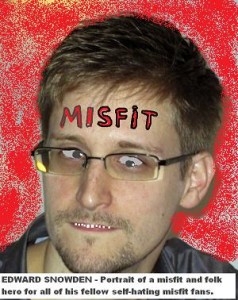 Edward Snowden, the whistle-blower from the CIA who believes in his seriously damaged mind that he blew the lid off of a lot of secret stuff, is hiding out in Hong Kong with the hope that he can get asylum in Iceland — but he can't do that. He would have had to be in Iceland to begin with to get that brand of asylum.
What he can do, however, is seek refuge in the Icelandic embassy in Hong Kong, but he better hurry because he's running out of money and his credit card is maxed out.  If he doesn't high-tail it out of Honk Kong quick he faces extradition to the good old USA — and do you know what he thinks of the USA?  
He thinks that he "can't in good conscience allow the United States to exist."  isn't that charming?  
Like Julian Assange, the psycho-misfit who preceded him with his WikLeaks, he'll probably wind up living life in one room like a hermit.  Assange is living out his life — the one that he thought was going to find him rich and famous and glamorous — in the shitty Ecuadorian embassy in London.  The Ecuadorians let him have sanctuary there.  He gets to eat chicken toes and plantain chips, but he is not allowed to play with the llamas.  
Yes, Julian Assange's life got really exciting since he thought he was too hip for the CIA.  What a fucking loser.
So anyway, Edward Snowden, a guy who was living high on the hog in Hawaii while working for the CIA, suddenly decided that the USA is evil and that the CIA had gone rogue.  So, using his own brand of retarded logic, he fled to Hong Kong — or as I like to call it — CHINA.  Can you imagine the stupidity?  
Listen this dude could not even make it through basic training and was discharged from the US Army when he broke both his legs because he's a stupid klutz.  
Holy Shit!  He couldn't even graduate from high school and had to get his GED.  Then somehow — and this is the hilarious part — he got hired by the CIA and was earning $200,000 per year and living a life of leisure in Hawaii.  Seems that in spite of all his stupidity and dumbness, he is a computer geek or something — but he has no real training.  
I guess it's safe to assume that he's a mental case.  Maybe he is some kind of savant or something.  They're the ones who are usually really stupid about everything except one thing, right?   I mean, something would have to snap in your head to make you rat out the CIA — ruin your great gig in Hawaii — and wind up living in a virtual prison of your own making. 
The guy is fucking brain damaged.  You do not have to look any farther than that.
It was also revealed that Snowden started suffering from epileptic seizures a few years ago — just around the time he decided that the USA should not exist.  Do you want me to say it or should we all say it together?
EDWARD SNOWDEN IS MENTALLY SICK — HE IS BRAIN DAMAGED FROM EPILEPSY — HE LOST HIS MIND — HE WAS ALWAYS AN ACCIDENT WAITING TO HAPPEN.  HE IS THE MODERN DAY LEE HARVEY OSWALD.  HE IS A SOCIAL MISFIT — A LOSER. 
WHY DOESN'T ANYONE SEE THIS FOR WHAT IT IS?
Now, Snowden's equally delusional fans are having an online fundraiser to help this fucking mental case who "can't in good conscience allow the United States to exist."  Can you imagine the insanity of these losers?  Snowden hasn't yet been charged with a crime but already a lot of sick minds are calling for US President Barack Obama to pardon him.  If this isn't the dumbest shit in history, I don't know what is.  Edward Snowden is obviously mentally sick but who cares?  I say, lure him back to the USA while it still "exists" and then throw him in a fucking nuthouse where he belongs.  After you do that, you go into the Ecuadorian embassy and drag that little punk Julian Assange out by his silver locks and put him on a plane straight to the USA and fuck up his life for real.  Who gives a shit about Ecuador besides ancient Nazis in hiding?  What's the last thing they contributed to the world besides third rate coffee?