"Yes, believe it or not, you don't have to be someone from the inner city who walks away from a broken window with a plasma TV to be a looter." [Damien LeGallienne from TheDamienZone.com]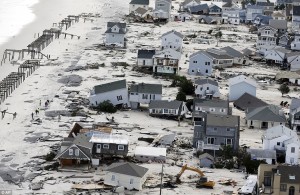 REPRINTED in ENGLISH FROM FRENCH – BRUSSELS, BELGIUM.  31 May 2013.
New Jersey (USA) residents are up in arms because it seems to be taking forever for SOMEBODY to do SOMETHING about putting Humpty Dumpty back together again after the devastation wrought by Hurricane Sandy. The folks in Ortley Beach,a quaint seaside resort, are ready to explode – but they don't have to — they need to learn the truth about what is going on around them.
Communities along the New Jersey shore were hit hard, and the barrier islands off the coast of Brick and Tom's River look like they were just hit yesterday when in fact it's been nearly 8 months. You can't depend on the government officials. The job of the government is to fix the infrastructure and to take photos for their next election campaign. They will not rebuild your house and neither will people from Hollywood because you're not poverty stricken dregs holding onto alligators and Styrofoam coolers to keep from drowning.
There are two factors involved in the slowness of repairing these seaside communities, and both of these factors come together to create one major factor that slows down the whole process.
Remember — nobody feels sorry for a person who has a beach house. NOBODY. You're on your own even if your "beach house" is your home.  Brad Pitt is not going to come out there with Sean Penn and design and build a new model city for you like they did in parts of New Orleans — put that out of your head. It all comes down to the insurance company — what they claim — what you claim — and what your neighbors claim — and all three parties concerned are often not model citizens.
Allow me to explain.
a) Insurance agents are money-chiseling scum — they have to be.
b) Many of your neighbors in the storm are sneaky and underhanded scum.
c) Many of the insured think their stuff is worth far more than it is.
a) The insurance agents are forced to be scum because of parts B and C.
Let's get this in order and see if you can make sense of this.
1) Insurance companies are very greedy and sneaky. Yes, they can quote you all the numbers in their little books of stats and values and actuarial stuff, but the sad truth is that you are not "in good hands" because the job of the insurance agent is to chisel you to the rock bottom. He has to. If he didn't chisel you, he would be chiseled by you. You might think you are an honest person, but for every good and upstanding citizen like you, there are 20 who will say that their $4,000 stove was washed away when in fact, it was grandma's stove from 1971. A carpet they bought for $50 at Kmart becomes one they got at The Galleria for $3,000.
You lost what you think was a castle, but the agent wants only to enable you to rebuild what was really just another house and still make you think that HE is doing YOU the favor.
And this is why you have to KNOW YOUR RULES! You have to educate yourself about the rules of your town and county and state. Yes, it's a pain in the butt, but if you don't take the time to learn about the where and why and how you're being hoodwinked. You can't sit around like children and say, "WHEN! WHEN! WHEN!" — that doesn't acccomplish anything.  And…..YOU CANNOT LIE!
Here is an example:
A man in Westfield, New Jersey (USA) had a tree fall on his house. The house was badly damaged. The agent wanted to give him $39,000. Okay — that sounds fair right? NO IT WAS NOT FAIR!
The insurance man made the mistake of messing with the wrong person and it ended up costing him his job.
The guy whose house was damaged by the tree knew that by law, to replace the part of the house that was damaged, would cost far in excess of what was being offered. He knew that the insurance company was bound to pay for repairs that would make the house the same as it was. There were laws — too complicate to explain here — but these laws state that the house needs to be repaired to the condition it was in prior to the tree smashing. In other words, the city of Westfield does not allow an insurance company to replace a Mercedes with a Pinto, and had this homeowner taken the $39,000 — he would have had a crappy addition that did not blend in with the aesthetics of the neighborhood, he would have had rebuilt a very shabby structure that was not the same quality as the part of his home was built with back in 1939.
In the end, after the homeowner did a lot of late night night reading and studying and note-taking, he figured that to repair the home to the way it was would cost $120,000 — and he got it. He presented his case to the insurance company and he kept a very neat record of everything the adjuster was telling him. In the end, fearing a retribution from the town and from every resident who had this kind of insurance, the insurance company paid up and they made sure that adjuster was moved to another part of the state where nobody knew him. Yes — insurance companies are afraid of you if you are smart and if you catch them at their game — but a lot of people who make claims are just as diabolical — and that's why insurance companies lean towards being bad guys.
QUICK EDITOR'S NOTE: YOUR INSURANCE ADJUSTER IS NOT YOUR FRIEND. HE IS NOT THE SMILING GOOD LOOKING AWESOME CARING AND SENTIMENTAL GUY FROM THE TV COMMERCIAL.  NO!
HIS EMPLOYER SENT HIM THERE TO GIVE YOU THE LEAST AMOUNT OF MONEY HE CAN, AND IF YOU FALL FOR HIS USED CAR SALESMAN SMILE AND HIS BROTHERLY PAT ON THE BACK, YOU'RE GOING TO GET SCREWED SIX WAYS SIDEWAYS AND UPSIDE DOWN.
MAKE A NOTE OF THIS AND KEEP THIS IN YOUR MIND WHEN YOU TALK TO YOUR ADJUSTER   DON'T BE CONFRONTATIONAL AND CALL HIM A LIAR OR A THIEF, JUST TAKE THE TIME TO EDUCATE YOURSELF ABOUT THE RULES SO THAT WHEN HE HANDS YOU SOME BULLSHIT STORY YOU CAN COUNTER WITH THE FACTS — AND SOON HE'LL SAY — BECAUSE YOU DID YOUR HOMEWORK AND OUTSMARTED HIM — "HEY, YOU KNOW SOMETHING, YOU'RE RIGHT."
THAT IS HOW YOU WIN. YOU DON'T WIN BY MOANING ON THE AIR TO LOCAL TV PEOPLE WHILE DRESSED IN JUNKY STRETCH PANTS OR  ULTIMATE FIGHTING CHALLENGE T-SHIRTS YOU BOUGHT AT WALMART.  YES — APPEARANCE MATTERS. 
Pay attention!
2 Some of your beloved neighbors are also screwing you over and that is why the insurance man is making life miserable for as many people as he can.  He has to balance his own larceny with your tendency to over-value things and your neighbor's tendency to make a score.
For every 100 honest people in Ortley Beach or Seaside or Mantoloking,  there is a con artist — and he or she could be the nicest people you know — but suddenly they start making outlandish demands. They want to replace a $300 refrigerator with a $2,000 refrigerator. They might say that they had just spent $10,000 on repairs to the house — but they didn't.
Scroungy people looking to make a fast buck will say all kinds of things because this is the way upscale people loot. Yes, believe it or not, you don't have to be someone from the inner city who walks away from a broken window with a plasma TV to be a looter.
Many people exploit a tragedy — like looters — to steal stuff. Take a long hard look at yourself and say, "Am I a looter?" Did I really pay $4,000 for that patio furniture that got washed away or did I actually buy it at Odd Lots for $400? It almost seems normal to take advantage of a circumstance, but it's still wrong — and it slows things down.
LYING ABOUT WHAT YOU LOST AND THE VALUE OF WHAT YOU LOST IS THE SLUDGE IN THE SYSTEM. LYING ABOUT THE VALUE OF YOUR STUFF IS WHAT CLOGS THE DRAIN AND WHY INSURANCE COMPANIES TAKE FOREVER TO PROCESS CLAIMS. THE GOLDEN RULE AS FAR AS THE INSURANCE COMPANIES GO IS THAT EVERYBODY LIES AND THEY HAVE TO WHITTTLE AWAY THE LIES AND THE TRUTH AND COME UP WITH SOME KIND OF SOLUTION.
3) Accept the fact that your house might have been worth $500,000 in 2003, but in 2012 it was worth $270,000. Face it — face the facts. Don't stomp your feet and say, "I paid $700,000 for that house." That doesn't mean anything. You are not going to get it. If that were the case, people would burn down their houses every time the market dropped — catch on? If you had a house that was valued on the market at $250,000 and the insurance people are willing to give you the same house for $250,000 — take it. Don't start up with lying about what was in the house. Be honest. Everybody knows that most of the stuff in a beach house is stuff that you sent down there from your house in the city. Don't try to bullshit your way into a Miele triple-decker refrigerator freezer.
Of course there some homes with really nice and new stuff but for the most part, that stuff was recently purchased and receipts are available, but do you think an insurance agent is going to listen to your tales of great wealth and treasures from a house that you used a few months out of the year since 1955?
Okay — here is the wind up
1-EDUCATE YOURSELF ABOUT THE LAWS IN YOUR TOWN
2- DO NOT LIE ABOUT THE VALUE OF THINGS
3- DO NOT EXPECT TO GET WHAT YOU PAID WHEN THE MARKET WAS HIGH
3- KNOW THAT THE INSURANCE AGENT IS NOT YOUR BUDDY
4- DON'T LOOT THE INSURANCE COMPANY AND DON'T LET YOUR NEIGHBORS LOOT THE INSURANCE COMPANY — IT'S ILLEGAL AND LOW DOWN AND SCUMMY.
Now that you might have learned something, send a link to this website to all of your friends — the ones with the $300 refrigerator for which they are claiming $3,000.
IT IS VERY EASY TO COMMENT ON THE DAMIEN ZONE.  WE DO NOT CROSS CHECK EMAILS AND WE DO NOT CENSOR NASTY COMMENTS AIMED AT US.  WE DO, HOWEVER, NOT PRINT COMMENTS THAT ARE VIOLENT OR HATEFUL.  COMMENTS ARE APPROVED 99% OF THE TIME BUT IT MIGHT TAKE FROM ONE MINUTE TO ONE HOUR FOR YOUR COMMENT TO BE APPROVED.  DON'T BE DISCOURAGED.  YOUR COMMENT WILL APPEAR.