"Look, he's only got a few years to live before he gets bald and hairy like all those weird people from wherever it is he's from. When he's 25 he'll look like he's 40 so who cares if he gets a lethal injection then?  I mean, it takes a long time to put someone to death — might as well make him useful."  [Unidentified Spokesman for O.Q.U.A.T]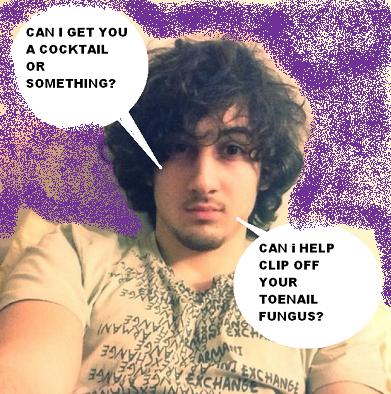 Dzhokhar Tsarnaev may very well be the most loathsome 19-year old little murderer on the face of the earth, but to an aging bunch of strange men, he is a hot commodity who should be released into their care so they can rehabilitate him on their big men-only chicken hawk ranch hidden high in the mountains.
As sick as it sounds, some crazy people with some crazy organization think that  Dzhokhar A. Tsarnaev is hot and they're not about to let a bunch of big muscular black guys in prison have at him first.
"We think that Dzhokar is a cute twink with a bad boy streak a mile wide, and even though he's a killer, we know that with some tender care and affection, he will be a great attraction as a pool boy in Palm Springs or one of our other hideaways in Corsica or Key West," said a spokesman for the group, O.Q.U.A.T. – Old Queens Understanding Attractive Terrorists, a group of older men who have an insane  penchant– [pronounced Pon-Shont'] — for hustlers and other assorted young male criminals. OQUAT has vacation spots all over the globe where they surround themselves with these prison types who have that hard-to-find bad boy reputation.
Their latest fixation is the Boston bomber and they vow to help him as much as they can before the Crips and the Bloods feast on him.   Last month, representatives of OQUAT spent over $500,000 bailing young guys out of jail so they could work and possibly get rehabilitated at their various spas and vacation facilities, but this time they're going too far — but it's not the first time.
OQUAT was the victim of a scandal going back almost fifteen years ago when they referred to the sicko bomber Timothy McVeigh as a "Long Tall Drink of Water" and tried in a press relaese to get him released from jail on the technicality that "he would need to be loved and soothed by an older 'Daddy' in the months leading up to his execution."
The spokesmen for OQUAT continued:
"Of course it kind of matters that Dzhokhar A. Tsarnaev was responsible for heinous crimes but we think that he should be sequestered here within our organization. 
"We here at OQUAT think he is precious and sexy and we can always use a young hottie to help us with out suntan lotion and other things.   These cossacks or whatever he is, make good companions for us older daddy bears.  It's so hard to get a regular hustler to put sunblock on our fat, hairy, and mole-covered bodies, but these little numbers who are going to get life in jail or the hotseat are screwed no matter how you look at it, so why can't we have a little fun?  Besides, it's only a matter of a few years before he is balding and hairy himself, but until that time we would like to have him around."
Yes, there are some sick people in this world, and while Dzhokhar A. Tsarnaev has those kind of Teen Beat good looks, he is a sick killer who ruined the lives of a lot of people forever.  Maybe it wouldn't be so bad if he had to work as a cocktail waiter or pool boy for OQUAT until he gets sentenced.  Could there be a worse punishment than putting suntan lotion on fat old men and clipping the fungus from their gnarly toenails?  It's certainly worse than just sitting in a jail cell while waiting for your final sentencing, that's for sure.
"